As climate change intensifies, record-breaking high temperatures may be measured every year in the future. In June and July 2022, heat waves swept across Europe, North Africa, the Middle East and Asia, with temperatures climbing above 40 degrees Celsius in some areas, breaking many long-term records.
NASA released the surface temperature of the Eastern Hemisphere on July 13, 2022, combining the observations and the global climate model (Goddard Earth Observing System Model, GEOS), showing the current global surface temperature.
Steven Pawson, director of GEOS, said that while there were clear atmospheric wave patterns in some places, and alternating warm and cold values, what was now noticed was a clear indicator: extreme, record-breaking high temperatures over a large area, indicating that human activities have brought about of greenhouse gas emissions are affecting our daily lives.
In Western Europe, already experiencing severe drought, the heatwave has brought severe wildfires to parts of Portugal, Spain and France.
Among them, the temperature in the Reria district of Portugal soared to 45 degrees Celsius on July 13, and more than 3,000 hectares of land were burned by wildfires. When the Fire Brothers finally put out 14 active fires, more than half of the area was still on red alert.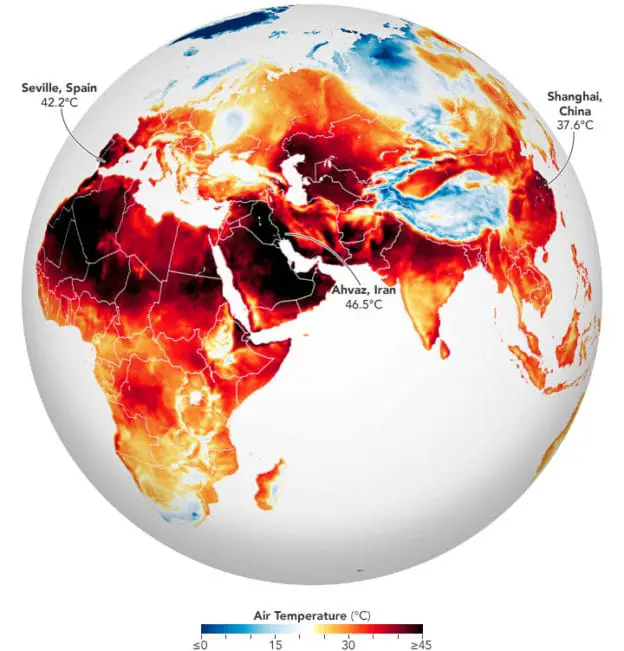 Image source: NASA
Part of the glaciers of Marmolada, the highest peak of the Dolomites in the Italian Alps, also collapsed on July 3, killing 11 people; in the UK on the other side of the North Sea, the temperature is also expected to continue The UK Met Office also issued a red alert for the first time, predicting that the temperature in some parts of the UK will reach as high as 40 degrees Celsius.
In Tunisia, North Africa, Tunisia was also hit by heat waves and wildfires. On July 13, the temperature even reached 48 degrees Celsius, breaking a 40-year record, and food crops were greatly affected; after Iran reached a terrible temperature of 52 degrees Celsius in late June , the temperature remained high in July.
When we look at Asia region; Tokyo, Japan has the hottest June in a century, and China also experienced three heat waves in July. In some places, accidents such as curving roads, melting asphalt, and falling roof tiles occurred.
The Shanghai Xujiahui Observatory also recorded the highest temperature ever recorded at 40.9 degrees Celsius on July 13, breaking the record since 1873.
Pawson noted that such extreme heat has a direct impact on people's physical health, along with other side effects. It can only be said that the weather is hot, remember to drink plenty of water and stay in a cool place to prevent heat stroke.