It doesn't always have to be a new computer if the old device is defective or no longer meets your needs. You can save money by replacing components such as power supply, in a targeted manner and at the same time catapult your old PC into a higher league. With the recent technological advancements and new computer hardware, the power consumption has also been increased significantly.
This component is responsible for providing power to the individual components of the computer such as the motherboard, processor and graphics card. Replacing critical components can completely change the demands on the power supply, and sometimes the power is no longer sufficient to drive the computer at peak performance.
Then it's time for a new power supply. We took a few models and compared them with each other. In our advice section you can learn more about PC power supplies in general and what you need to consider when upgrading your computer.
Pro Tip! A Good Power Supply Unit can reduce the electricity consumption  and amortize itself in the long term. 
---
1. CORSAIR RMX750 – 750 Watt 80 Plus Gold Power Supply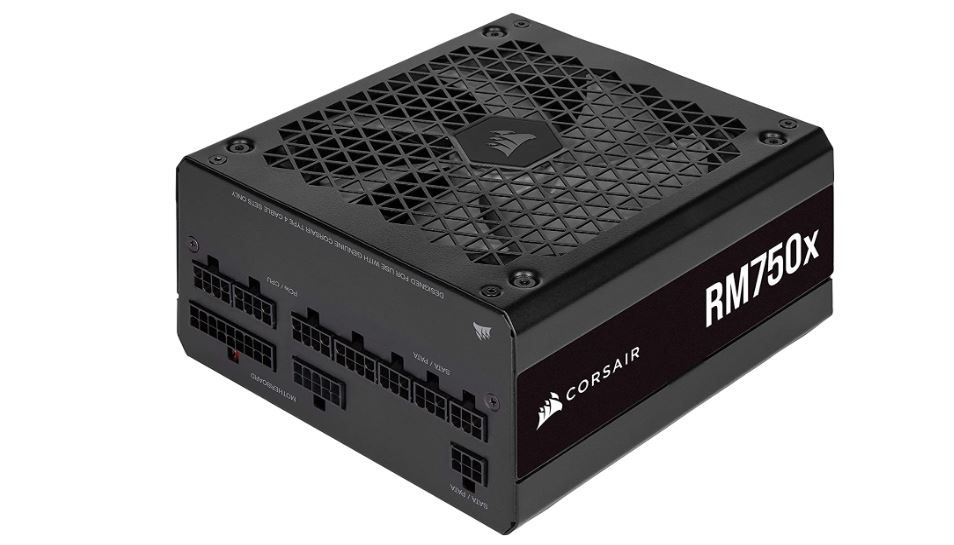 Even in the overclocked high-end gaming PC, the Corsair RMX750 power supply delivers sufficient power. It convinces with a mostly inactive fan and still stays cooler than most of the competitors. The fully modular cables have an above-average length. In addition, there is an impressively long guarantee period of ten years. In terms of efficiency and voltage stability under load, however, it cannot quite keep up with the test winner.
The new Corsair RMX (2021) series consists of five models with capacities ranging from 550W to 1000W. The main differences with the previous models are: 
Magnetic levitation fan for an increased lifetime under high operating temperatures
Modern standby compatibility for fast wake from sleep times
High efficiency under light and very light loads
Three EPS connectors with 1000W and 850W PSUs
80 PLUS Gold certifications
Pros
Easy install
Completely Modular
Silent operation
Much power supplying
Up to 10 years warranty (depends on merchant)
Cons
Not compatible with all cases
Right angle seta power connecters
Specs
Manufacturer (OEM): CWT
Max. DC output: 750W
Efficiency: 80 PLUS Gold
Form factor: ATX12V v2.4, EPS 2.92
Noise: Cybenetics A- (25-30dBA)
Cooling: 140mm Mag Lev fan (NR140ML)
Modularity: Fully modular
EPS connectors: 2
PCIe connectors: 4 (on two cables)
Warranty: 10 years
Current Best Price on Amazon: $116.80
---
2. be quiet! Pure Power 11 – 700W 80 Plus Gold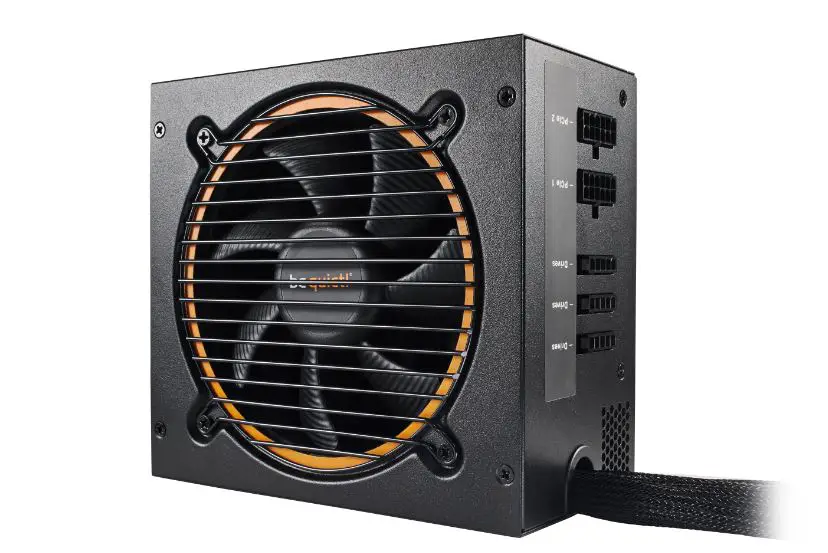 Pros
No functional issues
Reliable
Good Price / Performance Ratio
Gold rating
Cons
Specs
80 PLUS® Gold efficiency (up to 92%)
2 strong 12V-rails
Stable operation thanks to Active Clamp and Synchronous Rectifier (SR) technology
DC-to-DC conversion for even tighter voltage regulation under heavy cross-loading conditions  
Silence-optimized 120mm be quiet! fan
4 PCIe connectors for powerful GPUs
Full suite of top safety features 
5-year manufacturer's warranty
Current Best Price on Amazon:  $94.99
---
3. EVGA SuperNOVA 750 G6 – 750W 80 Plus Gold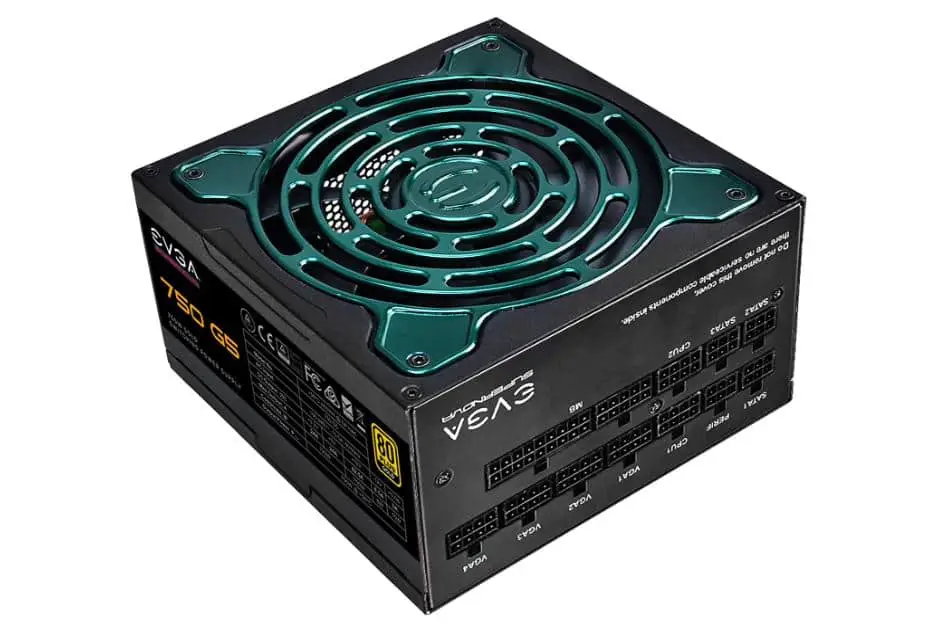 EVGA is one of the top providers of graphics cards and power supplies in the USA and has made a name for itself, among other things, with its Step-Up program, where you can upgrade graphics cards to better models for an additional fee. Recently, EVGA has also become more active again with mainboards, which made us very happy, because to this day we have some EVGA celebrities in our editorial office, such as the EVGA X58 Classified 4-Way SLI, which was one of the best and most complex X58 mainboards at the time the market.
But back to the topic and the new Supernova GT power supply. The series with 80 Plus Gold certification initially consisted of four models with 550, 650, 750 and 850 watts, whereby the 750 and 850 watt versions are of course particularly exciting at the moment due to the power hunger of new graphics cards. EVGA subsequently added a 1000 watt model to the series.
The fan in the Supernova GT, a 135 mm model with Fluid Dynamic Bearing (FDB), should ensure smooth running and also keep durability high.
Pros
Fully modular design
Eco mode 
Safety features
Quiet
Affordable (Around $100)
Gold rated
Japanese Capacitor
10-year warranty
Cons
Cables might be short for bigger cases.
Comes with one 2-8pin PCI and one 1-8pin PCI connecter
Specs
| | |
| --- | --- |
| Type | ATX12V / EPS12V |
| Maximum Power  | 750 W |
| Fans  | 1 x 135mm Fluid Dynamic Bearing Fan |
| PFC  | Active |
| Main Connector  | 24Pin |
| +12V Rails  | Single |
| PCI-Express Connector  | 6 x 6+2-Pin |
| SATA Power Connector  | 9 |
| Haswell Support | Yes |
| Modular  | Full Modular |
| Efficiency  | 91% or higher (under typical load) |
| Energy-Efficient | 80 PLUS GOLD Certified |
Current Best Price on Amazon: $99.99
---
4. Seasonic FOCUS PX-750, 750W 80+ Platinum
In order for the heating to be as low as possible, hardly any electricity must be lost, which of course does not simply disappear but is converted into heat. So it's not surprising that the Prime PX 750 is significantly more economical than the highly efficient competition. The warming we measured is also very low.
If it is operated in its ideal range between 300 and 500 watts and for many hours a day, you can easily save more than 100 dollars in electricity in ten years compared to some gold-certified power supplies. In this case, buying this power supply is actually only expensive if the area of ​​application is suitable.
We noticed a small fluctuation in the power supply. At less than 1 percent, however, this is very low. Because the power supply isn't just for overclocking gaming PCs, that's fine.
Pros
Physically compact fully modular unit
Bundled cables and connectors are high quality
Easiest Cable management
Zero RPM fan mode
Almost no COIL WHINE
80+ Platinum efficiency.
 It feels high quality. The I/O switch has a nice click to it as does the hybrid fan mode switch.
Cons
High Price but totally worth it
Specs
Technical Details: Dimensions: 150 x 86 x 140 mm (W x H x D)
Fan: 120 mm (Fluid Dynamic Bearing, automatic control with semi-passive mode)
Efficiency: ~ 87/90/87% @ 20/50/100% Load, 80 PLUS Platinum Certification
Active PFC
Form factor: ATX12V
Output: 750 W
Connections (removable):
1x 24-Pin
2x 4+4-Pin
4x 6+2-Pin PCIe
10x SATA
3x 4-Pin Molex
Manufacturer's guarantee: 10 Years 
For detailed specs, check the manufacturer's website.
Current Best Price on Amazon: $180.11
---
Conclusion
In the days of the first Pentium computers, the function of the power pack was relatively simple. The power supply had to be connected to the mainboard (so to speak, the base plate of every computer, all other components are connected to this) and to all drives. At that time, a 20-pin plug for the mainboard was sufficient, the other devices such as hard disks, floppy disks and CD drives were supplied with power from the power supply unit via separate plugs.
Which power supply you need for your computer depends primarily on the components that you want to install in the PC. It is therefore not possible to just go by the power: Whether 200, 400, 600 or 800 watts, the right connections must be available in sufficient numbers. You must pay particular attention to the following:
How many hard drives and other drives do you want to power?

What connectors do these drives have?

How many graphics cards will you be connecting and how powerful are they?

How many case fans will have to do their job?

Are other components planned, such as lighting?
---
Things to know before buying a Power Supply
What does Watt stands for in Power Supply?
In our test, the Corsair RMX750 convinces with 750 watts in terms of price, performance and equipment. The Seasonic Prime PX 750 performs even better. However, this is significantly more expensive and also has only 750 watts.
There are six ratings for a PSU:
Standard
Bronze
Silver
Gold
Platinum
Titanium
Which Power Supply is more suitable for computers?
ATX power supplies have been used in computers since 1995. They are 150 millimeters wide, 86 millimeters high and of different lengths. There is room for them in any standard housing and the screw connection is always the same. A 24-pin mainboard connector and an 8-pin CPU connector, which usually consist of two parts each, are important. The other cables should also match the equipment of the PC. Everything basic is almost always there.
The necessary number of PCI-E connectors
How many PCI-E connectors you need on your power supply depends on the model of graphics card you have chosen . Three examples:
The fresh GeForce RTX 4080 requires a total of three 3x PCIe 8-pin cables.
The most powerful GeForce RTX 4090 requires one 3x PCIe 8-pin cables.
The PowerColor Radeon RX 580 Red Dragon requires one PCI-E 6 pin.
So you can see that specifying how many PCI-E connectors there are in total for power supplies can be of crucial importance.