Not only is Nvidia adding 1440p monitors to its Reflex ecosystem for CES 2022, but it's also adding six gaming mice to the list of Nvidia Reflex-compatible equipment. The EVGA X12 Ambidextrous Wired Gaming Mouse is also part of the Nvidia Reflex Club. The EVGA X12 gaming mouse has a lot to offer in other respects as well.
Among other things, Nvidia is boosting its Nvidia Reflex platform at CES 2022 to reduce system latency and is presenting other games and hardware that support Nvidia Reflex. The brand-new EVGA X12 Ambidextrous Wired Gaming Mouse, or EVGA X12 for short, is also compatible with the Nvidia Reflex Analyzer and scores with a number of other exciting features. In this review, We have tested EVGA X12 wired gaming mouse which is a budget mouse now as the price hugely dropped over time: a 70% Off! Let's get to the details.
---
Table of Contents
---
EVGA X12 Pros and Cons
Pros
Good option to have an ambidextrous construction

Great click latency.

Quality feeling despite low price

Flexible cable
Rich RGB lighting
Cons
Wired only
Some sensor problems
---
Design
The mouse has a black-light reflecting plastic cover which actually gives a good feeling to its quality. The construction also feels solid. The mouse is pretty lightweight as it is a wired gaming mouse. It fits to a big palm and gives a acceptable comfort to wrist and hand.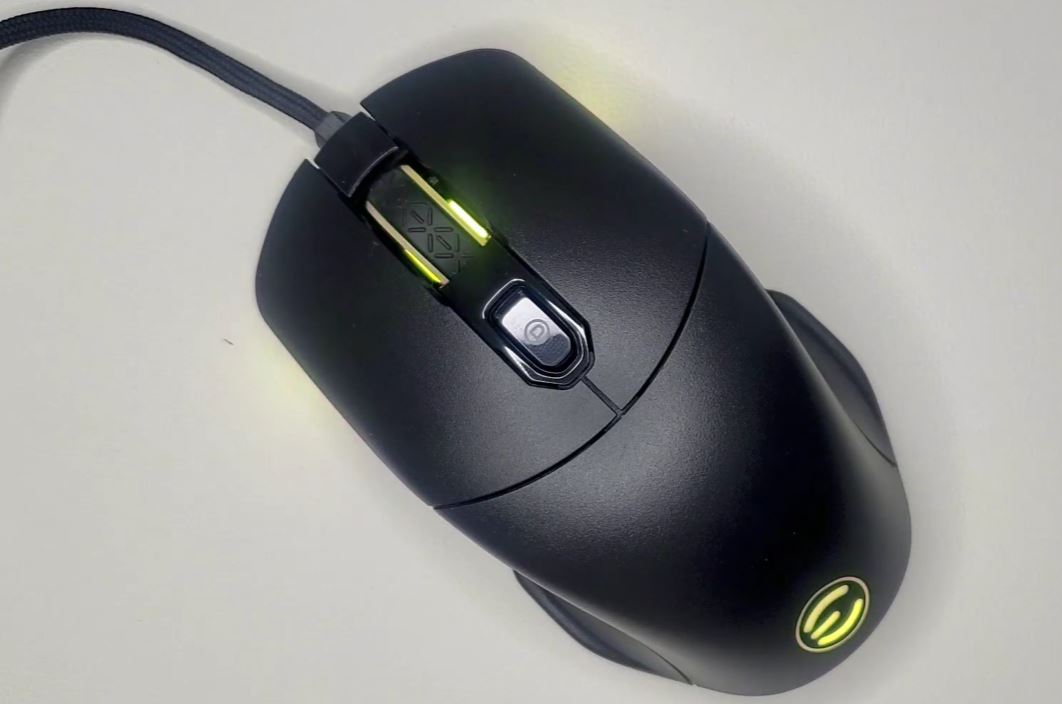 The mouse can be used with both hands so left handed users will be satisfied with the design and construction as the mouse has side buttons on both sides.
---
Performance
The EVGA X12 is a 75 gram lightweight, ambidextrous wired, fast gaming mouse that brings a high polling rate of 8,000 Hz and a response time of 0.125 milliseconds to the battle arena when gaming thanks to an integrated ARM Cortex-M33 processor.
In addition, the nimble EVGA X12 gaming mouse does not just need one mouse sensor – the X12 even has two: The conventional optical PixArt PMW3389 sensor is supplemented and supported by a so-called "LOD" sensor (Lift Off Distance), with the help of which the gamer can fine-tune the amount of sensor cutoff for the Pixart. The EVGA X12's available polling rate options are 125Hz, 250Hz, 500Hz, 1000Hz, 2000Hz, 4000Hz, and 8000Hz.
The values for resolution (16,000 DPI), acceleration of up to 490 m/s² and speed of 10.2 m/s of the EVGA X12 Ambidextrous Wired Gaming Mouse are class standard.
Even with the durability of the Omron switches of 60 million clicks for the main buttons of the gaming mouse, EVGA does not make a real mistake with the X12, even if some other competitors of the X12 promise 80 million clicks here.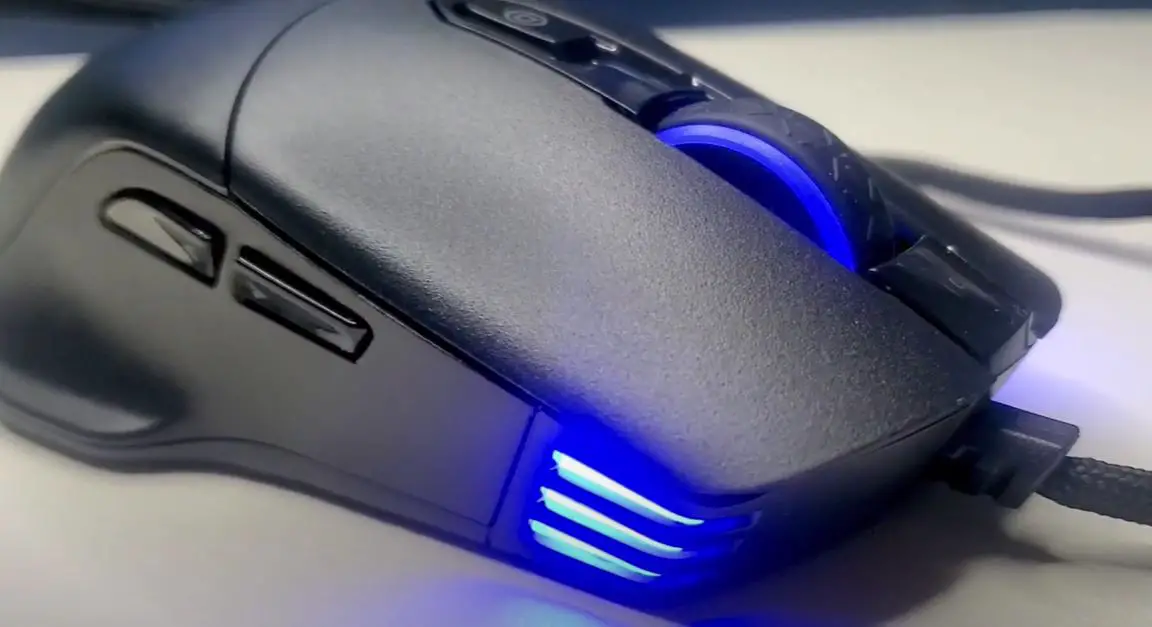 Additional features of the EVGA X12 Gaming Mouse also include eight programmable mouse buttons, a robust 2-meter connection cable made of parachute cord, light-footed polytetrafluoroethylene (PTFE) sliders, up to five profiles that can be stored in the onboard memory and a 3-zone RGB Lighting that can be adjusted in the EVGA Unleash RGB software.
---
Comfort Of Use
Evga X12 is a mouse that provides versatility as it features a pair of side buttons on the left and right sides. This allows it to be a budget mouse that is to chose if you're left-handed. The symmetrical shape gives the mouse a somehow unergonomic shape as the comfort can be improved by one sided design. 
The click sound is can be described as quiet but not very quiet. The fins at the back of the mouse gives a kind of grip sensation which is comfortable for average size hands.
---
EVGA X12: Conclusion
This mouse has a good potential to be one of the best budget gaming mouse for both left-handed and right handed users. Simple, ambidextrous, budget-friendly; this mouse provides a multiple features for both gaming and office use purposes. It may not seem to have a obvious gaming character from its design but still gives a considerably good performance in gaming in our opinion.
Current Best Price on Amazon: $29.99
Price History on Amazon
| Months | Lowest Price on Amazon |
| --- | --- |
| Sep 2022 | $14.99 |
| Oct 2022 | $29.99 |
| Nov 2022 | $29.99 |
| Dec 2022 | $33.00 |
| Jan 2023 | $26.99 |
| Feb 2023 | $29.99 |
| Mar 2023 | $29.99 |
EVGA X12
---
EVGA X12 Mouse Specs
| | |
| --- | --- |
| Size: | 123 mm x 70 mm x 41 mm |
| Size (inches): | 4.84″ x 2.76″ x 1.61″ |
| Ambidextrous: | Yes (side buttons on both sides) |
| Weight: | 74 g |
| Number of Buttons: | 8 (including wheel click) |
| Main Switches: | Omron D2FC-F-K (60 M) (China) |
| Wheel Encoder: | Mechanical |
| Sensor: | PixArt PMW3389 |
| Resolution: | 50–16,000 CPI |
| Polling Rate: | 125/250/500/1000/2000/4000/8000 Hz |
| Cable: | 2 m, braided |
| Software: | Yes |
| Price: | $14 |
| Warranty: | 3 years |