The audio quality is a critical element of the gaming experience. Many video games are focused on providing an immersive audio quality. Especially FPS type video games are taking audio very seriously. We got our hands on the Jeecoo G80 headset from a manufacturer that only focuses on gaming headsets.
When it comes to budget wireless gaming headsets, the Jeecoo G80 kind of runs on the higher tier of that works for PS5, Xbox and PC as well.
---
Table of Contents
---
Jeecoo G80: Pros & Cons
Pros
Volume can go VERY loud
Headset and transmitter connect to each other INSTANTLY
Good wireless range
Both the removable mic boom and the in-line mic are quite loud, an improvement over other Jeecoo headsets
Can be used as wired without battery
The MFB on the in-line cable works for BOTH iOS and Android (Play/pause, skip forward, previous track)
The RGB lights can be turned on or off at will while the headset is powered on
Eye-catching design with LED
Detachable Microphone
Cons
The earcups have no left/right tilt
Fairly bulky design
Battery life fairly low
---
Design
The headset looks sleek polished and just really simplistic at the same time. There is a nice touch with the logo especially with the rgb accent that's going on. The look and design is very appealing compared to the headsets in this price range.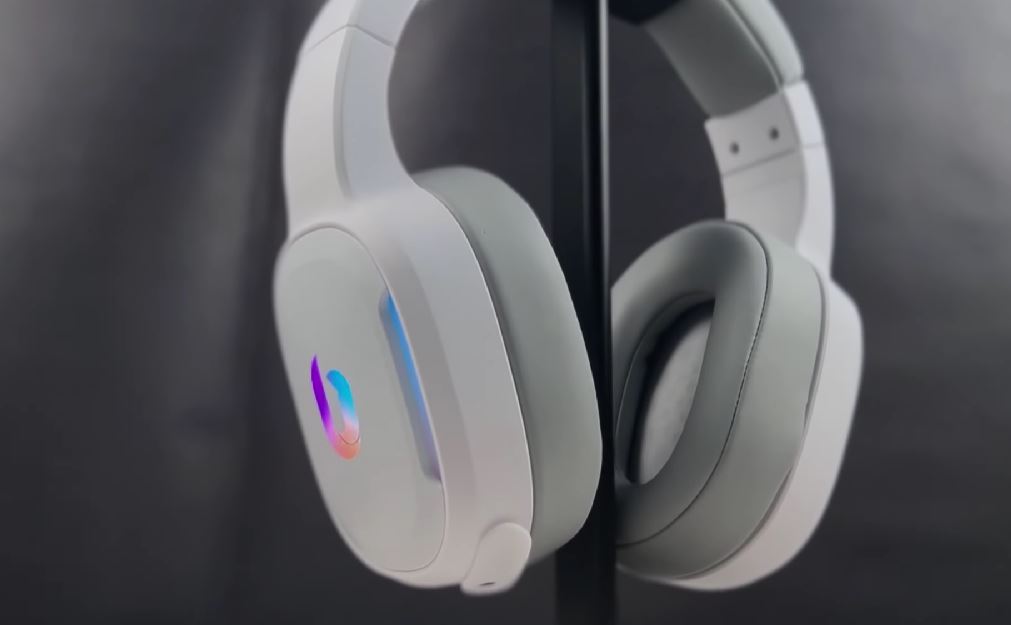 Ear muffs feel really nice. In our test, we did not feel any discomfort even for prolonged gaming sessions. The headset may look bulky and weighty but when it's on my head, it does feel very light and also the cushion on top supports evenly. We can say that the headset is not squishing the head and does not have a lot of clamp force. The clamp force is evenly distributed around the ears.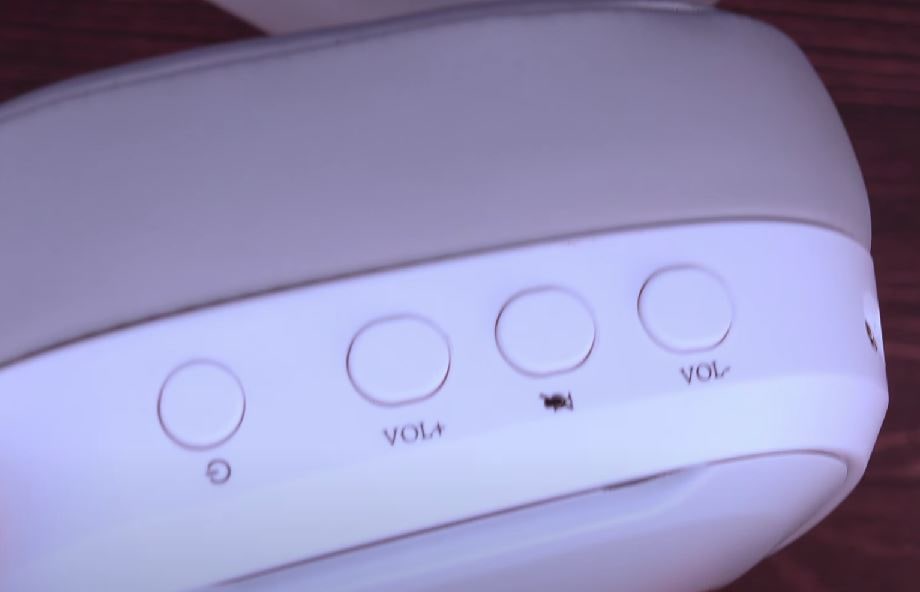 On the back of your headset, There are volume up, volume down, mute and power on buttons. The headset rgb accent light looks good when it's on. The white and gray color design is gives a premium look.
---
Audio
Jeecoo G80 Wireless RGB Headset hides two gaming-grade 50mm dynamic drivers. The built-in soundcard supports to switch 7.1 spatial audio which improves the directional awareness in video games.
There is a drop in quality when it comes to the headsets compared to a wired and wireless. We normally have a better sound with the wired connection because it is direct and there's not much audio quality being lost. 
---
Connectivity
The Jeecoo G80 provides a flawless 2.4GHz wireless connection and gaming-grade audio with ultra-low latency. The headset works for PlayStation 5, PC, switch, Xbox and mobile devices mainly through simply just connecting this usb dongle to it. Note this, the headset needs to be connected with aux wire for Xbox.
now like i said before connecting is a breeze using the included usb transmitter just connected your playstation switch or your laptop. You instantaneously have the headset connected to your devices. The headset can also be used through the 3.5 millimeter connection.
Headset comes with a 2.4Ghz USB wireless transmitter that features low latency. Bluetooth mode also has a 10M (33ft range) and can work with a wall or 2 in between the connection. Of course, this is what we concluded in our technical tests. It may vary on type of the environment and materials.
The connection option with 3.5 millimeter aux is always a plus considering mainly wireless gaming headset. 
---
Microphone
When it comes to the microphone, the Jeecoo G80 has removable Noise Canceling Microphone. It is also very flexible. The mic is advertised to have upgraded cardioid feature which reduces background and ambient noises for clear communication. The microphone can be used on gaming, on webinar, video calling and etc. 
The audio quality for the microphone is fairly decent based on feedback and our own tests. The transmitter's LED goes out when microphone is muted. That is a nice detail to have a visual indication for mic.
---
Battery Life
It takes 2.5hrs for the battery to fully charge, but battery life lasts 11-12 hours on a full charge, however, make sure you charge the headphones out of the box.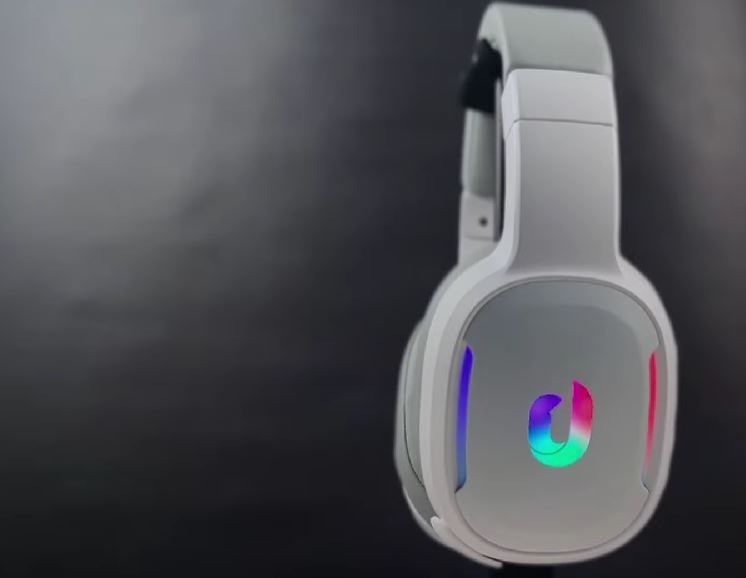 A charging cable for the headset comes in the box. When headset's fully charged, we got about 11 hours of gaming time with RGBs on.
---
Jeecoo G80: Conclusion
For the final thoughts, the Jeecoo G80 has a stylish look and provides good comfort.  The speakers provide phenomenal audio for the price.  The 7.1 really booms and really gives a nice sound stage overall. The detachable microphone is a plus. The battery life could be a bit better. Overall, this headset is worth buying for the price. If you are looking for something cheaper, we also highly recommend you to take a look at our Best gaming headsets under $50 list as well.
Current Best price on Amazon: $39.99
Price History on Amazon
| Months | Lowest Price on Amazon |
| --- | --- |
| Sep 2022 | $57.99 |
| Oct 2022 | $51.99 |
| Nov 2022 | $44.19 |
| Dec 2022 | $49.99 |
| Jan 2023 | $49.99 |
| Feb 2023 | $49.99 |
| Mar 2023 | $39.99 |
Jeecoo G80
---
Jeecoo G80 Specs
| | |
| --- | --- |
| Product Dimensions | 6.3 x 3.54 x 7.28 inches (16 x 9 x 18.5 cm) |
| Item Weight | 1.1 pounds (0.5 kg) |
| ASIN | B0B3HZVSQ1 |
| Item model number | G80-A |
| Batteries | 1 Lithium Polymer batteries required. |
| Brand | Jeecoo |
| Model Name | G80 |
| Color | White & Gray |
| Form Factor | Over Ear |
| Connectivity Technology | Wireless |