Manufacturer Samsung has already launched two top smartphones in 2022: the fan edition of the 2021 model and the new S22. Both devices are similar in design and features. Anyone who is about to make a purchase decision should pay attention to these points.
Samsung heralded the new year with the expansion for the Galaxy S21 series: The S21 FE 5G fan edition was released in January. This year's smartphone series, the Galaxy S22, followed a few weeks later. Visually, the two devices hardly differ from each other: the Infinity-O display, the central front camera and a protruding camera module for the triple cam on the back make both models look deceptively similar. In terms of equipment, however, there are some interesting differences.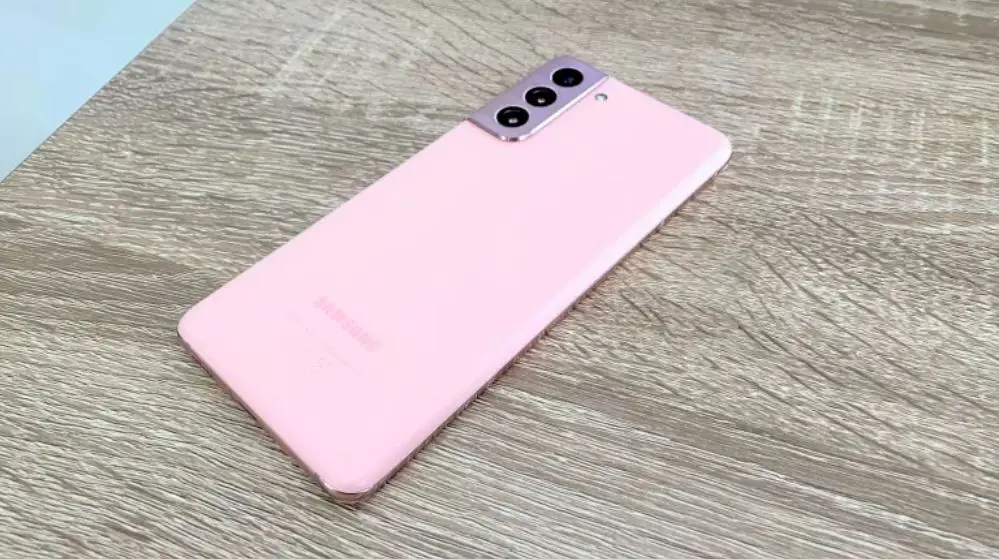 If you choose the Samsung Galaxy S21, you get a solid smartphone with a very bright display and excellent overall performance. The smartphone is very well made and looks chic, such as the model with a white case.  Unfortunately, the back is made of plastic, which really doesn't have to be the case with a cell phone from around 850 euros. In addition, the battery life could be longer and the internal storage is not expandable. In return, the stereo speaker delivers a clean sound even when listening to music.  The camera takes good photos. The good stabilization for video recordings should also be emphasized.
---
Table of Contents
---
Samsung Galaxy S21 FE 5G vs S22 at a glance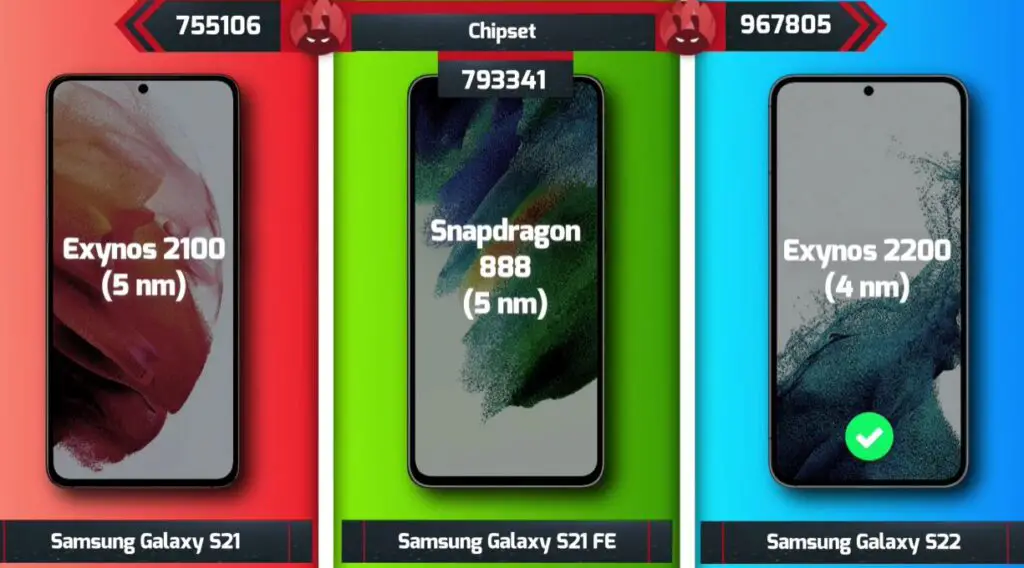 S21 FE 5G
S22
screen
6.4 inches (2340 x 1080 pixels)
6.1 inches (2400 x 1080 pixels)
processor
Snapdragon 888
Exynos 2200
RAM
6GB/128GB, 8GB/256GB
8GB/128GB, 8GB/256GB
battery pack
4,500mAh
3,700mAh
camera
12 MP (ultra wide) / 12 MP (wide) / 8 MP (telephoto)
12 MP (ultra wide) / 50 MP (wide) / 10 MP (telephoto)
size
155.7 x 74.5 x 7.9mm
146*70.6*

7.6mm
---
SAMSUNG GALAXY S21 5G : Pros and Cons
Pros
Very bright display
Excellent overall performance
Well-placed fingerprint sensor
---
Cons
Internal memory not expandable
Battery life could be longer
Plastic back
---
SAMSUNG GALAXY S21 5G REVIEW: Screen
Thanks to OLED technology, the screens still offer enormous contrasts and bright colors. If you prefer more natural colors, it is better to select "natural" instead of "vivid" under settings / display / screen mode. All S21 models are among the smartphones with the brightest displays. The Galaxy S21 achieves 1,140 candelas per square meter/cdm2 (instead of 1,116 for the S20), Galaxy S21 Plus 1,187 cd/m2 (instead of 1,072 for the S20 Plus), the S21 Ultra tops that with 1,321 candelas.
The two "cheaper" models S21 and S21 Plus only offer Full HD+ (2400×1080 pixels) as a resolution instead of QHD+ (3200×1440 pixels). Whether that's why Samsung uses the Full HD resolution in its new entry-level devices like the Galaxy A32 5G? To be fair, one has to say: the sharpness is still completely sufficient at 421 ppi (S21) and 394 ppi (S21 Plus).
There is no real blurriness to be seen in everyday use. But looking at the history of the Galaxy S-series , the 2013 Galaxy S4 had a sharper screen (441ppi) than the Galaxy S21 Plus — that's irritating, to say the least. So if you want it to be really sharp, you have to go for the Galaxy S20 Ultra (3200×1440 pixels, 515 ppi).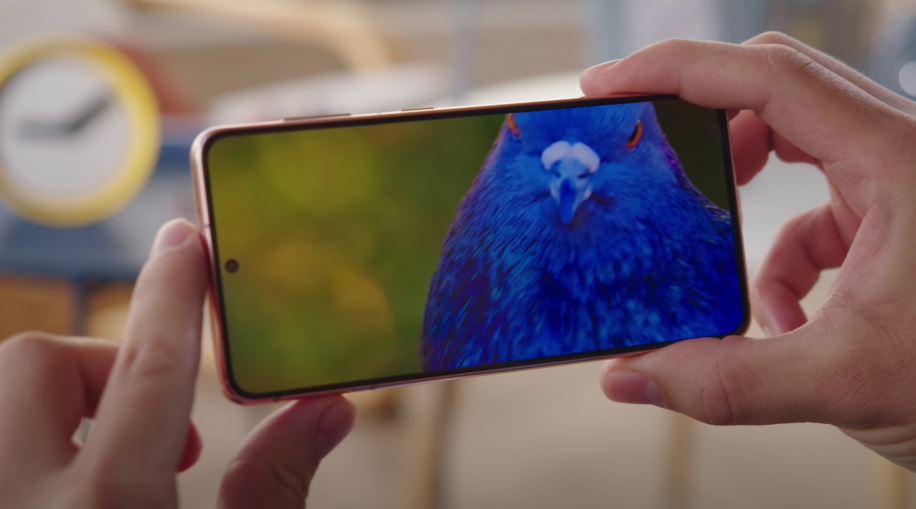 ---
SAMSUNG GALAXY S21 5G REVIEW: PERFORMANCE
Under the hood, the Samsung Galaxy S21 5G packs the Exynos 2100 chipset, alongside 8GB RAM and either 128GB or 256GB of storage. In some other international regions, the phone uses the Qualcomm SM8350 Snapdragon 888. Unlike previous generations of the Galaxy phones, there's no MicroSD card slot to expand the storage.
AD Matching up to the Samsung Galaxy S21 Plus, the Samsung Galaxy S21 5G achieved Geekbench 5 scores of 716 in single-core and 3,464 in multi-core, with 6,731 in OpenCL. That's close to similarly priced handsets like the OnePlus 8 Pro and even pricier handsets like the Oppo Find X3 Pro. It's actually not that far off the Samsung Galaxy S21 Ultra's scores either.
So despite not being the absolute fastest option out there, this is still a speedy smartphone that will cope with everything from photo editing to mobile gaming without any problems at all. The battery is the same size as in its predecessor that being 4,000mAh – I tested it out by running a local video for two hours on full brightness. In that time the battery level dropped by 14% suggesting that it would have lasted over 14 hours in total.
So it'll easily last the whole day and then some. 25W fast charging means it charged up pretty quickly as well, although there's no wall charger in the box, you just get the cable. It does support wireless charging too. Running on Android 11, you're sure the get the best user experience there is. Everything is simple, smooth and it looks good. With mostly just Google and Samsung's own apps pre-installed, there's no wasted time with unnecessary apps.
You'll also have access to Samsung DeX which extends your phone into a desktop experience through a wired or wireless connection. As well as displaying your phone onto a bigger screen, it can also help to make file transfers even easier between your phone and your PC.
---
SAMSUNG GALAXY S21 5G REVIEW: VERDICT
Ultimately, if you already own the Samsung Galaxy S20 5G, then it's really not going to be worth the upgrade to the Samsung Galaxy S21 5G. They're just not different enough to make it worth it.
For anyone looking to upgrade from another phone though, it will definitely be worth it. You get a great camera, long battery life, speedy performance and the best Android experience from a flagship phone that doesn't cost the earth.
Some might be put off by the plastic design, and not everyone will be a fan of the lower quality display but for most those will be minor downsides in an otherwise fantastic phone. If you aren't willing to spend above the odds then this really is the obvious choice.
---
Galaxy S21 has a better processor compared to older versions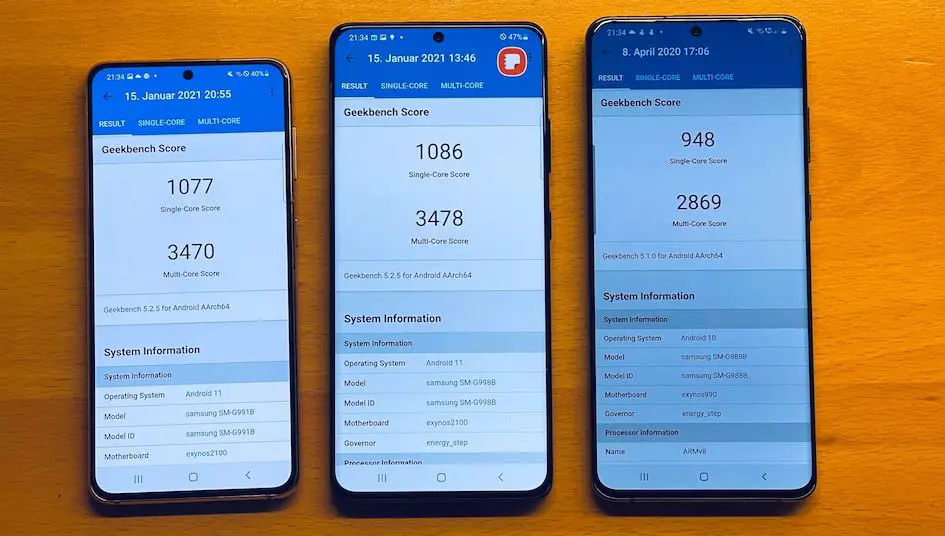 In recent years, Samsung has almost always delivered the S models in Europe with its own Exynos processor. Not only were they slower, they also consumed more power than the Snapdragon CPUs installed in the US versions.  This was recently confirmed by the test of the Galaxy S20 FE (LTE variant with Exynos 990, 5G variant with Snapdragon 865).
With the S21, Samsung is installing its new Exynos 2100 processor in the European models of the Galaxy S21 series for the first time, which is said to be as good or even better than the Snapdragon 888 from the US version.  A US model was not previously available to the laboratory. But the test always confirmed: The European S21 series is clearly faster than the S20 series (Exynos 990), achieves around 1,080 (single-core) and 3,500 (multi-core) points in the Geekbench 5 test – the S20 came to 950 and 2,870 Geekbench points.
But there is one thing the Galaxy S21 cannot do either: the pace crown remains with Apple. That iPhone 12 and iPhone 12 Pro , for example, get almost 1,600 (single-core) and around 4,000 (multi-core) Geekbench 5 points.  The US series with Snapdragon 888 could also be a touch faster. In addition, the speed values ​​occasionally collapsed in multiple benchmark tests; the performance may drop here if the processor heats up too much.
---
Conclusion: Samsung Galaxy S21 in 2022
We still think the Samsung Galaxy S21 smartphone is a solid choice in 2022. The only glaring downside is that the battery dies a bit quickly. In addition, there are some shortcomings in terms of box content. No power supply, no headset: When the iPhone 12 was released, Samsung made fun of Apple's decision to remove accessories via Twitter. However, the corresponding tweets from October 13, 2020 can no longer be found on Samsung's Twitter profile. The reason: all S21 variants are delivered without a power supply unit and without a headset. And: Even with the top model S21 Ultra, Samsung is content with fast charging with 25 watts, while the competition sometimes delivers up to 65 watts.
---
Samsung Galaxy S21 Specs
screen
15.84 cm (6.20 inch) Super AMOLED
Resolution: 1080 x 2400 pixels (421 ppi)
Gorilla Glass Victus
operating system
Android 11
interface: OneUI 3.1
CPU
Samsung, octa-core (64-bit)
1st CPU: Exynos 2100, 1 x 2.90 GHz
2nd CPU: Exynos 2100, 3 x 2.80 GHz
3rd CPU: Exynos 2100, 4 x 2.20 GHz
Storage
8.0 GB RAM
128.00 GB storage, of which 102.30 GB are free
data transfer
EDGE, HSPA+ (42.20 MBit/s), LTE (2000.00 MBit/s), 5G, WLAN, Bluetooth
SIM card type:
Nano SIM, eSIM
Cellular (MHz)
GSM
850, 900, 1800, 1900
UMTS
850, 900, 1900, 2100
LTE (band )details

Europe:

700 (28), 800 (20), 900 (8), 1800 (3), 2000 (34), 2100 (1), 2500 (41), 2600 (7, 38)

USA:

700 (12, 13, 17), 850 (5), 900 (8), 1700 (4), 1800 (3), 1900 (2), 2100 (1), 2500 (41)

Asia:

700 (28), 900 (8), 1800 (3), 1900 (39), 2100 (1), 2300 (40), 2500 (41)

5G (band) details

Europe:

700 (28), 800 (20), 850 (5), 900 (8), 1800 (3), 2100 (1), 2500 (41), 2600 (7, 38), 3500 (78), 3700 (77 )

USA:

850 (5), 900 (8), 1700 (66), 1800 (3), 2100 (1), 2500 (41), 3500 (78), 3700 (77)

Asia:

700 (28), 850 (5), 900 (8), 1800 (3), 2100 (1), 2300 (40), 2500 (41), 3500 (78), 3700 (77)

main camera
Triple camera: 12.0 megapixels + 12.0 megapixels + 64.0 megapixels
front camera
10.0 megapixels
Dimensions
151.7mm x 71.2mm x 7.9mm
Weight
169.0g
More functions

waterproof (IP68)
Dual SIM
NFC
Wireless charging

sales launch
01/29/2021
previous generation
Samsung Galaxy S20
Next Generation
Samsung Galaxy S22