After having propelled high-performance wireless technology on gaming mice with its G900 Chaos Spectrum in particular, Logitech decided to make a lighter mouse with decent features.
A work that culminated in the G Pro Wireless in 2018, a wireless gaming mouse weighing only 80g, ambidextrous and with removable edge buttons.
This mouse may be very light, but it is no longer featured as a reference in the field in 2022. Competitors like Razer and SteelSeries now offer lighter wireless (with Viper Ultimate and Aerox Wireless, respectively).
It was therefore time for Logitech to return to the race with its G Pro X Superlight, however with some compromises that we will detail during this test. Let's start our test with the design details of this light mouse.
---
Table of Contents
---
Pros and Cons
Pros
Very appreciable record lightness.
Fast and precise optical sensor.
Flawless wireless connection.
Good battery life.
Compatibility with Powerplay wireless charging.
Pleasant grip / Dirt-resistant coating.
Cons
Not completely ambidextrous (buttons only on the left side).
---
Design and Ergonomics
A simple and effective design
The G Pro X Superlight takes up the sleek design of the G Pro Wireless. We therefore find this simple and effective shape, with a shell of the same dimensions (125 x 63.5 x 40 mm) made of a single plastic part.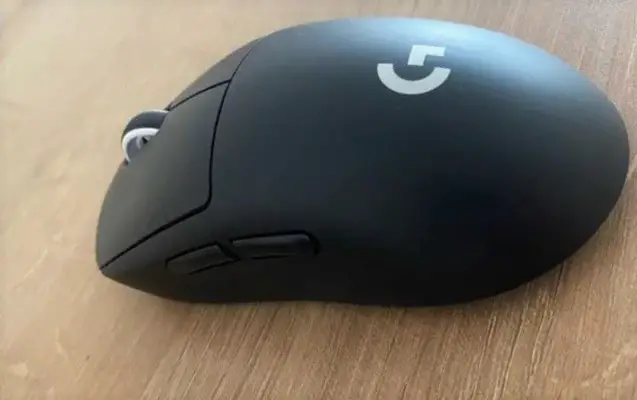 Since the G Pro Wireless is already designed to be as light as possible, one can legitimately wonder how Logitech went about lightening its 17 g replacement. No magic here, the Swiss manufacturer has simply removed features and components from its new mouse.
Some sacrifices for a lighter mouse
The most notable disappearance is that of the buttons on the right edge. The G Pro X Superlight can no longer be described as a completely ambidextrous mouse, since if left-handed people can use it completely, they no longer have these two buttons under their thumb. They can no longer condemn the buttons on the left edge by replacing them with covers, since the magnetic system of the G Pro Wireless has also been removed. Right-handers will of course see no problem there, quite the contrary.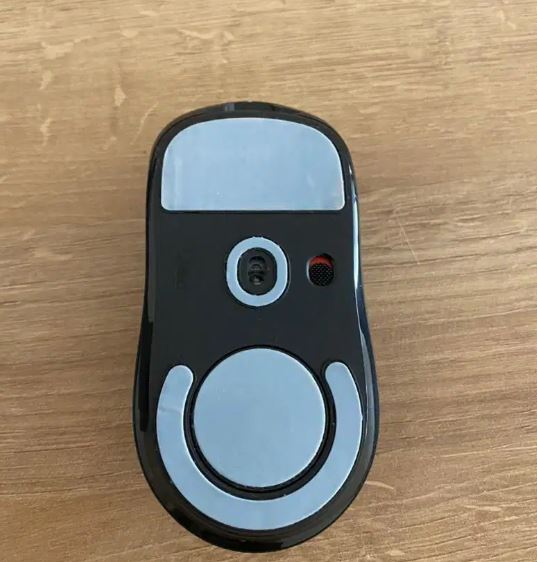 Other elements to bear the brunt of this hunt for superfluous weight, the RGB backlighting of the logo is no longer, as is the trio of LEDs indicating the level of sensitivity of the sensor. If the first function only had an aesthetic role, the second was still quite practical if you changed sensitivity regularly, knowing that these LEDs also served as a low battery alert.
Indications which are however also given in the form of notifications from the G Hub software, which we will also take care to use to exploit all the functions of the mouse.
Functions among which we find in particular the famous "selector G", which we can define on the button of our choice so that, once it is pressed, we can use a secondary function on the other buttons of the mouse.
Very responsive buttons
Apart from these few sacrifices on the altar of lightness, in the end we find the same qualities as those of the G Pro Wireless on this G Pro X Superlight.
The buttons are responsive as desired, especially the two main ones, held flat by small springs on their Omron D2FC-F-7N mechanical micro-switches (in Logitech-specific "G1" version), which makes them very sensitive. If they are not as hollow as those of a Razer Viper, for example, they nevertheless accommodate the fingers well.
The slice buttons, for their part, are well separated from each other and are coupled with even more compact mechanical micro-switches, still signed Omron and quite reactive too.
Only the wheel has to make do with a micro-tact switch, but the shorter lifespan of this type of switch should not be a problem for a wheel button that is activated well less frequently than the main buttons. The wheel itself turns out to be well notched and quite soft despite everything.
A decisive handling
Aware that the smooth plastic shell of its mouse is not suitable for everyone because of its lack of grip, Logitech provides with its G Pro X Superlight a set of 4 non-slip 3M adhesives.
Enough to keep the mouse in hand, but beware of the dirt that inevitably sticks to such a rough surface. They should also be replaced regularly, since their coating wears out fairly quickly.
Count 1.5 g more, which brings the mass of the mouse to 61.9 g on our scale. We remain under the 63 g announced by Logitech. Players looking for maximum lightness can remove the protective cover under the mouse and do without adhesives to finally obtain a mouse that weighs only 59 g!
Impressive for a wireless mouse. Anyway, this lightness is very appreciable and makes the difference once in game. The return to a heavier mouse reminds how decisive this lightness can be when it comes to aiming quickly and well.
---
Battery Life
Fortunately, the lightness of the G Pro X Superlight does not come at the expense of battery capacity. It is still a small 240 mAh battery which, according to Logitech, provides up to 70 hours of use.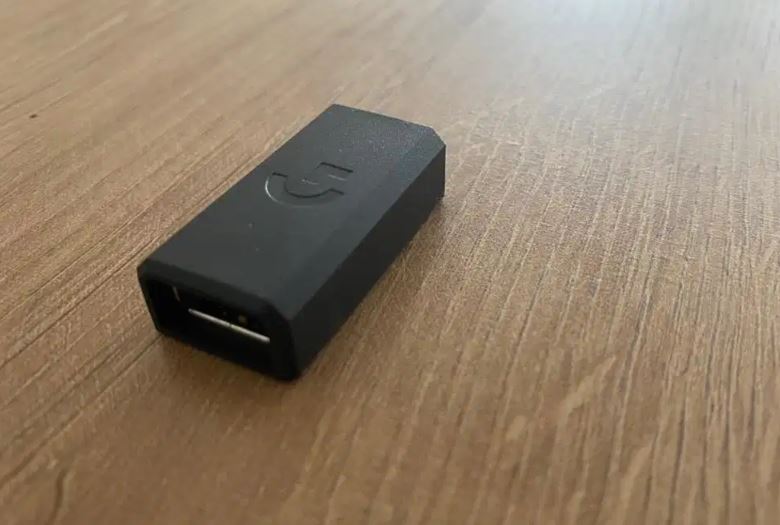 We can say that Logitech G Pro X Superlight has enough battery life to last a few days without any problems. The mouse charges via a proprietary micro USB connector that prevents unintentional disconnections.
We also found it a very nice detail to have the ability to slide the small wireless USB dongle of the mouse in order not to lose it during a journey.
---
Performance
No change on the sensor side. The Logitech G Pro X Superlight still uses a Hero sensor, recently updated to achieve an all-time high sensitivity level of 25,600 dpi. A value that is only there to shine on the technical sheet, because such sensitivity is simply unusable.
Note that even if you are stacking three Ultra HD 4K displays side by side, a 2cm mouse movement is enough to make the cursor move across the entire width of the screen.
This does not detract from the qualities of this sensor, which operates at very high speeds (up to 10.16 m/s) and easily withstands the most sudden movements (accelerations up to 40 g).
The human capable of faulting this probably has not yet been born. Accuracy is also impeccable with 1:1 tracking without smoothing or acceleration, allowing for highly accurate motion reproduction.
The only limit of this sensor is in its recognition of surfaces, coatings that are too shiny or transparent causing dropouts.
However, this is the case for all sensors designed for gaming. However, we will always recommend a good mouse pad to take advantage of optimal precision and glide, while also limiting wear on the pads (valid for a textile-covered carpets, in particular).
---
Connectivity
As far as the wireless connection is concerned, Lightspeed technology has proven itself and provides imperceptible latency as well as excellent connection stability.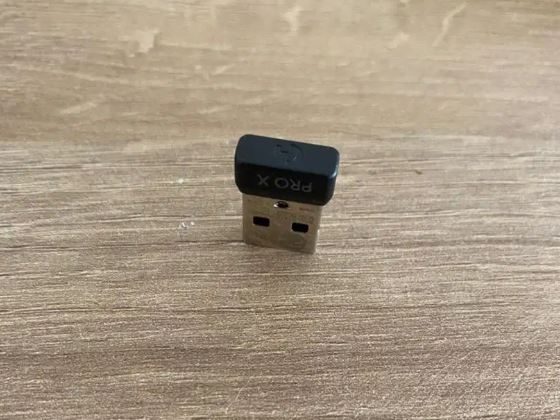 Logitech nevertheless recommends approaching the USB transceiver of the mouse as closely as possible using an adapter that plugs into the supplied USB cord. However, in a domestic environment, the direct connection to the central unit does not pose any particular problem.
---
G Pro X Superlight: CONCLUSION
As powerful as the G Pro Wireless, the G Pro X Superlight is a mouse that aims to preserve only the essentials to achieve record lightness. As long as you don't use your mouse with your left hand, it gives quite good maneuverability. The mouse also has good battery life and connection strength, despite its small battery.
Current Best Price on Amazon: $139.37
Price History on Amazon
| Months | Lowest Price on Amazon |
| --- | --- |
| Sep 2022 | $143.99 |
| Oct 2022 | $138.99 |
| Nov 2022 | $109.99 |
| Dec 2022 | $109.99 |
| Jan 2023 | $136.50 |
| Feb 2023 | $136.50 |
| Mar 2023 | $136.00 |
G Pro X Superlight
---
G Pro X Superlight: Specs
Length
12.5cm | 4.92 inches
Grip Width
5.9cm | 2.32 inches
Height
3.9cm | 1.54 inches
Button Height
2.1cm | 0.83 inches
Weight
60g 

(0.81:1)

Buttons
5
Size
Medium
Hump Width
5.6cm | 2.2 inches
Hump Position
Middle
Sensor
Hero
Cable
Wireless
Shape
Symmetrical
Latency
1ms
Polling Rate
1000Hz
Side Buttons
Left
Software
Yes