Logitech G900 Chaos Spectrum is a gaming mouse which still sells great in 2022 and 2023. It gives options to use it as a wired gaming mouse to have minimum latency for professional gamers. Being at the top of the gaming equipment category, Logitech announced this mouse as a high-end gaming mouse, the Logitech G900 Chaos Spectrum model, while continuing its technological developments. G900 Chaos price, technical specifications and details are in our article.
You may want to check our list of Best Wired Gaming Mouse under $30 in 2023 after reading this complete review of Logitech G900 Chaos Spectrum.
Current Best Price: -30% $98.99 on Amazon
---
Table of Contents
---
Logitech G900 Chaos Spectrum: Pros and Cons
Pros
Top-notch responsiveness, from sensor to buttons.
Sensor accuracy.
Wireless link quality, without latency compared to wired.
Pleasant grip / Ambidextrous.
Record lightness for wireless.
Removable slice buttons.
Quality finishes and plastics.
Lighter and more stable disengageable wheel.
Works wired or wireless.
Cons
Battery life is a little weak.
No charging base.
Still some wheel stability problems in free scrolling mode
---
Desing & Ergonomics
Before moving on to the technical review, the G900 must undergo the test of ergonomics and we cannot fail to tell you about its look. If the G502 was already divisive because of its very angular shapes, the G900 will not be unanimous on the design side either.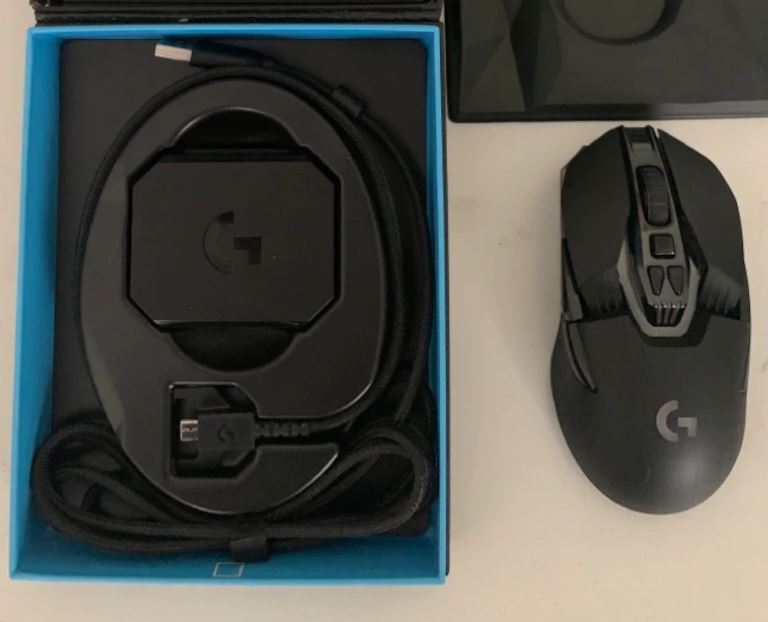 Despite a rather classic shape and a relatively compact size (130 x 67 x 40 mm, against 132 x 75 x 40 mm for the G502), the mouse marks its gamer character with a hollow central part and small grooves around its shell. Entirely in plastic and mostly matte black, it also has a shiny dark gray part with a chrome effect on its dial and its central buttons. The front of the flanks is for its part in gray soft-touch plastic , very pleasant to the touch, but only in contact with the ring finger during use.
The rubbery coating of the edge of the G502 has unfortunately not been preserved and the thumb slides a little more on the G900 – without this, posing a grip problem. Similarly, the edges are a little less hollowed out, for an overall more responsive grip, suitable for claw grip or even finger tip rather than palm grip .
The G900 is nonetheless comfortable, but is intended more for gaming than office automation, while the G502 seems to us a little more versatile and relaxing. 
G900 for Left Handed Gamers
The most important feature of this mouse: the G900 is intended to be perfectly ambidextrous! Rare on a gaming mouse, this characteristic will especially delight left-handed people, who are too often neglected. The G900 also adopts a sharp line, quite narrow, but is on the other hand much higher than the DB (10 mm more) and even a little wider (7 mm more). What bring a little more comfort without too much harm to the nervousness of grip. Likewise, Logitech opted for domed main buttons rather than hollow ones.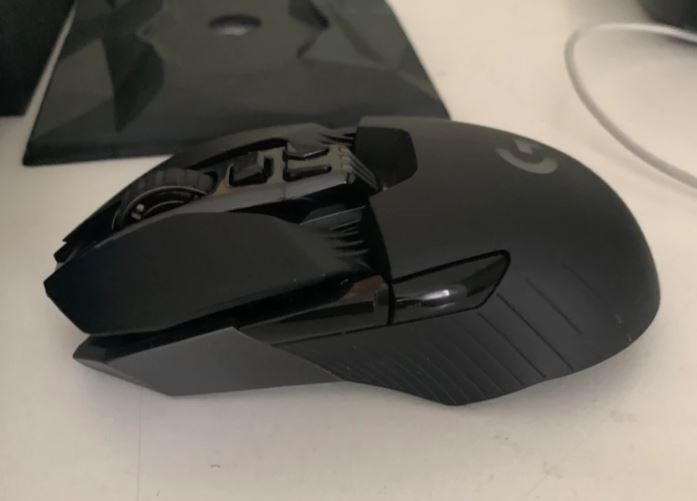 In order not to disturb either right-handers or left-handers, the four slice buttons of the G900 are removable. Thanks to a magnetic system, they can thus be replaced by fixed parts which prevent the switches from being activated. Convenient to avoid unintentional clicks.
As for the main buttons, Logitech has revised its mechanism in depth to reduce the activation time as much as possible. To do this, each button is assisted by a small spring that keeps it in contact with the switch. The latter is angled so that the contact is made without friction, in order to produce a fast and constant click. In practice, we do not actually notice any play and the buttons seem more sensitive than average. Logitech also chose Omron switches certified for 20 million clicks.
Finally, two buttons allow you to change the sensitivity level of the sensor on the fly. This is then indicated by means of three indicator lights, which indicate which of the 5 levels is activated.
---
Precision
A gaming mouse this high-end has to be flawless when it comes to performance, both in terms of responsiveness and the accuracy and speed of its sensor. To do this, Logitech uses the PMW 3366 optical sensor that is already found on the G502 and which gives complete satisfaction.
No need to dwell on its sensitivity of 12,000 dpi (adjustable in increments of 50 dpi) which is mainly there for the marketing aspect – players rarely exceed 2,000 dpi in fact.
Accuracy is definitely on point, and this sensor tolerates various coatings (our semi-gloss white desktop isn't a problem for it, which isn't always the case with other optical sensors), although of course, we recommend using a good mouse pad.
With a polling rate of 300 fps, exchanges with the computer that take place at 1000 Hz and a maximum acceleration of 40G, even the most furious of gamers will not be able to fault the G900.
---
Connectivity
Of course, in the case of a wireless mouse, the question of responsiveness arises. On this point, Logitech has redoubled its efforts to minimize latency and achieves results equivalent to those of a G502 and better than those of many competing mice.
In any case, this is what we were able to observe on the various test benches of the Swiss during our visit to its laboratories, before checking it in practice during our test. Thus, on an acceleration test, the G900 in wireless operation displays an average latency of 4.2 ms, when the Mamba 2015 is satisfied with double that with 8.4 ms. On the wired side, the DeathAdder reaches 7.2 ms, while a G502 offers results equivalent to those of the G900.
Same observation with regard to the latency of each click, the G900 surpasses the competition (wired and wireless) with very short activation times. Be careful though, these are only raw values.
In practice, it remains very difficult to perceive this difference and it tells us above all that the latest wireless mice – and in particular the G900 – now reach a sufficient level of responsiveness not to penalize players. This is what we see in practice and this is why we try as much as possible to evaluate the mice in real conditions, with fast games.
In any case, Logitech wanted to show that its G900 was capable of equaling or even exceeding the responsiveness of its wired competitors and we can say that the objective has been achieved here.
Let's not forget to talk about the stability of the wireless link, that is so important for a good gaming experience. Indeed, wireless mice are subject to electromagnetic interference from other surrounding devices.
If the conditions in a domestic environment are often acceptable – although it is necessary to take care to move away from the Wi-Fi router, preferably – this is conversely rarely the case during competitions, where the wireless networks are multiply.
To prevent the connection from being interrupted between the G900 and its USB-connected wireless receiver, which would cause sudden dropouts, Logitech engineers have ensured that the antenna integrated into the mouse can transmit in all directions.
Its transmission power is also increased – staying within the limits of health standards – to ensure that the signal is strong enough and does not suffer from interference from other signals.
We were able to verify it in the electromagnetic anechoic chamber of the Logitech laboratories, the G900 is indeed imperturbable, unlike its wireless competitors, which are more or less affected depending on the power of the parasitic signals. Behavior verified during our practical tests, despite our attempts to interfere with the signal (Wi-Fi box, mobiles in communication, etc.).
---
What Does Logitech G900 Chaos Spectrum Offer to Gamers?
G900 Chaos, which comes with the ability to be used both wired and wirelessly, which we have seen in Logitech systems for the first time, is also prepared in a structure that can be used by both left-handed and right-handed people. The mouse, which can also be used wirelessly with its 2.4 GHz receiver, also offers the opportunity to use it wired together with its cable.
Offering 20 million clicks of life, the G900 Chaos Spectrum weighs 107 grams and has many adjustable macro keys. G900 Chaos, which can be preferred by professional eSports players, draws attention with its instant response performance without delay and long battery life. When you use the recommended battery models, you can use up to 4 months without changing the battery. Thanks to its mechanical pivot key structure and lightness, maximum performance and long-term gaming pleasure are aimed.
It can be personalized according to the hand and usage pattern.
In addition to its flexible and versatile design, Logitech's new gaming mouse, G900 Chaos Spectrum, can transform into a mouse suitable for both left and right hands by using magnetic key caps. If you want, you can shape the design for different key combinations, apart from palm, claw and fingertip grip styles. You can reprogram the lighting color and brightness according to the system, style and environment with the 16.8 million color options available in Logitech Game Software. Thanks to the macro assignments, you can find the colors you want in the G900 Chaos Spectrum model.
I recommend you to examine this mouse, which covers your hand with its mechanical structure and allows you to move comfortably. Especially the PMW3366 Optical sensor and its use between 120 and 12.000 DPI will satisfy you in terms of performance. You can check out all the technical specifications of the G900 below.
---
Logitech G900 Chaos Spectrum Specifications
| Launch Year | 2016 |
| --- | --- |
| Dimensions | 130 x 67 x 40 mm |
| Weight | 107g mouse only |
| Weights | No |
| Connection Type | Wireless / USB, Braided |
| Form Factor | Ambidextrous |
| Grip Type | Palm, claw, fingertip |
| Buttons | 11 |
| Sensor | Optical, PMW3366 |
| DPI on the fly | Yes |
| Max. DPI | 12000DPI |
| Max. acceleration | 40G |
| IPS speed | 300IPS |
| Polling Rate | 1000Hz |
| Illumination | "G" logo on top |
| Programming Profiles | 5 |
| On-board Memory | Yes |
---
Logitech G900 Chaos Spectrum: Conclusion
The G900 is indeed the wireless mouse that demanding gamers – right-handed and left-handed – have come to expect. Logitech has succeeded in its bet and offers an extremely responsive and light mouse, which has nothing to envy to its wired counterparts. 
We can simply blame it for a somewhat low autonomy, associated with the absence of a charging base, as well as a very high selling price which reserves it for pro or wealthy players.
Current Best Price: -30% $84.99 on Amazon
Price History on Amazon
| Months | Lowest Price on Amazon |
| --- | --- |
| Sep 2022 | $96.50 |
| Oct 2022 | $104.95 |
| Nov 2022 | $104.95 |
| Dec 2022 | $99.98 |
| Jan 2023 | $95.99* |
| Feb 2023 | $82.99 |
| Mar 2023 | $72.93 |
| Apr 2023 | ? |
G900 Chaos Spectrum
---
Logitech G900 Chaos Spectrum Review Video