The Nubwo G07 gaming headset is a budget friendly gaming equipment with lots of good reviews on amazon. We decided to check it out and make a detailed technical overview for those who wanted to buy the headset. The Nubwo headsets have got an overall good price/performance ratio. The Nubwo G06 headset ( which we also have a detailed review) is the more expensive predecessor with a better battery life compared to the G07. So let's het to the details of this headset.
---
Table of Contents
---
Nubwo G07: Pros and Cons
Pros
Great audio
Good accuracy for FPS gaming
Ear cuffs are nice and big, and can wrap around the entire ear
Overall comfort is good
Cons
When connect wirelessly, there is a very low static noise
The microphone is not detachable
Can't charge it while using it
Design doesn't really catch eyes. 
Battery life
---
Design & Comfort
When it comes to the design of Nubwo headsets, we mostly saw a heavily gamer characteristics but G07 has a simple and practical design. The overall construction is similar to N7 model. Taking a closer look at the headset, there's a good amount of flex to it. It shall fit your head really nicely. there's also a good amount of cushion there in the ear muff portion. The earmuffs are  the same thing can be said of the arch portion. It honestly does feel very comfortable because of these features. There is a logo of the Nubwo on top which looks really cool.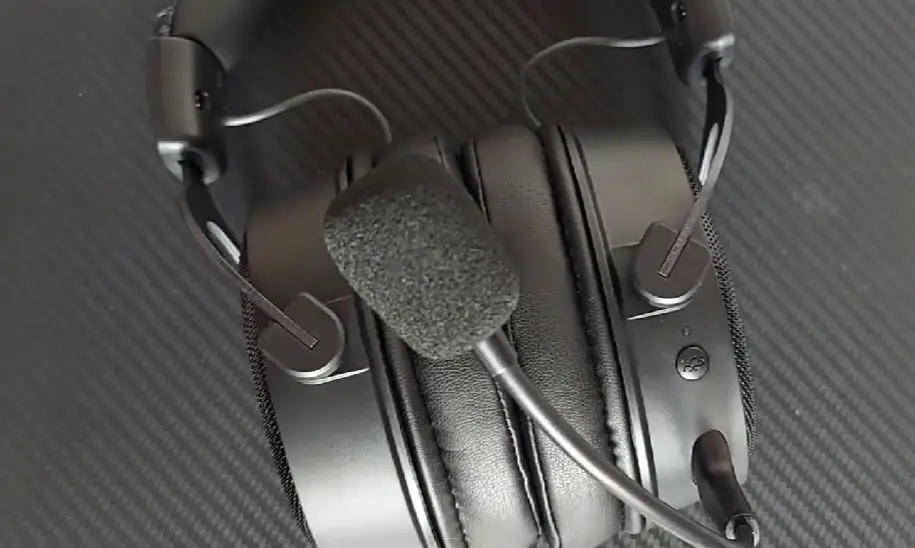 The microphone placement is nicely done. The microphone can be adjusted and flexed to whatever position you want it to be whether that be up down left to right. It will simply just hold wherever you want it. On the back of the headset, there is a power button; one click turns it on. And there is also a volume wheel which will adjust and stay to whatever position you want it to be. Next up is the charging port. The 3.5 millimeter jack is also line up with the charging port just in case you want a wired connection with these headset.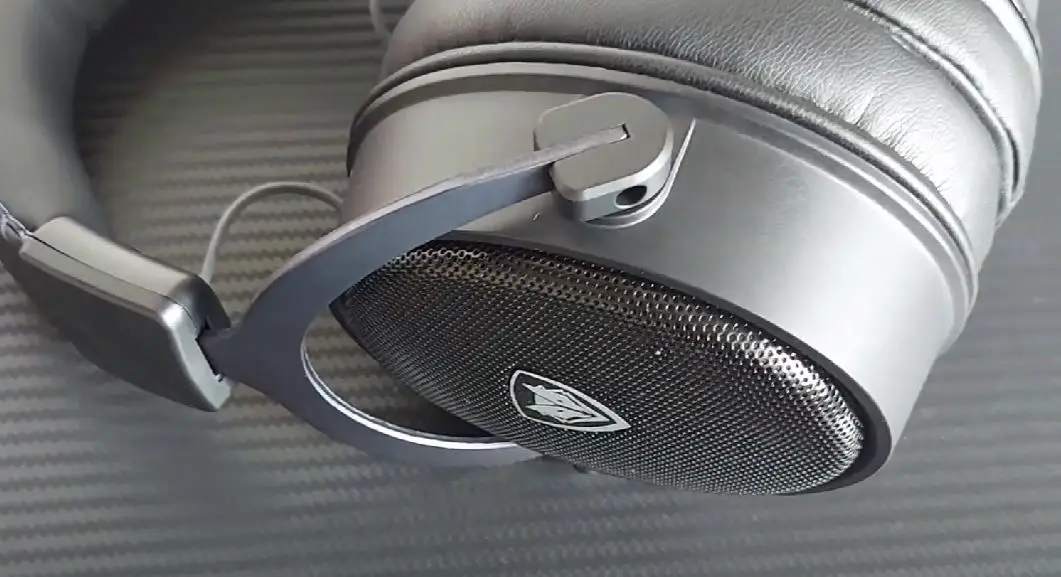 The box of Nubwo G07 contains a plastic bag with all of the literature 3.5 millimeter, cable charging cable and dongle.
Comfort
The overall comfort and fit of this headset can be rated over average in this price range. Personally I can say it provides great in the comfort department simply because of the amount of cushion that you get in the ear muffs and the top arch portion of the headset.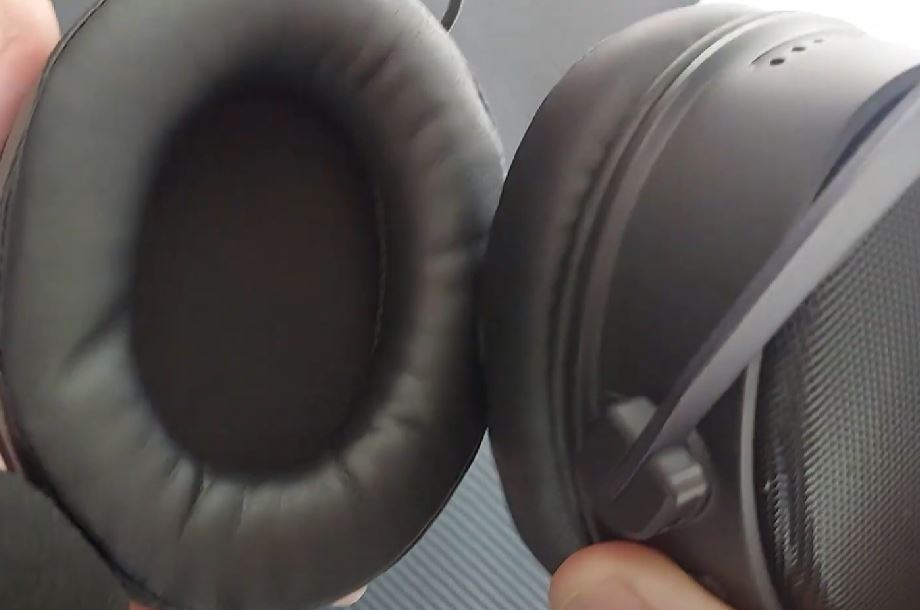 Even over a long period of time it felt really good also the adjustments here are really great for somebody with a big head. if you do have a big head, don't worry there's plenty of adjustments to get under the headset. Overall everything in the comfort and fit department is really well done by Nubwo.
---
Audio
The audio quality from this headset is honestly some of the best audio that We've ever tested in the price range. The headset features a 3D Surround Sound which is a nice to have spec for a gaming view. The headset definitely provides an exceptional audio quality for what it is. When used wired, the 7.1 surround feature makes a quite prominent difference in terms of sound quality.
Since it is a gaming headset and intended for gamers, We can easily say that the sound is very accurate in FPS games. We have straightly noticed the directions and details in our gaming experience.
if you're looking for some great audio coming out of your headset, this is honestly a great option and I would get these again simply because of this fact.
---
Battery Life
When it comes to battery functionality of Nubwo G07, we have noticed that the headset cannot be used while charging. The overall battery life itself is not great. When comparing to the other headsets of this price range, the battery performance is below average in our test. The battery could hold on 15 hours of average usage which is fairly below of advertised 17 hours of use. The headset took 3:55 mins to fully charge in our test.
---
Microphone
The microphone of G07 features a background noise cancelling and it actually des its job well. In our mic test, we noticed that the background noise is eliminated nicely. Although the mic has a bit flat sound like on a normal phone, It is still better than many headset in the price range.
There is a mute button for the microphone to the front of the headset, just one click turns it on and off which is a nice detail.  Microphone does get a little boomy sound sometimes as it is sensitive.
While the microphoneis not the highest quality, you won't be getting professional level audio here. You will be able to record yourself fairly clearly.
---
Connectivity
The headsets actually provides an excellent wireless connectivity. With 2.4GHZ Wireless Connection, it can be paired with PC, PS4, Xbox One, Nintendo and Mac. We never had a dropped connection in our extended use of the headset. so if you're looking for an option with excellent connectivity this certainly seems like it would be a good option. The headset is advertised to have 10m(33 feet) wireless range that we could even went beyond that point without a drop in connection.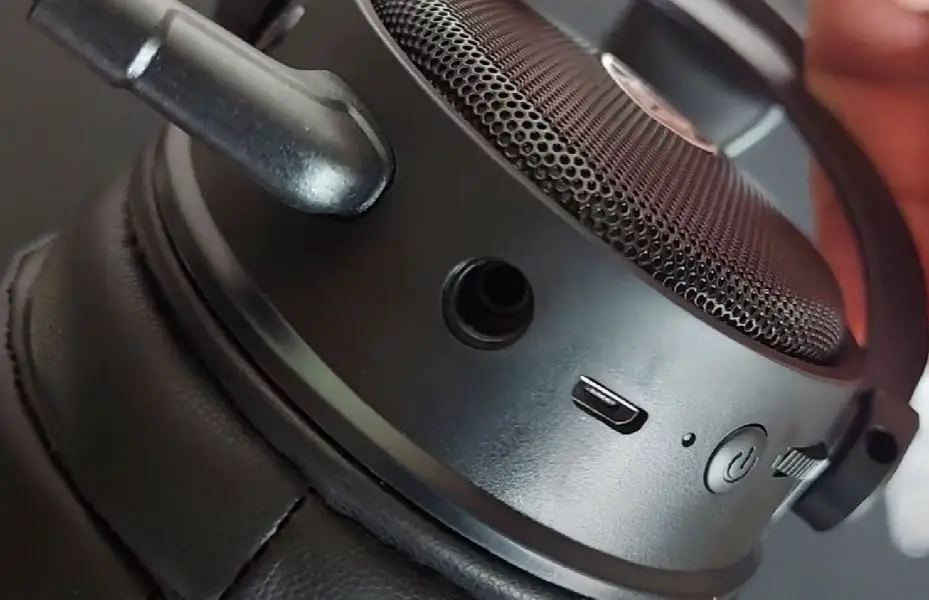 One thing you should consider before buying is that the headset's wireless option is not compatible with Xbox. So you need to use it as wired on your Xbox.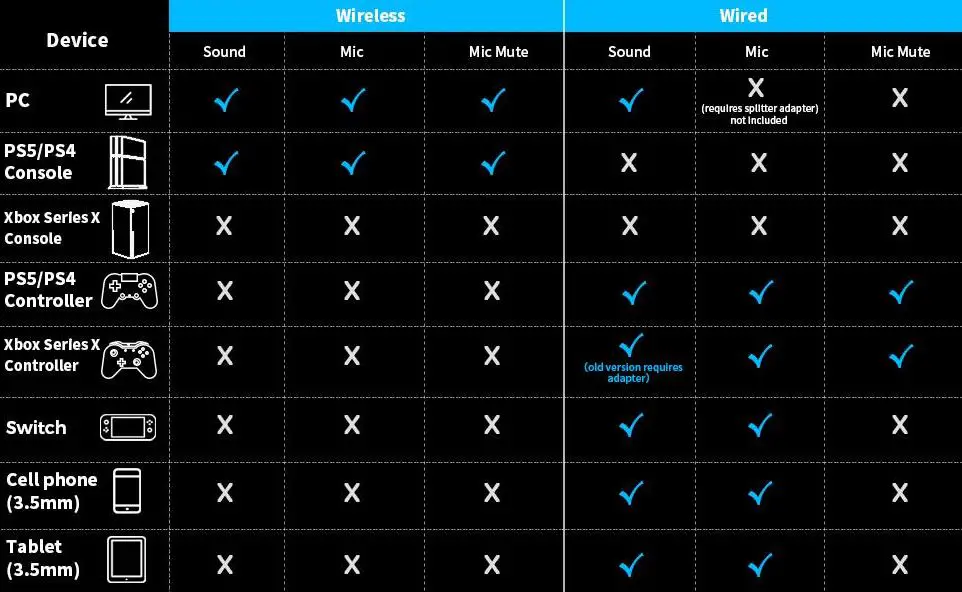 For Wired mode, The headset can be switched off and you can continue using the headset while the device is connected using a 3.5mm connector cable. We have noticed a relatively better sound quality with wired connection to our PC. That's normal in most cases but the quality improvement is pretty noticeable. 
---
Nubwo G07: Conclusion
Let's wrap it up for the review of Nubwo G07. The headset was being sold at around $50 on amazon last year. The price seems to be hugely dropped to $30 recently. So in our opinion, This headset is at a great price/performance point now. The battery life wasn't great and you can't use them while charging (which I dont see why not as they're not Bluetooth but USB). Overall, we can definitely recommend Nubwo G07 at this price range.
Current Best Price on Amazon: $36.99
Price History on Amazon
| Months | Lowest Price on Amazon |
| --- | --- |
| Sep 2022 | $39.99 |
| Oct 2022 | $37.99 |
| Nov 2022 | $31.99 |
| Dec 2022 | $31.99 |
| Jan 2023 | $36.99 |
| Feb 2023 | $39.99 |
| Mar 2023 | $* |
Nubwo G07
---
Nubwo G07: Specs
Technical Parameters Model: G07- 2.4G
Headphone battery capacity: Lithium battery 3.7V / 1500mA
Channel system: stereo
Working time: about 17 hours (70% volume)
Charging time: about 4 hours
Standby time: 200 hours
Input charging standard: USB-MICRO, DC5V / 2A
Frequency response: 20Hz-20KHz
Sensitivity: 100 ± 3dB @ 1kHz
MIC sensitivity: 38 ± 3dB @ 1kHz (unidirectional)
Effective distance: linear transmission distance is about 10 meters or 33 feet