Sometimes, the games will be launched in other languages than your own language. It can be hard to find the language settings in another language especially in sinogram alphabets like Chinese.  So in this guide we will be showing you the language setting and how to change Ranch simulator's language to English.
---
Table of Contents
---
How to Change Ranch Simulator Language in Steam?
Just like any other game on Steam platform, changing a game's language takes a few simple steps:
Launch Steam and go to Library
Find Ranch Simulator in game library
Left click on the game and select "Properties"
In properties window, go to language tab
Choose a language you want
If you don't see a language tab on Steam, you should change the language in game options.
---
Changing Language in Game Options
Ranch Simulator supports many different language as in base game. Before starting to look for an language patch, you need to check in game options to switch to your language. Here is some steps to change language in game options:
Launch Ranch Simulator
In the main menu, click on Options
Go to Gameplay tab which is 4th option
At the top of the window, you will see language options
Click on the selected language and change to your language.
Click Apply at the bottom of the window and close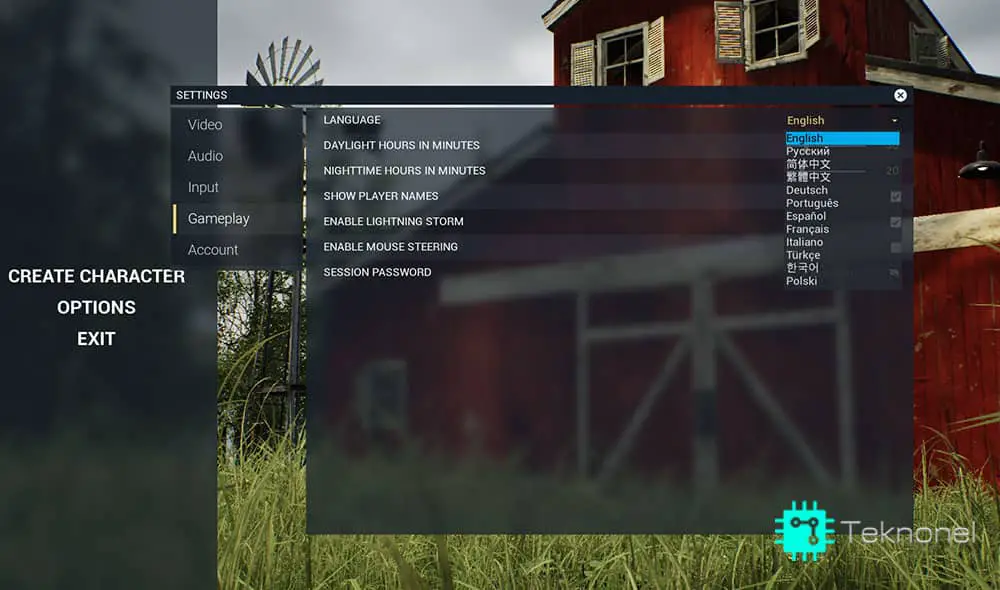 ---
Ranch Simulator Supported Languages
|   | Interface | Full Audio | Subtitles |
| --- | --- | --- | --- |
| English | ✔ | ✔ | ✔ |
| French | ✔ | × | × |
| Italian | ✔ | × | × |
| German | ✔ | × | × |
| Spanish – Spain | ✔ | × | × |
| Portuguese – Brazil | ✔ | × | × |
| Russian | ✔ | × | × |
| Simplified Chinese | ✔ | × | × |
| Traditional Chinese | ✔ | × | × |
| Turkish | ✔ | × | × |
| Korean | ✔ | × | × |
| Polish | ✔ | × | × |