South Korean memory maker SK Hynix announced that it has successfully developed a DDR5 multi-channel merged array dual in-line memory module (MCR DIMM), achieving a data transfer rate of 8Gbps.
According to SK hynix, this is the fastest server DRAM product in the industry, more than 80% faster than ordinary DDR-4800.
SK hynix has adopted a new approach to increase the data transfer rate of DDR5.
In general, the operating speed of DDR5 is determined by the speed of a single DRAM die.
SK Hynix has found another way to achieve higher speeds by increasing the speed of the entire module, rather than individual DRAM chips.
The product design is based on Intel MCR technology, using the data buffer (data buffer) installed in the MCR DIMM to run two memory ranks at the same time.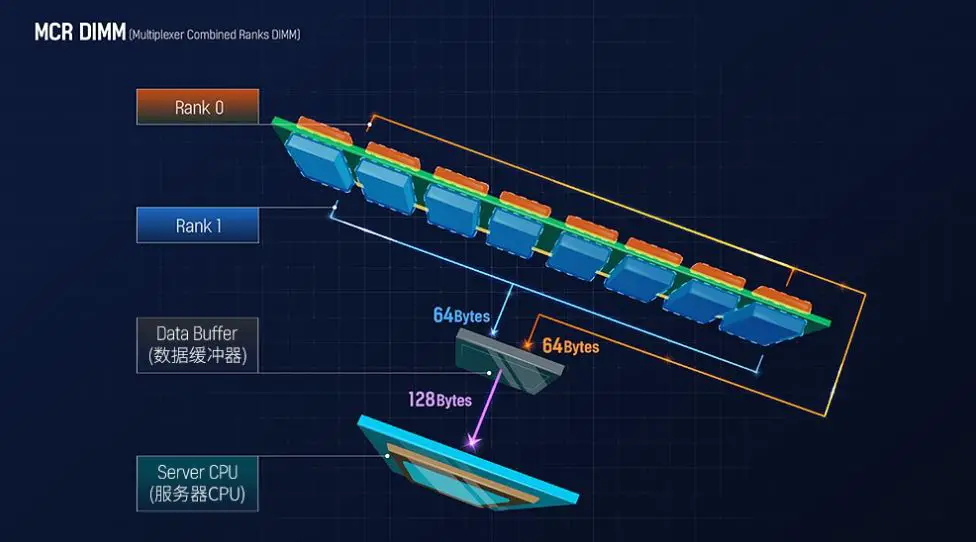 SK Hynix also introduced that traditional DRAM modules can only transmit 64 bytes of data to the CPU at a time.
In MCR DIMM modules, two memory ranks running simultaneously can transfer 128 bytes of data to the CPU.
This design increases the amount of data transferred to the CPU each time, and the data transfer rate increases to more than 8Gbps, which is twice that of a single DRAM.
SK Hynix is also working closely with Intel and Renesas Electronics to combine its own DRAM module design capabilities with Intel Xeon processors.
Renesas' buffer technologies have been integrated and accelerated at all stages from development to performance verification.
SK Hynix expects that the market for MCR DIMM modules will gradually open up driven by high-performance computing's demand for increased memory bandwidth.
SK Hynix plans to mass produce this product in the future, but did not disclose the specific mass production time.