Xiaomi's brand new humanoid robot has been introduced by the CEO Lei Ju, Cyberone has many similarities to Tesla's humanoid robot. 
Xiaomi is very active in research and development in the field of robotics. Its advances come through tangible products like smart vacuum cleaners , but its founder and CEO Lei Jun's ambitions are bigger.
In 2021, the group proudly displayed its very first robot, then called CyberDog. As his name suggests, he took the form of a dog and his actions were therefore relatively limited.
CyberOne: the humanoid robot takes its first steps
Only a year after the announcement of CyberDog, the CEO of Xiaomi is joined on stage by CyberOne.
Notice to fans of science fiction films and novels, the CyberOne is harmless to humanity, despite its neat humanoid appearance. Indeed, it comes with a height of 177 cm or 5'9 for a weight of 52 kg or 115 pounds.
Xiaomi would have done a titanic job to allow him to move like a man. Despite everything, as this gif below shows, he is still far from equaling the top speed of Usain Bolt!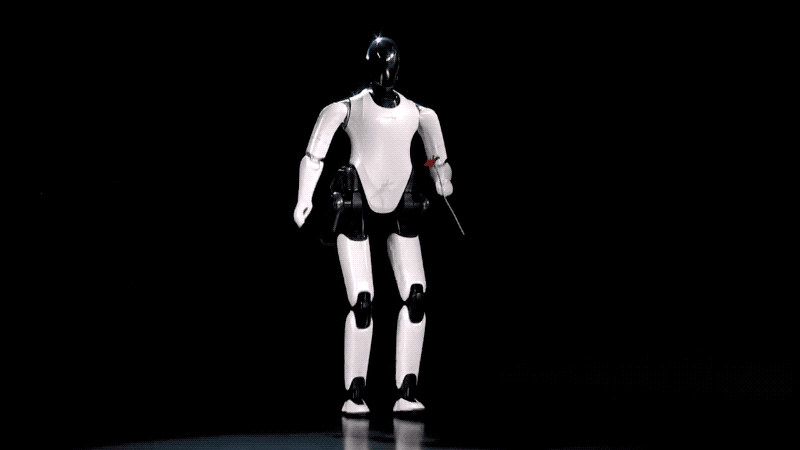 An AI to bring humanity to CyberOne
It perceives its environment in 3D, recognizes 85 types of sound and no less than 45 different emotions. According to Lei Jun, "  CyberOne is able to detect happiness and even comfort the user in times of sadness ".
Its applications could therefore be wide in the future. Xiaomi evokes in this respect the assistance to the person, but also a manufacturing aid. It should be remembered that China has been significantly affected by the pandemic in its factories. This is without taking into account the difficulty of certain tasks which could then be carried out by this type of robot.
Although it's only a technology showcase for now, according to Lei Jun, this concept explores "  the possibilities of Xiaomi's future technology ecosystem and a new breakthrough for the company ".
Note that the group is not the only one to bet on humanoid robots. Tesla also has wild ambitions with its Optimus , which should go into production as early as 2023.
More Complex than Cyberdog
According to the manufacturer, its design was naturally more complex than that of the CyberDog. It indeed requires more powerful motors combined with lightweight components, and had to have a certain freedom of movement for more authenticity and above all to offer advanced functionalities.
CyberOne supports as such up to 21 degrees of freedom of movement and moves with a latency time of only 0.5 ms for each degree. This robot can lift up to 1.5 kg (3.3 pounds) with one hand.
First Image Credit: Xiaomi