The Bengoo g9000 gaming headset is one of the best selling wired gaming headset on Amazon so far. It has a microphone so you could talk in-game, LEDs, noise cancelling and many other features. But more importantly, what makes the headset very unique is compatibility with PS4, Xbox and PC. It features blue light up LEDs and are available in several different colors. This budget friendly headset has so many features despite its price. Lets get into the details of this best selling headset and explore why it stands out among hundreds of other similar headsets. 
---
Table of Contents
---
Bengoo G9000: Pros and Cons
Pros
Price for the quality is great
Decent speaker/mic sound
Good quality cable that is at least 6′ long
Sits comfortably on the head
Stereo/mic to separate stereo and mic connector included
In-line mic mute switch and audio volume adjustment
Cons
The USB is only a power source for the blue lights on the headset
The in-line mute and volume knob would be better with a mic gain knob as well
It tends to make the head a bit sweaty
Low quality plastic
---
Design & Ergonomics
The Bengoo G9000 gaming headset has a design that highlights a lot of gamer characteristic. The overall build quality and material use are a little bit brittle, It also has a little bit of a flex to it. But for twenty-five dollars, I think that as long as you're careful with these headphones, they should last a long time.
The build quality completely out of plastic. That be said they don't seem to be loose or cracking. There's no weird noises that are made when I stretched out the headset. It seems to be made pretty well. The headset is pretty bulky. If you're going to be carrying them in a backpack or something like that, you'd want to be careful. Because this is just going to take up more space and probably makes it a little bit easier to break inside of a backpack. 
Another downside is that the plastic does seem sort of cheap. it's not the highest quality on this price range.
Overall, I really think this is pretty decently designed headset, especially for the price of around $25. The compatibility with several different devices means that you can use them in cross platforms; anything from consoles ps4 Xbox one to your computer or any other devices.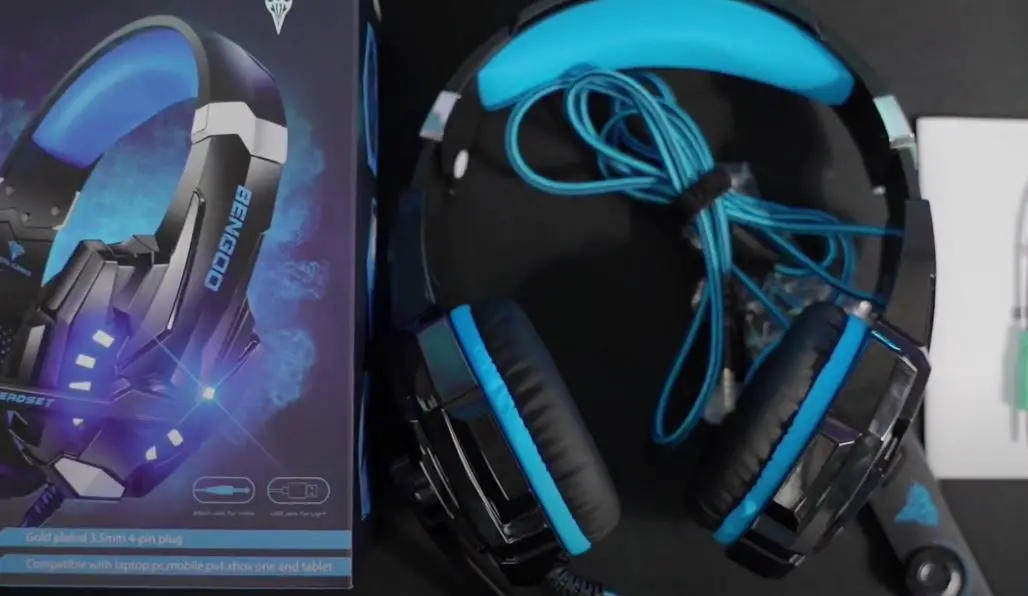 Blue color the two-toned and the chrome right on the sides. The plastic is shiny so that's going to look really cool if you're doing livestream. It's gonna look eye catching and people will notice it.
Very soft and cushioned ear muffs will make this headset considerably comfortable but don't expect too much. We are talking about price/ performance at the end of the day.
The headband as well has a lot of cushioning on it which makes it great for gaming, especially if you're gonna be wearing these for a long time. So you want the headset to be very cushioned in this case. The ear muffs are also very light. I don't think they'd make a heavy feeling for long periods of usage and then they adjust on each side. so if you have a large head or maybe a lot of hair then you can ensure that the headset will fit your head.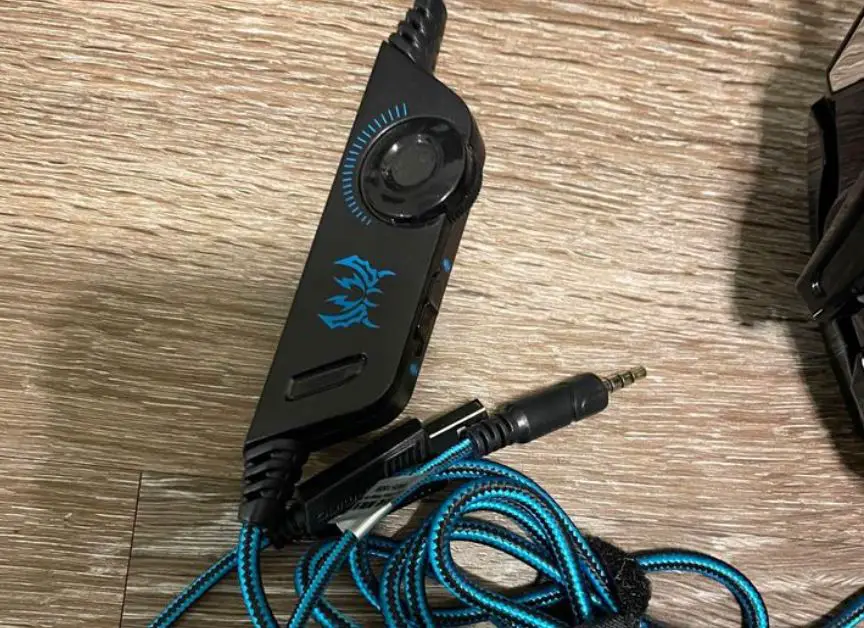 It has an articulating microphone which you can put it up. If you don't want it to break off and protect it, then when you're gaming and you're using the headset you want to have the microphone down. This is one of the things the headset advertised about  was comfort.
3.5 mm headphone jack and this has the ability for both input and output. So if you have a jack on your computer that has both microphone and speakers then you could use this on the jacks as well as on your xbox controller or ps4. One thing I think is interesting is this is the only way that audio can get in and out of the headphones. The USB connector is simply for powering the LEDs on the headphones. In this case, if you do have to connect it to a computer, you're gonna have to have either one of those special Jack's or you can use an adapter to do that and then to power up the LEDs.
---
Sound
The sound quality of Bengoo G9000 stereo gaming headset is actually pretty good considering the low price. I really felt with the over the ear muffs. It was a very good listening experience. You could really hear all the different details during a game or with music or podcasts or videos. So no problem there with the sound quality. The headset features a noise cancelation spec but the noise canceling is not the best as expected. It can slightly makes the environment quieter but no big deal.
When it comes to the bass, It has pretty bass heavy speakers. Compared to other headsets in this price range, I think this headset has slightly better sound quality.
---
Microphone
When it comes to microphone, the voice quality you should expect must be low as this headset uses a cheap receiver. When you plug in the headset, your voice will be coming through the microphone to your ears from headphones. So this is a good way for you to tell how the audio quality will sound if you're talking in game or on a livestream.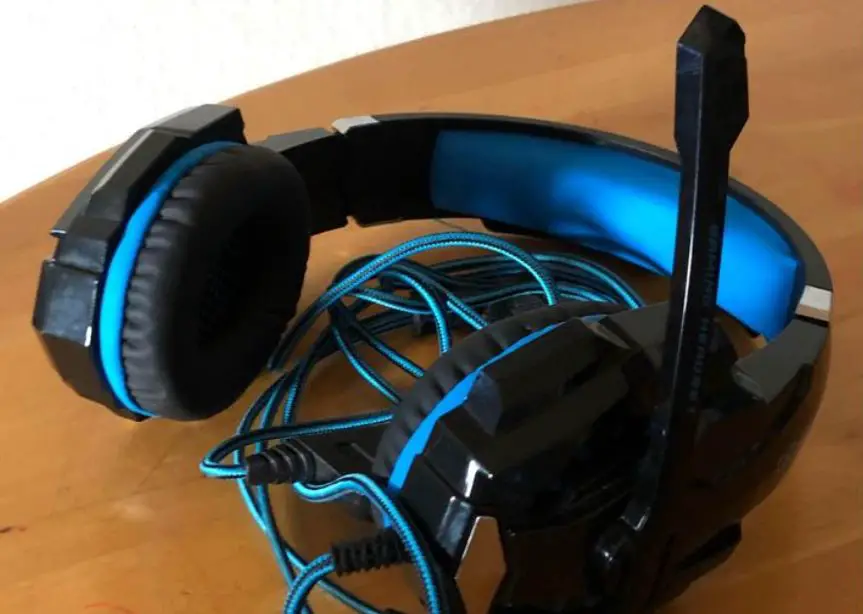 Setup is pretty easy, the USB connector does nothing other than power the lights so you just connect the microphone connector into your computer or your xbox and that's how you would record from there. 
The microphone is a little bit flat so it might be a little bit hard to understand what someone's saying if they're using this microphone. There is also the volume, which is a little bit lower. So you'd want to adjust the volume on your microphone.
It also has a braided nylon cable. It should last a long time and not get as tangled up. Located on the cable, there is a control area for the microphone and the headphones to mute and unmute the microphone as well as turn up and down the volume coming through the speakers. ( See the picture above)
---
Conclusion
Bengoo G9000 stereo gaming headset is a budget friendly, multi-platform use, wired gaming headset which is actually impressively one of the best seller on Amazon. So this headset is able to standout from other similar budget headsets because It actually can be used on PS4/PS5, Xbox and PC. But the build quality and microphone is just a little bit the cheap-side of this headset.
Current Best Price on Amazon: $25.99
Price History on Amazon
| Months | Lowest Price on Amazon |
| --- | --- |
| Sep 2022 | $19.99 |
| Oct 2022 | $19.99 |
| Nov 2022 | $19.99 |
| Dec 2022 | $25.89 |
| Jan 2023 | $25.99 |
| Feb 2023 | $25.99 |
| Mar 2023 | $25.99 |
Bengoo G9000
---
Bengoo G9000: Specs
| | |
| --- | --- |
| Speaker size | 40mm |
| Microphone impedance | 2.2KΩ |
| Impedance | 32Ω+15% |
| Directionality | omni-directional |
| Sensitivity | 105+3dB |
| Cable length | 2.1M+0.15 |
| Frequency range | 15Hz-20KHz |
| LED working voltage | DC5V+5% |
| Microphone | 6.0×5.0mm |
| Working current | ≤100mA |
| Microphone sensitivity | -38+3dB |
| Headset jack | USB+ 3.5mm 4Pin |
| Compatibility | PS4, PC, Xbox One, Laptop, Mac, Nintendo Switch |
| 3.5mm Splitter | Included |