With the trend of smart devices, almost every possible wearable is also becoming smarter. The shoes are also included in this trend. The latest product of the engineering team at Shift Robotics, "Moonwalkers", is described as the fastest smart shoe in the world.
The World's Fastest Shoe: Moonwalk
It may be a bit misleading to say that Moonwalkers are shoes. Although the side looks a bit like sports sandals, from the overall shape or the way of use, they are more inclined to help the soles.
What's the use of this shoe then? The use method is very simple. After putting on the shoes, put your feet on the shoe boards, fasten the straps, and go!
Even though it looks like an ordinary sandal, the brushless DC motor drives 8 wheels, providing power and acceleration with every step. 2 additional wheels at the front end ensure stability.
No matter how advanced the car is, it is four-wheel drive, but this is eight-wheel drive!
Of course, the effect of eight-wheel drive cannot be underestimated. According to official data, the maximum walking speed of Moonwalkers can be raised to 7 miles (about 11.27 kilometers), which is about 250% of the average walking speed of adults.
Wear it to walk the dog, no longer afraid of letting the furry fly let you catch up. Stepping to go for a walk, the momentum of an international supermodel emerges instantly.
Even a busy street can perform a magic trick with five people in a row. With it, you are not afraid of being late for work. The so-called "walking like flying" is nothing more than that!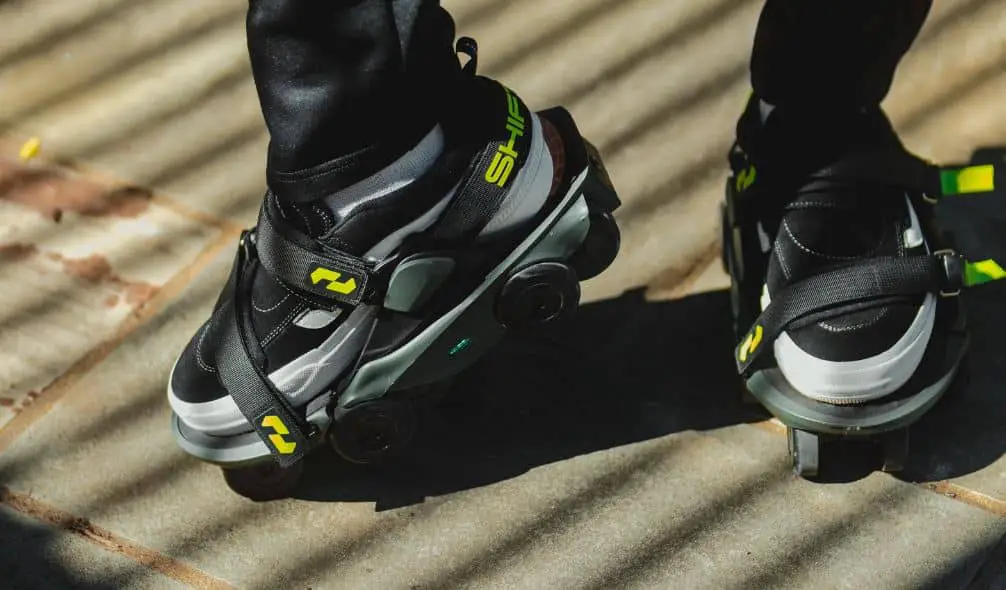 Some people may worry: electronic products are so fragile, will people stand on them and break them? Rest assured, Moonwalkers can hold up to 100kg, even though they are only 4.2lbs.
As long as it's not a super fat man, or if it's okay to stack 3 people to stand on it, it's not a big problem.
Of course, the most important thing about electronic products is battery life. Moonwalkers support PD fast charging, which can be used for about 1.5 hours on a full charge, covering more than 6 miles (9.66 kilometers).
It's OK to solve the last mile of the commute, but not to run errands to deliver food.
Moonwalkers are open for pre-order, and the limited-edition super early bird price is $1,099, and it is scheduled to ship in April next year. At present, there are almost 400 people who need to "fly" to work.
Isn't this the Heelys?
The soles are equipped with wheels to slide away, aren't they the Heelys that are all the rage?
People born after the 1980s should not be unfamiliar with Heelys. Due to their shortcomings, such as "easy to fall and accident" and "long-term wear and tear causing muscle injury", they were judged by their parents as "dangerous" and "must not buy" restricted areas.
Moonwalkers also add a motor, is it faster and more dangerous? Knowing that everyone has doubts, Shift Robotics specifically stated: "Walking, not skating." (Walking, not skating.)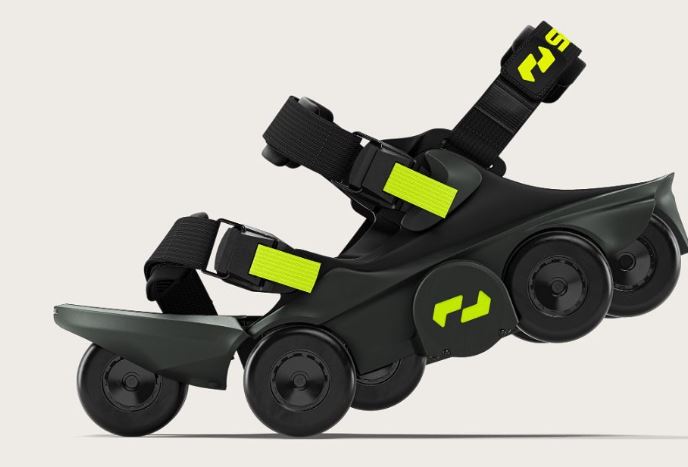 Moonwalkers are not only motors and drive wheels, but also smart chips. The artificial intelligence learning algorithm can know when to walk and when to stop based on walking habits, and can switch between "walking" and "locking" modes at any time.
Just like real feet, walk with you and stop with you. At the same time, the ergonomic hinge system ensures that the toes are bent naturally, avoiding muscle fatigue and increasing balance.
It is designed for the two major shortcomings of Heelys, which not only makes you feel at ease, but also copes with more common and relatively complex terrains, such as slopes and stairs.
The design of "8-wheel drive + 2 additional wheels", in addition to being faster, also helps you to walk normally when facing various rugged roads.
Plus IP54 waterproof and dustproof, rainy days, sandy terrain and small puddles are no problem.
How powerful are the smart shoes that everyone is rushing to make?
There are motors, chips, and artificial intelligence. There is no doubt that Moonwalkers are like smart watches, smart glasses and other wearable devices. They are smart shoes, but they are not the first pair.
What I didn't notice, sports brands and new startups have gradually entered the "smart shoes" and developed new markets, such as the following:
Nike HyperAdapt.
The classic movie "Back to the Future" series once "predicted" that there will be Nike sneakers with automatic straps in the future.
In 2015 (the future year when the second movie went back), Nike announced that it had really developed automatic shoelacing technology and sent sample shoes to the actor.
However, at that time, there were only 89 pairs on sale worldwide, and they had to draw lots to buy them, so Nike Air Mag did not enter the shoe cabinet of most people.
Now that the technology is there, everything else is easy to do. Later, Nike launched the Nike HyperAdapt, which is more accessible to the people in both shape and quantity.
There are also self-adaptive shoelaces. When you put it on, the sensor will start to tighten the upper until it fits the instep. There are also two buttons on the side of the shoe for fine-tuning.
AMAZFIT antelope.
There is also a lot of demand in China, and Xiaomi's outdoor brand AMAZFIT has also launched AMAZFIT antelope outdoor light running shoes.
In addition to outdoor functions such as shock absorption, anti-skid, ventilation, and waterproofing, the biggest highlight of Antelope is the use of Xiaomi Mi Dong smart chips.
Everyday things such as steps, mileage, consumption, etc., or professional sports, the frequency of forefoot landings, the duration of touchdowns, the proportion of airborne, etc., can be recorded with this pair of shoes. Athlete level data analysis can be enjoyed even for simple night runs.
DIGITSOLE.
The same is to record walking and running data, DIGITSOLE pays more attention to the "health" module.
Each person's gait is unique, and DIGITSOLE can analyze more than ten biomechanical parameters according to the walking style to determine whether the posture is incorrect, provide improvement solutions, and reduce the risk of injury.
It is very helpful for the elderly and patients in rehabilitation period. Different from other brands of complete smart shoes, DIGITSOLE also launched a smart insole, which can be inserted into other shoes.
Taclim.
Taclim is actually more like a VR device, because it is the world's first pair of VR shoes. The team found that when people use VR equipment, most of the feedback is from the upper body, but the tactile sound of walking on different terrains is different, and the lack of road sense will also affect the sense of immersion.
The biggest function of Taclim is to have tactile feedback on both feet, allowing users to feel whether they walk on the grass or the beach when playing games, and when playing racing games, the vibration of the accelerator and brake will also be transmitted back.
Will the next era be the era of smart shoes?
According to statistics, as of 2021, the global smart shoe market will reach $2 Billion. Many smart shoes mentioned above are just the tip of the iceberg. But why does life still rarely see smart shoes? The reason is inseparable from two points: technology and users. Needless to say about technology, so far "smart shoes" are more like concepts than mature products. The hardware, algorithms, batteries and other technologies that are essential for the production of smart shoes are immature.
Big brands test the water temperature, and new creations can only go to crowdfunding, everything is unclear.
There are more reasons for users. In addition to the "fastest shoes" Moonwalkers, many smart shoes are only aimed at groups with special needs, such as sports, VR and other fields with less audience.
Coupled with the not-cheap pricing, many users who just want to "buy and play" are discouraged. Of course, with the development of science and technology, more manufacturers join, and smart shoes may one day go to the public. At least not now.