What is Bonfida?
Bonfida is a decentralized and non-custodial exchange on top of the Serum trading protocol on the Solana blockchain. It has a wide array of trading products powered by Solana's on-chain order book. They facilitate faster transactions speed without the expensive gas fees experienced by users on other networks.
Bonfida can be a useful trading platform for both beginner and advanced users. It integrates various handy features, such as trading charts and TradingView data in its interface. This helps users gather important analytics information on the exchange's activity, including data on Serum DEX and Swap's volumes, spread percentage, and total value locked.
You must have a cryptocurrency account to buy Fida coins. Click to sign up for the world's largest crypto exchange Binance: Binance
Fida Coin Price Chart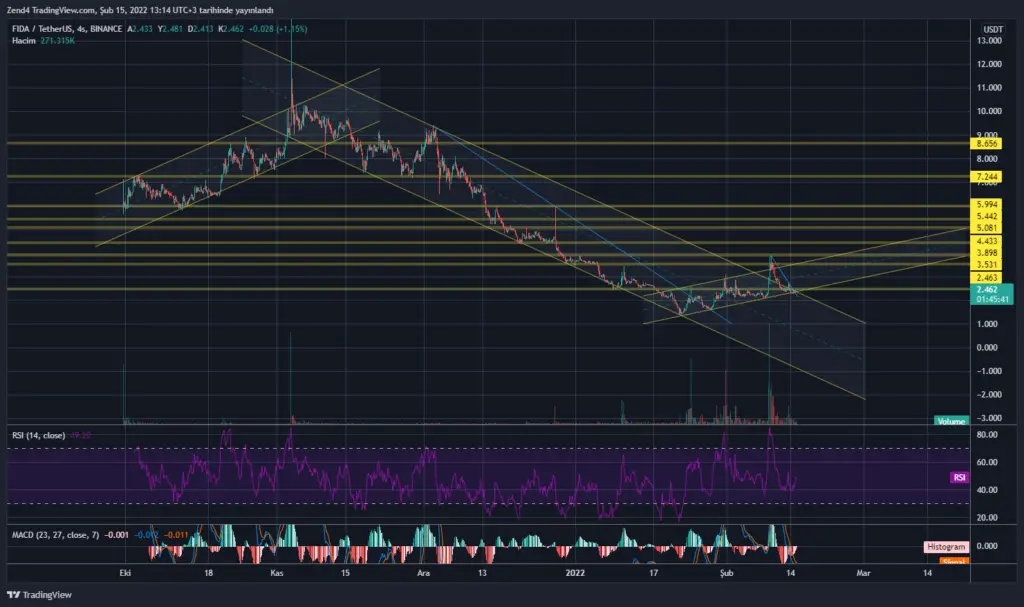 On Which Trading Platforms Is Fida Coin Available?
The list of the markets Fida coin is being traded now;
Binance
Gate io
FTX
Serum DEX
Raydium
Hotbit
Why build on Serum?
An order-book DEX has to be fast. To have a responsive platform, the underlying blockchain has to meet certain requirements. There are the reasons why the Bonfida team has chosen Solana and its DEX Serum as a foundation for their project.
High transaction throughput – Solana has the ability to facilitate more than 50,000 transactions per second. This will increase further as the chain grows
Lower gas costs – Gas costs on averages less than $0.001 per transaction
Composability – Given that the Serum protocol is open-source, anyone in the community can work on developments that could add value to the ecosystem
Decentralization – Transactions and storage of crypto holdings are entirely free from any third-party control
Users will have to set-up a compatible wallet to connect to the platform, which requires SPL (Solana Program Library) tokens. The three options are
Don't forget to keep some spare $SOL tokens to pay for fees! You can follow this complete guide to set everything up.
Here you can find our interview with Sam Bankman-Fried, founder and CEO of FTX, which is behind the development of Project Serum.
The FIDA Token ($FIDA)
$FIDA is Bonfida's native utility token. It is mainly used to pay for gas fees on the platform but it can also be used for the following purposes.
Access to VIP API
Bot payments
Consulting services (for people who want to get started on Serum)
The maximum supply is 1 billion and 95.4% of all tokens are locked for four years; the vesting will start 12 months after the launch. The team decided to keep the circulatin supply very low during the first year. In this way they also hope that the project and the community will grow in a healthy way, with no big holders ready to dump their bags.
$FIDA, when staked, will also enable more features for its holders like exclusive API endpoints, access to rare Solible (see after) markets and advanced analytics. In the future, the Bonfida's Governance model will also require $FIDA tokens to grant its users voting abilities on certain protocol parameters.
For updated and full tokenomics please refer to the white-paper.
Bonfida's features
The team, with vast expertise in "creating seamless frontend experience combined with backend API's and on-chain analytics", has spotted an opportunity to be an early participant in the new Solana ecosystem. They evaluated the possible upside as huge, so they couldn't pass up the chance. Among the platform's features we find:
Exclusive markets and listing
Bonfida has access to exclusive markets on Serum. $FIDA holders (more on $FIDA token later) can vote on which listings will be available on the platform. Market makers ensure liquidity through the help of partnerships with organizations like Alameda Research.
On-chain advanced order types
Both Limit and Market orders are already available on Serum while others like take-profit and stop-loss are currently being developed on by Bonfida. However, advanced on/off chain order types will require users to keep their $FIDA staked.
Order Placement through TradingView Charts
Bonfida is the first to have TradingView charts linked to on-chain data; users will be able to place orders through them.
To accommodate both basic and advanced traders, Bonfida will have two trading modes for Serum. The advanced mode will have features like 'Bonfida Bots' and the aforementioned advanced order types.
On top, Bonfida offers now leveraged tokens such as BULL/BEAR pairs like those you can find on FTX, an Ecosystem Pool with indexes and AMM swaps.
Serum API
Bonfida has built a backend infrastructure where all the on-chain transactions information can be stored for Serum. Through a "REST API", other platforms like Coingecko can request data whenever they need it (more than 6 million requests per day as of now). Given that the official Serum GUI uses it to load historical trades, users who connect with the standard Serum code are using Bonfida's data in the background. This is the reason why they can provide on-chain TradingView charts, a feature unique to Bonfida. This feature continue to be developed in order to deliver important information to users while improving the UX and UI of the platform.
Bonfida Bots
To make it easier for traders to manage their positions on the platform, Bonfida is working on a 'bot' that users can customize accordingly to their targeted technical indicators. The customization can be referred to as 'Rules,' which a person can freely design on his own and use to earn $FIDA. There are three possibilities.
People can pay to utilize existing trading rules. Using $FIDA, users can pay who owns the rules they utilize in the trading bots. The creator decides the costs.
Pledge assets to other rule owners. Rules' owners can determine how much they wish to charge, whether a share of the daily percentage fees or a portion of the profits.
Tokenize rules. Owners can tokenize their strategy as a SPL token which can then be bought/burned.
Not Investment Advice
The information provided in this article is intended for general guidance and information purposes only. Contents of this article are under no circumstances intended to be considered as investment, business, legal or tax advice. We do not accept any responsibility for individual decisions made based on this article and we strongly encourage you to do your own research before taking any action. Although best efforts are made to ensure that all information provided herein is accurate and up to date, omissions, errors, or mistakes may occur.
Disclosure: Authors are invested in cryptocurrency projects and have cryptocurrency holdings – including those covered on this website.