At the recent Hot Chips 34 event, processor leader Intel explained the next generations of processor technology and development, code-named Meteor Lake series, Arrow Lake series and Lunar Lake series, in addition to using Foveros 3D packaging technology. Intel also explained the core architecture and size of chip design technology.
Wccftech reported that at Hot Chips 34, Intel showed the 14th generation Meteor Lake series, 15th generation Arrow Lake series and 16th generation Lunar Lake series processors.
The Alder Lake series and Raptor Lake series are the first to be designed with a mixed core layout, and there are also plans to usher in the era of large and small die designs with 3D Foveros packaging.
Features include Intel's next-generation 3D client platform, a distributed 3D client architecture with CPU, GPU, SOC and IO chiplets, Meteor Lake series and Arrow Lake series CPU core modules connected in Foveros packaging technology, and large and small chips Interconnect (UCIe) open chiplet ecosystem, etc.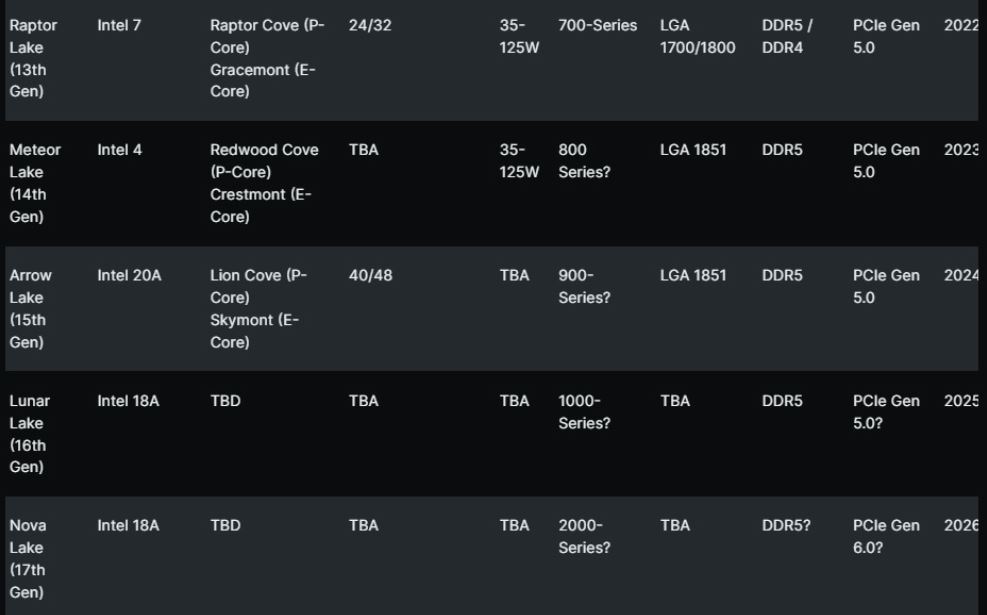 Meteor Lake series with Intel 4 process technology, Tiled Arc GPU design hybrid core, to be released in 2023
Let's start with the 14th generation Meteor Lake series. In terms of CPU architecture, the Meteor Lake series is expected to use Redwood Cove P-Cores (computing cores) and Crestmont E-Cores (performance cores).
While the P-Cores are said to be similar in design to the previous Golden Cove and Raptor Cove cores, the Crestmont E-Cores will be a major architectural overhaul. That being said, expect changes to the Redwood Cove P-Core, such as scratch memory layout, etc.
Intel pointed out that the 14th generation Meteor Lake series will use a new planar architecture, which means that it has decided to use a small chip design across the board. The Meteor Lake family has 4 main blocks, with IOE die, SOC die, GPU die and Compute die.
Compute chips include CPU chips and GFX chips. The CPU die uses a new hybrid core design that delivers higher-performance workloads at lower power consumption, a design never seen before for the GPU die.
Intel also disclosed the chip production process node. The main CPU chip will use Intel's 4 or 7 nm EUV process, and the SOC chip and IOE chip will be manufactured by TSMC's 6 nm node (N6), which is also the entry of Intel's Meteor Lake series into the client small chip ecosystem. The first step of the system.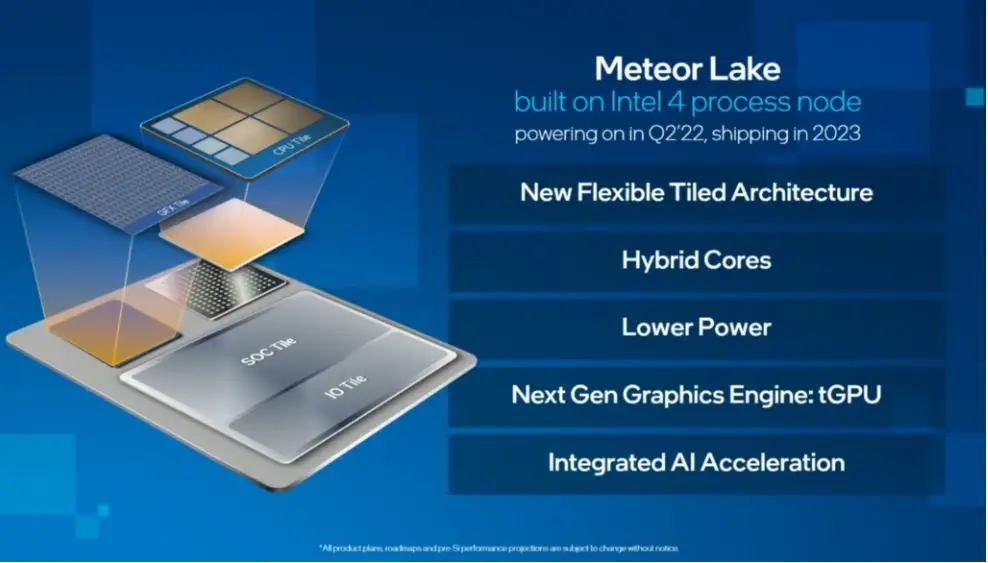 The most speculative chiplet production node to date falls on GPU wafers, also known as tGPUs. Rumors indicate that Intel initially planned to use TSMC's 3-nanometer process, but changed the plan midway due to some problems and switched to TSMC's 5-nanometer process.
According to market sources, this is not the case, and the Meteor Lake series of tGPUs have always used TSMC's 5nm process.
Meteor Lake CPUs use a flat Arc graphics core GPU, which is a new core display GPU, neither iGPU nor dGPU, considered tGPU (Tiled GPU / Next-Gen Graphics Engine).
The Meteor Lake series will take advantage of the Arc graphics architecture, the current core display GPU with the same power consumption level for improved performance, and enhanced support for DirectX 12 Ultimate, Raytracing and AV1.
Arrow Lake CPU series uses Intel 20A process technology, new CPU core design, releases in 2024
The Meteor Lake series is followed by the Arrow Lake series, because the 15th generation Arrow Lake series has many changes, although the Arrow Lake series will be compatible with the Meteor Lake interface, but the Redwood Cove core and Crestmont core will be upgraded to the new Lion Cove and Skymont cores.
Major advantages will be provided as the core count of the new SKU (8 P-Cores + 32 E-Cores) increases.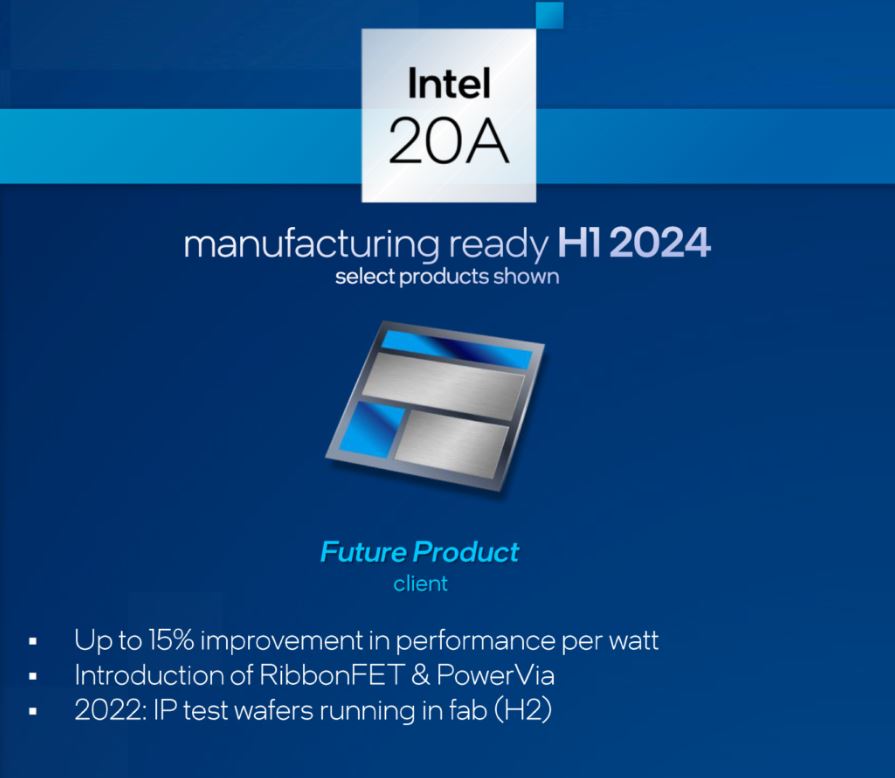 Surprisingly, Intel will skip Intel 4 and go straight to the 20A in the Arrow Lake lineup. The Meteor Lake series and Arrow Lake series retain the flexibility of other cores other than TSMC's 3nm production computing, presumably dominated by Arc GPU cores.
Intel's 20A process technology will leverage next-generation RibbonFET and PowerVia technologies with a 15% increase in watt performance, with first IP wafer testing in the fab starting in the second half of the year.
Lunar Lake CPU series with Intel 18A process technology, leading performance per watt, to be released in 2025
Finally, Intel explained a brand new 16th generation platform, codenamed the Lunar Lake series, which is expected to be the big platform.
Intel said that the new 18A process technology not only leads in performance, but also in efficiency, with 10% improvement in performance per watt compared to the 20A node, and also takes advantage of enhanced RibbonFETRR design and reduced line width.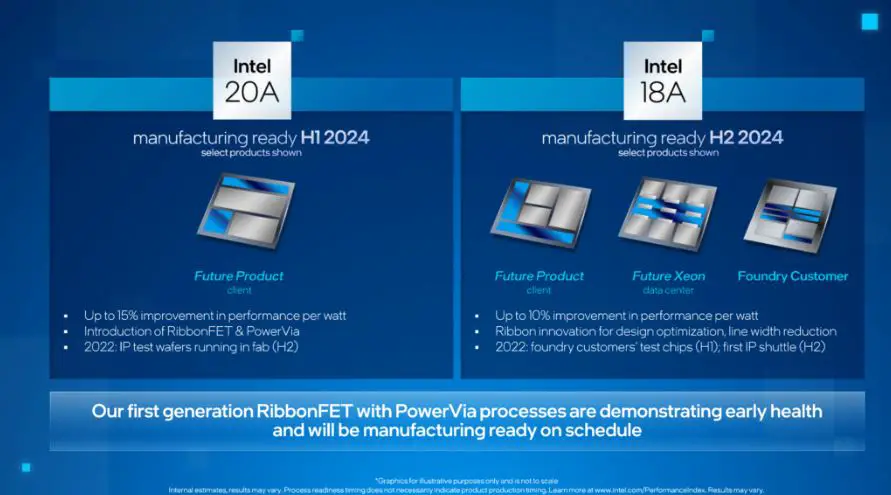 Intel hopes to have the first batch of test chips in the first half of the year, with production in February 2024, which means the Lunar Lake series will be released at some point in 2025.