PowerLocus P1 headphones are actually one of the very first products of the manufacturer. The product we have tested is known for low budget, price/performance headphones mostly for school use and kids. 
Current Best Price on Amazon: $22.99
---
Table of Contents
---
PowerLocus P1: Pros and Cons
Pros
Long battery life
Nice Design
Decent Sound for price
Convenient carrying case
SD card reader
Bluetooth encryption
Cons
Uncomforting feel after long use
not fitting with glasses
---
Design
The design of PowerLocus P1 headphones is actually pretty impressive. The Headphones have some stylish finishes overall.  There are many different color options available. That is another plus especially for kids.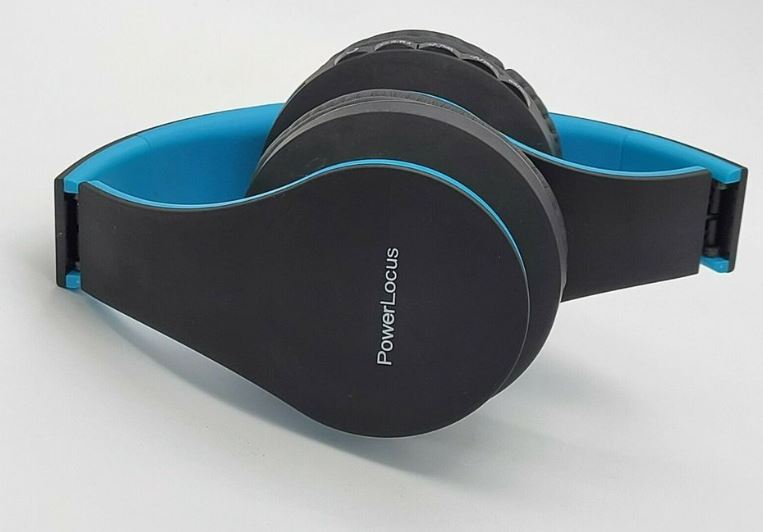 The cushiness on the headphones is also good. There are tactile buttons for volume and other controls like play/pause. There is also a micro SD port which is surprisingly good for a low budget headphones. PowerLocus P1 headphones include a mic as deport that allows users to put music on a microSD card. In this way, that if you don't have access to internet or a stream music platform from your smartphone, you can just put them on an SD Card and listen to music. That's, in fact, a unique feature  in Bluetooth headphones.
When it comes to overall build quality, the headphones are made of cheap plastic and won't give you a solid construction feeling. But in this price range, we won't be complaining about this aspect. 
---
Audio
The audio quality is good for everyday use but not useful when it comes to studio or professional uses. The 40mm dynamic audio drivers will provide a decent sond quality in terms of mids to highs. However, the headphones' drivers are not capable of going too deep in bass. In over technical test, we didn't hear lower than 100Hz frequency. Basically, the drivers won't give you a great bass. If you are looking for headphones with great bass, check out our Best Headphones with Great Bass list. 
As we said, the one thing that should be considered is they started 110 Hertz. So 110 Hertz is the lowest it goes. And it goes up to 20,000 Hertz. Normally, a good quality headphone would produce a frequency from 20 to 20,000 Hertz. Because that's just how it fits to human's hearing capabilities. 
Although the headphones will give you a good amount of bass from around 100Hz, we won't be recommending the headphones for deep bass lover audiophiles. Still, these are a good pair of headphones for kids.
---
Connectivity
These headphones have Bluetooth 5.0 EDR.  If you don't know what does EDR mean, it basically means that it has a technology in it that essentially is like an encryption blocking technology that prevents man-in-the-middle attacks people being able to listen to your ongoing calls or whatever your listening. For some people, this feature is a must due to sensitive information. For connection range, we haven't experience any lose or cut connection up to 30 feet or 10 meters.
The Bluetooth also has a low latency with new Bluetooth 5.0 EDR technology.
There is also a standard headphone cable so that you can use these if the battery is dead for some reason. The 3.5 mm audio cable will be useful in many cases. You're going to be able to plug them directly in. This is in fact a good feature because even high-end headphones like Beats Studio 3 didn't have this feature which was annoying when the battery is dead. 
There is a USB micro charging cable inside the case as well.
---
Battery Life
The battery life is another important spec we'd like to mention. So the headphones got around 6 to 8 hours of talk time. The battery integrated inside is a Lithium polymer battery with 300mAH. If we're using them for phone calls and things like that you can switch between the two. For charging duration, it only takes two and a half hours to fully charge which is nice in this price range.
---
Conclusion
When we wrap everything up about this 22 dollars wireless headphones, we can comfortable say it deserves the money. With a SD card slot, FM radio, wireless and wired connection option and nice design; PowerLocus P1 definitely a nice product to use for everyday life uses. But as we mention under audio title, it won't be a good fit to users who likes  strong low frequencies.
Price History on Amazon
| Months | Lowest Price on Amazon |
| --- | --- |
| Sep 2022 | $22.99 |
| Oct 2022 | $22.99 |
| Nov 2022 | $22.99 |
| Dec 2022 | $22.99 |
| Jan 2023 | $22.99* |
PowerLocus P1
---
PowerLocus P1 Specs
Type of Loudspeaker: Dynamic
Loudspeaker Diameter: 40 mm
Loudspeaker Impedance: 32 ohm
Battery Model: Lithium polymer battery300mAH
Music Playback Time: 15 hours
Talk Time:6~8 hours
Charging Time:2.5hours
Charging Port: Micro USB Type
RF Range :10 M without any obstacles
Microphone Sensitivity: -42 dB
Weight: 165g