The latest gaming mouse from Redragon: Redragon M612 Predator. It has an ergonomic design with a frosted coating and a textured side grip for a comfortable feel. It features 11 individually programmable buttons, a pixar sensor with accurate tracking and has no lack of juicy RGB and all this for a low price of just $18. So let's get to the details of this budget friendly gaming mouse.
---
Table of Contents
---
Redragon M612: Pros and Cons
Pros
Unbeatable price/performance ratio
Software for programming light, DPI and buttons is enough
Good ergonomics and comfort
Cons
the upper material sticks unpleasantly with warm hands 
The software for programming is English/Chinese only
The scroll wheel squeaks sometimes.
Only for Right-handed users
---
Design
Redragon M612 is a mouse that is designed for right-handed users. A 1.8 m cable with a classic USB connection provides the connection to your PC. The body of the gaming mouse has a shape that is suitable for right-handed users for an ergonomic usage. 
There are 11 buttons on the gaming mouse, this above-average number will be appreciated by demanding gamers. USB takes care of the power supply. The DPI change button provides the ability to change the sensitivity of the gaming mouse. This specific model is particularly suitable for gaming sets, but it is also very useful for work.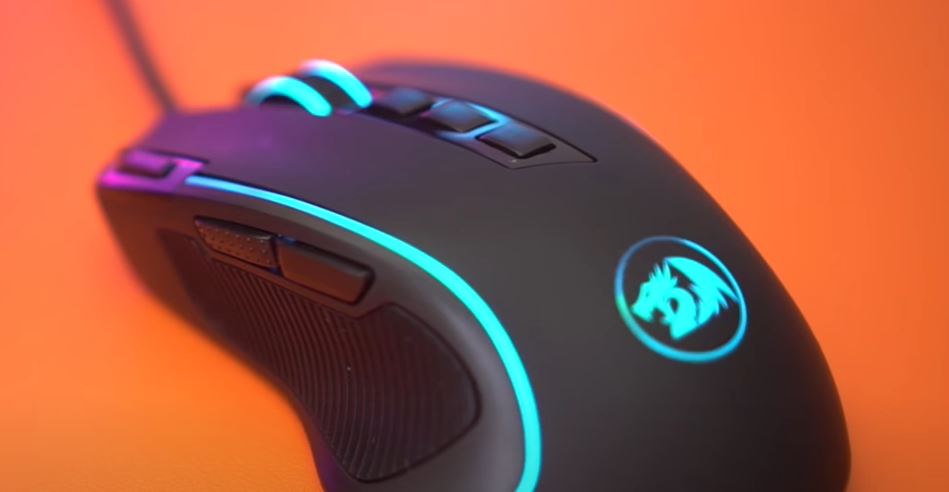 The m612 is a wired gaming mouse with 11 individually programmable buttons. We've got three on top for dpi and rgb modes the scroll wheel which is a bit too smooth for me. I would have liked it to have a little bit more tactility the m1 and m2 buttons are nice and tactile.
To the left of the mouse, there's a rapid fire button which is programmed out of the box to do a triple click which is pretty cool for fps games. Because if you're using something like a pistol on a game, hitting this button will give you a three shot burst type of fire. This is a nice detail that is giving you a little bit of an advantage. There are also two side buttons and one has a textured finish to it while the other one is smooth.
In the heat of the moment, it can be really hard to differentiate between which button you're hovering over because they feel the same and they're really close to each other. It can be really easy to miss click but what Redragon has done is they've differentiated these two buttons. It makes it so much easier to know which button you're hovering over with your finger. We can't say any other big brand name that has added this small nice detail to their mice.
On the bottom of the mouse we have some teflon feet which is nothing special but it's expected at this price range. Finally there is a mode switch button as well to switch between up to five profiles that you can set up in the software.
---
Performance
The mouse comes with a 3104 pixar sensor and it goes up to 8000 dpi. It has 5 redefinable DPI levels listed as default: 500/1000/2000/3000/4000. Now I know 8000 dpi might not sound like a lot in today's world especially when you have mice like the G Pro Superlight which goes up to 25 000 dpi. But you need to understand that nobody uses a dpi that high. The movement on the table is very accurately scanned by the optics technology, the mouse reaches a sensitivity of 8000 DPI.
Most people use their mouse between 500 and 1500 dpi and the only reason that mice actually go up that high in the first place is simply because the technology allows it.
So don't worry, 8000 is more than enough and more importantly than the dpi is the sensor's ability to track which this actually does a really good job. I haven't had any trouble tracking between my white table or the wooden table or any of my mouse pads. It definitely does a good job with tracking and it has a polling rate of 100 hertz which is on par with a lot of the more popular premium sensors.
It is safe to say that this is a respectable sensor that they didn't just throw some cheap one in here in order to cut price.
---
Software
When it comes to software, this is where a lot of the budget-friendly companies really struggle. Because it's a lot harder and more expensive to make good software than it is to make good hardware. But I'm happy to say that red dragon software is actually on the better side.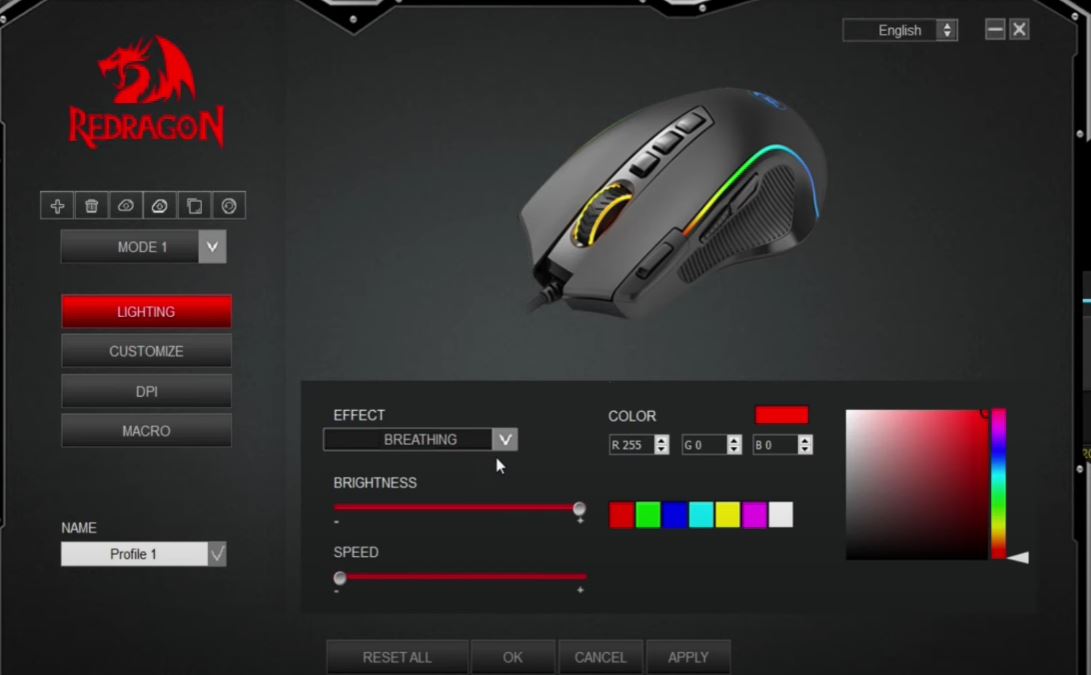 It's really easy to use the software and we have all the options you'd expect.  Program buttons, adjusting the RGB and DPI settings, as wel as setting up macros are available option in the software. This mouse does not disappoint the RGB lovers because it's got lots of lights.
They did a really good job with the lighting on this mouse. I like how it tapers around and goes to the sides even the scroll wheel is nicely lit up and of course they've got the logo at the back now. It does have a little bit of a fade off at the top of the logo but overall it's nice and consistent. There are only five options for rgb in the software.
---
Comfort Of Use
Redragon M612 is advertised to have fingerprints-free tactility. Another feature is the skin-friendly frosted coating. So overall I'm really impressed with this mouse. It has a really good build quality it feels really nice to hold. The ergonomic design is very comfortable. The soft touch coating and the rubber grip are just very comfortable and this is by far the best feeling mouse in the price range even up to that 40 or 50 dollar price range.
The only downside to this mouse is the weight because in today's world of ultra lightweight mice, this doesn't even stand a chance at 130-ish grams. The cable is stiff and you're definitely going to want to use something like a bungee or slack on your table. In order to avoid that resistance or have a catch on anything.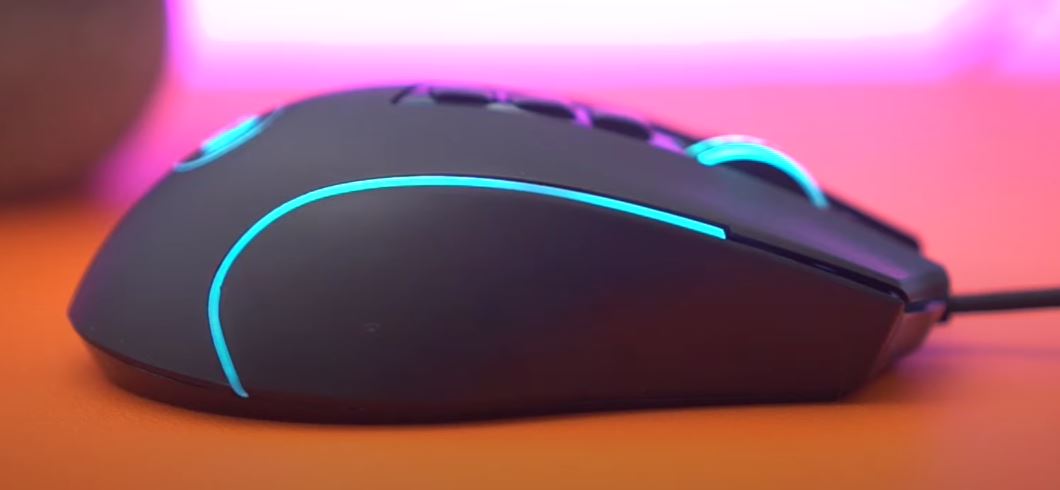 Redragon has made some good choices here because they kept the important things like the sensor, the feel of the mouse and the shape considerably good; while cutting costs in less important places like the mouse feet and the cable. So overall Redragon M612 is just a really great mouse and by far one of the best budget option on the market today.
I would even go as far as to say that if weight and a flexible cable isn't that big of a deal for you go for this mouse over anything in the 40 to even 50 dollar price range. This is just an amazing mouse for the price.
---
Redragon M612: Conclusion
If you are looking for a budget-friendly mouse, this is by far the best option at this price point on the market today unless you're a pro gamer. This mouse is a great option for almost any everyday user and offers a lot of features making it a great option for an awesome price. The only downside you must be aware of is the cable which might requires a little bit more space on the table.
Current Best Price on Amazon: $29.99
Price History on Amazon
| Months | Lowest Price on Amazon |
| --- | --- |
| Sep 2022 | $17.99 |
| Oct 2022 | $17.99 |
| Nov 2022 | $17.99 |
| Dec 2022 | $17.89 |
| Jan 2023 | $17.99 |
| Feb 2023 | $19.99 |
| Mar 2023 | $19.99 |
Redragon M612
---
Redragon M612: Specs
Main Features
Keys
11 programmable buttons
Any Button is Reassignable
Connection Type
USB 2.0 full speed. 3.0
Optical Sensor Resolution
5 adjustable DPI levels (500/1000/2000/3000/4000 DPI)
Cable Length
1.8M
Others
Software Supports DIY Keybinds Rapid Fire Button
ACC: 15G
Polling Rate
Adjustable Polling Rate 125/250/500/1000 Hz
Gaming Features
Bonus
Optical Pixart P3104
Switch Lifecycle
Up to 5 million clicks
Physical Specifications
Color
Black
Dimension(LxWxH)
126x75x40 mm
Weight
0.135 kg
Warranty Information
Warranty
1 year