With this Rog Strix G17, Asus tries to find balance. The Taiwanese brand offers a portable Laptop at more than 1800 Euros which will allow you to see and play a few years in ultra, where some entry-level gamer PCs, with more modest components, will be too quickly outdated.
Here, the graphics card, an Nvidia RTX 3070, is more than enough to play on its Full HD screen (1920×1080). The card, as we will see during the performance tests, even allows the game in 1440p, a higher resolution, as long as you have a screen capable of displaying it, to be connected to the PC via its HDMI port.
On the processor side, too, you should be calm, because Asus has chosen high-end: the AMD Ryzen 9 5900 HX, almost one of the most powerful offered by the manufacturer. We even wonder if it is not a little powerful for this configuration. It is partly because of that this model exceeds 2000 euros unlike other PCs equipped with RTX 3070. But if you are ready to spend the few hundred euros more, with such a processor you will be very comfortable in all uses.
Asus ROG STRIX G17: Pros and Cons
Pros
CPU performance.
Responsive and well-calibrated panel.
Cons
Noise in Turbo mode.
No webcam.
No anti-trace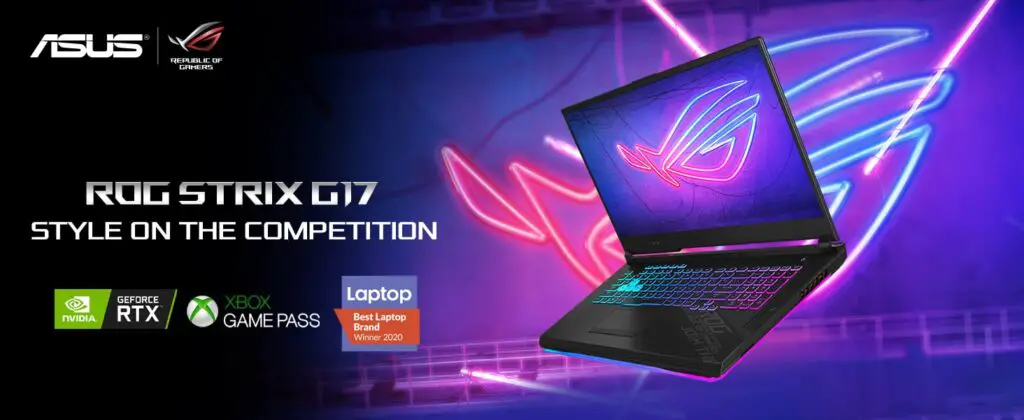 Asus ROG STRIX G17: Design
Our Rating: Design
 8/10
The Asus ROG Strix Scar 17 is a portable PC model designed primarily for gamers looking for the best in technology without compromising on performance. 
A showcase for the Taiwanese manufacturer, this model also gives it the opportunity to prove its know-how with some exclusive features, such as the ROG Keystone, an NFC key that is inserted on the right of the keyboard and allows you to personalize the PC, or even to access a hidden partition.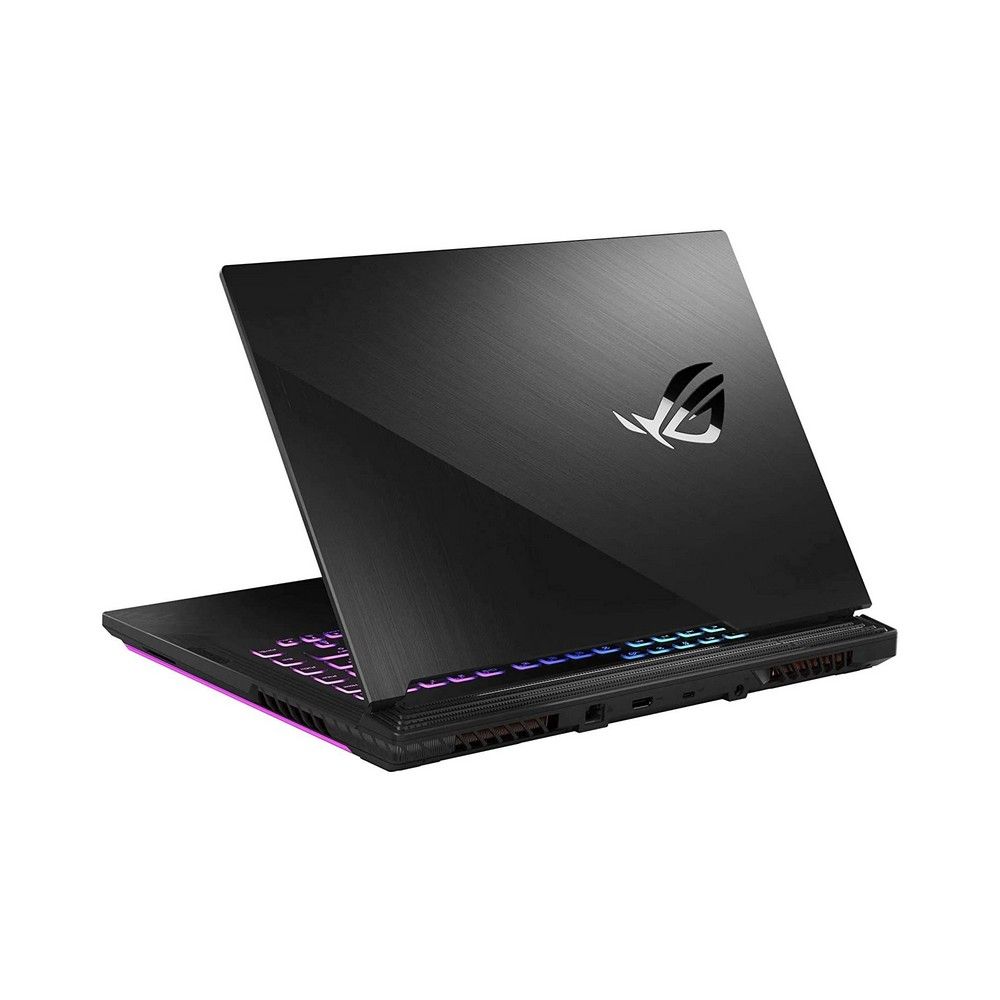 ROG Strix Scar 17 is far from normal. As you can see from the Laptop Cover, the Republic Of Gamers affiliation is well highlighted. The plastic highlights the famous backlit ROG eye.
When you turn on the screen, a two-tone keyboard appears, with the black side opaque and the other transparent. Showing aside, the absence of anti-fingerprint treatment can be a bit of a problem. The slightest pressure on it can leave traces that are difficult to clean.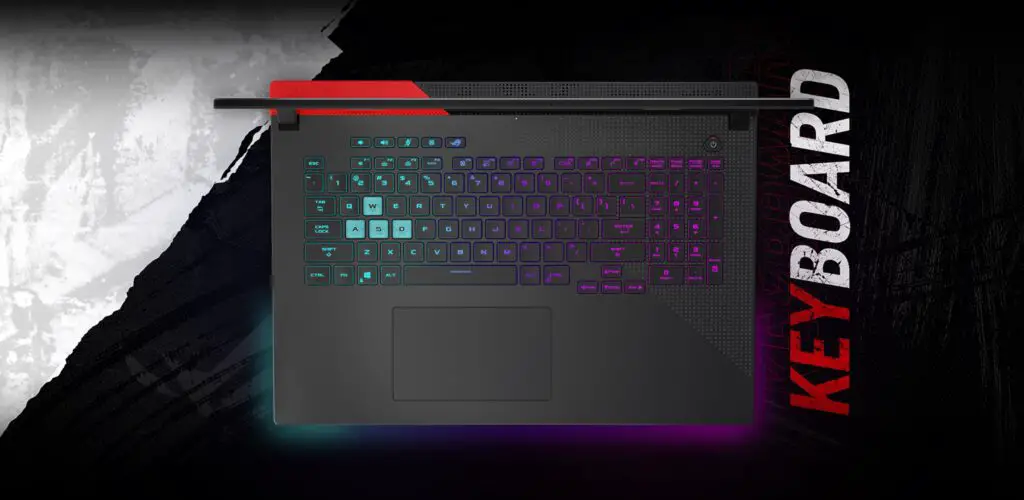 The RGB backlit keyboard provides a pleasant typing with a good response. It has a full numeric keypad and five macro keys on its top. It is obviously possible to customize the backlight with the Armory Crate software – the possibilities offered are too many that you could spend the afternoon there.
Asus ROG STRIX G17: Performance
Our Rating: Performance
 8.4/10
Asus ROG Strix G17, a versatile 17-inch laptop equipped with the latest components and performing well in gaming and creativity, and targets at those who demand the best.
It is based on an AMD Ryzen 9 5900 HX processor combined with 16GB of RAM to deliver overall power that can appeal to demanding users including gamers and creators. (features may vary by model)
Secondly, it can process much faster than Quad/Hexa Core and 8GB DDR4/5 especially with this CPU. It will provide particularly notable performance in areas such as video editing, photography, editing or 3D rendering that consume CPU and RAM resources by leveraging multiple cores.
As a bonus, the dedicated GeForce RTX 3070 graphics card cuts render time for software that uses GPU computing power like Sony Vegas or Adobe Photoshop/Premiere.
It's something that will interest gamers as well as designers, as the high-end GeForce RTX 3070 ray tracing NVIDIA Ampere is primarily designed (and can) to run the latest games.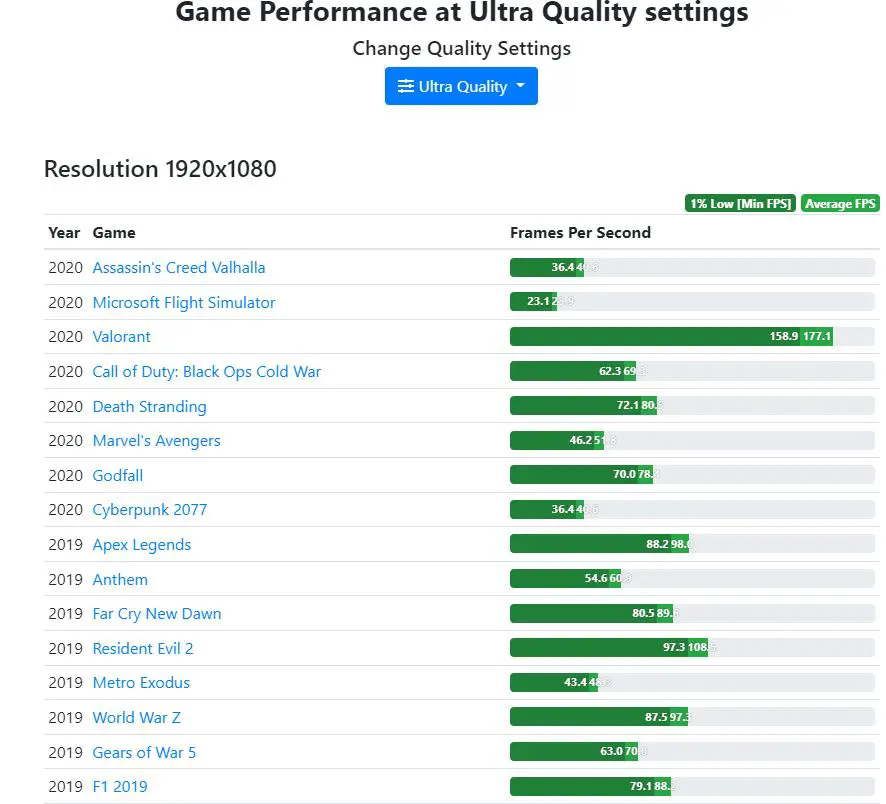 Onboard NVIDIA Optimus technology enables GeForce RTX 3070 ray tracing when the performance of the AMD Radeon 680M Octo Core Ryzen 7 solution is insufficient to perform the desired tasks.
Radeon 680M integrated GPU is preferred as much as possible because it is energy efficient. This card allows you to view Photos and videos as well as play mini games. On the other hand, graphics work and high graphics games that are too heavy for Radeon 680M can be opened with GeForce RTX 3070.
SSD storage clearly improves daily responsiveness and fluidity compared to a simple hard drive. With SSD, for example, starting, processing and starting/stopping games/software is much faster.
Asus ROG STRIX G17: Screen
Our Rating: Screen
 8.4/10
Gamers will particularly appreciate its refresh rate of 360Hz, which is significantly higher than the standard 60Hz because, combined with the low latency of 3ms, it improves fluidity in games. In addition, thanks to its sRGB and IPS specifications, the screen offers more faithful colorimetry than average with significant viewing angles, both horizontal and vertical. 
In addition, with its Full HD definition and 16:9 format, the screen lends itself well to displaying High Definition content such as videos. In addition, as it is anti-reflective, the screen provides better visibility than a glossy panel in a bright environment (eg outdoors) while being more restful for the eyes in prolonged use.
Asus ROG STRIX G17: Sound
Our Rating: Sound
 7.4/10
One of the undeniable qualities of this Asus Rog is sound quality. Despite being a laptop, It still manages to produce a lot of bass. We could hear a good sound volume, a fairly round sound, really above average on this point.
On the other hand, as is often the case with laptops that have good bass, when you turn up the volume or exceed 80% of the sound, it is mainly the treble that increases, which creates an imbalance. This pro-bass choice also brings some crackling, but nothing outrageous. Ultimately, we rather appreciate not ending up with a very flat sound only composed of treble.
In order to connect this PC to other devices, Asus has placed a maximum of connectors at the back of the this laptop. This gives a little the impression that it is placed on a terminal, which is often found in companies to increase the connectivity of office PCs. There is thus at the back a USB-A, a USB-C, an HDMI port, an RJ45 Ethernet port, and the input for the power cable.
Asus ROG STRIX G17: Full Specs
Asus Rog Strix G17 comes with different installations. 
Display Options:
 1920 x 1080 (144Hz)
 1920 x 1080 (300Hz)
 2560 x 1440
Battery Capacity
CPU Options
 AMD Ryzen 7 4800H
 AMD Ryzen 7 5800H
 AMD Ryzen 9 5900HX
Graphics Card
GeForce GTX 1650 Mobile
GeForce RTX 3050 Mobile 4GB
GeForce RTX 3050 Ti Mobile 4GB
GeForce RTX 3060 Mobile 6GB
GeForce RTX 3070 Mobile 8GB
RAM size
2021 ASUS ROG Strix G17 G713QR
Display
17.3-inch, 16:9, non-touch, matte, Sharp LQ173M1JW04 panel
FHD 1920 x 1080 px IPS, 300 Hz 3ms with 100% sRGB, with AdaptiveSync
Processor
AMD Cezanne, Ryzen 7 5800H, 8C/16T
Video
AMD Radeon Vega + Nvidia GeForce RTX 3070 Laptop 8GB (115W, up to 130W with Dyn Boost, GeForce 461.23 drivers)
Memory
32 GB DDR4 3200 MHz (2x DIMMs, up to 64 GB)
Storage
1 TB NVMe SSD (2x M.2 PCI x4 slots)
Connectivity
WiFi 6 (Intel AX201) 2×2 with Bluetooth 5.0, Gigabit LAN (Realtek RTL8168/8111)
Ports
3x USB-A 3.2 gen1, 1x USB-C gen2 with video, data and charging, HDMI 2.0b, LAN, headphone&mic
Battery
90Wh, 240 W power adapter + USB-C charging up to 100W
Size
395 mm or 15.55" (w) x 282 mm or 11.1 (d) x 27.5 mm or 1.08" (h)
Weight
2.7 kg (5.95 lbs), .73 kg (1.6 lbs) power brick and cables, EU version
Extras
rubber-dome per-key RGB backlit keyboard with NumPad, dual 4W speakers, no included webcam
Asus ROG STRIX G17: Game FPS Benchmark