We already told you about this new multimedia kit from Yamaha presented at the IFA. The NX-B150 is in a way the spiritual big brother of the NX-B55, tested at the end of last year. The brand relies heavily on its atypical design and promises a powerful Bluetooth 2.1 system capable of reproducing balanced sound, regardless of the volume. Lets see if it can deliver what it promises…
---
Table of Contents
---
Yamaha NX-B150: Pros and Cons
Pros
Quality of construction and finish.
Ease of satellite integration.
Powerful.
Little distortion.
Cons
A very irregular and sometimes garish sound reproduction.
No remote or control.
No NFC.
Only a mini jack input.
---
Design
The NX-B150 is a multimedia kit consisting of two satellite speakers and a subwoofer with an original and solid design. Yamaha has clearly taken inspiration from stage light floodlights for this plump design, which boasts a lovely brushed/glitter finish. All three parts are fitted with a steel front grille.
The two satellite speakers rest on a metal arm connected to a solid non-slip foot and equipped with a wall fixing. The good idea is the possibility of orienting the loudspeaker almost 280° in the direction of height or width, depending on its installation position (on the floor or on the wall). The kit is therefore very simple to set up and will easily integrate into many configurations.
We find the same elaboration for the subwoofer, but with a fixed orientation slightly inclined upwards. It is equipped with all controls and connectors.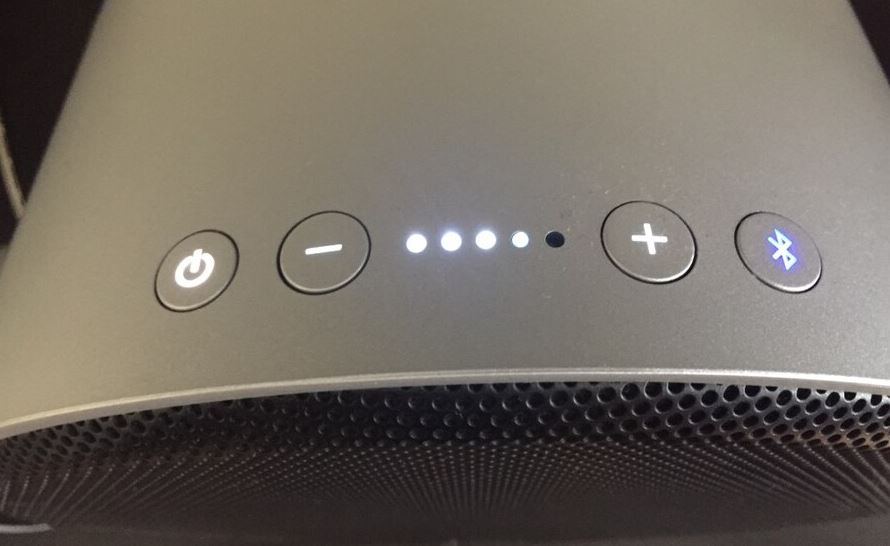 On the upper part, there are 5 volume indicator LEDs flanked by two buttons (On / Off and Bluetooth 3.0 A2DP). The Bluetooth is very easy to pair and each step is punctuated by a sound and light indication on the button. However, we deplore the absence of NFC.
The rear connector is limited to a simple 3.5 mm mini-jack auxiliary input. The RCA sockets are reserved for the connection of satellites. A subwoofer volume adjustment potentiometer is present, but without a button; it is therefore necessary to bring a flat screwdriver to make the adjustment.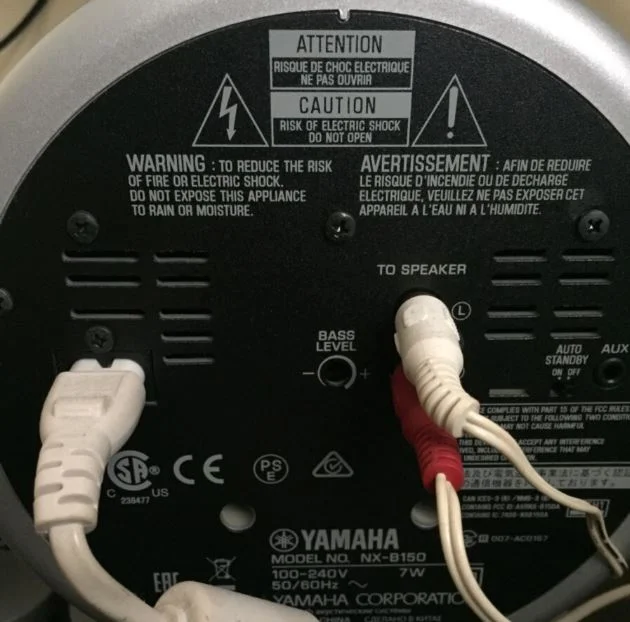 For a multimedia kit, we would have appreciated an optical digital input, for example, or even RCA. Let's not forget the switch for the Autostandby function which allows the kit to go into standby if no signal is detected for a few minutes.
Last detail to know: no remote control is provided with this multimedia kit. We must therefore move each time we want to modify the volume which most of us wouldn't like.
---
Sound
The Yamaha NX-B150 Multimedia Kit offers a total maximum power of 2 x 7W + 15W delivered through one 13cm full-range speaker in the cabinet and two 4cm full-range speakers in each satellite.
From the first seconds, we immediately notice that the NX-B150 offers a particular sound reproduction: the system is very flattering in the high mids (from 2 kHz to 6 kHz) and a frequency band in the extreme treble (around 15-16 kHz); which gives a more or less aggressive and garish result depending on the songs and mixes.
In most cases, there is too much emphasis on the cymbals (especially the hit-hat), aggressiveness in the saturated guitars or in certain wind instruments, such as the brass.
It's a shame, because the other frequency bands benefit from good homogeneity, with a nice reproduction of bass and mids controlled with intelligible voices. The box (tilted and adjusted to 50% of its volume) performs very well and diffuses over a wide area.
The stereophonic width of the whole is good, but with a reading of the soundstage in depth a little confused.
The NX-B150 offers signal reproduction with little distortion. We are well below the 10% announced by Yamaha.
However, the measurements reinforce our observation, with a concentration of distortion between 5 kHz and 7 kHz with a fairly high volume (the measurements are taken at 80% of the maximum volume, a level that is already very comfortable for listening). Beyond this threshold, it is difficult for the kit to guarantee distribution without discomfort for the listener.
---
Yamaha NX-B150: Conclusion
Yamaha offers us here a media kit in halftone. The NX-B150 is a nice kit, powerful, compact and very easy to integrate into a living room or an office, but it lacks versatility.
Its sound reproduction lacks homogeneity, with a pleasant first half of the sound spectrum and an unbalanced and spicy second half at times.
---
Yamaha NX-B150: Specs
Name
NX-B150
Bluetooth
Version/Profile
Ver. 3.0 / A2DP
Audio Codec
SBC, AAC
Maximum Communication Range
10 m/38 ft. 10 in. (without interference)
Input Terminal
Stereo L/R 3.5mm STEREO mini Jack
Speaker Unit
[Satellite Speaker] 4cm full-range speaker, [Bass unit] 13cm full-range speaker
Maximum Output Power
7W + 7W + 15W (6Ω, 1 kHz, 10% THD)
Dimensions (W x H x D)
[Satellite Speaker] 104 x 116 x 133 mm; 4-1/8" x 4-5/8" x 5-1/4", [Bass unit] 240 x 265 x 286 mm; 9-1/2 x 10-3/8 x 11-1/4
Weight
[Satellite Speaker] 0.5 kg; 1.0lbs / per piece, [Bass unit] 3.7 kg; 8.2lbs
Colours
White, Light Blue, Silver, Black