Gaming equipment industry advancing to a point where everything gets lightspeed fast. The gamer community all around the world is also increasing rapidly in last couple of years. The video game market size in the United States was estimated to be 95.45 billion according to statista. On PC or console, communicating, discussing or developing a winning strategy with teammates requires the use of a gaming headset. But the concern with wired models is that they can interfere with the gamer's movements. The solution ? Invest in a wireless gaming headset. To save you time, here's our guide to finding what you need.
---
Table of Contents
---
1. SteelSeries Arctis 7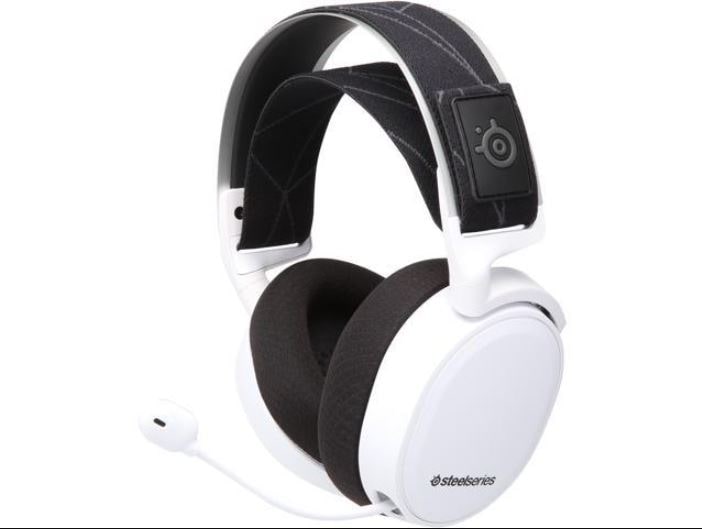 Current Best Price on Amazon: $210.00
Currently, you won't find a better wireless gaming headset than the SteelSeries Arctis 7. It offers remarkable comfort and is distinguished by DTS surround sound, PS5 compatibility and an attractive price.
The SteelSeries Arctis 7 deserves the qualification of the ultimate in wireless gaming headsets. First, in terms of ergonomics, the design of the headband clearly differentiates the Arctis 7 from its competitors.
It is built around an aluminum frame with a memory foam padded metal strip. The build quality is excellent, in general.
The battery life is long enough to last through an extended gaming session. Generally, you have to wait a few days of average use before you have to recharge the headset again.
When it comes to wireless range, the 2.4G transmitter can handle up to 12m without dropping out. Note also the retractable microphone, which reproduces a clear, precise and almost noiseless voice via its noise cancelation feature.
The sound produced by the SteelSeries Arctis 7 has minimal distortion, allowing all sound effects to be heard in a game. It uses DTS Headphone X v2.0 decoding to provide 360° immersion in the title you are playing.
Pros
Build quality is decent but it's not aluminum like the Arctis

Pro

Wireless
Headset is lighter in weight than Arctis

Pro

Fit is great and a has a good design
Steelseries headsets look very slick and not flashy or huge like the GSP670
Retractable mic is a nice feature
Mic quality is good but sounds nasally
Connection distance is great and doesn't disconnect or distort when walking around
Battery life is great with 20+ hours of use
Cons
Needs software to really shine. Not just surround, the quality jumps when I open the program.
I would rate volume as being 7/10. Maxed out, volume is totally tolerable.
Minimal instructions don't cover much.
Mic could be a little longer
Amazon Price History
| Months | Lowest Price on Amazon |
| --- | --- |
| Sep 2022 | $214.99 |
| Oct 2022 | $137.99 |
| Nov 2022 | $146.99 |
| Dec 2022 | $180.00 |
| Jan 2023 | $181.11 |
| Feb 2023 | $210.00 |
| Mar 2023 | $210.00 |
SteelSeries Arctis 7
---
2. ASTRO Gaming A50 Wireless Headset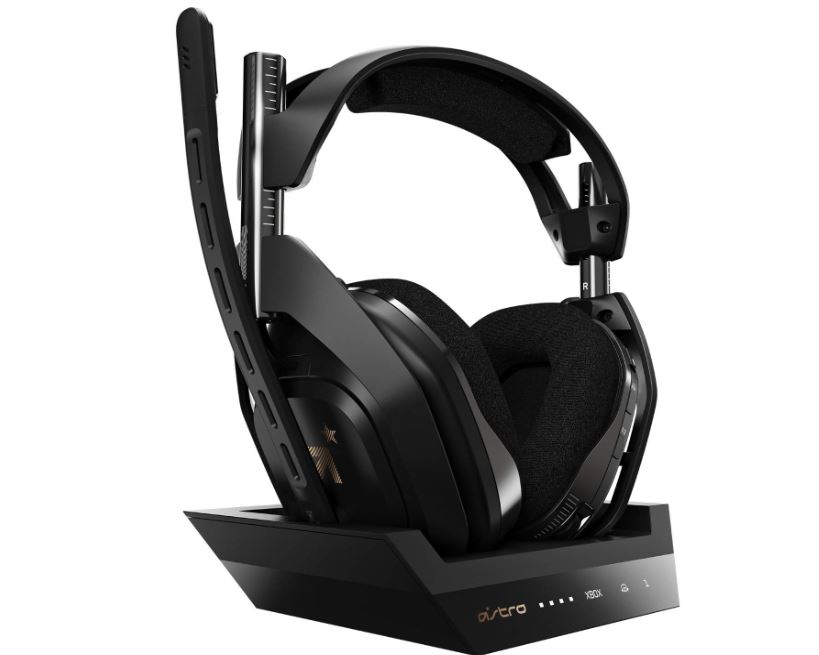 Current Best Price on Amazon: $289.35
Pros
Great sound with customizable presets
lightweight
Flip to mute
Nice Base Station
Great Comfort
Cons
Volume control hard to recognize
No built-in Bluetooth
No voice and sound volume control
Amazon Price History
| Months | Lowest Price on Amazon |
| --- | --- |
| Sep 2022 | $267.99 |
| Oct 2022 | $259.99 |
| Nov 2022 | $249.99 |
| Dec 2022 | $267.77 |
| Jan 2023 | $285.00 |
| Feb 2023 | $249.99 |
| Mar 2023 | $244.99 |
ASTRO Gaming A50
---
3. Logitech G533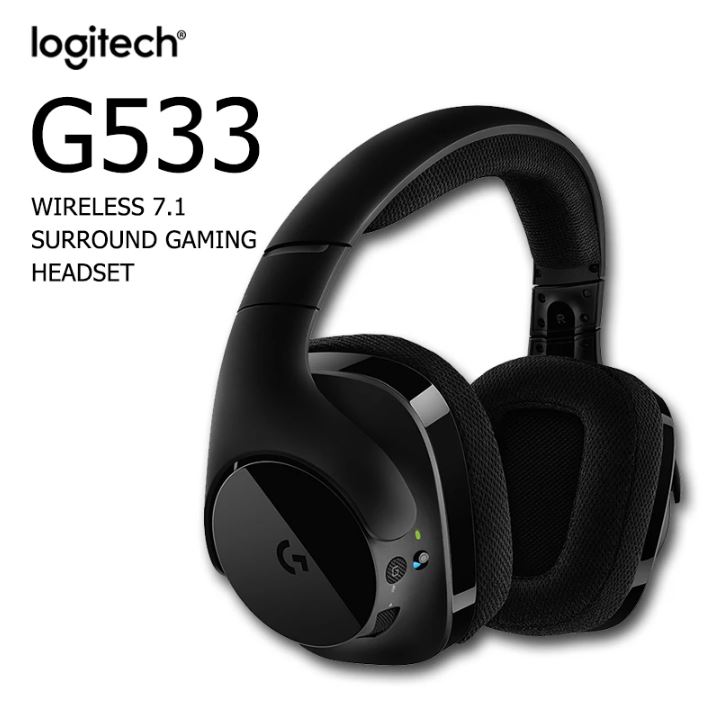 Current Best Price on Amazon:  $69.99
This wireless gaming headset is a cheap alternative for long gaming sessions. Not the most qualitative wireless headset on the market, but it has very decent features for its price range.
The Logitech G533 Wireless Gaming Headset features a closed-back design, detachable microphone, and optional 3.5mm connection.
The wireless dongle is certified to work with PC, Mac and PS4. It does not require special drivers. The headband and ear pads both use memory foam, which is nice. Isolation is about average for a pair of headphones with leatherette pads.
The overall sound signature leans towards bass, with a dark, booming presentation that's more suited to casual gamers. The highs are somewhat distant and muted, which is great for reducing long-term fatigue, but doesn't always bring out the detail in what you're listening to.
The headphones sound punchier with a more obvious overall impact when used with a cable. Finally, it should be noted that the Logitech G533 supports DTS 7.1 surround sound.
Pros
Great battery life
Relatively neutral sound profile
Decent wireless range
Comfortable fit
Extendable flip-up mute mic
Cons
Material quality is poor compared to G935.
Bulky design
Overwhelming bass.
Lacks wired connection options.
Foam pads quality are bad, I can feel that they are cheaply made. But reasonable for the price, and doesn't not affect the sound quality.
Charging port is mini USB, compared to USB-C of HyperX which is consider a standard for the future.
---
4. Razer BlackShark V2 Pro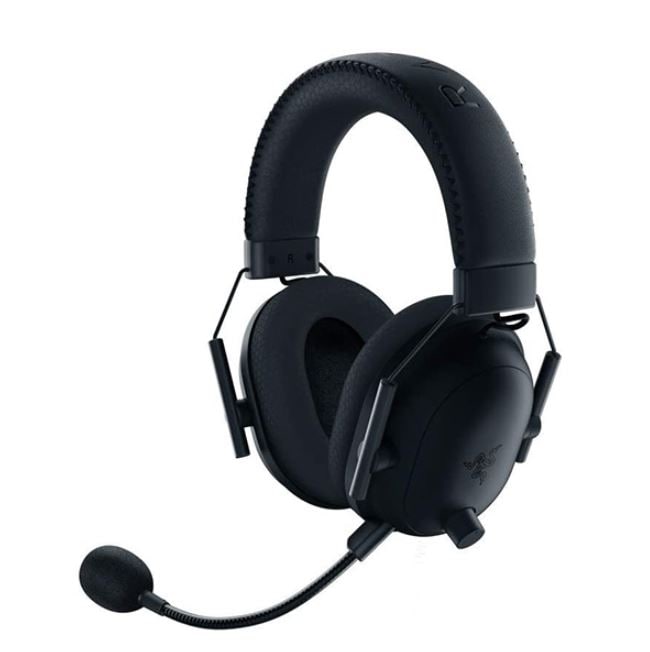 Current Best Price on Amazon: $139.99
None of the models in this comparison rival the Razer BlackShark V2 Pro in terms of functionality and versatility. This wireless gaming headset will allow you to take advantage of the advantages of Razer HyperSpeed Wireless technology.
The Razer BlackShark V2 Pro is the most complete wireless gaming headset around. With a high quality design, it mainly consists of a padded headband, offering maximum comfort.
Thanks to its integrated control box, you will be able to quickly and easily master the various options available to you.
Using the Razer HyperClear supercardioid mic, you'll have the ability to control and reduce outside ambient noise.
Its titanium Razer TriForce speakers are handy if you want to individually tune the sounds. No latency will be felt.
Pros
Best sound on a wireless gaming headset 
Good build quality
The metal hinges are super tight
Comfortable, stable fit.
mic quality is very good
Razor synapse is good
Battery life and quality
Cons
It did not clip sound (distort) until I pre-amped it, but it really isn't needed. It did clip sound on ps5 if I maxed the USB up, but leave it at 90% and you should be good.
Microphone is a huge one, it's a cardioid style mic and it is pretty big, but it does have very good quality once dialed in with Synapse.
No THX on ps5, but 3d sound works okay. On PC: very high end sound, near Hifi.
No USB C and is only micro USB, just a small gripe, not deducting from what this headset does.
Will work on Xbox only if wired, but the 3.5mm cable Razor supplied is a nice braided L cable.
Volume knob is huge, but that's aesthetics which is fine for most.
---
5. Sony Inzone H9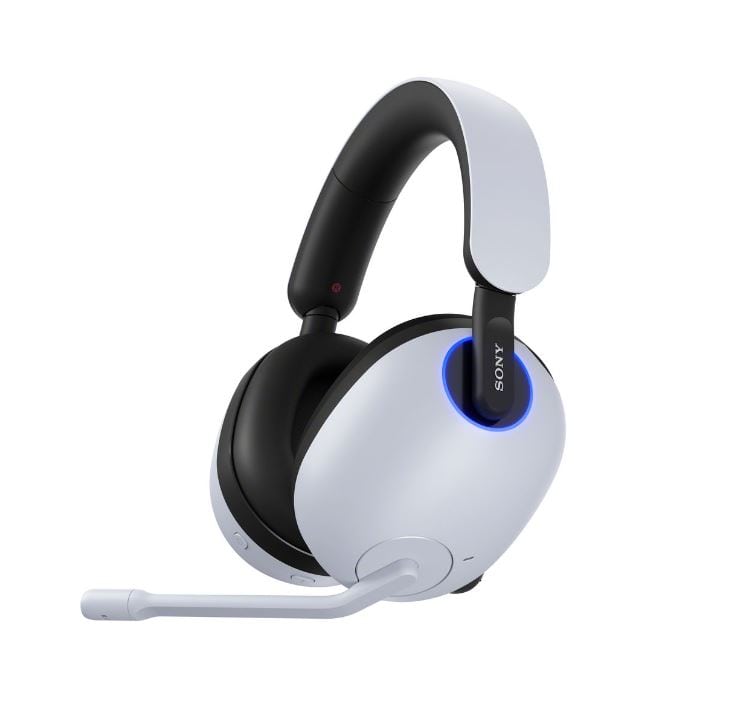 Current Best Price on Amazon: $298.00
The most expensive headset on the list so far. The H9 is the spearhead of the range of headsets inducted by Sony in the summer of 2022, under the brand new Inzone sub-brand. Aimed not only at PlayStation 5 owners, or even especially at PC gamers, the H9 shows some common family traits with the manufacturer's flagship mobile headset, the WH-1000XM5, from which it also takes up the emblematic characteristic, namely an active noise reduction function. This noise reduction is also what distinguishes the H9 from its little brothers the H7 and H3, which both lack it.
The sound is really convincing, the comfort is there and the 3D rendering is a real plus for players.  The Sound quality from the H9 headset has better Highs and Better Lows. We had a chance to make several tests with this headset for both bass sound and vocal sound tests. Overall the sound quality of these internal speaker's in the H9's are a improvement compared to the Pulse 3D. Both headsets have really good sound for gaming.
Only major complaint is the price and the lack of EQ settings on the PlayStation 5. Both issues could be resolved overtime.
Pros
Ample sound reproduction.
Good bass response.
Fairly effective virtual spatialization system (on PC only).
Decent noise reduction.
Very comfortable, even for very large heads.
Dual proprietary radio/Bluetooth connectors.
Simple and intuitive essential controls.
Good autonomy.
Cons
Inhomogeneous sound.
Lack of precision in the treble (and therefore of sharpness in the localization of sounds).
No wired connectivity.
Plastic assembly a bit cheap.
Synthetic leather ear cups can keep your ears a bit too warm.
Specs
|   | Specifications |
| --- | --- |
| Compatibility | PS5, PS4, Windows, Mac, Switch, smartphones and tablets |
| Microphone type | Two-way microphone |
| Microphone noise reduction | Yes, active |
| 7.1 / 3D rendering | Spatial effect via app |
| Weight | 329 grams without cable |
| Connections available | 2.4GHz Wireless, Bluetooth 5.0 |
---
6. Logitech G935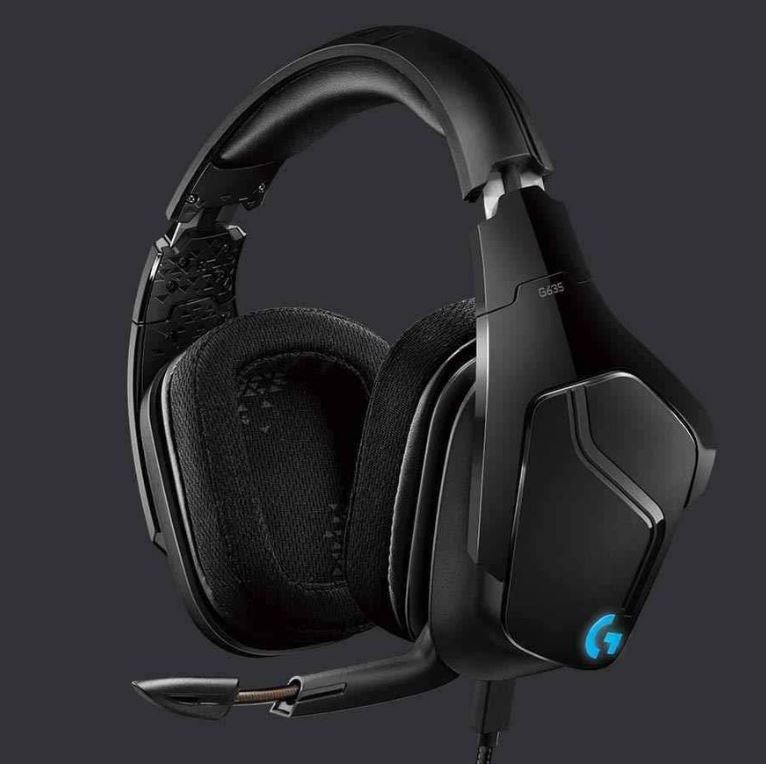 Current Best Price on Amazon: $109.99
The Logitech G935 is arguably one of the finest bargains on the market, with great sound and a comfortable fit. Among other things, it allows you to enjoy the famous DTS Headphone: X 2.0 surround sound.
Logitech's G935 is quite large, like most wireless headsets for that matter. Besides, it is not too heavy. Like the G933, it has a partly matte, partly glossy black plastic chassis.
Geometric patterns adorn both the ear cups and the headband, giving it a distinctly "gamer" look without going overboard. The G935 features leatherette ear cups and a padded headband, both of which provide exceptional support and breathability.
The microphone of this wireless gaming headset is just as discreet. With a battery life of over 12 hours, you'll fully enjoy your long gaming sessions, alone or with your friends.
It is compatible with several types of media including PC, Mac, Xbox One, PS4 and Nintendo Switch. Equipped with a microphone with the Flip-Up mute function, the Logitech G935, quite comfortable, is a gaming headset allowing clear and crisp conversations.
Pros
Amazing app support.
Great audio reproduction.
Great sound, decent sound isolation. Large cups for big ears.
Ear cups rotate to flatten out a little bit to save space/fit in a drawer.
Microphone works very good
Volume control is easy to feel/reach for adjustment.
Battery lasts around 10 hours.
Cons
Battery indicator doesn't exist.
Software (not required for basic use) is not compatible with some of my older Logitech device software (such as G700s mouse). This means if you have multi-generational Logitech gear, you can't run both supporting software simultaneously and will have to choose one.
The microphone extension is hard plastic and can be easily broken.
Pre-programmed, but programmable buttons on the ear-cup feel pointless and difficult to tell which button is which without taking it off and looking at it.
---
Conclusion
Finding high-quality wireless gaming headsets can be tricky. To take care of your headset, you can purchase a gaming headset stand.
There are a seemingly endless number of manufacturers on the market, and all of them seem to realize that they can charge more for headphones with a compelling exterior and an impressive list of tech specs.
All of the brands listed above are quality picks and if you're looking to get a little bit cheaper models, the we highly recommend you to take a look at our Best Gaming Headsets under $50 list.
Getting the best wireless headset can be a real boon for your gaming experience. However, to choose the best headset for you, you need to consider some factors.
These factors will help you determine the quality of sound and your competitive advantage, among other things. Read on to learn how to pick the best wireless gaming headset for you.
Why choose a gaming headset instead of a "classic" Bluetooth or wired headphones?
The Bluetooth headset is the least suitable solution for playing video games. Already annoying for "simple" video viewing, the latency generally brought about by the Bluetooth communication protocol would be absolutely unacceptable in game: imagine pressing the fire button on your controller, then having to wait several tenths of a second before hearing the shot of fire ! If you want to free yourself from cables, the gaming headset with proprietary wireless transmission is the only suitable and viable option.
The use of a "classic" wired headset is possible since it eliminates the two problems mentioned above. Be careful all the same with the sensitivity of the headphones, especially if you go through the headphone output of a wireless game controller (Playstation PS4 / Microsoft Xbox One in particular) or a portable console (Nintendo 3DS / Switch… ): some models of Hi-Fi or monitoring headphones need a high-performance headphone output to unleash their full potential.
However, the question of the microphone still arises. The microphone of a mobile headset is not designed for in-game communication and its constraints, unlike the boom microphones of gamer headsets. The quality of capture offered by these first ones is very heterogeneous and often very average, especially on Bluetooth headsets.
To make matters worse, there is a high probability that they do not sufficiently reduce surrounding noise: a defect that could annoy your teammates very quickly if you are not in a quiet room. Gaming headset microphones are ideally placed closer to the mouth and are more directive.
Another small detail that makes the difference: they can be activated/deactivated very quickly. If you play on PC and want to keep your "classic" headset, complete your equipment with a USB microphone.