Richard Branson's company, which works on Hyperloop projects, recently made a surprising exit. He announced the dismissal of more than a hundred people and the abandonment of the passenger transport project. Indeed, Virgin Hyperloop will focus on freight transport.
New strategy and layoffs
At the end of 2020, Virgin Hyperloop had carried out the first passenger test of its very high-speed transport technology with its XP-2 capsule. Since Elon Musk's description of the concept in 2013, Richard Branson's company has been working hard to develop it. By 2019, He had signed a deal with Saudi Arabia and also had audience-oriented projects in India .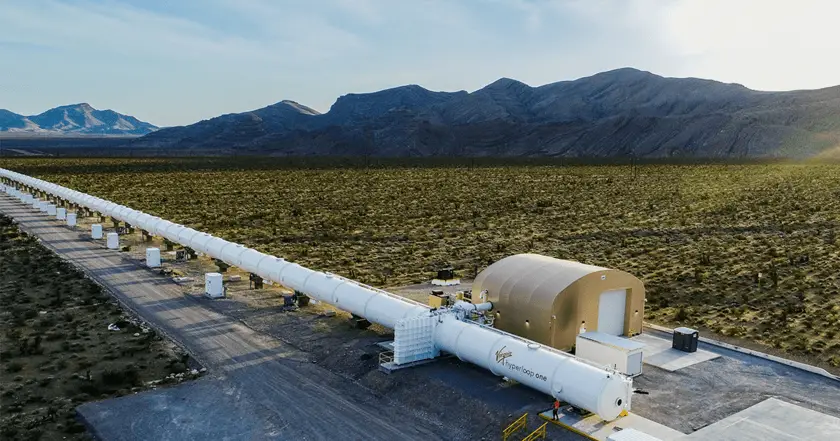 Due to difficulties with legislation for passenger transport
According to a Financial Times article published on February 21, 2022, however, Virgin Hyperloop has just taken a new strategic shift . Indeed, she simply decided to give up passenger transport. However, there is no question of putting the Hyperloop aside. From now on, the goal is to continue the development of the version intended for the transport of goods .
It is quite possible that Virgin Hyperloop has refocused in this way due to difficulties with legislation for passenger transport. However, the economic question also certainly comes into play, freight transport representing a significant financial windfall. Above all, the company would encounter some financial difficulties since it has laid off 111 people , or half of the workforce. There are also supply chain issues and the Covid-19 pandemic.
A well-advanced freight transport concept
Remember, however, that Virgin Hyperloop had already presented its freight concept in 2018 (see video at the end of the article). This is the DP World Cargospeed, a Hyperloop whose cruising speed should reach 1,000 km/h . For an equivalent journey, this means of transporting goods will divide by four the time usually taken by current trucks. Cargospeed, an expert company in transport logistics, is very actively involved in the project.
A few years ago, however, Richard Branson had made ambitious promises. He then declared that he wanted to partially eliminate air travel, more specifically medium-haul flights carrying passengers. Virgin Hyperloop therefore abandoned this idea, but did not abandon the Hyperloop, wishing to position itself in another market.
Here is the video of the DP World Cargospeed concept by Virgin Hyperloop and Cargospeed:
Introducing DP World Cargospeed
Image Credit: Virgin Hyperloop