The mini bluetooth speaker is a range that is increasingly appreciated by users. Often, these speakers are practical, light, space-saving and allow you to listen to music for hours. The mini bluetooth speaker is more and more efficient over the years.
Today, there are numerous models on the market. However, it is difficult to choose because of the multitude of products available, and at prices which can vary greatly depending on the brand and the associated technologies.
After analyzing all of the mini Bluetooth speakers on the market, we realize that in this range the sound performance can vary extremely, even for speakers displayed at the same price.
---
Table of Contents
---
1. JBL Clip 3 Mini Bluetooth Speaker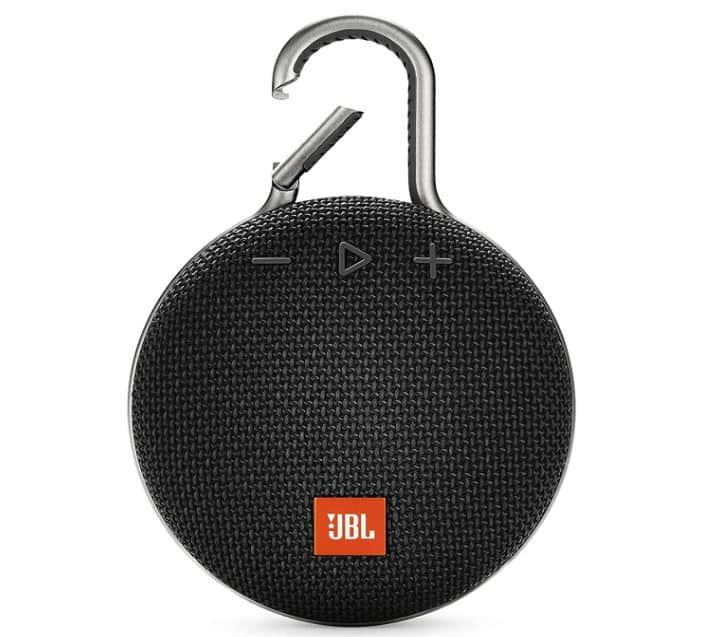 Current Best Price on Amazon: $42.99
Pros
Best form factor portable speaker.
Pretty good battery life
Good conectivity and easy pairing
Pretty loud volume
Responsive and quick buttons
Good looking and nice color
Lightweight and small
Cons
Pretty mediocre sound with little bass
Fabric quality not the best
Specially annoying on/off and pairing beats
Mesh Face Plate
Specs
Dimensions: 5.4 x 3.8 x 1.8 (in) – 13.7 x 9.7 x 4.6 (cm).
Weight: 0.22 Kg – 0.49 Lbs.
IPX7 waterproof.
Battery type: Lithium-ion polymer, 1000 mAH, 3.7 volts.
The battery charge time: 3.0 hours
AC adapter (suggested specs): USB 5 volts, 0.6 amp, 3 watts out.
Bluetooth transmitter frequency range: 2.402 – 2.480 GHz.
The Bluetooth transmitter power: 0 – 9 dBm.
Bluetooth transmitter: GFSK, π/4 DQPSK, 8DPSK.
The Bluetooth version: 4.1.
Program playing time: Up to 10 hours (affected by volume setting and program content).
Support: A2DP V1.2, AVRCP V1.5, HFP V1.5, HSP V1.2
Transducer: 1 X 40 mm.
Output power: 3.3 watts RMS.
Frequency response: 120 Hz. – 20 kHz. (- 6 db).
Signal-to-noise ratio:  More than 80 dB.
---
2. Sony SRS-XB13 EXTRA BASS Wireless Bluetooth Speaker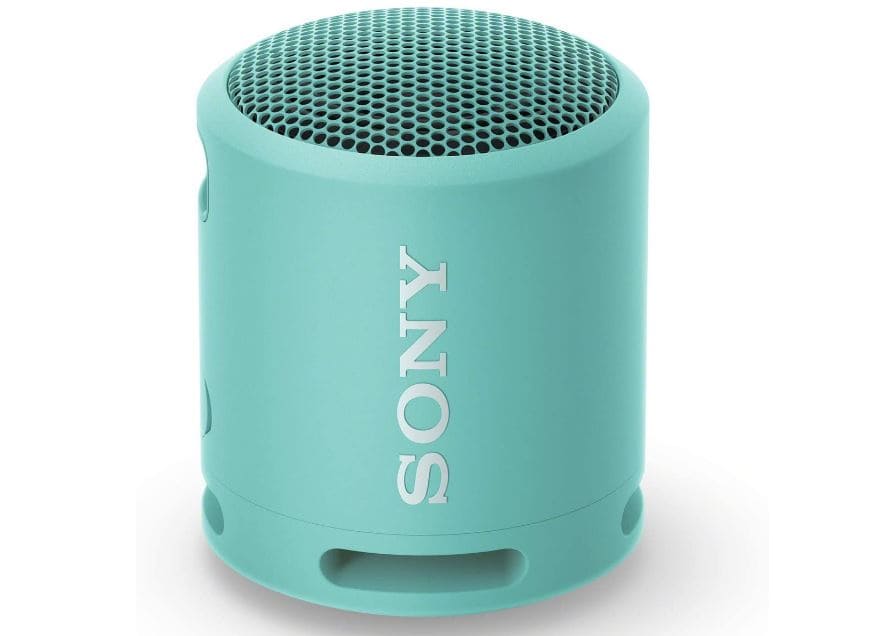 Current Best Price on Amazon: $58.00
Pros
Nice color options
Sound quality
Portable
USB type C charging port
Can get loud
Cons
Speaker point upwards
Sound goes one direction
Specs
Drivers: 1 x 1.8″ / 46 mm
Passive Radiators: 1
Frequency Response: 20 Hz to 20 kHz
Built-In Mic: Yes
Bluetooth: 4.2
Supported Bluetooth Profiles: A2DP, AVRCP, HFP, HSP
Supported Audio Codecs: AAC, SBC
Wireless Range: 32.8 feet / 10 m (Bluetooth)
Wired Inputs: 1 x USB Type-C (Power)
Estimated Battery Life: 16 Hours
IP Rating: IP67
Dimensions (W x H x D): 3 x 3.75″ / 7.6 x 9.53 cm
Weight: 9 oz / 255 g
---
3. Anker Soundcore Mini Bluetooth Speaker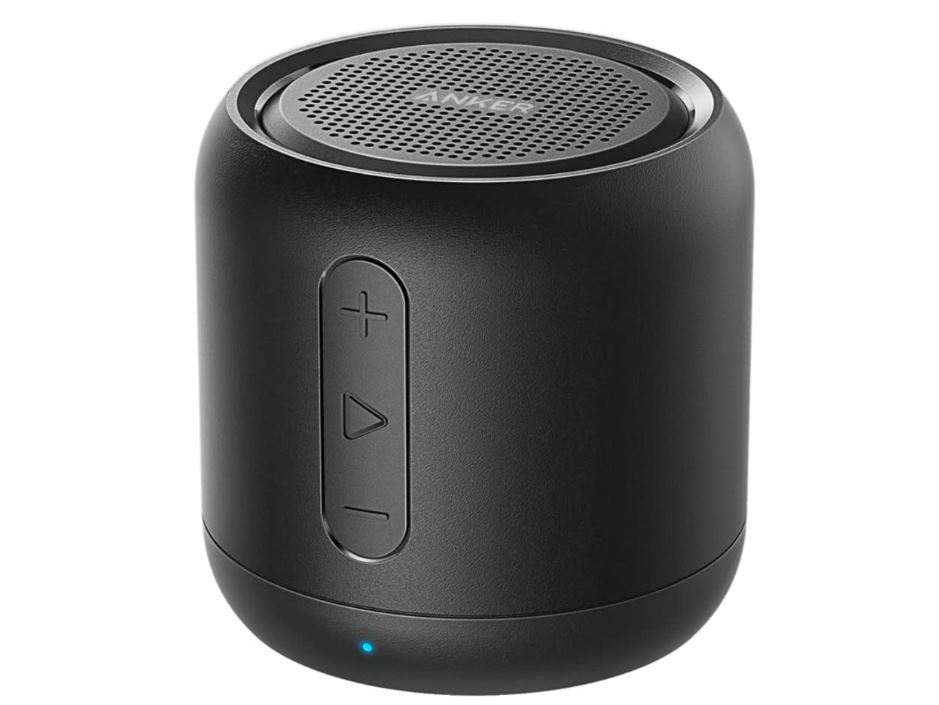 Current Best Price on Amazon: $24.99
Pros
Very portable
Build quality is good
Surprisingly loud for such a small speaker
The many options for playing audio (Bluetooth, Micro SD card, Auxiliary port and radio)
Built in microphone for making calls
Long lasting battery
Color options
Price
Cons
FM Radio feature is not good
Not waterproof
No battery indication
Specs
Driver Peak Power: 5.0 W
Battery Type: Li-Ion
Playback Time: 15.0 hours
Battery Capacity: 900.0 mAh
Size: 6.9 x 6.9 x 6.9
Weight: 200g
Bluetooth, aux-in and SD cart
Bluetooth Version: 4.2
66ft transmission range
FM radio 
In-built microphone
---
4. Bose SoundLink Mini Bluetooth Speaker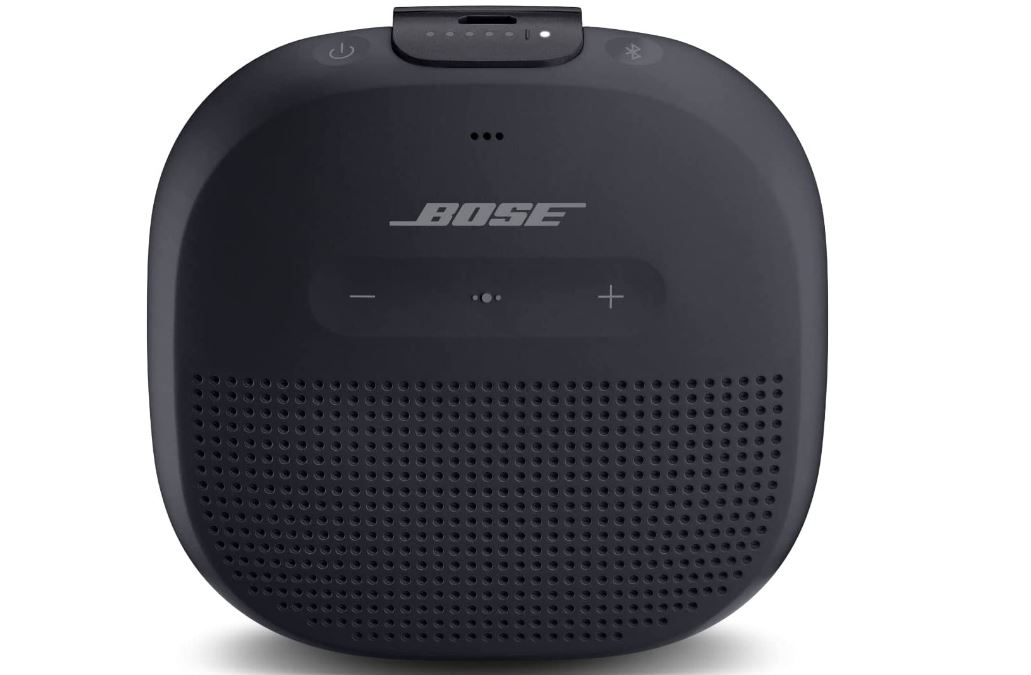 Current Best Price on Amazon:  $99.00
Compact, robust and waterproof, the SoundLink Micro has a particularly well-kept construction. The sound performance is superior to most current ultraportable speakers, with a consistent and polished finish. The commands are comprehensive and intuitive.
Pros
Probably the best sound and bass for the size
Connects quickly and holds connection
easy accessibility to Buttons and fairly logical placements
Waterproof
Cons
4 hour charging time
Doesn't float on water
No light indicators
high price
Specs
Drivers: 1 x 1.6″ / 40 mm
Battery Chemistry: Lithium-Ion
Estimated Battery Life: 6 Hours
Bluetooth: 4.2
Supported Bluetooth Profiles: A2DP 1.3, AVRCP 1.6
Wireless Range: 33 feet / 10.1 m (Bluetooth)
Wired Inputs: 1 x USB Micro-B (Power)
IP Rating: IPX7
Dimensions (W x H x D): 3.9 x 3.9 x 1.4″ / 9.9 x 9.9 x 3.6 cm
Weight: 10.2 oz / 289 g
---
5. MusiBaby M68 BT Portable Waterproof Wireless Speaker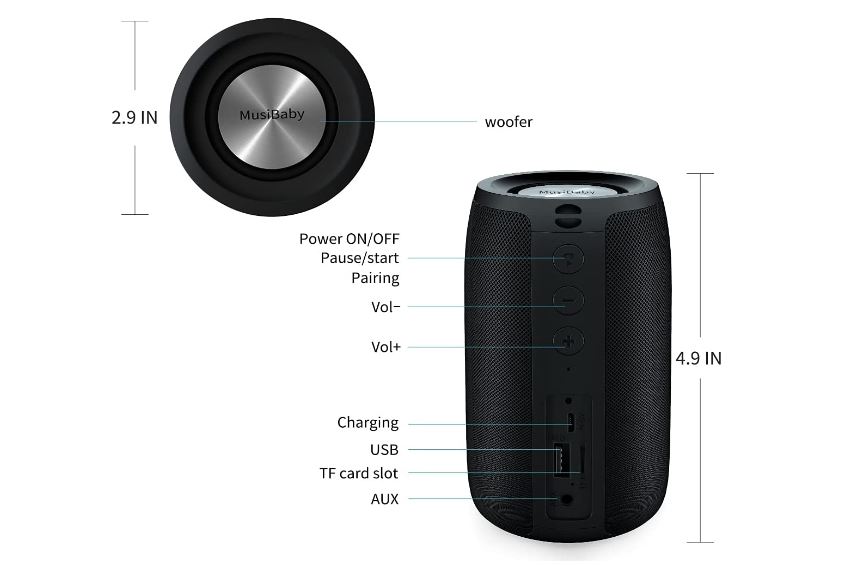 Current Best Price on Amazon: $31.69
Pros
Sound quality
Nice Finishes and design
Good build quality
Ease of operation
USB, Microchip, and Auxilliary port with cable
Cons
High announce sounds
Volume is just ok
Price History on Amazon
| Months | Lowest Price on Amazon |
| --- | --- |
| Sep 2022 | $26.93 |
| Oct 2022 | $25.35 |
| Nov 2022 | $25.35 |
| Dec 2022 | $25.35 |
| Jan 2023 | $25.35* |
MusiBaby M68
---
Conclusion
This sound companion, attractive for its practical and compact appearance, has never stopped evolving and diversifying to meet many needs. Although more people are interested in headphones recently, there are still a huge market for portable speakers. 
There are rugged speakers, capable of withstanding total immersion in water, models acting as external batteries, others that can be connected via Wi-Fi and capable of connecting to each other or having direct access. to Google Assistant / Amazon Alexa… and even luminous models!
Not to simplify things, the characteristics, weight, size and design can vary greatly depending on the model, not to mention of course the differences in sound performance. 
What are the main criteria to consider when choosing your portable speaker?
Since it is a speaker, the sound performance of the product is obviously essential. In our lab, Bluetooth speakers are subjected to the same battery of acoustic tests as any other type of speaker.
We look very closely at the capabilities of each loudspeaker in terms of power and distortion control: we will always prefer a moderately powerful loudspeaker, but which offers good sound reproduction, to a loudspeaker which promises us an avalanche of decibels but unusable at maximum volume.
Some portable speaker models do not offer exactly the same listening experience depending on their connection mode or the integrated sound profiles. We give as much information as possible in all cases in order to help you make the right choice according to your main use(s).
We also pay particular attention to the design quality of the enclosure, its robustness, its level of resistance to water and shocks, and the care taken in the finishes.
The ease of connection, the wireless communication range, the Bluetooth latency (an essential point for comfortably following a video), the possibilities of control via the commands, the various indications (source, battery, volume) are all clues on the overall fluidity of use taken into account in the final grade.
Is it possible to connect several devices simultaneously via Bluetooth?
In theory, it is possible. This very practical feature, called multipoint connection, is not common to all Bluetooth speakers. As we already explained in Bluetooth LE audio article, the new technologies will allow this feature and it will become much more convenient as well as accessible but it will take to adapt.
Some models can only connect to one and only one device at a time, others to two devices simultaneously and a few rare models can be connected to three sources simultaneously. We specify the presence or absence of this function in all our tests.