Construction Simulator 2022 has a skill system that allows players to increase a specific profession. In this guide, we will be showing you How to increase your skill points in Construction Simulator 2022. We will be also talking about the most important skills in the game.
---
Table of Contents
---
How to Invest skill Points?
Skill points  are an important aspect of the Construction Simulator 2022 as it allows players to finish tasks much faster, increases the earning and lets you load more bulk material to your trucks or buckets. Here is how you can find the skill section and distribute the skill points:
Hit ESC to open the Menu
Go to PROFILE tab
Open Skills section
At the right side, you will see your credits
Right bottom is your available skill points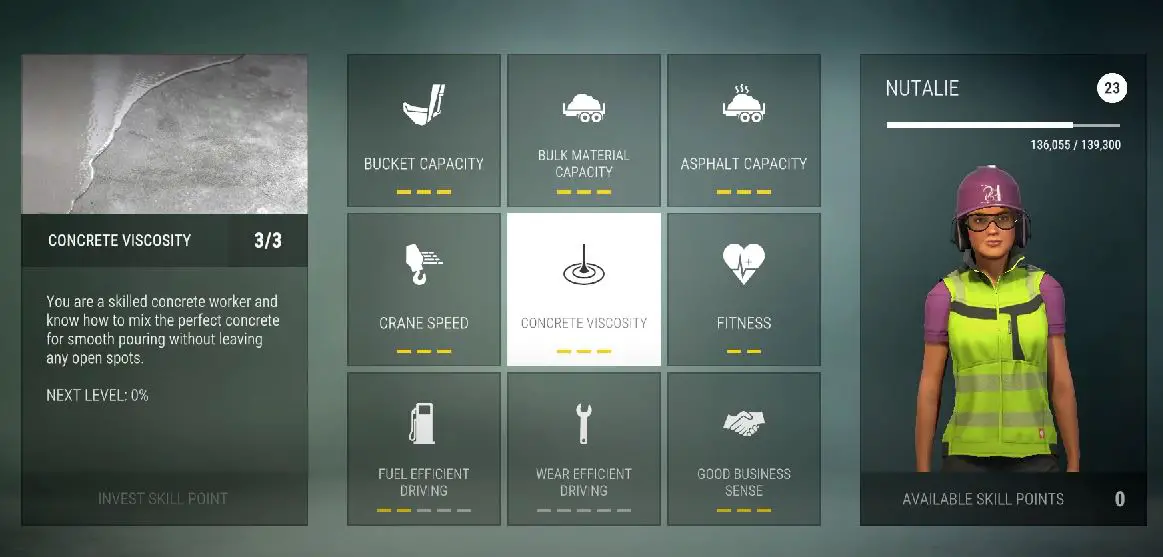 ---
All Skill Points and Meanings
Yo can invest skill points to a skill you'd think benefit you most. If you are doing lots of excavating, for example, investing in bucket Capacity would be a ideal strategy to help you finish your tasks much quicker. There are 9 skills in game at the current version:
Bucket Capacity
Bulk Material Capacity
Asphalt Capacity
Crane Speed
Concrete Viscosity
Fitness
Fuel Efficient Driving
Wear Efficient Driving
Good Business Sense
Bucket Capacity
Bucket Capacity perk allows you to load more excavate and lift more soil
Bulk Material Capacity
Bulk Material Capacity skill will increase the capacity of your dump truck. It is very handy for those who do lots of transportation work. There are lots of tasks which makes you carry lots of soil, gravel, sand around. It will also help you to make money fast.
Asphalt Capacity
Asphalt Capacity perk will allow you to load more hot asphalt in your truck and asphalt machinery.
Crane Speed
Crane Speed skill will speed up the crane increase the travelling speed of crane tip for more quicker carrying of loads. It also makes crane much easier to handle.
Concrete Viscosity
Concrete Viscosity is a skill that increases your chance you make perfect concrete mix. Increasing this skill will help you pouring the concrete without leaving any open spot on the site.
Fitness
Fitness, as the name suggests it will help you get a bonus running speed on the field. This skill is to be invested lastly. It is also said to help you find a partner much quicker but further demonstrations are needed.
Fuel Efficient Driving
Fuel Efficient Driving fairly decreases the fuel consumption. The machineries in Construction Simulator 2022 actually spend lots of fuel so a good skill to consider investing.
Wear Efficient Driving
Wear Efficient Driving is another vehicle related skill which increases the durability of the machireries and tools.
Good Business Sense
Good Business Sense is actually one of the most important perks to have in the beginning of the game. This skill increases the amount of money you earn in every contract. It will give you 30% more income at level 3. It is highly recommended to increase this in the beginning of the game to get advantage of every task.
Under Profile section, you will find a Manual from developers. The guide will help you to find many shortcuts when you are in game; for example when you need to know how to control excavator or for what is each class of vehicles and construction equipment. You can find more guide under our Construction Simulator Category.