A Russian cyberattack in Ukraine on Monday crashed the leading Internet service provider Ukrtelecom! Since the beginning of the conflict, more than 60 cyberattacks have taken place on Ukraine. But this was the biggest one.
A Serious Attack on Networks
As the Russian army slowed down in the field battle and even retreated in certain parts of Ukraine, Ukraine was the target of cyber attacks this time around.
The Ukrainian government announced on Monday that Ukrainian Internet service provider Ukrtelecom was the target of a powerful cyberattack.
According to the Ukrainian State Communications and Information Protection Special Service (SSSCIP), this neutralized attack was the most serious since the Russian invasion.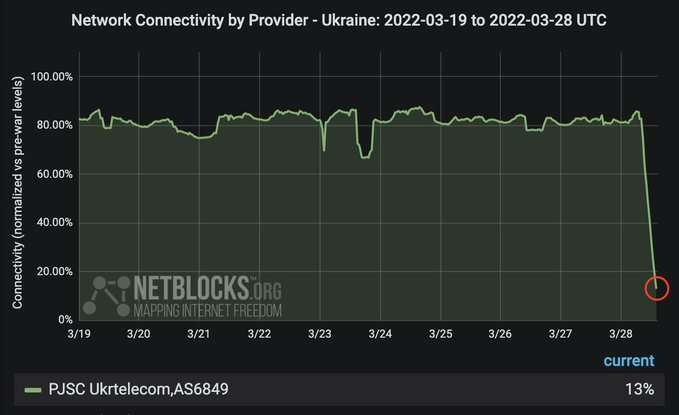 Network Connectivity saw the lowest
NetBlocks, which monitors internet outages around the world in real time, found that Ukrtelecom was offline on Monday morning with an activity rate of 13%.
Since the start of the war, the rate has dropped from 100% to 80% due to numerous cyberattacks, but it fell to its lowest level on Monday.
It took several hours for Ukrtelecom, Ukraine's No.1 telephone company, to restore its services, and the priority, according to SSSCIP, was "to protect the network infrastructure and continue to provide services to the Ukrainian Armed Forces and other military formations."
As a result, Ukrtelecom temporarily limited the provision of its services to the majority of private and commercial users.
ℹ️ Update: Internet connectivity is being restored on Ukraine's national provider Ukrtelecom some 15 hours after users started falling offline amid a cyberattack. The company's engineers say they have successfully mitigated the attack.