It has become the star of the skies for Ukrainians. True or false, images of the destruction of Russian vehicles and weapon systems caused by the Ukrainian army's low-cost Bayraktar TB2 drones are multiplying on social networks. This small armed drone is part of Kiev's assets to inflict heavy losses on the invader and slow it down.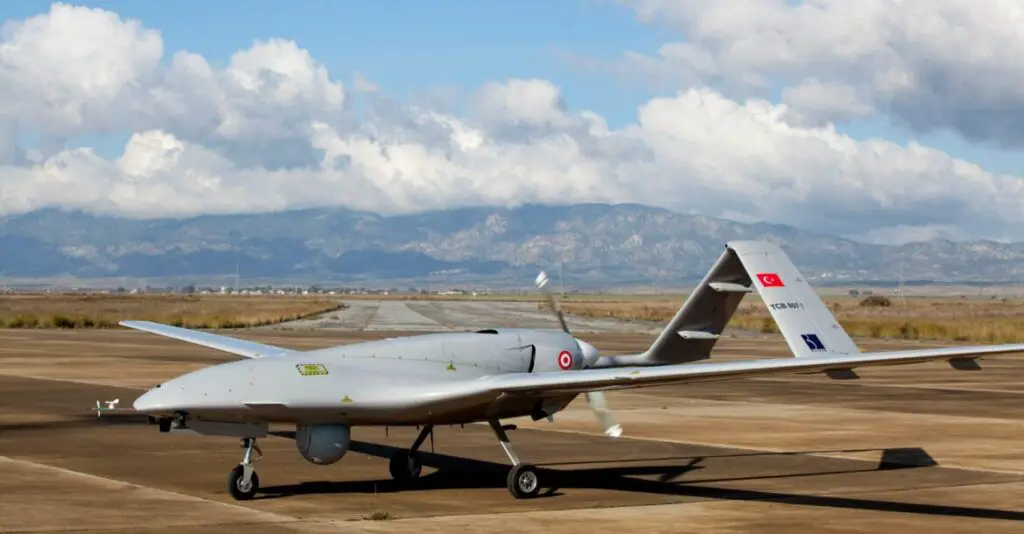 The History of Bayraktar TB2 Drones
Since the start of the Russian invasion , Ukraine has resisted fiercely. One of its assets comes from the sky with attack drones which prove to be formidable for Russian armor, logistics vehicles and missile systems . 
More than the mythology of the "ghost of Kiev", a famous Ukrainian Mig 29 pilot who would have accumulated several aerial victories in a single day, the true hero of the skies is the Bayraktar TB2. The Turkish aircraft has even been celebrated for a few days with a song in its glory broadcast on YouTube. 
Six  of this drone had been delivered by Turkey in 2019 and were used to wage war in the Donbass against pro-Russian separatists. In September 2021, Ukraine decided to buy 24 more drones, which angered Vladimir Putin. The Russian President then criticized the sale of these devices during a telephone conversation with his Turkish counterpart Recep Tayyip Erdogan.
The Bayraktar TB2 was designed by the company Baykar Makina, it has a V- tail carried by two beams . Its cabin made of carbon fiber and composite materials is flattened to optimize lift . 
It is propelled by a heat engine placed at the rear of the aircraft. In terms of dimensions, with a wingspan of 12 meters and a length of 6.5 meters for a maximum mass of 650 kilos, it is small compared to the American MQ-9 Reaper used. Much lighter, less powerful, it is able to stay in the airmore than 24 hours at an altitude of 6,800 meters. This endurance with the ability to fly at very low speed makes it an ideal tool for reconnaissance and intelligence.
New drone deliveries
Under its wings, the drone can also carry up to four Turkish-made Roketsan MAM laser -guided missiles . Light (15 kilos) and compact missiles that demonstrate formidable efficiency against Russian armored vehicles, vehicles carrying ammunition and even troops. Thus, with his strikes, 70 Chechen soldiers sent as reinforcements have recently been killed. 
Another advantage is that it is possible to fly several drones at the same time to maintain permanent surveillance. If the Russian army managed to destroy some of these drones, the Ukrainian Minister of Defense announced that a new delivery of these drones took place recently.
Considered a low-cost drone despite a unit cost of 5 million dollars, the Bayraktar TB2 did not experience its baptism of fire in Ukraine. It had been used in Libya and Syria to destroy anti- aircraft missile systems. It was especially revealed during the summer of 2020 during the conflict between Armenia and Azerbaijan over Nagorno-Karabakh. It was then used to destroy Armenian vehicles. A mission he accomplished with great efficiency.