Europe has relied on cheap Russian energy source for the past few decades, and Russia is also happy to provide low-cost oil and gas. Until now, when the war broke out, the EU finally realized how risky it is to rely on one country for energy.
However, even if the lessons are learned, there is nothing to do. Now solar energy is the top priority in new energy policies around the world, but 80% of the global solar energy supply chain comes from China: Another authoritarian state.
Chinese customs data show that solar panel exports to Europe rose sharply from January to August this year, with exports worth more than $16 billion, more than double the $7.2 billion in the same period last year.
While there are also reasons for rising production costs, such as polysilicon, a key raw material for making solar panels, hit a record high in China this year,
But China's solar panel sales to Europe have also grown substantially, with an annual increase of 137% in the first half of 2022, and the EU now relies on China for most of its solar panels.
China's Solar Panel Production Share
In 2021, China will account for 75% of global solar panel production, compared with 2.8% in Europe.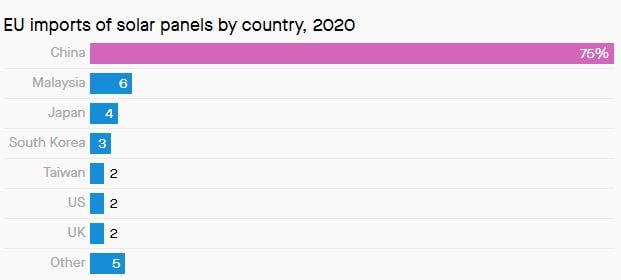 That's why shares of major Chinese solar manufacturers jumped in May when the European Union announced a 210 billion-euro plan to wean itself off Russia's energy dependence.
Not only EU countries, but also the solar energy industry all over the world has a presence in China.
According to the International Energy Agency (IEA) report, China manufactured most of the world's solar panels in 2010, but over the past 12 years, China's share of the solar panel supply chain has risen from 55% to 84%,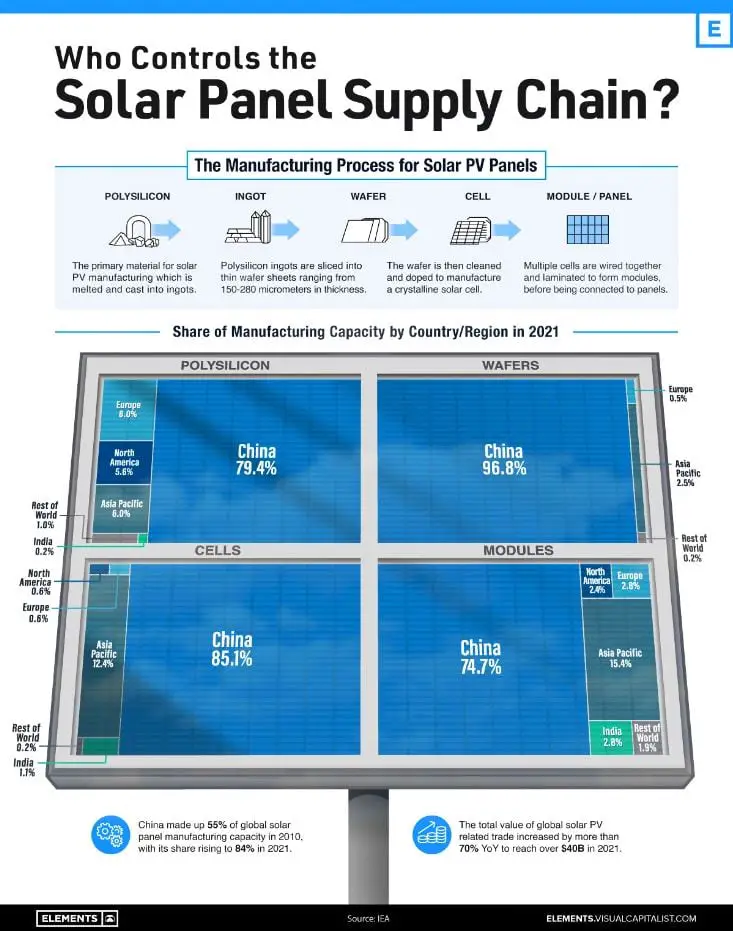 And China controls at least 75 percent of every critical stage, from polysilicon production to soldering finished solar cells and modules to panels.
While Europe and North America account for more than one-third of global solar panel demand, they average less than 3% each across all stages of actual solar panel manufacturing.
Solar-related investment also leads, with the Chinese market accounting for nearly two-thirds of large-scale solar investment globally. In the first half of 2022, the state invested US$41 billion, an annual increase of 173%.
Not only solar energy, but China is also a major producer and processor of rare earth minerals, which are necessary for the magnets that power wind turbines. China will build more offshore wind turbines in 2021 than all other countries combined in the past five years.
Solar power generation has also been on the rise in China, where installed solar capacity rose 1.9% to 349.9 GW in August, outpacing wind, which rose just 0.2% to 344.5 GW, according to China's National Energy Administration.
By the end of this year, China's solar capacity will surpass wind power for the first time, according to Bloomberg New Energy Finance.
China's Domestic Renewable Source
In 2021, China's electricity consumption from renewable energy accounts for 29.4% of the total electricity consumption, and China is expected to achieve the electricity consumption target of 33% from renewable energy by 2025.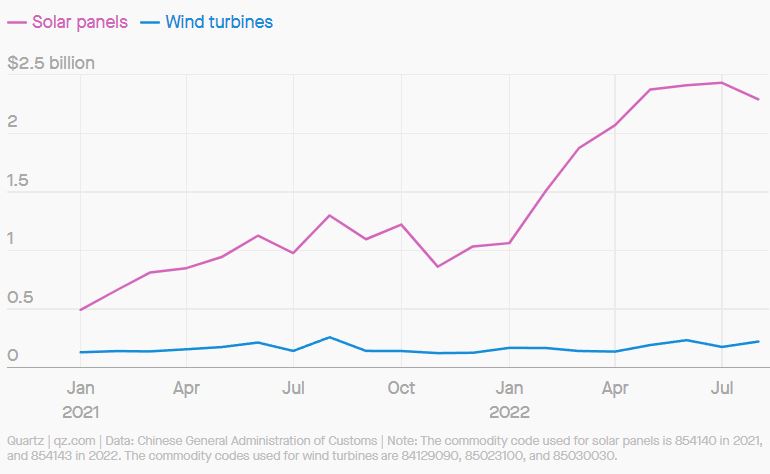 By 2025, the share of renewable energy consumption could reach 36%.
Analysts at S&P Global Commodity Insights said that the 33% target is definitely achievable given the current state of solar and wind development.
China promotes this industry with huge domestic market demand, and then uses low cost to choke the global new energy throat.
Even though solar energy is a free energy source that does not depend on any country, as the CEO of American manufacturer First Solar said, solar energy is not a free energy source if it depends on the technology of an authoritarian government.