In Farming Simulator 22, the farming equipment and buildings can be overwhelmingly detailed sometimes. The silos are one of the buildings that can be confusing for new players. So in this guide, we will try to explain everything about silos in FS 22. If you want to store your crops to sell them in peak times then silos will be the essential part of your farm as they can store a huge amount of crops.
---
Table of Contents
---
What are the uses of Silos in FS 22?
In FS 22, Players have multiple options to store crops. Some crops can be just stored on the ground but some are required a specific area or storage in order to not get destroyed. Silos are big, tall tower or pit on a farm used to store grain, crops. They protect crops from environment and insects. They have a complex system inside. 
Silos – you can build your own silos or use those available on some maps for free (most often near railroads).
Trailers – The trailers can be used to store crops. Nothing will happen to them there, but until you empty it, you won't be able to use it any other way.
On the ground – any trailer with fertilizer, crops, etc. can be emptied anywhere on the ground. But then you have to use a shovel in the loader to pick up the raw materials or use conveyor belts available in the store to pick up items from the ground and load them into a machine.
Pallets and bales – products purchased in the store on pallets can be stored in this way to make them easier to transport. You can also transfer them to trailers. Bales can be made from hay, grass, and straw to also make them easier to store and transport. This also applies to cotton.
---
How to Construct Silos in FS 22
The silo types and system are different than that of FS 19. There are more silo types in FS 22 base game. The silos come in different sizes and capacities. Building a silo won't be cheap if you're new in the game. Just like building any other structure, you need to open up construction menu to get started.
Press "Shift + P" key combination to open construction menu.
Go to Building Tab.
Then choose "Silos"
Choose a silo that fits your budget and land.
Make sure to place it correctly as you will need some space for tractor and trailer.
The silo load area should be somewhere you can drive your vehicles.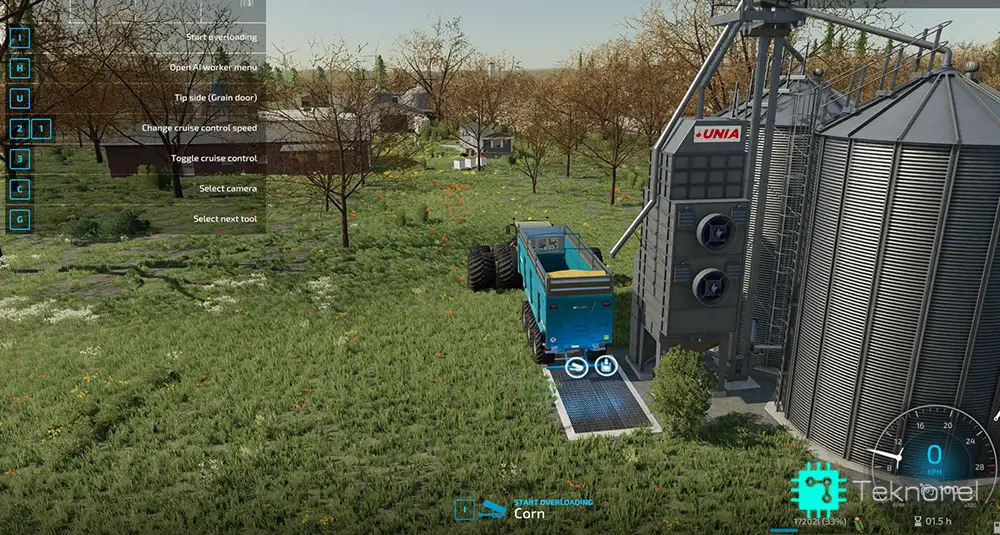 ---
How to Load or Unload Silos?
The simple silos can be filled more easily with a tipper or directly with a thresher via the pipe. To do this, simply drive/stand over the unloading point and the message "Start overloading" should appear on the screen. In order to empty the silo again you can drive the tipper/trailer under the silo and when you stand correctly under the pipe, "Start filling" appears and you can select the desired grain from the silo and empty it.
Some other silos are more complex to work with. You will need  some specific machinery to load and unload crops in them.
You will need a conveyer belt system to fill a flat bottom silo.
The conveyer belt needs to be compatible with the silo you own. 
You will need a compatible unload conveyer or auger belt system to unload your grains.
Check the picture below to understand how the system works.
To take the crops out of the bin or silo, you need to have a unloader conveyer.
Place the conveyer under output pipe of the silo. 
Extent or decent the conveyer acrding to your trailer.
---
Silo Extensions
Silo extensions are storage structures that allows you to increase your silos' capacity. You can just buy them under construction menu. You have to place them near on your farm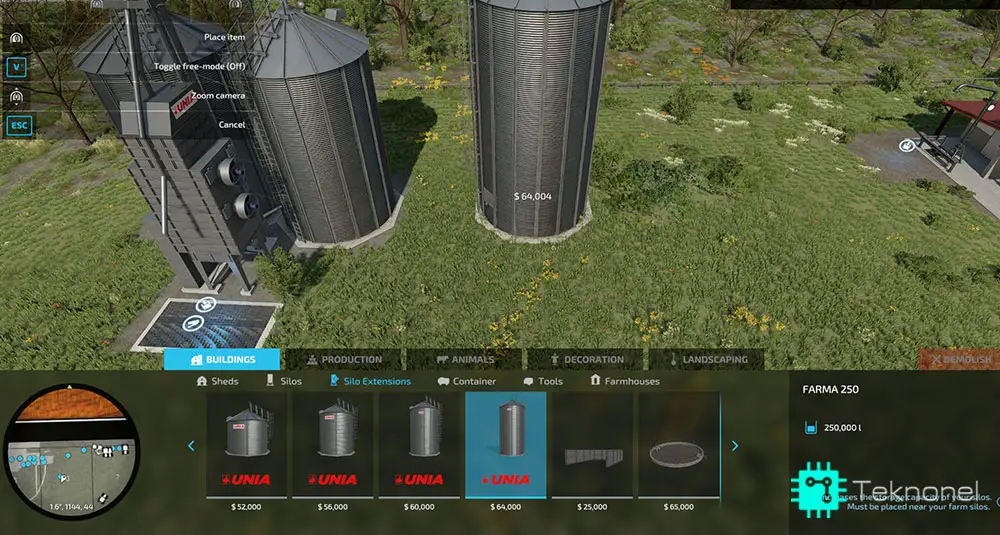 If you learned how silos work, you may want to check our FS 22 category to see the other guides.