In order to purchase land in Farm Simulator 22, you will need to select the option to move from land to the map screen. Once you make it here, you need to look for the land you want. To highlight the land of your choice, you need to press the X button on your PC. Doing so will highlight your land choices in blue.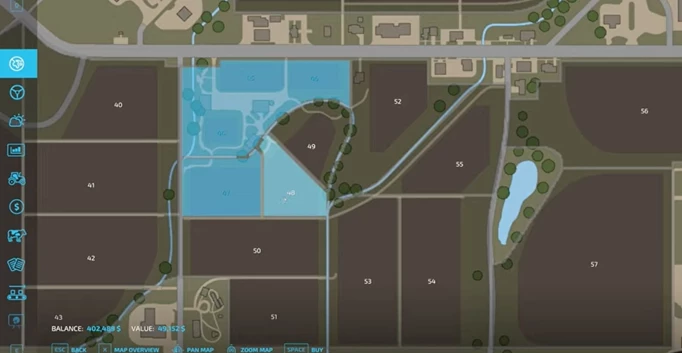 Areas highlighted in brown indicate that you can purchase them. As long as you have sufficient funds, you can easily acquire these parcels of land and expand your farm. However, we advice you to buy land near your farm that adjoin your existing farm. Doing so will save you the hassle of having to travel to tend to your new land.
Additionally, we recommend you figure out exactly what type of land you need for your farming activities. Doing so can be a wise decision, as it will help you avoid picking land with inclines, especially when you want to use heavy machinery on it. If you don't want to regret buying a bad land, It would be a good idea to see the area before buying it.
Another important point you should consider before buying a field is the drive distance to the shop. Depending the map you are playing on, the distance can take too much time.
Now that you know how to buy land in FS22, let us learn how to sell land in the game.
How to Sell Land in Farming Simulator 22?
To sell land in Farming Simulator 22, all you need to do is press the backspace button on your existing piece of land that you wish to sell. The advantage to doing so is the fact that you will not lose any money when selling land.
So there you have it. This is all you need to know about how to buy and sell land in Farming Simulator 22. As you can see, doing so is actually really easy. All you need to do is follow the simple instructions in this guide, and you should be good to go!
If you want to try other maps and can't find a good one, you may want to check our 5 Best Maps in FS 22 list.
How to Buy and Sell Farmland in FS22 (Video Tutorial)