The Sharpshooter, a ranged DPS class, is a male-only Advanced Gunner Class. This character can handle both medium and long distances.
Sharpshooters are ranged attackers who use mechanical bows with special arrows that have custom effects.
We always encourage players to test a class themselves before they start playing that class. At the end of the day, you wouldn't want to spend your time with something you don't have fun. You may also want to check our ultimate beginner guide and tips If you are new to this game.
You can check all classes in Lost Ark here.
Lost Ark: Sharpshooter Class Overview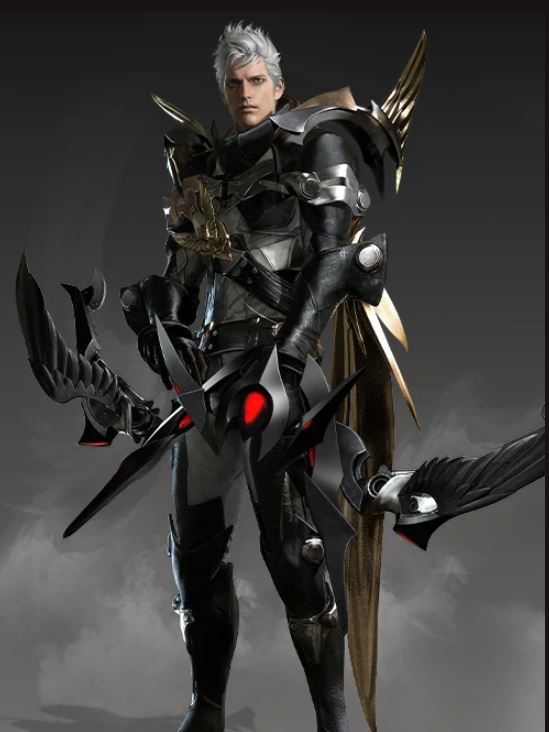 Sharpshooters use unique bows to be able to target enemies from a very far distance. They're also aided by their pet similar to the classic ranger. The caveat to playing this Class is it's susceptible to damage so you'll have to maintain a greater distance to keep your character safe at all times. 
The Sharpshooter is an evolution of the Gunner Class
Sharpshooters' attack damage scales with Dexterity
Sharpshooters spend most of their time dealing damage from a great distance with their Bow and Arrow. They also have short to mid-range skills in order to approach enemies quite closely. Keep in mind, however, that Sharpshooters need ample ability rotation to avoid getting hit.
What makes the Sharpshooter unique is their ability to call pet hawks to aid them in combat by dealing additional damage.
In PvP, you're going to assume the role of an enabler by making good use of your stealth-like ability. You're able to alternate between staying stealthy and dealing massive damage. You're also good at crowd control, which enemies find challenging to evade from. Additionally, Sharpshooters can execute critical hits when sniping, especially with great aim, and then immediately retreating thereafter to dodge attacks. As such, you become predictable at times, which means that you have to be careful since you're squishy. 
Sharpshooters have decent mobility and good all-around ranged skills. So if you also happen to have great aim and you want to play a class that has a low learning curve, then the Sharpshooter is for you.
Lost Ark: Sharpshooter Class Pros & Cons
Now that you're up to speed with the basic information about the Sharpshooter class let's take a look at the strengths and weaknesses of Sharpshooter.
Pros
Burst DPS
High Crit Rate Tripods
DPS From Any Position
Cons
Low Stagger
Low Part Break
Animation Locked DPS
Lost Ark: Sharpshooter Class Best PvE build
| Skill | Skill Level (/10) | Rune I | II | III |
| --- | --- | --- | --- | --- |
| AT02 Grenade | 4 | Weakness Exposure | N/A | N/A |
| Catastrophe | 10 | Quick Aim | Concussion | Eternal Calamity |
| Last Request | 10 | Quick Preparation | Execution | Volley |
| Perfect Shot | 7 | Muscle Spasm | Precision Shot | N/A |
| Shotgun Dominator | 10 | Close Shot | Weak Point Detection | The Ruler |
| Shotgun Rapid Fire | 10 | Close Shot | Enhanced Shot | Special Bullet |
| Sign of Apocalypse | 10 | Close Shot | Enhanced Shot | Approached Apocalypse |
| Somersault Shot | 7 | Ignore Collision | Burn Effect | N/A |
| Spiral Flame | 4 | Fierce Flame | N/A | N/A |
| Spiral Tracker | 4 | Weakness Exposure | N/A | N/A |
Lost Ark: Sharpshooter Class Best PvP build
Similar to a PvE Sharpshooter build, the name of the game in PvP will always be damage, but it's key you are equipped with enough mobility and utility to outplay your opponents.
So, in order to maximize your PVP strength, here are all the skills you'll need:
| Skill | Skill Level (/10) | Rune I | II | III |
| --- | --- | --- | --- | --- |
| AT02 Grenade | 10 | Weakness Exposure | Enhanced Grenade | Internal Ignition |
| Cruel Tracker | 10 | Quick Preparation | Rapid Fire Enhancement | Quick Draw |
| Dexterous Shot | 7 | Agile Movement | Excellent Mobility | N/A |
| Enforce Execution | 7 | Excellent Mobility | Tenacity | N/A |
| Equilibrium | 10 | High-speed Shot | Decimation Shot | N/A |
| Meteor Stream | 10 | Weak Point Detection | Piercing Explosion | Meteor Fall |
| Plasma Bullet | 10 | Quick Shot | Heavy Duty | Plasma Split |
| Quick Shot | 10 | Swift Fingers | Initiate Shot | Vital Point Shot |
Lost Ark: Sharpshooter Class Identity Skills
All Advanced Classes in Lost Ark have unique Specialties or Identities that differentiate them from the other classes. These can either unleash more damage or enhance the buffs they grant. For the Lost Ark Sharpshooter, it's the Hawk Identity to summon Silverhawk and deal massive damage. Once the Hawk Meter is full by dealing enough damage, you're also able to boost your allies' movement speed.
When Silverhawk is available, you gain access to two skills, namely Wings of Storm and Last Rush. With Wings of Storm, Silverhawk circles the enemies to create a gust of wind to inflict notable damage. As long as your Hawk Meter has enough energy, you can keep activating Wings of Storm once its cooldown ends. Remember to try to use it continuously since the Hawk energy will decrease regardless.
Lost Ark: Sharpshooter Class Engravings
Engravings are a key component of endgame customization in Lost Ark. There are many generic engravings that all classes can use which provide major boosts to your character, though often with considerable downsides. Like every class in Lost Ark, two exclusive Engravings are available for the Sharpshooter. Players are not limited to those two only, and there are dozens of other engravings available to boost your stats and compliment your playstyle.
These are listed in priority of how you should get them. As you level and unlock more engravings, you can go down the list and add the others. For this class, we'll be taking a look at one all-around good path for utilizing both Death Strike and Loyal Companion.
| Death Strike | Loyal Companion |
| --- | --- |
| When using Last Rush, recover half of the remaining Hawk Meter. Hit foe damage taken increases by a percentage for eight seconds. | Summons Silverhawk MK-II, allowing a move speed increase, an increase to Silver Hawk's Basic AoE radius, and an increase to the summon duration. Basic attack or Wings of Storm hits give foes a Mark of Death. Foe incoming damage increases by a percentage. Additionally, Hawk Meter Natural Recovery increases during combat. |
The Sharpshooter has two viable builds depending on your engravings. These are the Death Strike build and the Loyal Companion Build.
The best Lost Ark Sharpshooter Engravings is Grudge, which increases damage by 20%, but increases your damage taken by 20%.
Here's a look at other recommended Engravings to use:
Recommended Sharpshooter Engravings for Death Strike and Loyal Companion
Grudge
Death Strike
Loyal Companion
Hit Master
Keen Blunt Weapon
Raid Captain
Cursed Doll
Lost Ark: Sharpshooter Class Awakening Skills
Awakening Skills are basically the ultimate skills in Lost Ark. These skills unlock when you get to level 50, and you perform quests.
One of the Sharpshooter Awakening Skills you get is Fenrir's Messenger, which allows the Sharpshooter to send out a giant wolf. The more you charge the skill, the more it's damaged over time.
The other Sharpshooter Awakening skill is the Golden Eye. The skill sends out for golden hawks, which spin around in an area and create a tornado. It also allows the Sharpshooter to enter stealth for seven seconds.
Lost Ark: Sharpshooter Class Best Gems to Use
Attack Gems
Cooldown Gems
Snipe
Snipe
Charged Shot
Charged Shot
Arrow Wave
Arrow Wave
Sharp Shooter
Sharp Shooter
Blade Storm
Blade Storm
Atomic Arrow
Lost Ark: Sharpshooter Class Best Cards to Use
Card Sets are a rather late-game part of Lost Ark and can require significant time and investment in order to reach the leveled-up benefits of any deck. This build does not require any particular deck to be effective but does benefit from any of the damaging-increasing decks. Ideally you could use the  Lostwind Cliff or  Light of Salvation decks but both of these require extreme amounts of investment to reach high levels. Unless you have the aforementioned decks we recommend using anything that boosts your Max Health such as World Bosses or Armory sets.
Lost Ark: How to Build Sharpshooter Class (2022) Video