M908 Impact from Redragon is a gaming mouse that is aimed to satisfy MMO gamers. The mouse has 12 dedicated buttons for thumb which is very important in games that players need quick access for some certain skills. Capable of going up to 12,400 DPI, it offers exceptional precision and has 5 levels of Dots Per Inch (500 – 1000 – 2000 – 3000 – 6200). What's more, to ensure you have the advantage over all your opponents, it has an ultra-high-precision Pixart PAW3327 sensor.
Redragon is mostly known for its gaming equipment, first and foremost its gaming mice. Redragon M908 is a great mouse for MMORPG players with its decent price/performance ratio and preciseness. 
Current Best Price on Amazon: $32.89
---
Table of Contents
---
Redragon M908 Pros and Cons
Pros
Rich RGB lighting
Affordable price
Optimum grip
Ergonomic MMORPG mouse
Cons
Configuration is complicated on the software
Left click tends to be noisy
Wired Only
For Right-handed users
---
Redragon M908: Design
When it comes to design, the Redragon M908 Impact packs with it an RGB backlight that can be turned off or used to perform whatever color compositions you like. The design and RGB lights give the mouse an eye-catching characteristics. The mouse itself is heavily embraced as a gaming mouse with the overall construction and build.
The mouse is more aimed for medium to large size hands with either a palm or close style grip as well. The mouse has a curvy design that can support a large palm and as well as a ring finger and pinky support on the right as you can see in the picture below.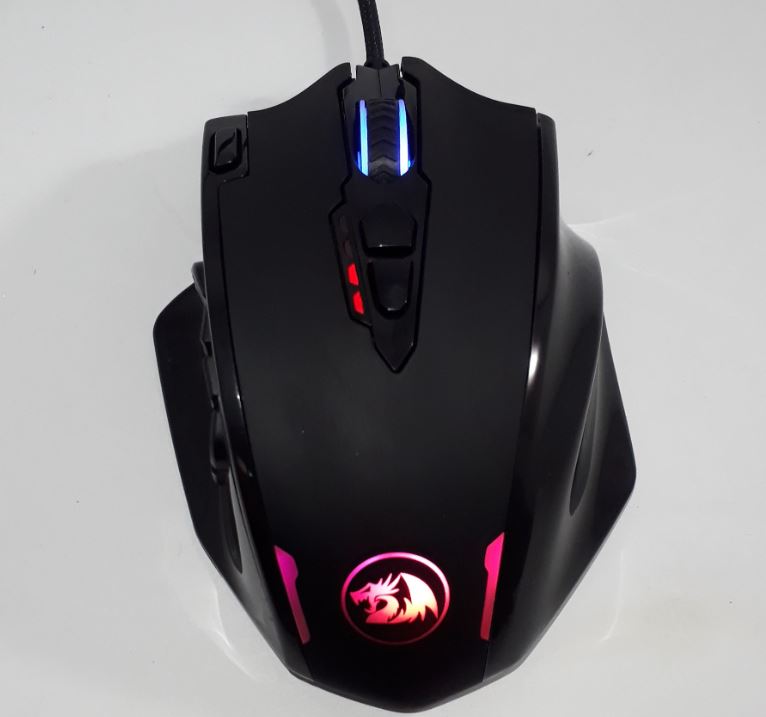 The thumb buttons are were slightly curved for a better grip compared to some of the other MMO style mice out there.
The twelve thumb buttons are very easy to use. The mouse gives options to use multiple fast accessible skills or weapons. For instance, It also helps you in a game like Fortnight switching between your weapons and building materials a lot faster. In addition, these are not the only extra buttons that you get, however, also next to the left mouse click there is an additional button for quick access.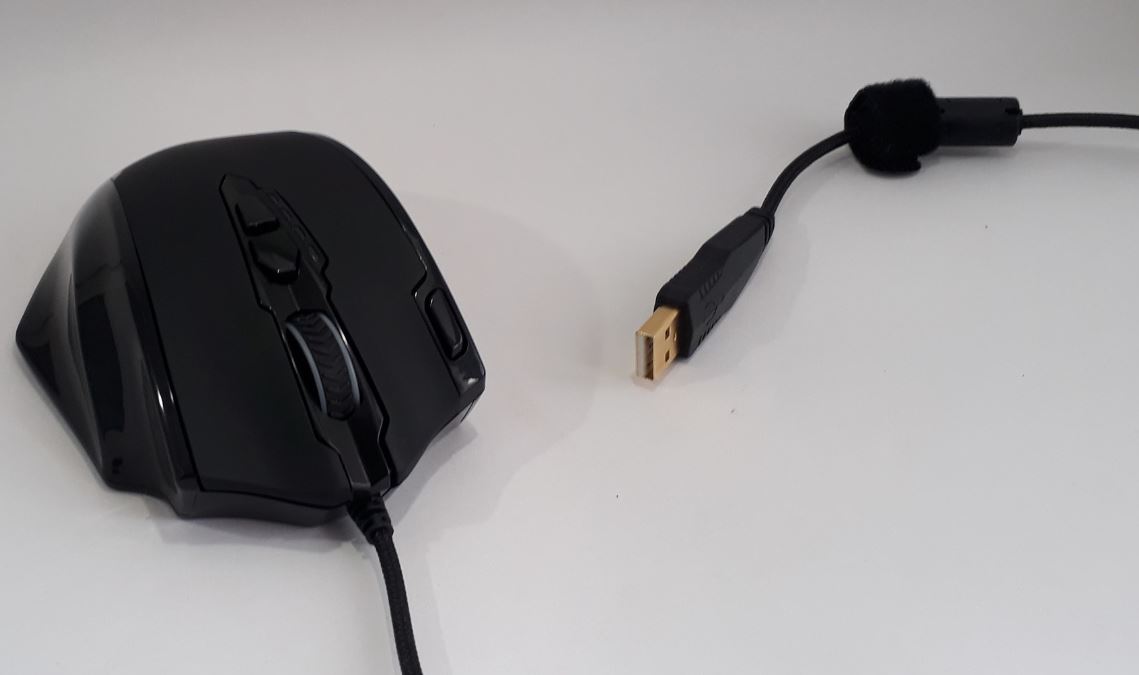 The cable of the mouse is a pretty standard; 1.8 meter or 5.9 feet braided cable. The mouse is only wired. There is no wireless connection and battery.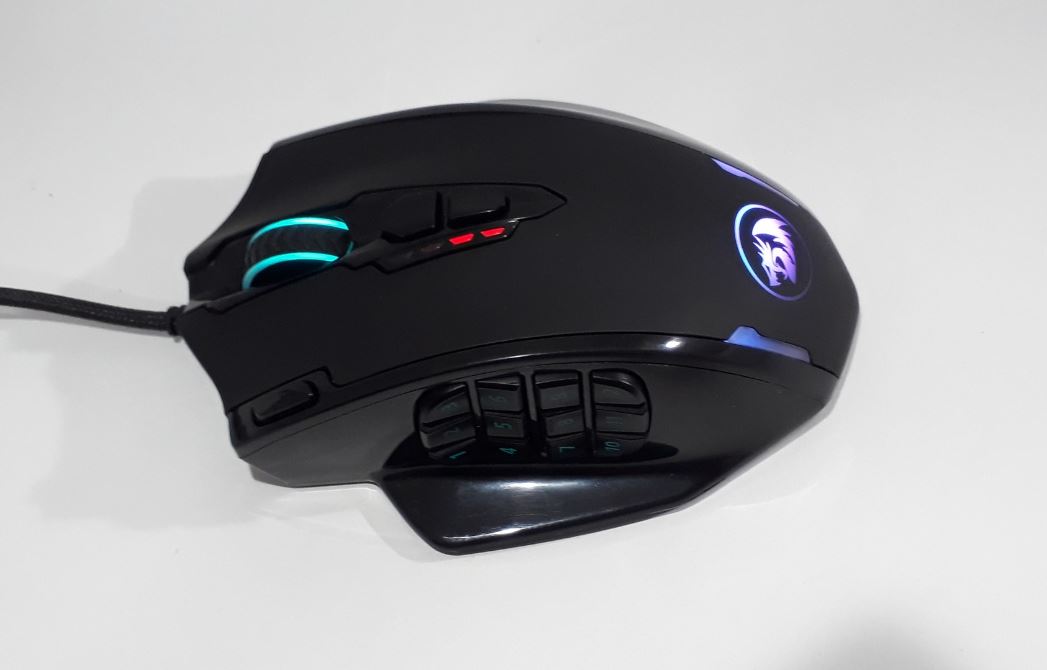 Scroll Wheel
M908 does have a pretty standard scroll to it. The scroll wheel is not too big or heavy. It gives a textured rubber grip and also it is illuminated on the sides for RGB lights.
Just behind the scroll wheel, there are the DPI selection switches that lets you cycle through the five different DPI levels with a clear LED indicators on the side.
There is a four a glide path Underneath of the Redragon M908 mouse. Delivers are pretty smooth gliding on a cloth mousepad. 
---
Redragon M908: Performance
The mouse comes with an Optical Pixart PMW3327,  a Lazarus sensor with a max dpi of 12400. Since it is a wired mouse, the connection is much more secure and faster. The polling rate is up to 1000 Hz switchable between 125HZ/250HZ/500HZ/1000HZ options. The default polling rate is seet to 500Hz out of box. So you need to adjust the polling rate using a software from Redragon's official website.
The accuracy of the mouse's sensor is relatively good for a mouse at this price range. There is no feeling of holding back.
---
Redragon M908: Comfort Of Use
The M908 Impact gaming mouse is actually a pretty above average mouse when it comes to comfort of use and ergonomics. The unique design, curves and being aimed to only right-handed users makes this mouse a fairly comfortable gaming equipment. 
In fact, it is one of the more comfortable MMO large mouse compared to the ones in this price range. It can even provide a better grip then the Razer Naga. that's because of that right side of finger support where you did have a lot more grip in right side of the mouse.
The mouse has also 8 pieces of 2.4 gram weights at bottom that will take the weight off the mask from 114 grams all the way up to 133 grams. So you can mix and match and get the exact weight that you want.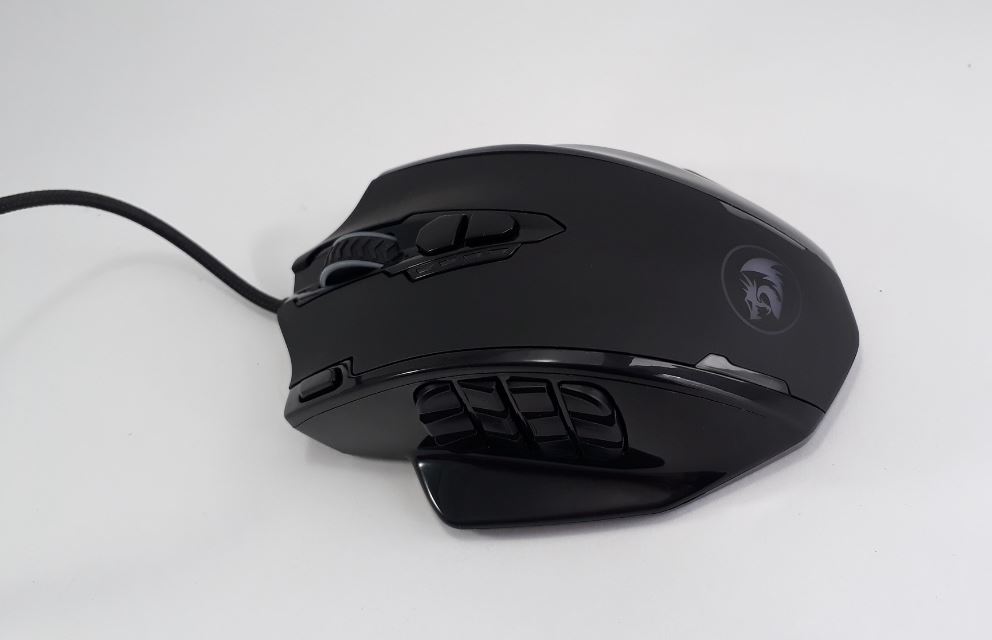 ---
Software
Redragon M908 mouse has an official software to set up profiles. In the software, you can switch between 5 profiles, where in each one you can adjust settings like;
DPI,
the polling rate,
acceleration,
double-click speed,
scrolling speed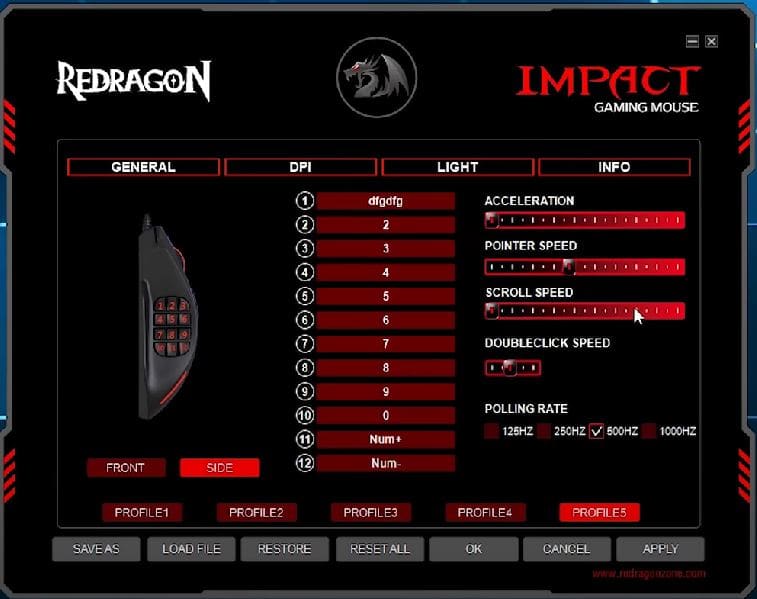 The software allows to assign different commands to each of the six main buttons on top of the mouse. More importantly and the 12 aside buttons can be selected and bond to a command like your media controls, to launch a program etc. The Software can create and assign custom macros with up to 59 keys in a single command. For the appearance, there are also some options to set up some lighting. There are 7 different effects that you can go through where each one has its own set of commands like a brightness and speed bright.
You may download the official Redragon M908 Impact mouse software below.
---
Conclusion
The Redragon M908 Impact is the quintessential MMORPG mouse. Initially made by professional e-sports, this laser mouse is now the delight of all LOL, WoW or Dofus gamers.
Regardless of your profile (Die Hard, defensive, neutral…), this laser mouse is one of the best mice for MMO gaming.
The Redragon M908 is a very acceptable mouse for its relatively ridiculous price for a pro gaming mouse. 
So in conclusion of Redragon m908 Impact, the mouse is definitely a good option especially if you are looking for more affordable mouse with a multiple button options.  The only downside is that some the squeaky buttons noise which is a bit annoying. Overall, this mouse is a good choice for those who plays MMORPG style games and need quick access to some special commands.
Price History on Amazon
| Months | Lowest Price on Amazon |
| --- | --- |
| Sep 2022 | $29.74 |
| Oct 2022 | $29.98 |
| Nov 2022 | $23.02 |
| Dec 2022 | $32.53 |
| Jan 2023 | $26.99* |
Redragon M908 Impact
Mouse with many buttons – the most important things at a glance
Multi-button mice are specialized computer mice that have additional buttons and controls. These advanced features enable users to work faster and more effectively. Mice with lots of buttons tend to be a bit more expensive than traditional mice, but they also offer significant value.
Most high-button mice are designed for use with desktop computers. They usually have some extra buttons placed above the mouse wheel. These keys can be used to perform specific actions or commands. Some high-button mice also have thumb controls that allow the user to perform even more functions.
Mice with lots of buttons are usually slightly larger than traditional mice and have an ergonomic shape that suits the needs of most users. These mice also tend to come with quality components that ensure durability.
---
Redragon M908 Mouse Specs
ACC: 30G
Interface: USB 2.0 full speed. 3.0
Package Size: 4.8 x 3.6 x 1.6 inches
Item Weight: 11.2 ounces
DPI: 100-12,400
Polling Rate: Up to 1000 Hz; switchable: 125HZ/250HZ/500HZ/1000HZ (Default 500HZ
Sensor: Optical Pixart PMW3327
Programmable Buttons: 19
USB Length: 1.8M braided-fiber cable
Weight Tuning: Yes
Adjustable Weights: 8×2.4g
On Board Memory: Yes
Mouse button Type: HUANO
Mouse Button Durability: 20 Million L/R Click
Connectivity: Wired
Game Genre: FPS, MMO