In the United States, Homeland Security is currently testing robotic police dogs as part of border patrols with Mexico. However, the first tests seem to be satisfactory so that this practice could be democratized.
Robots to guard the border
For the past few years, we have been talking quite often about Spot, Boston Dynamics' famous robot-dog. This was notably tested by the Massachusetts state police in 2019, then by the New York police in 2021. Despite several advantages, some observers had expressed their indignation and their fears linked, for example, to racial prejudice, the invasion of privacy or the risk of hacking.
In a February 1, 2022 press release , the United States Department of Homeland Security spoke about the use of robotic police dogs on the border with Mexico . The goal? Monitor this sensitive area plagued by strong illegal immigration. In recent years, the border has been widely talked about, because former President Donald Trump wanted to erect an imposing wall there instead of the current discontinuous barrier.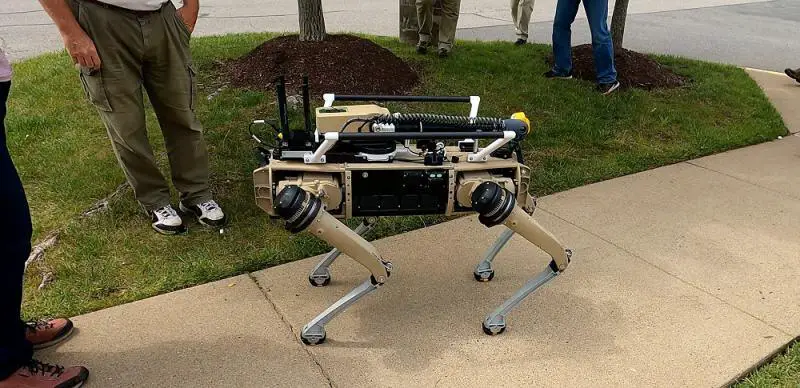 Conclusive trials
As the press release explains, the machines currently being tested are those of Ghost Robotics, a competitor of Boston Dynamics less known to the general public. The document indicates that these robot-dogs can be useful in inhospitable places for humans and animals (especially dogs). In addition, these machines can patrol completely autonomously thanks to upstream programming (GPS coordinates). The first tests were conclusive since the robots made their rounds before returning to the base. Let's also mention the fact that if necessary, a human operator can control one of these machines remotely.
You should know that this is not the first time that Ghost Robotics has offered a robot for police or military use. In 2021, the company had created an augmented version of its robot-dog , the latter equipped with an imposing firearm . Thus, this policy is contrary to that of Boston Dynamics which, without refusing the approaches of law enforcement, nevertheless makes it a point of honor never to install weapons on its robots.
However, the Ghost Dynamics robot dogs currently stationed on the border with Mexico do not have any firearms. The fact remains that their potential interactions with humans trying to cross the border illegally are a source of questioning. Some observers fear a possible reinforcement of the dehumanizing treatment of migrants.