Smooth Love Potion (SLP) is a type of digital money found in the Axie Infinity metaverse game. It allows users to breed Axies, which are collectable digital creatures in the game.
SLP tokens have increased in popularity to the point that they are being traded on cryptocurrency exchanges. In this article, we examine SLP's position in the Axie Infinity game, as well as what it means for the whole crypto ecosystem.
You must have a cryptocurrency account to buy SLP coins. Click to sign up for the world's largest crypto exchange Binance: Binance
Smooth Love Potion (SLP) is an ERC-20 token on the Axie Infinity platform that is used to breed new digital pets (Axies).
Axie Infinity is a Pokémon-inspired digital pet universe built on the Ethereum blockchain where anyone can earn token rewards through skilled gameplay and contributions to the ecosystem.
Axies can be bred up to 7 times. An increasing amount of SLP is needed each time an Axie is bred.
SLP can be earned by playing the game in PvE Adventure mode as well as the PvP Arena. The token has no max supply.
---
Table of Contents
---
Smooth Love Potion (SLP) Details
| | |
| --- | --- |
| Cryptocurrency Symbol | SLP |
| Market Cap | $111,948,890 |
| Circulating Supply | 39,950,978,613 SLP |
| Total Supply | ∞ |
| All Time High | $0.399727 |
| All Time Low | $0.00312759 |
| Official Website | https://axieinfinity.com/ |
Circulating Supply June 2022: 28,398,419,947
Circulating Supply March 2023: 39,950,978,613
---
Smooth Love Potion (SLP) Analysis and Price Prediction
SLP analysis 2023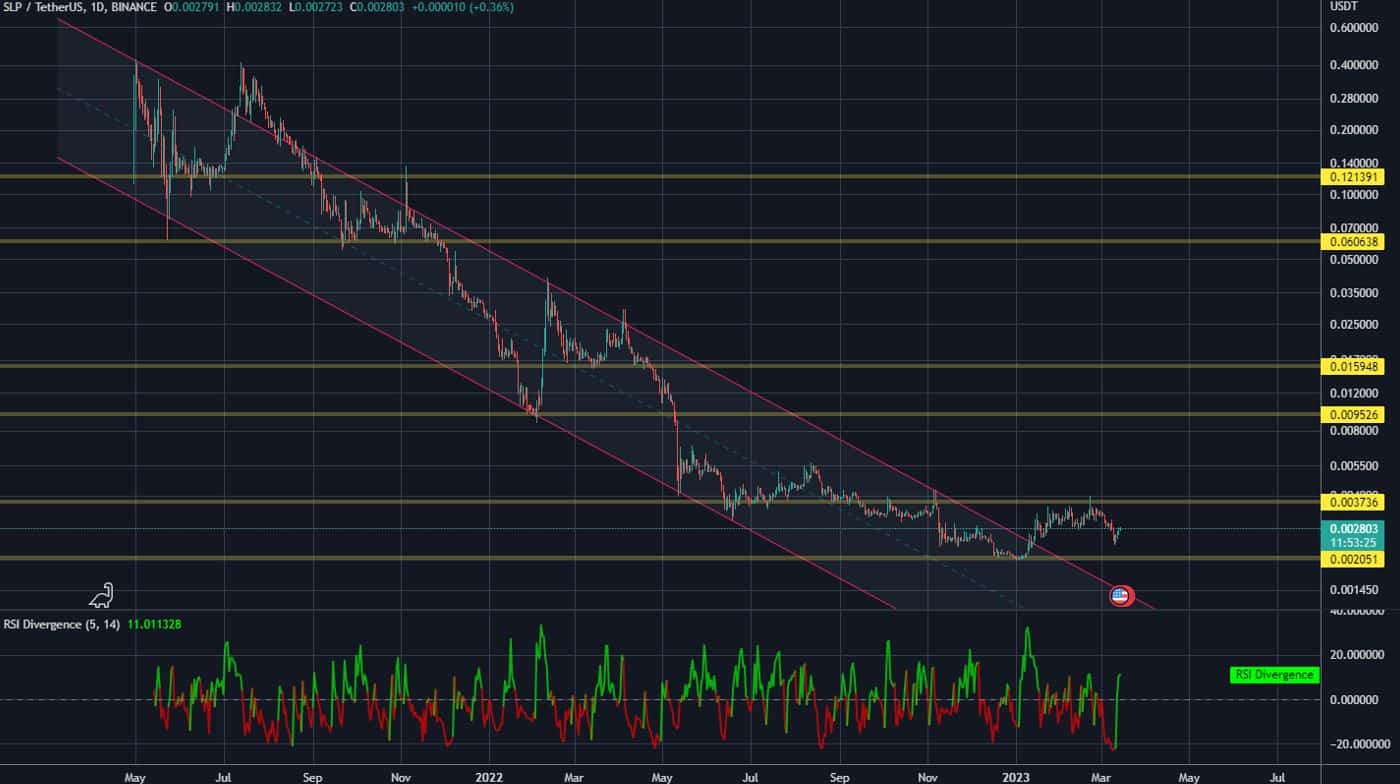 SLP coin works on a system that gives players free coins.
The mined and minted coins are the reason for unlimited supply.
The coins seems to have settled in a consolidation period. 
Some news about AXS coin might cause a massive pump but still carries a huge risk. 
SLP analysis 2022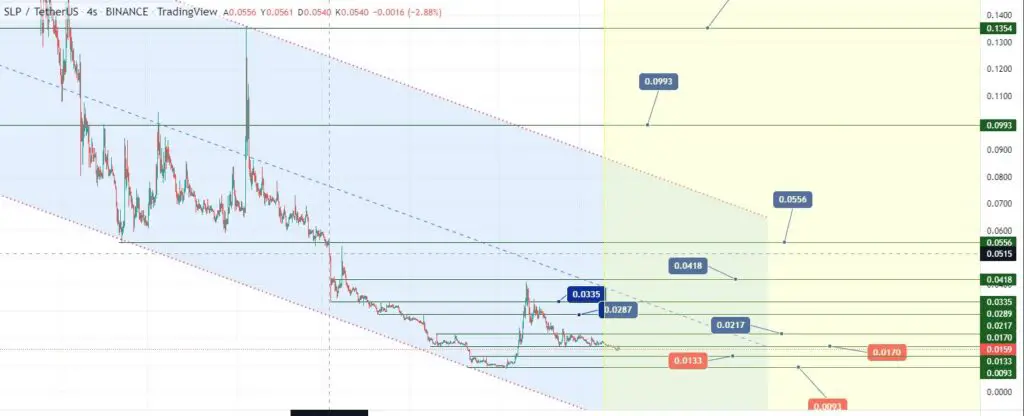 SLPUSDT (4h) As seen in the formation, if slp, which is constantly supported by the lower band of our narrowing triangle, can break the resistance, we will be talking about an uptrend. Close below support 4(h) Possible retracement can be experienced up to 130-140 band, which is lower support levels.
If BTC maintains its stability, it is expected to break the resistance and move to the upper red band.
Since SLP coin is directly related to AXS Coin, we recommend you to check our AXS analysis and review. 
SLP coin is currently can be added in Binance Flexible Savings and   the average APY is around %1.
(You can get these rates by locking in the Binance environment)
As shown on the chart below, SLP coin has been making lower lows so we can just recommend to wait and see a sideway and a solid support to buy this coin if you consider for long term.
This coin is a very volatile and risky investment.
SLP has no max supply, which is considered a downvote.
Our golden rule is "never spend your all money on a coin".
Consider the war between Ukraine and Russia before buying anything that can effect crypto market badly.
---
What is Smooth Love Potion (SLP)?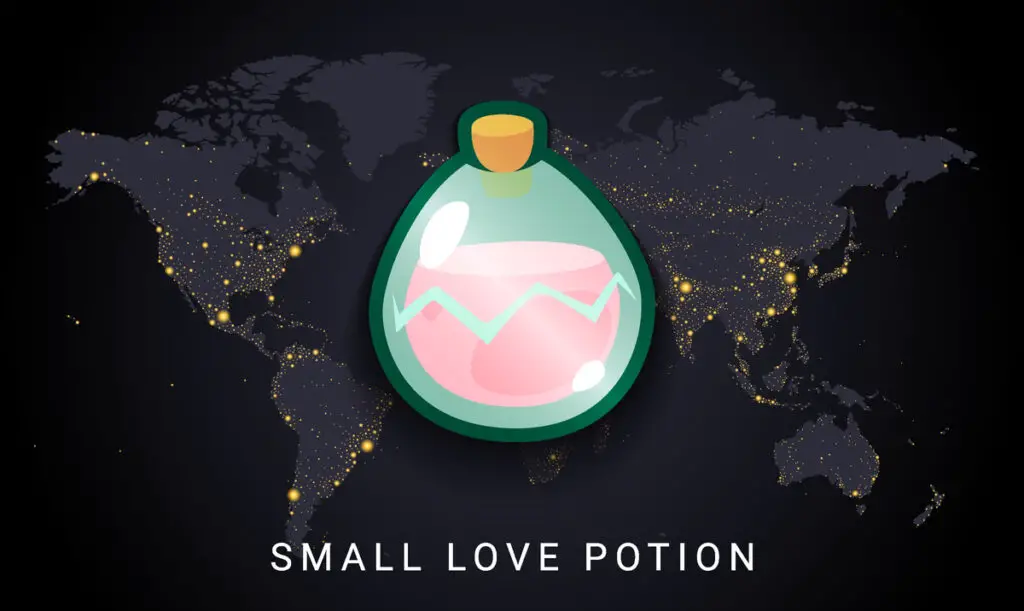 The ERC-20 token Smooth Love Potion, formerly known as Small Love Potion, was created to meet this demand.
Axie Edge has created the Smooth Love Potion (SLP) game token. The currency is built on the Ethereum network, and its presence on the Uniswap liquidity pool has allowed it to break into both the gaming and DeFi spaces.
It is utilized for fascinating reasons, even though it is not a complicated gaming token. It is primarily used as a major cryptocurrency for breeding pet animals in Axie Infinity. SLP is available to trade on Decentralized Exchanges (DEX) such as Uniswap, as well as centralised Exchanges like Zipmex.
---
How does SLP work?
As previously stated, a particular quantity of potions must be eaten to properly breed an Axie. The breed counts of both parents influence the cost of each breeding. The arithmetic is that if a parent has a high breed count, more potions are needed to breed them.
There are seven stages of breeding permissibility. According to the published charts;
The first level uses around 100 SLP
The second 200 SLP
The third 300 SLP
The fourth 500 SLP
The fifth 800 SLP
The sixth 1,300 SLP
The seventh 2,100 SLP
Let's take a look at how the arithmetic for calculating the number of necessary potions for a breed works.
It is equal to the number of first parent breeds multiplied by the number of second parent breeds multiplied by the number of potions necessary.
---
SLP Coin Future
As the future of the SLP coin depends on the continuity of Axie Infinity, SLP is an in-game token, not an implementation token. SLP has no general definitions and is presented in detail. This is because their SLP's time is burned through training with in-game training and then when new axes are created in the breeding process. All in all, getting SLP crypto, you need to start playing with Axie Infinity.
The SLP token has an eternity in a Play-to-Money country, a core value in the Metaverse and the broader cryptocurrency. SLP is also traded on decentralized exchanges, making it outside of other in-game coin sales. This is a milestone not only for Axie Infinity and the Axie market, but also for the metadata sources and NFT markets as a whole.
You may also want to read our article on:
---
Not Investment Advice
The information provided in this article is intended for general guidance and information purposes only. Contents of this article are under no circumstances intended to be considered as investment, business, legal or tax advice. We do not accept any responsibility for individual decisions made based on this article and we strongly encourage you to do your own research before taking any action. Although best efforts are made to ensure that all information provided herein is accurate and up to date, omissions, errors, or mistakes may occur.
Disclosure: Authors are invested in cryptocurrency projects and have cryptocurrency holdings – including those covered on this website.