It is widely accepted that AXS, Axie Infinity is one of the best NFT games on the market. NFTs represent in-game digital assets, such as the Axie monsters in the game. Axis users can exchange them for real money on the game's market using tokens. Axie Infinity's monster war NFT players traded $3.5 billion worth of NFTs in 2021, according to a report by NonFungible.
You must have a cryptocurrency account to buy AXS coin. Click to sign up for the world's largest crypto exchange Binance: Binance
---
Table of Contents
---
Axie Infinity (AXS coin) Details
| | |
| --- | --- |
| Cryptocurrency Symbol | AXS |
| Market Cap | $1,477,346,265 |
| Circulating Supply | 74,110,267 AXS |
| Total Supply | 270,000,000 |
| All Time High | $164.90 |
| All Time Low | $0.123718 |
| Official Website | Axie |
---
What Is Axie Infinity (AXS coin) ?
If you're here, it's because you're interested in the Axie Infinity game, the world of NFTs and blockchain. But it's not by typing "Axie Infinity" in the Google search bar that you will find all the information and all the answers to your questions.
Axie Infinity is a game its goal is very simple; win the fight against a player or against the robot. The fights are clashes between small monsters (Axies). There are Axies of different species. It is a game that is on the ETH blockchain and the Axies are Nft (non fungible token). If all this is gibberish for you, don't worry you will find as you walk on this site the answers to the questions you ask yourself.
At first glance, Axie Infinity therefore seems to be a simple game mixing the style of Pokemons (with very cute characters) or tamagoshi and Dungeons and Dragons with playing cards having different powers and abilities. This is a game supported by: Ubisoft , Samsung , Binance
---
Who Are the Founders of Axie Infinity (AXS coin) ?
Axie Infinity is being developed by Sky Mavis which is a technology-focused game studio founded in early 2018. The team consists of 40 full-time employees and has its headquarters in Ho Chi Minh City, Vietnam.
Trung Thanh Nguyen – CEO
Trung is involved in all key decisions from product to marketing and leads the company in Vietnam.
At the age of 19, Trung co-founded and was CTO of Lozi.vn, an early Vietnamese e-commerce startup which has raised around 10 M in funding and is still in operations as of now. He left Lozi once it became a stable business and the team's focus shifted from building to business/operations. Trung also had stints at Trusting Social (25 M recent funding round led by Sequoia) and Anduin Transactions (a Joe Lonsdale company) before founding Axie Infinity
Trung represented Vietnam in the ACM-ICPC World Final 2014 held in Yekaterinburg, Russia.
Linkedin 
---
Axie Infinity (AXS coin) Graphic, Chart Analysis
My guess is that AXS continues to decline gradually in a nice channel during this bearish period. if it can break this channel upwards, which he tried and failed recently. If it succeeds, I expect it to make a nice upward move. There is a strong support line on $46. If this can't hold then it may go lower to $38.
AXS is a very popular project in the style of P2E (Play to Earn), and the rate it gives for the current stake in this project is around 79% in terms of APY. (You can get these rates by locking in the Binance environment, but you can also get these rates without locking Ronin in its own staking environment)
As shown on the chart below, AXS coin has been making lower lows so we can just recommend to wait and see a sideway and a solid support to buy this coin if you consider for long term.
Our golden rule is "never spend your all money on a coin".
Consider the war between Ukraine and Russia before buying anything that can effect crypto market badly.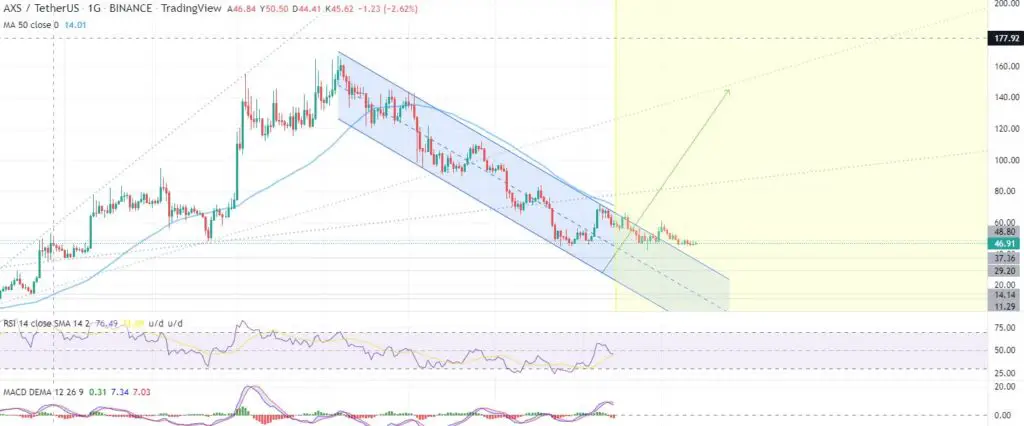 ---
Axie Infinity an NFT game in the blockchain universe
Then, you will need to buy your three starting Axies (mandatory to start playing) on ​​the Axie Infinity Marketplace ( https://marketplace.axieinfinity.com ). You will find the necessary advice to set up your first team on this site.
These Axies you will have to buy them with cryptocurrency: Ethereum. To play you will also need to download software and extensions (Sky Mavis, Ronin, Metamask, Binance maybe if you don't already have it). You will find the necessary tutorials on this space to find your way around the web of blockchain platforms thanks to our tools .
Once you have your starting Axies you are ready to play and you are ready to harvest your first Smooth Love Potion (SLP). You can earn 100 per day in PVE mode (between 1 and 20 potions per victory depending on the level, or even more!). On the PVP mode you are not limited: depending on your ranking you earn 1 SLP per minimum victory; you can receive more   depending on the ranking (up to 12).
---
Where can the Axie Infinity (AXS coin) be bought?
The token can be purchased on the largest cryptocurrency exchange "Binance" since July 2021. Getting in early allows for big profits but also carries a risk of loss. Act sensibly.
We recommend buying cryptocurrencies on Binance.com
---
What is Axie Infinity (AXS coin) video explanation
Check out our other altcoin analysis and reviews:
---
Not Investment Advice
The information provided in this article is intended for general guidance and information purposes only. Contents of this article are under no circumstances intended to be considered as investment, business, legal or tax advice. We do not accept any responsibility for individual decisions made based on this article and we strongly encourage you to do your own research before taking any action. Although best efforts are made to ensure that all information provided herein is accurate and up to date, omissions, errors, or mistakes may occur.
Disclosure: Authors are invested in cryptocurrency projects and have cryptocurrency holdings – including those covered on this website.