Alien Worlds (TLM) is one of the fastest-growing NFT projects in the blockchain ecosystem. Although the Alien Worlds capitalization is still quite undervalued, the project has managed to already gain a considerable following among fans of blockchain-based games. But what exactly is the reason behind the fast growth of Alien Worlds, and is TLM a good investment among altcoins? or is it a scam project? Lets dive in the details of TLM coin and learn everything about this altcoin project.
You must have a cryptocurrency account to buy TLM coins. Click to sign up for the world's largest crypto exchange Binance: Binance
---
Table of Contents
---
Alien Worlds (Tlm) Coin Stats
| | |
| --- | --- |
| Cryptocurrency Symbol | TLM |
| Market Cap | $49,756,302 |
| Circulating Supply | 3,343,984,324 TLM |
| Total Supply | 5,189,345,239 |
| All Time High | $7.19 |
| All Time Low | $0.02029 |
| Official Website | https://alienworlds.io/ |
January 2023 Circulating Supply: 3,343,984,324
April 2022 Circulating Supply: 2,861,543,140
---
Which Exchanges Listed TLM?
---
What is Alien Worlds Game?
Game Basics
1
Alien Worlds is an NFT Metaverse where you can play with unique digital items (NFTs).
2
Staking: Players stake Trilium to planets to vote in the upcoming Planetary elections, as well as to increase the Planet's reward pool.
3
Planet DAOs: Participate in weekly elections for council candidates, submit proposals on how to distribute the planetary treasury or run for planetary council yourself.
4
Trade Game Cards: Players may select NFT game cards for their strategy on Binance Smart Chain (BSC) and WAX, to be used for mining, fighting and missions.
5
Cross-chain bridge: Teleporting TLM between BSC, WAX, and Ethereum.
---
TLM Coin Price Analysis and Chart
TLM coin has been following a downtrend for quite a long time now. With the recent crash of Luna coin, almost all altcoins has been falling and losing trust of investor.
In the current status, We believe that Tlm coin and other altcoins have entered a consolidation period which is a good timeline for the market to gather strength, recuperate and go up to a bull market trend.
The only concern about TLM coin is that the total supply seemed to be increased recently. That is not a good thing for not only crypto but almost all investment instruments. The circulating supply number has also been increasing for a long time. This might be a good indicator for buying.
Another important point to follow is the FED's interest rate decisions and the recovery of the global economy. High interest rates turn corporate companies into low-risk investments. An example of this is Tesla's selling of BTC in July.
The yellow lines in the chart indicates that there is a support/resistance zone. The first solid resistance is at $0.065. So we expect Tlm to test that area in the near future but of course that depends on the news and bitcoin. We also suggest you to take a look at BTC Dominance and understand its importance on altcoin.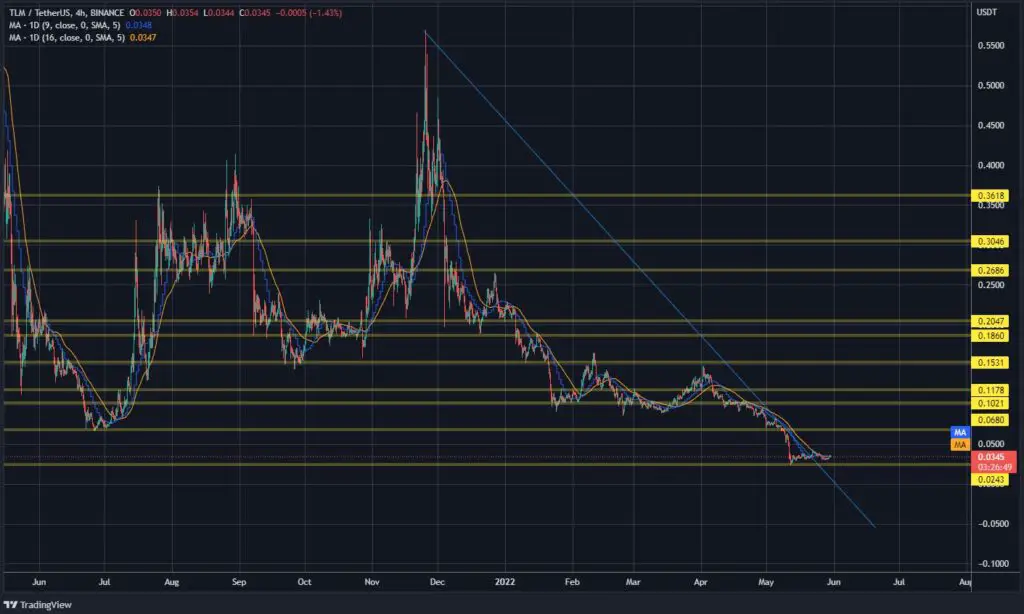 We also highly suggest you to take a look at Alice Coin and Axs Coin because TLM coin mostly follows the same trends with these altcoins.
---
Who Are the Founders of Alien Worlds?
The game is developed by German developers Dacoco GmbH, who have created three projects to date. Alien Worlds was created in 2020.
Dacoco is based in Zug, Switzerland, which is deemed Switzerland's 'crypto valley', due to the number of blockchain and crypto companies based there. They claim to be decentralized autonomous community organizations experts, and also act as guild validators on WAX.
---
Alien World Price Prediction 2030 – 2040
What Alien Worlds will be worth in 2030?
Our forecasting model sees Alien Worlds reaching $1.79 in 2030.
What Alien Worlds will be worth in 2040?
Our forecasting model sees Alien Worlds reaching $3.57 in 2040.
Will Alien Worlds replace / surpass / overtake Bitcoin?
No, Alien Worlds will not replace or overtake BTC.
Can Alien Worlds reach $1?
Yes, Alien Worlds can reach $1 by the end of 2022 but recently the total supply of TLM coin has been increased thus can extend the time for TLM to hit $1.
Can Alien Worlds reach $10?
Yes, Alien Worlds could reach $10 by the end of 2025.
Is Alien Worlds worth buying?
We are advocates of moderately risky investing – invest most of your crypto portfolio in BTC (50%); 35% in a basket of big cap coins and the rest in small projects with huge upside. So, in this context, Alien Worlds is worth buying.
Is Alien Worlds a good investment?
Alien Worlds is, just like all other cryptocurrencies, a risky investment. It does have higher probability of going up than down because of the good use case, well-designed tokenomics, active community and a solid team behind it.
How much will Alien Worlds be worth?
For the short-term future, it could reach $0.2185. In the long-term (8-10 years), it could jump to $1.79 or even higher.
Why will Alien Worlds succeed and go up in price?
Alien Worlds has a good use case, well-designed tokenomics, active community and a solid team behind it. All of these are a prerequisite for success and that is why our prediction model sees Alien Worlds rising up to $1.79 in 2030.
Why will Alien Worlds fail and drop in price?
Crypto projects fail for various reasons. Some of the most common ones are: team goes rogue and abandons the project, regulators declare it illegal and press exchanges to delist it, lack of media attention, more successful competitors, lack of well designed marketing strategy, losing community support, potential vulnerability in the protocol, failing to achieve anticipated minimum developement activity on the protocol, failing to attract new developers to build on their platform.
How high will Alien Worlds go?
Our forecasting model sees Alien Worlds price exploding and reaching $3.57 in a distant future.
What is the short-term prediction for Alien Worlds?
Alien Worlds will reach $0.2185 in the next 90 days, which is a 23.6% change over the current price which hovers around $0.1767.
Can Alien Worlds make you a millionaire?
Yes, if you buy large enough sum of it. Do not expect to invest $100 and become a Alien Worlds millionaire. But 100x price explosions are a common sight in crypto, so a $10k investment in Alien Worlds could make you a millionaire.
Alien Worlds Price Prediction Today – What will be the price of Alien Worlds tomorrow?
Alien Worlds will hover around $0.01816 tomorrow.
When to sell and exit Alien Worlds?
That depends on your trading profile. If you believe in Alien Worlds and think it has a bright future, holding the coin for at least a couple of years is a good idea. Taking profits on good investments is an even better idea. So if you are sitting on 100-200% or even more gains on your Alien Worlds, cashing out a portion of the funds is not a bad move.
Could Alien Worlds crash and go to zero?
Alien Worlds almost certainly will not collapse and crash. People are usually worried that the coin might go to zero if the price of their investment is lagging or going down. That is a natural osciallation in any trading market, prices soar and dip all the time.
---
Not Investment Advice
The information provided in this article is intended for general guidance and information purposes only. Contents of this article are under no circumstances intended to be considered as investment, business, legal or tax advice. We do not accept any responsibility for individual decisions made based on this article and we strongly encourage you to do your own research before taking any action. Although best efforts are made to ensure that all information provided herein is accurate and up to date, omissions, errors, or mistakes may occur.
Disclosure: Authors are invested in cryptocurrency projects and have cryptocurrency holdings – including those covered on this website.