The 1915 Çanakkale Bridge, the foundation of which was laid on March 18, 2017, was aimed to be put into service in 2022.
Today, March 18, 2022, the bridge was opened to service with a ceremony by Turkish authorities.
This monumental structure in the Dardanelles, which has left a great mark in the history of Turkey and the world, was designed with features that meet the highest engineering and aesthetic standards.
According to the breaking news, the toll fee over the bridge was determined as 15 euro + VAT.
---
Table of Contents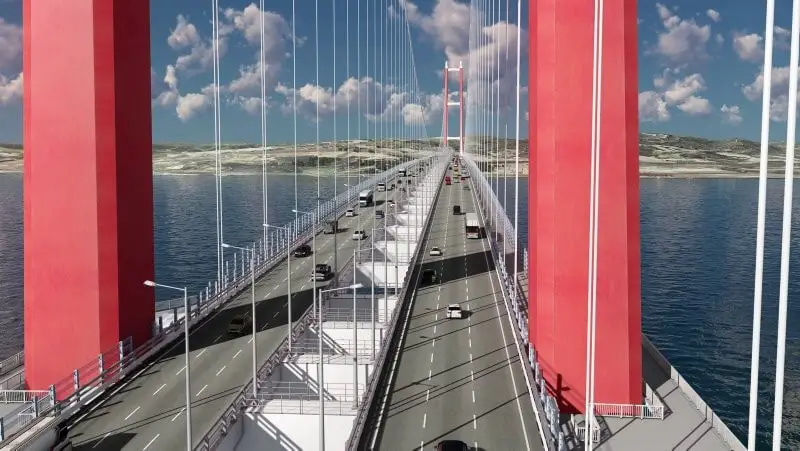 ---
Canakkale 1915 Bridge Details
With the 4,608-meter-long 1915 Çanakkale Bridge, which is known as the 'bridge of symbols' due to its characteristics and has the title of 'the longest middle span bridge in the world', the journey time between two continents will be reduced to 6 minutes.
Bridge Length: 4,608 meters (15,118 ft)
Middle Span: 2023 meters
Tower Height: 334 meters
Number of lanes: 3 in each direction
Total Project Length: 88 + 13 km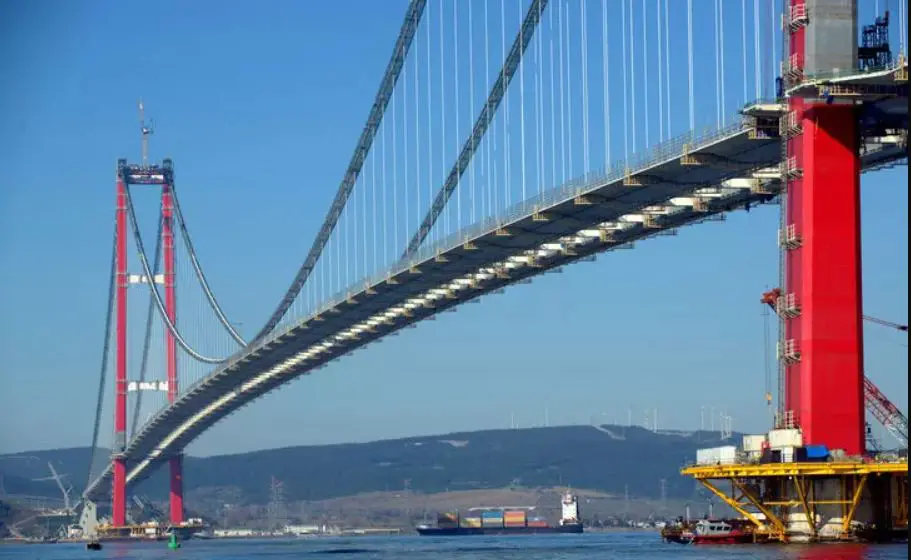 ---
Canakkale 1915 Bridge Symbolization
The 2,23-meter middle span of the bridge symbolizes the 100th anniversary of the Republic, and its 318-meter steel towers symbolize the 18 March 1915, when the Canakkale Naval Victory was won.
The project, in which the red-white towers represent the Turkish flag, has the title of suspension bridge with the highest towers in the world, with a tower height of 334 meters.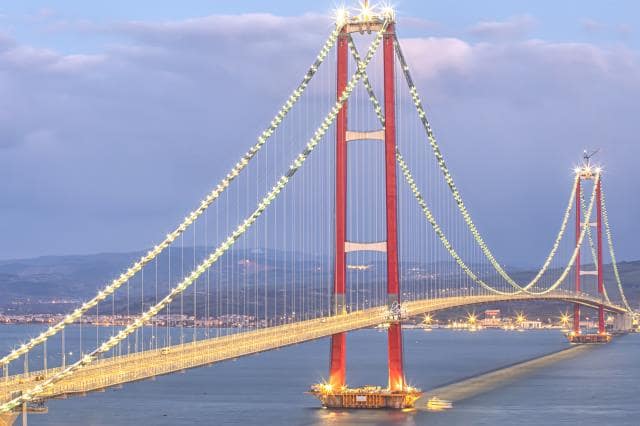 ---
162 thousand kilometers of wire that can go around the world 4 times was used
With the Malkara-Canakkale Highway and the 1915 Canakkale Bridge, the ports, railway and air transportation systems in the Marmara and Aegean regions will be integrated with land transportation projects.
The main cable of the bridge, which will serve as the first suspension bridge of the Dardanelles Strait and the 5th suspension bridge of the Marmara Region, has been used with 162 thousand kilometers of wire that can go around the world 4 times.
All subsystems on the bridge were integrated into all subsystems with the Armored Fiber Optic Cable Data Network used for the first time in the project.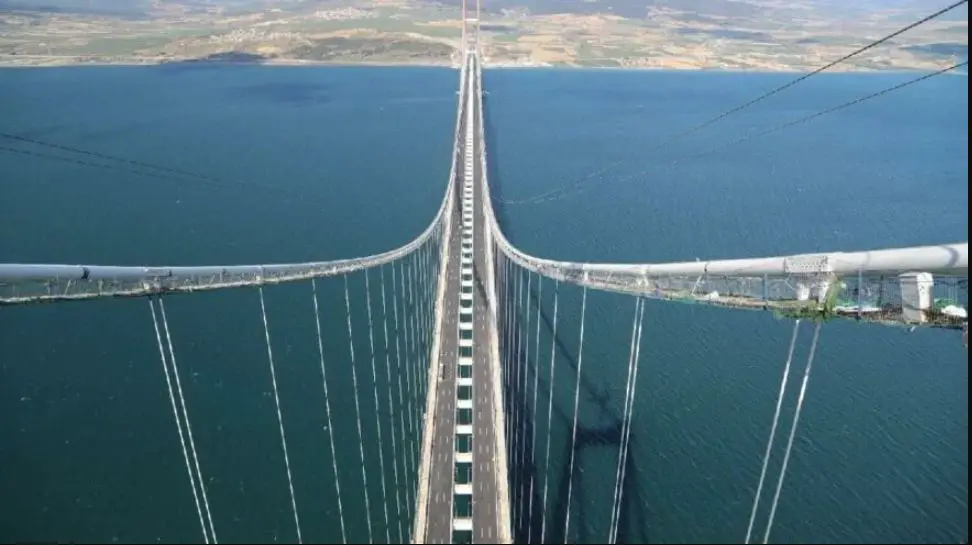 ---
The Project also includes many structures
Within the scope of the 1915 Çanakkale Bridge and Motorway Project;
1 suspension bridge,
2 approach viaducts,
4 reinforced concrete viaducts,
10 underpass bridges,
33 overpass bridges,
6 bridges,
43 underpasses,
115 culverts in various sizes,
12 intersections (including intersections on the state road),
4 highway service facilities,
2 maintenance and operation centers,
6 toll collection stations will be built.