Researchers from the Swiss Federal Institutes of Technology in Zurich and Lausanne ( EPFL-LMTS and the ETHZ-AIT) have developed an ultra-thin and lightweight glove for virtual reality applications. It allows you to feel and control objects in virtual worlds thanks to very realistic tactile sensations.
Normal virtual reality gloves are too complex and large
Along with complete freedom of movement, the sense of touch is the other big technical challenge virtual reality must overcome in order to become a truly useful interface for consumer or professional activity.
With the development of technology, interest in glove systems with haptic feedback has increased, these gloves are a solution that has been explored for several years, but the devices are often very large and complex and do not offer a very sensitive tactile feel.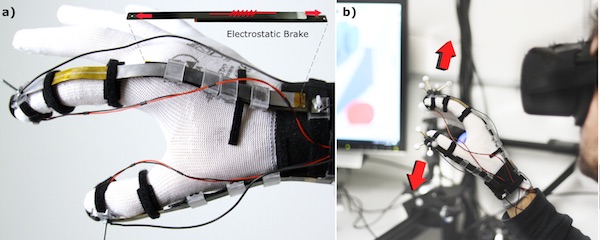 Image Credit: epfl
Just 2 millimeters thick
Things can change, thanks to the work of the federal polytechnics of Zurich and Lausanne (Switzerland), where researchers have developed a thin and very light glove, and they ensure that it takes a very realistic turn. The glove in question, called DextrES, is just two millimeters thick and weighs 8 grams per finger. The glove produces a holding force of 40 Newtons on each finger.
Video of ultra-light virtual gloves
Source: epfl.ch – DextrES
Image Source: EPFL