Operating system market shares show that in March 2022, Windows 11 shows almost no adoption: Windows 10 remains the king.
A new version of Windows is always quite complicated for Microsoft to deploy. Changing the habits of its consumers, who have been using its OS for decades now, is no easy task.
In the case of Windows 11, the first deployment was moreover very complex: between the compatibility problems with the AMD platform and the problems with the video game , its reputation took time to be healed. In 2022, however, the latest Microsoft OS is now very stable, but nothing helps.
WINDOWS 11 IS BARELY ROLLING OUT IN 2022
According to the latest figures from Softpedia , Windows 11 is struggling to find new users. Over the last thirty days, it has only managed to increase its market share by 0.01%.
An abyssal figure which places it at only 19.4% of Windows OS used, i.e. in third position overall.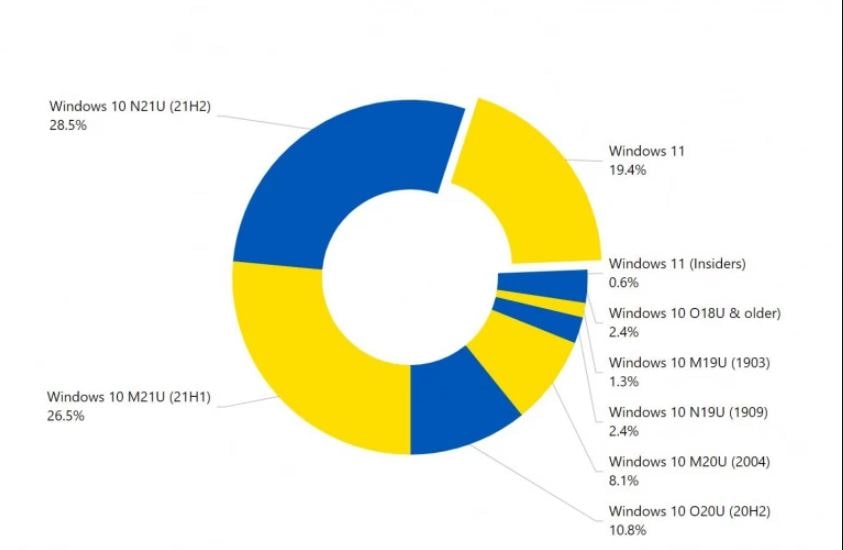 The big champion remains Windows 10. Its latest version 21H2 has 28.5% of the share, and the previous version 21H1 is at 26.5%.
Combined, they make up more than half of the versions of Windows in use today, not counting outdated updates that form the bottom of the pack. Microsoft's Windows 11 Insiders beta program , however, gained 0.6% from 0.3% the previous month.
It must be said that the developers have been busy testing new features there recently.
A TEMPORARY SITUATION
Like any Windows launch, this is a temporary situation. Unlike most of its other competitors, the developer is often reliant on new device sales to successfully deploy its latest releases effectively. And who says he is dependent on sales says he has to wait for consumers to renew their installed base.
What's more, Microsoft announces that the deployment of Windows 11 is now reaching its final stage. After limiting access to its latest OS to certain configurations ( at least via Windows Update ), it will soon be accessible to everyone.
The figures for the start of 2023 will therefore be more telling, even if the situation does not seem very happy at the moment.