The Sorceress is a mage class that focuses on using the elements to deal a great damage to her enemies. The Sorceress skill set consists of a wide variety of elemental and arcane magic attacks. If you're interested in playing the standard mage that you always do in MMORPG's, Sorceress is what you may want to play. We always encourage players to test a class themselves before they start playing that class. At the end of the day, you wouldn't want to spend your time with something you don't have fun.
If the thought of burning, zapping, and freezing your enemies to death fits your power fantasy, the Sorceress is the class for you.
You can check all classes in Lost Ark here.
Lost Ark: Sorceress Class Overview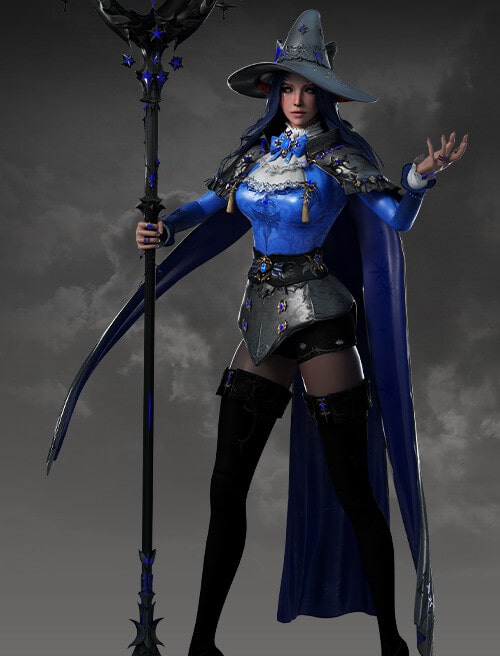 The Sorceress is a powerful mage class in Lost Ark and is likely going to be one of the most popular classes in the game during Lost Ark's launch period. It makes sense – her abilities are punchy (with Fire, Ice, and Lightning magic), look great, and she has a lot of viability in PvE and PvP.
Sorceress can be one of the most complex classes in Lost Ark to play, in addition to one of the most basic. This is entirely up to what Class Engraving you decide to pursue. As a result, this class is a perfect fit for everyone looking to sling some spells. As a Sorceress, our identity is a gauge that fills up as we hit enemies. We can spend this gauge in two ways.
Our Arcane Rupture (Z key) boosts our damage and halves our cast times. This effect further increases in potency when Arcane Rupture is activated at 100% gauge, granting more damage and cooldown reduction as Arcane Torrent instead. You can also spend 30% of your gauge by using Blink (X key), which teleports you in a target direction. This is useful for dodging sudden attacks that may have caught you off guard.
Lost Ark: Sorceress Class Pros & Cons
We will cover how these, as well as the class Engravings, impact the playstyles for the Sorceress.
Pros
Potentially huge damage output
Two distinct playstyles – heavy burst or more sustained damage
High skill ceiling on Ignition playstyle with the reward of massive damage, but generally considered one of the easier classes to play in the game
Lots of punchy, cool-looking abilities
Cons
Squishy
Ignition playstyle relies on hitting your abilities
You trade out damage for mobility with your Blink
Lost Ark: Sorceress Class Best PvE build
Here's our recommended Pve build for Sorceress:
| Skill | Skill Level (/10) | Rune I | II | III |
| --- | --- | --- | --- | --- |
| Blaze | 4 | Amplification of Damage | N/A | N/A |
| Lightning Funnel | 10 | Magic Control | Wide-area Attack | Ferocious Lightning |
| Scourge | 10 | Wide-Area Attack | Unloading | Final Blow |
| Seraphic Hail | 10 | Quick Preparation | Extra Explosion | Red Tsunami |
| Rime Arrow | 10 | Awareness | Enhanced Attack | Frost Area |
| Reverse Gravity | 10 | Quick Preparation | Electric Field | Find Weakness |
| Esoteric Reaction | 10 | Quick Preparation | The Strongest Survives | Shove |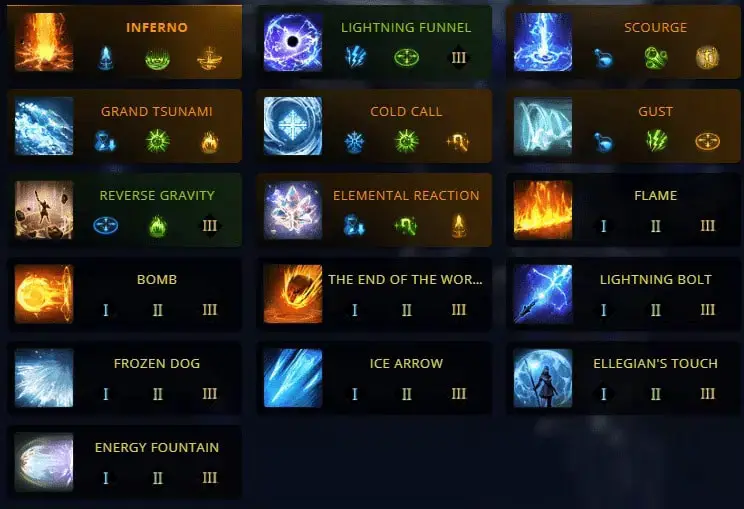 Lost Ark: Sorceress Class Best PvP build
| Skill | Skill Level (/10) | Rune I | II | III |
| --- | --- | --- | --- | --- |
| Inferno | 10 | Fault Acceleration | Flame Area | Firepower Supplement |
| Lightning Funnel | 7 | Inactivity | Wide-area Attack | N/A |
| Scourge | 10 | Magic Control | Inevitable Fate | "Arcane Genius" |
| Seraphic Hail | 10 | Quick Preparation | Extra Explosion | Red Tsunami |
| Frost's Call | 10 | Chills | Imperfect Domination | Survival of the Fittest |
| Squall | 10 | Magic Control | Lightning Tornado | Wide-area Attack |
| Reverse Gravity | 7 | Wide-area Attack | Lava Field | N/A |
| Esoteric Reaction | 10 | Quick Preparation | Enhanced Attack | Stable Crystal |
There are a lot of great skills in this build, with Cold Call and Lightning Funnel being two great long ranged poking skills. Meanwhile, Reverse Gravity, Gust, and Grand Tsunami are all great at disrupting and peeling. Also, Natural Disaster is a great Awakening skill.
Lost Ark: Sorceress Class Identity Skills
Identity skills basically mean a character's ultimate ability. Some of Lost Ark's classes have two, while others have one. In this case, the Sorceress has two Identity skills: Arcane Rupture and Blink. You can spend some of your arcane gauge, which you passively fill while dealing damage to enemies. You can use one of these skills at 30%.
Arcane Rupture is your DPS identity skill, which increases the damage of your skill while in the form. However, if you use Arcane Rupture at 100% filled, it turns into Arcane Torrent and grants even more benefits. Meanwhile, Blink is your survival skill, that offers you a 15-meter teleport that can do pierce damage to enemies between you and your new teleport location.
Lost Ark: Sorceress Class Engravings
Both class Engravings directly impact your Identity gauge skills.
| Igniter | Reflux |
| --- | --- |
| When you activate Magic Release, your overall cooldown of skills (not Awakening or Movement) is reduced to 50%, Crit rate chance is increased by 25%, and crit damage is increased by 50% during Magic Release phase. | Magic Release is no longer usable. Instead, this Engraving provides an overall damage buff of 16% and reduces all cooldowns by 10% |
These two Engravings divide the potential playstyles almost right down the middle.
First, the Ignition playstyle focuses on dealing huge burst damage with lots of cooldown reduction. This playstyle relies heavily on hitting your damage, as other damage is much lower outside your burst zone. Loads of fun, but much harder to actually hit consistent damage, even if the numbers are massive.
Secondly, the Reflux playstyle is basically anti-burst. You can't even use Magic release. This playstyle provides more consistent, sustained damage, with a shorter burst window. Considered easier to play.
Other recommended Engravings for the Sorceress include: All-Out Attack, Hit Master, and Precise Dagger.
Lost Ark: Sorceress Class Awakening Skills
Like the other classes in the game, the Sorceress has two Awakening skills:
Enviska's Might – The build above uses the Enviska's Might Awakening skill, basically a massive, heavy hitting lightning attack that is a staple part of the Sorceress' damage.
Apocalypse Call – Apocalypse Call is used more often in Dungeon builds because of its random pattern of explosions (a bunch of meteors fall from the sky.)
Lost Ark: Sorceress Class How to Build a Sorceress (2022) Video