The Mirror Protocol promises the ability to trade equities (U.S. equities currently) 24/7 anywhere in the world by anyone. The project does this by minting synthetic assets, or what they've named Mirror Assets (mAssets). It was created by and runs on the Terra Network, and is powered by smart contracts. The way they are designed, any mAsset created is meant to mirror the price behavior of the underlying represented real-world asset.
Update: After the dramatic collapse of Luna Coin, the entire crypto market crashed with alarming news. Since Luna Coin and Mir Coin are under Terraform Labs, you might want to check out our article: Luna Coin: What's behind the big crash?
---
Table of Contents
---
In this way anyone in the world could, for example, trade in synthetic mirrored shares of Tesla 24/7 from anywhere in the world, and the price would be exactly the same as the price of the actual Tesla stock. All the trading is secured by the blockchain in a permissionless system. This is an extremely powerful creation, especially considering the events seen at the Robinhood exchange in early 2021.
You must have a cryptocurrency account to buy Mir coins. Click to sign up for the world's largest crypto exchange Binance: Binance
---
Mirror Protocol Details
| | |
| --- | --- |
| Cryptocurrency Symbol | MIR |
| Market Cap | $20,228,019 |
| Circulating Supply | 156,055,246 MIR |
| Total Supply | 370,575,000 |
| All Time High | $12.90 |
| All Time Low | $0.0899 |
| Official Website | mirror |
May 2022 Circulating Supply: 136,535,543
Jan 2023 Circulating Supply: 156,055,246
---
What is Mirror Protocol
Mirror Protocol is a project used to create synthetic alternatives to real-world assets in simple terms. These synthetic assets are called mAssets and mimic exactly the price of the asset they have been bound to and can, of course, be traded on secondary markets such as Terraswap AMM and Ehtereum's Uniswap. The project is from a company named Terraform Labs.
mAssets currently mirror US equities and ETFs but more assets likely to be added in the future.
Mirror Protocol is a decentralized project that is governed by the community via the MIR token that is also used for staking.
---
Mirror Protocol Overview
The mAssets created by the Mirror protocol are synthetic versions of their real-life counterparts. They mimic the price of the underlying assets, and can be traded on secondary markets just like the underlying assets.
These include the Terraswap AMM from Terra and Ethereum's Uniswap. In its current state the mAssets created mirror major U.S. equities and ETFs, but there are more assets planned for the future. You can see the platform and a full listing of the currently available assets here.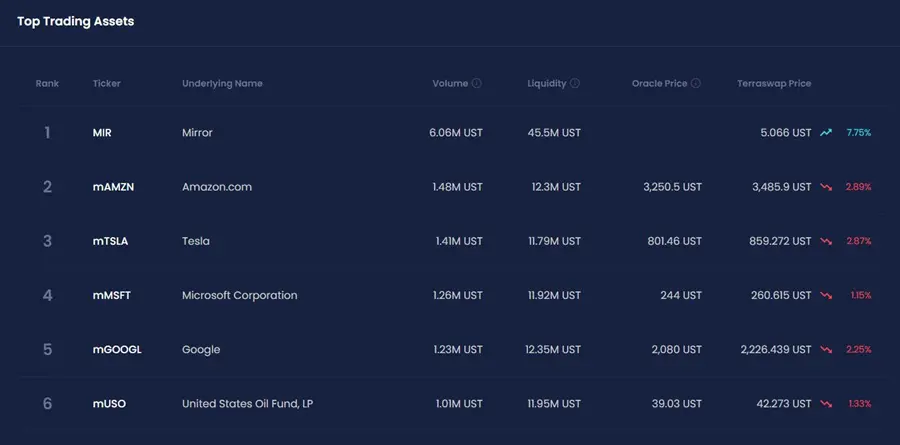 The whole system is governed using the MIR token, and it is also used to incentivize staking to secure the system. There are five primary users in the Mirror ecosystem:
Traders
Minters
Liquidity Providers
Stakers
Oracle Feeders
---
Mir Coin Price Analysis and Comments
Unfortunately after the big crash of Luna Coin, Confidence in Terraform Labs dwindled and all its assets began to depreciate. Since Mirror Protocol is an asset of Terraform Labs, Luna coin pulled down $mir with itself.
From now on any analysis will be just pure speculation without any solid support. We will just wait for latest news and see how this madness ends… and of course we will try to update this article from time to time.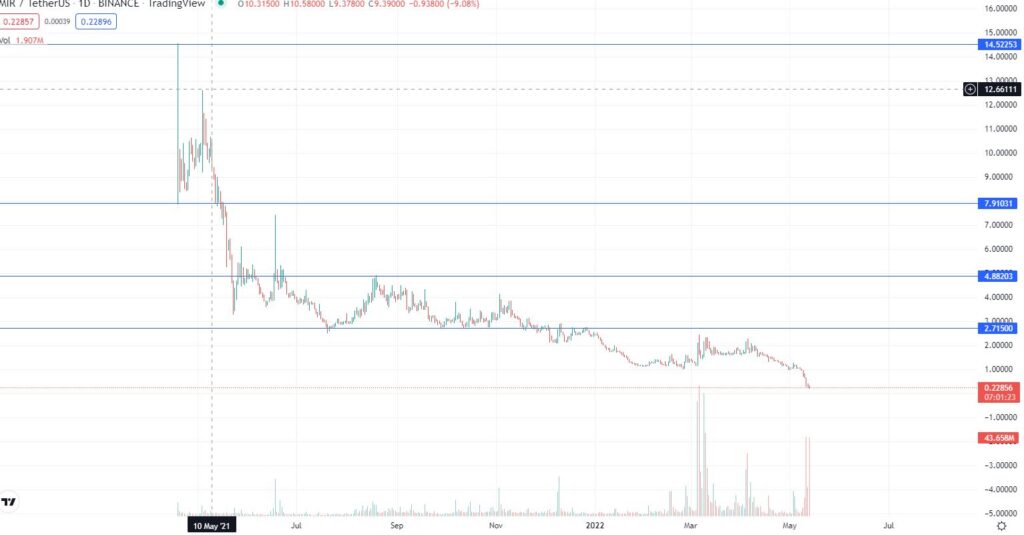 ---
Who is the Creator of MIR "Terraform Labs"?
After the latest crash of Luna coin, almost all crypto investors heard about this Company in a bad way.
Because Mirror Finance was created by Terraform Labs and runs on the Terra Network it is important to know the background and who Terraform Labs is.
Terraform Labs is a company based in South Korea that was founded in January 2018 by Do Kwon and Daniel Shin. With $32 million backing from large venture capital firms such as Polychain Capital, Pantera Capital, and Coinbase Ventures they soon released the stablecoin LUNA.
They also created the Terra Network, which was designed to be a decentralized global payment system. It features minimal transaction fees and is able to settle a transaction in just 6 seconds. While it hasn't gained traction yet in Europe and the Americas it does have over 2 million monthly unique users generating over $2 billion in monthly transaction volumes.
The bulk of these are through the South Korean payment platform CHAI and the Mongolia-based MemePay. The LUNA token is somewhat unique among stablecoins as it distributes yield back to its holders. That yield comes from the transaction fees, which are returned 100% to LUNA holders. You can learn more in the Terra Money whitepaper.
---
Where can MIR coin be bought?
Mir Coin can be purchased on the largest cryptocurrency exchange "Binance" for a long time. Starting early brings big wins, but it also carries the risk of loss. We recommend that you act rationally and do your own research.
We recommend making Mir coin purchases on Binance.com
---
What are the "mAssets"?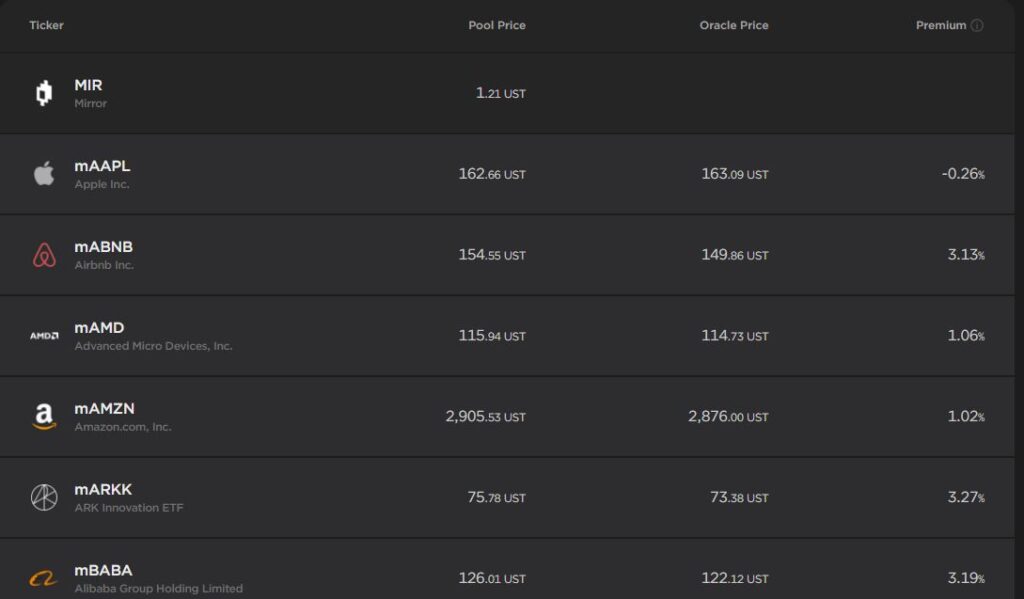 The Mirror Protocol is fully decentralized and community driven. Terraform Labs and its founders and employees have no special administrative functions on the platform, and there was no premine of the MIR tokens.
The first bridge created by the Mirror Protocol was to the Ethereum Network, which enabled trading on Uniswap. More recently the Mirror Protocol was bridged to the Binance Smart Chain (BSC), allowing the BSC community access to the tokenized synthetic assets created on Mirror.
Currently the assets that have been tokenized are U.S. equities, however the Mirror Protocol allows for any physical of abstract asset to be created as an mAsset. That means future use cases could see artwork, real estate, precious metals, commodities, fiat and crypto currencies, and other asset types added as mAssets. There is already interest in minting bonds, futures, and other derivatives as mAssets.
There were 14 assets that were added to the Mirror Protocol when it initially launched. These are MIR (Mirror), AMZN (Amazon), TSLA (Tesla), MSFT (Microsoft), GOOGL (Alphabet), BABA (Alibaba), AAPL (Apple), NFLX (Netflix), TWTR (Twitter), IAU (iShares Gold Trust), SLV (iShares Silver Trust), QQQ (Invesco QQQ Trust), VIXY (ProShares VIX), and USO (United States Oil Fund LP). In January 2021 a governance vote approved the addition of BTC, ETH, ABNB (Airbnb), GS (Goldman Sachs Group), and FB (Facebook) to the original 14.
In theory almost anything with value could be tokenized on Mirror and it brings all the following benefits:
24/7 permission-less trading anywhere in the world
No need for intermediaries; all transactions will be on the permission less blockchain ledger.
The tokenization allows users to trade fractions of an asset.
For some assets, the tokenization will allow for better liquidity.
The use of smart contracts on the blockchain will significantly cut legal and operational costs.
Through the tokenization, assets will be more accessible; the fractional ownership will allow less liquid users to participate.
The synthetic assets minted on the Mirror Protocol are all called mAssets since they use the prefix of "m" in the ticker for the synthetic asset. So Tesla (TSLA) becomes mTSLA and Apple (AAPL) becomes mAAPL. All of the mAssets share the following basic mechanics:
To create an mAsset users must lock up 150% of UST's current asset value or 200% if using other mAssets as collateral.
If positions go under the minimum collateral ratio more collateral must be added, otherwise they will be liquidated; this measure regulates and secures the minting process.
When redeeming any mAsset, users must burn an equal amount of mAssets issued when opening the CDP to get back the provided collateral.
Assets are listed and can be traded on various AMM DEXs like PancakeSwap (BSC), TerraSwap (Terra), and Uniswap (Ethereum). Some of the trading fees flow back as an incentive for liquidity providers.
A price Oracle that updates every 30 seconds ensures that the mAsset is pegged to the real asset. When oracle and exchange prices differ it incentivizes traders to arbitrage and bring the prices back to equilibrium.
mAssets can be traded in speculation, they can be held, or they can be used for other purposes such as adding collateral in creating new mAssets, creating synthetic stable pools, creating liquidity pools for decentralized exchanges, and many other uses.
---
Mirror Protocol (MIR) Video Explanation
---
Not Investment Advice
The information provided in this article is intended for general guidance and information purposes only. Contents of this article are under no circumstances intended to be considered as investment, business, legal or tax advice. We do not accept any responsibility for individual decisions made based on this article and we strongly encourage you to do your own research before taking any action. Although best efforts are made to ensure that all information provided herein is accurate and up to date, omissions, errors, or mistakes may occur.
Disclosure: Authors are invested in cryptocurrency projects and have cryptocurrency holdings – including those covered on this website. 
Contact Us