ApeCoin is a recently trending NTF based cryptocurrency. ApeCoin is the native cryptocurrency for the APE ecosystem, which includes the ApeCoin DAO and all services and products utilizing APE.
You may already heard about the Bored Ape NFT which has been sold to a music group. We have already published an article on this topic.
We are going to cover up all details and impoertant key-points of APE COIN in this article. You may use our table of content to navigate the article titles.
---
Table of Contents
---
Ape Coin Details
| | |
| --- | --- |
| Cryptocurrency Symbol | Ape |
| Market Cap | $1,796,047,946 |
| Circulating Supply | 368,593,750 Ape |
| Total Supply | 1,000,000,000 |
| All Time High | $26.70 |
| All Time Low | $2.63 |
| Official Website | Apecoin |
April 2022 Circulating Supply: 277,500,000
January 2023 Circulating Supply: 368,593,750
---
What Is Ape Coin ?
ApeCoin is an open-source protocol layer from Yuga Labs, the makers of the Bored Ape Yacht Club.
ApeCoin is a decentralized protocol that can be used by developers for various projects driven by the ApeCoin DAO and linked to the Bored Ape Yacht Club NFT collection.
ApeCoinApeCoin is the next step for the Bored Ape community to grow the brand. They want to decentralize the Bored Ape brand with the ApeCoin and start new projects in the areas of culture, gaming and commerce.
One of the upcoming projects is a blockchain game Bored Ape promised by Yuga Labs. The game will use APE as its official currency. Other projects are marketplaces and events where payment can be made with APE.
APE is an ERC-20 token and is the utility and governance token within the ApeCoin ecosystem.
---
Who Are the Founders of Ape Coin ?
Yuga Labs is the creator of Bored Ape Yacht Club, a project consisting of 10,000 ape-themed NFTs with different traits and unique characteristics.
Yuga Labs was allocated 150 million APE, with 10 million going to the Jane Goodall Legacy Foundation.
The management token of YUGA LABS, which has BAYC, MAYC and KAYC projects, the Godfather of the NFT market.
After incorporating LarvaLabs, its biggest rival such as Yuga labs, Cryptopunk and Meebits, it brought the NFT market to the agenda again with its token move.
According to an article published on theVerge, the insiders of this project make a huge profits manipulating the so-called decentralized system.
According to the ApeCoin website and other reliable sources, ApeCoin is being launched by ApeCoin DAO, this is some kind of governing body in which all APE holders are members. This can act like a big Board of Directors which token holders can vote on.
---
Ape Coin Graphic, Chart Analysis
ApeCoin (APE), which made a rapid entry into the market in every sense, seems to have exited the downtrend that started at the end of last month. It also successfully tested the trend support and rose to a level close to the 12.6090 resistance.
It seems possible that a new uptrend will be approved by breaking the 12.6090 resistance, which is at a critical point. In these conditions, he may want to test the 13.6500 and 14.6400 resistors.
However, if it is rejected from 12.6090 resistance, we can see pullbacks up to 10.6470 support. The double top structure formed in the region close to the resistance level should not be ignored.
I think it should not be bought as a token at this time. Because every monkey nft has an airdrop of 200 thousand dollars, which causes serious sales pressure.
Think about it, the project that you minted for 40 50 dollars a year ago and whose current value is almost 400 000 dollars, also gives you 200 000 dollars for free. A lot of people go the route of selling it instead of their NFT.
Apecoin is currently can be staked in Binance and  the average APY is around %1 which is a low rate.
Apecoin can be added to Binance Liquid Swap with a rate of %13 but with a risk of high loss.
(You can get these rates by locking in the Binance environment)
As shown on the chart below, Apecoin is relatively a new coin in the crypto market so we can just recommend to wait and see a sideway and a solid support to buy this coin if you consider for long term. 
Our golden rule is "never spend your all money on a coin". 
Consider the war between Ukraine and Russia before buying anything. The war can affect the crypto market badly. 
---
January 2023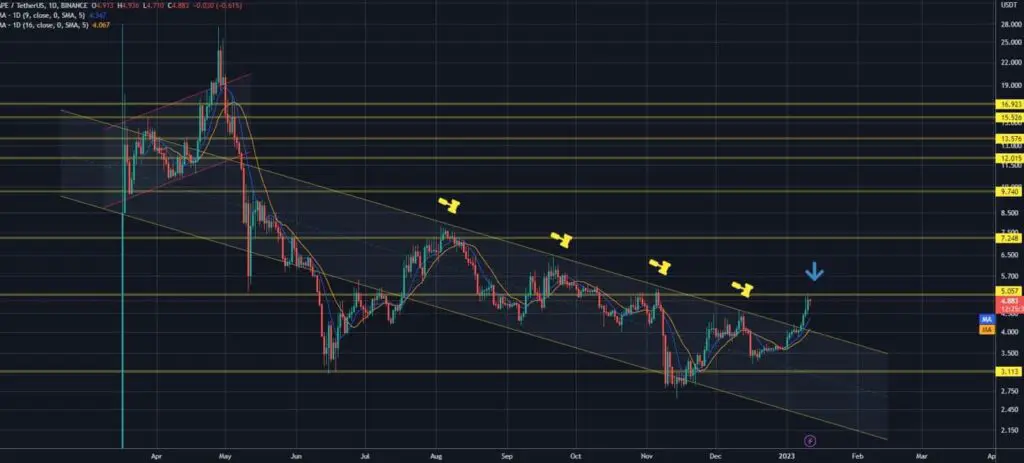 ---
April 2022 Chart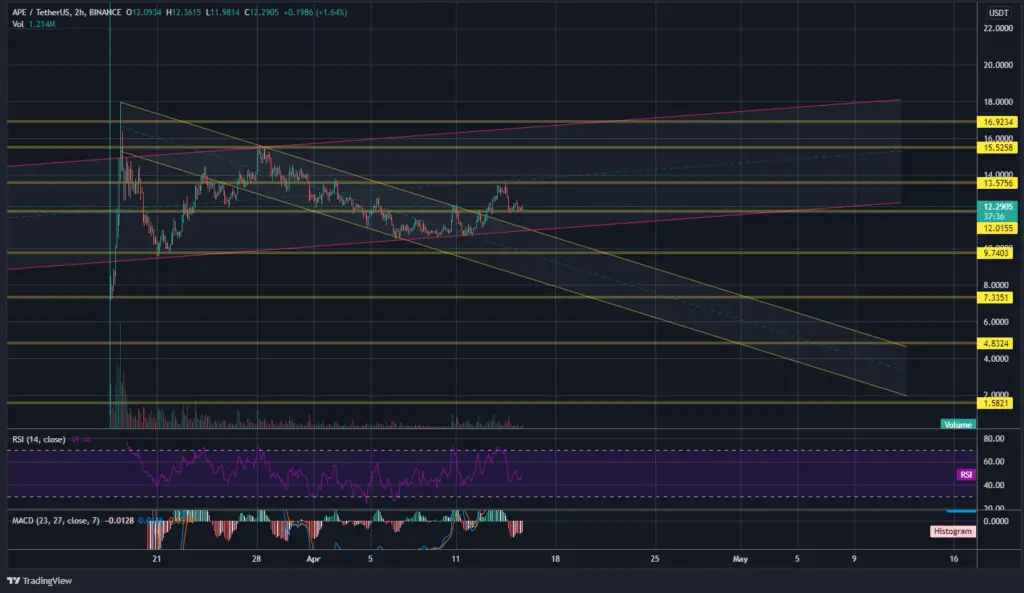 ---
APECOIN PROTOCOL – Governance, Unification of Spend, Access
According to the Apecoin website, ApeCoin is an ERC-20 governance and utility token used within the APE ecosystem to empower a decentralized community building at the forefront of web3.
As the open-source protocol layer of the ecosystem, ApeCoin serves several purposes:
Governence: ApeCoin is the ecosystem's governance token, allowing ApeCoin holders to participate in ApeCoin DAO.
Owners of Bored Apes automatically become a member of an exclusive club, with perks ranging from early access to new offerings to the possibility of receiving the commercial usage right to purchased Bored Apes.
---
Where can the Ape Coin be bought?
The Ape Coin can be purchased on the largest cryptocurrency exchange "Binance" since 2022. Getting in early and a lower price allows for big profits but also carries a risk of loss. Act sensibly.
We recommend buying cryptocurrencies on Binance.com
---
Ape Coin Price Prediction video explanation
Check out our other altcoin analysis and reviews:
Not Investment Advice
The information provided in this article is intended for general guidance and information purposes only. Contents of this article are under no circumstances intended to be considered as investment, business, legal or tax advice. We do not accept any responsibility for individual decisions made based on this article and we strongly encourage you to do your own research before taking any action. Although best efforts are made to ensure that all information provided herein is accurate and up to date, omissions, errors, or mistakes may occur. 
Disclosure: Authors have investments in cryptocurrency projects and have cryptocurrency holdings – including those covered on this website.