This section of the guide to Remnant From the Ashes contains a detailed description of the Maul bossfight. You will find out what attacks the boss has, what battle tactics are suggested, and what secrets/rewards the defeated boss drops.
Maul – Boss description
Maul is one of the more dangerous dog opponents, which serves as an optional mini-boss. However, he won't be that much of a problem if you defeat its reinforcements fast. Maul can also be assisted by Houndmaster, an NPC we can upset during the dialogues, asking about his story or by shooting the dogs.
Maul – Boss Attacks
Howl and summon ads – Maul stops for a moment and begins to howl. Howl calls dogs that help Maul in battle.
Charge – Maul rushes at high speed, when the boss gets close, it attacks by leaping towards the player.
Houndmaster's shot – Houndmaster helps Maul by shooting at the player.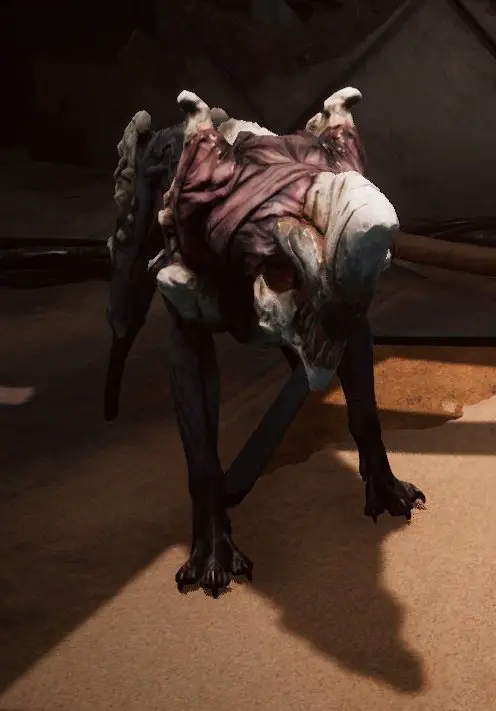 Maul – Boss Tactics
While facing Maul, the first thing you have to do is kill as many hounds as possible. They should be your priority because the more of them are in the arena, the less chance we have of defeating the mini-boss.
After eliminating the small dogs, focus on attacking Maul – it doesn't matter what body part you shoot. It is important to avoid his attack at the right moment – when he is already leaping towards us. You can also attack Maul while the creature is howling – it takes a little while before reinforcements arrive, and the mini-boss stands still in one spot. The main tactic is not to let the hounds surround you – kill them quickly and then attack Maul with everything you have.
Houndmaster, an NPC that controls Maul, can help the creature in battle. He attacks with a single shot. Try to focus on his head and the horns – you can knock an object that he uses to control Maul. Once we do it, Maul will also start attacking the Houndmaster. Also, the player will gain access to this item after defeating the mini-boss.
Possible rewards
Control Rod
Hound Choker
562 scraps
Lumenite Crystal (x3)
Check more game reviews and guides here