The Srhythm NC25 is among the best cheap ANC over-ear headphones. The headphones are wireless and quite comfortable for long listening to music. They also provide a long battery life that lasts up to 50 hours for once charging. Furthermore, they have good active noise-canceling, voice assistant, high-res audio, low latency for gaming, and more but what makes these headphones stand out is the active noise-cancelling feature. Let's get to the details.
---
Table of Contents
---
Srhythm NC25: Pros and Cons
Pros
Comfortable
Easy to store
Long battery life (Fully charged they have lasted for 4 days with constant use)
Excellent Noise Cancellation
Easy controls
Cons
Microphone quality
No charging indicator
Navigation keys inactive in wired mode
---
Design & Comfort
Srhythm NC25 Headphones are really nicely designed headphones. The glossy headphones show fingerprints on them but when you get matte headphones they're pretty good. The NC25 headphones in fact come with a matt construction which gives a rubberized finish which is really nice to the touch. But it does pick up dust sometimes. That's the only real sort of negative point I can come up with on these particular headphones.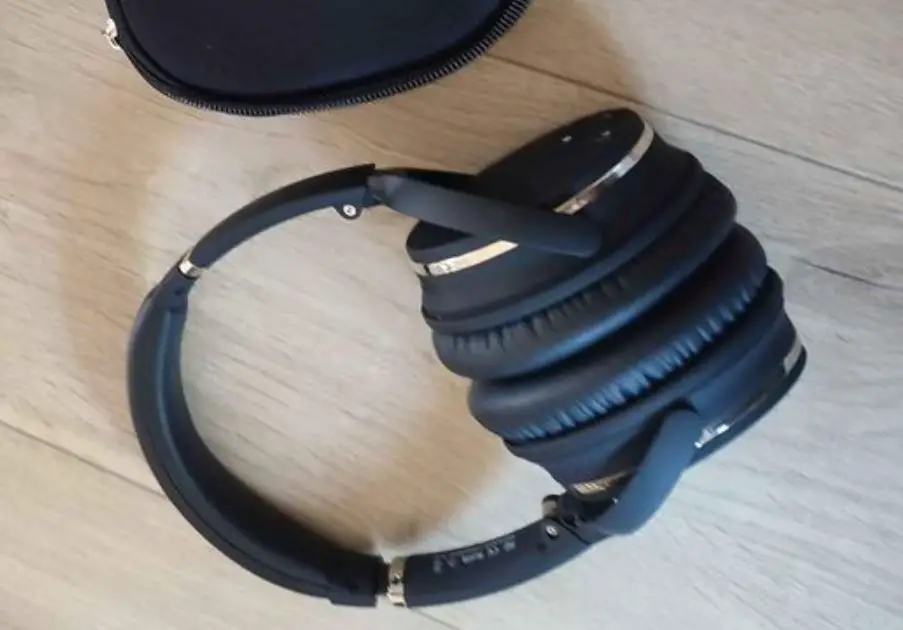 We've got a nice amount of padding on the ear cups, a decent amount of padding along the headband.  The headphones are quite light so it won't be an issue for prolonged use. The headphones' cups do rotate and fold up.
The Srhythm NC25's ear cups rotate 115° and each is heavily padded with foam. Each earbud measures 10.0cm x 8.0cm with the center section hole measuring 6.0cm x 4.0cm. Wearing the headphones with these padded ear cups makes for a very comfortable experience. They are suitable and perfectly match the shape of the ears.
Headset functions can be controlled from the right earcup. In particular, the following operations can be carried out:
• MFB button : turn on/off, play/pause sound. This button will also answer/end phone calls.
• Volume + button : used to increase the volume but also to go forward one track.
• Volume – button : decreases the volume but also allows you to return to the previous track
The cup at right-hand has the connections and the buttons. The MicroUSB charging and 3.5 millimeter audio jack are placed at the bottom of the right-side earcup. The controls for multifunction button are also placed back of the earcup as well.
The Srhythm NC25 noise canceling headphones are packaged in a black cardboard box with the product image printed on the front and the technical specifications printed on the back. The box measures 22.5cm x 15.5cm x 5.5cm and weighs 420G.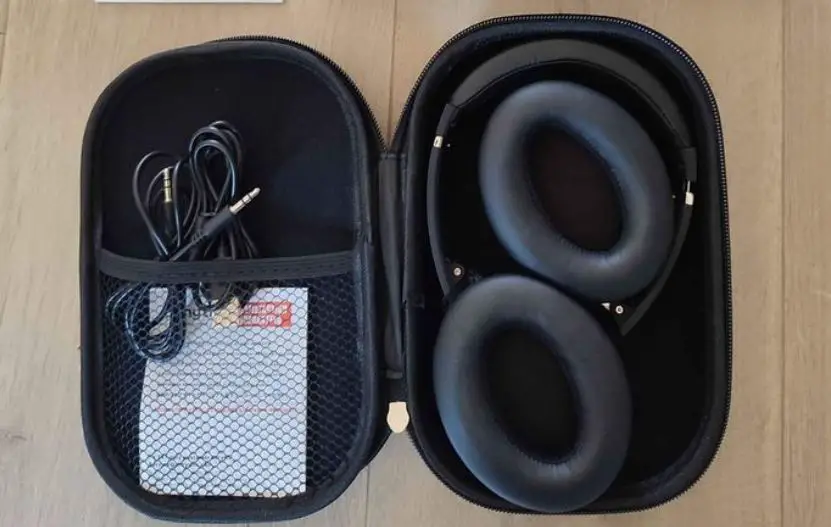 The box contains a nice sort of a semi-rigid carry case inside. The case also contains:
1 hard case
1 micro USB cable
1 x 3.5mm AUX cable
1 airplane adapter
1 multilingual user guide
---
Sound
The sound is super clear, without any distortion , even when the volume is turned up all the way. It always maintains high quality, clear and crisp sound.
The bass is also noticeable and quite punchy and this without using the noise canceling function, you are totally immersed in your playlist without any background noise being detected during use. Truth be told, you won't need the noise-canceling feature for about 90% of the time, but if you turn it on, you'll instantly hear the music volume and neutralize any detected background noise.
The technology used for active noise reduction suppresses airplane cabin noise, city traffic or busy offices, and suppresses 85% of stable low-frequency background noise. Noise reduction reaches 18-23 dB.
Active Noise Cancelling works great. I have tried it out on the plane. The children's screams, engine noise and other things (almost) not heard. I've never flown so relaxed before.
When you get to the lower bass frequencies, these don't go very low. So they haven't got a really deep low bass frequency response. But the bass the headphones do deliver is nice and clean.  Nice and well controlled no sort of distortion, volume levels are handled really well with these headphones. they are nice and loud and just an overall well-rounded sound on these headphones we got here.
---
Microphone
The Srhythm NC25 headphones also come with a built-in microphone so you can take incoming phone calls. The microphone is very good and the call quality remains the same as if you were using the phone by ear. But since it is a headphone and not headset, we don't recommend relying on the build-in mic too much. If you want to buy a headset with good microphone quality, you may check out our Best Gaming Headset with microphone list for your guidance.  You can use these either wired or wireless so that's a really good feature as well.
---
Battery Life
Srhythm NC25 comes with:
1 cable micro-USB
1 x 3.5mm AUX cable
The charging port is located at the bottom of the headset's right earcup. For charging, the use of the micro-USB cable is necessary; any power source will do. The charging time is 2 hours (approximately) for a battery life of 12 to 16 hours (depending on the volume and the frequency of use of the wireless mode).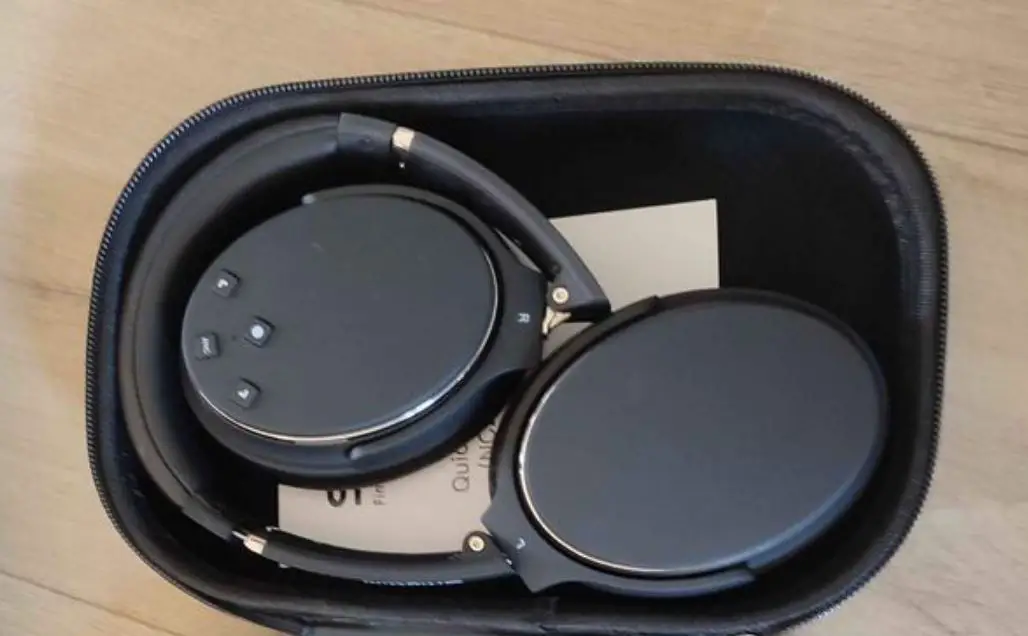 The supplied AUX cable comes in handy when it comes to using a non-Bluetooth compatible device (or when the battery is depleted). This cable fits a standard 3.5m AUX plug and is 100.0cm long.
---
Srhythm NC25: Conclusion
The Srhythm NC25 Supra-Aural HD headphones are a comfortable, lightweight and foldable model that offers very good audio quality as well as an effective active noise reduction function . Do you need almost total isolation from ambient noise? I highly recommend these headphones: turn on, by simply pressing the ANC button, the active noise reduction to sleep (or during your flight, for example), listen to your favorite songs in loop for several hours, use the wired mode to finish with your movies once at home.
And do not think that Bluetooth models with active noise reduction are out of budget since the NC25 is offered at the modest sum of $50  (approximately). A very interesting price-quality ratio for those who want to replace their old wired model… without compromising on sound quality!
Current Best Price on Amazon: $59.99
Price History on Amazon
| Months | Lowest Price on Amazon |
| --- | --- |
| Sep 2022 | $59.99 |
| Oct 2022 | $59.99 |
| Nov 2022 | $59.99 |
| Dec 2022 | $59.99 |
| Jan 2023 | $59.99 |
| Feb 2023 | $59.99 |
| Mar 2023 | $59.99 |
Srhythm NC25
---
Srhythm NC25: Specs
| | |
| --- | --- |
| Available Colors | Matte Black; Coral Orange; Mint Green |
| Battery | Built-in 1000mAh battery |
| Battery Life | 50 hours' long time with a single charge |
| Bluetooth | Bluetooth 5.0 |
| Form Factor | Over Ear |
| Size | 5.71 x 3.15 x 8.27 inches |
| Weight | 6.35 ounces |