Tractors might be the most important part of farming in real life and in a farming simulation game as well. They should be powerful, can handle harsh conditions and should be multifunction.
In FS 22, there are already hundreds of tractor mods beside base game tractors. That's not a surprise since there is a huge number of mod fans all over the world. In this article, we have listed the best and most powerful tractors in FS22. All mods are free and can be freely downloaded by the buttons below.
Here we listed a great variety of Farming Simulator 22 best Tractor mods so far which can make your game much more exciting. Sometimes, It can be difficult to find a mod you are looking for. We have researched and found the best tractor mods those have many features and attention to details. If you don't know how to install mods, you can take a look at our FS 22 how to install mods guide.
After checking our best tractor mods, you may want to take a look at the Best maps in FS 22 as well. Let's get into our list now.
---
Table of Contents
---
1- EAGLE355TH JOHN DEERE 8R TRACTOR
This Tractor is a beast with 1550 Horsepower option and almost 60 Mph speed. The tractor is one of the best tractor you can get in FS 22. The tractor is too powerful and fast for a normal size field but this mod will help you to finish plowing a big field in minutes.
FS22 Eagle355th John Deere 8R Tractor Specs
Price: $250,000
Increased Engine Power: 824, 1025, 1250, 1550 HP
Increased Max speed: 59 Mph / 95 Kph
Category: Tractors – Large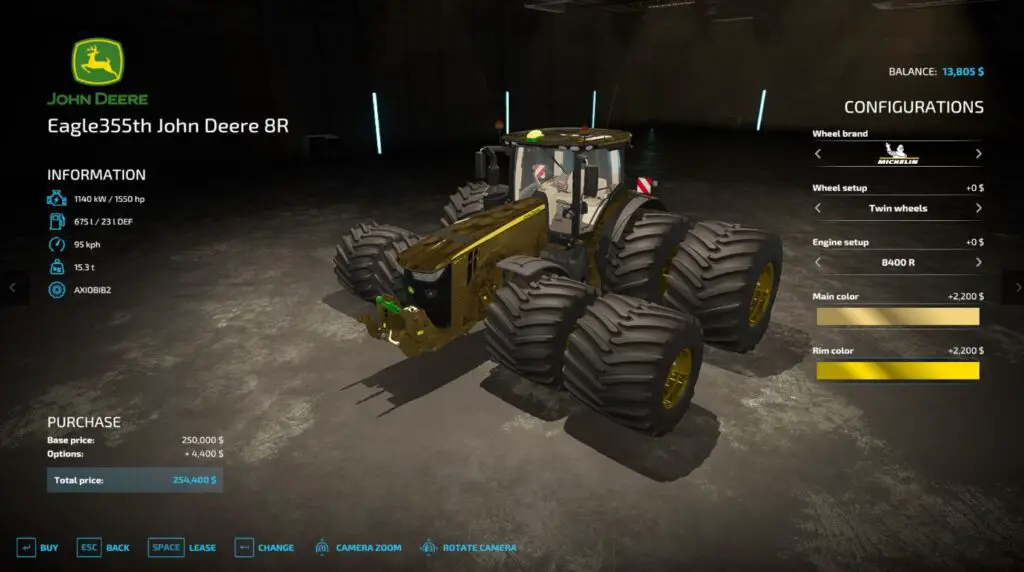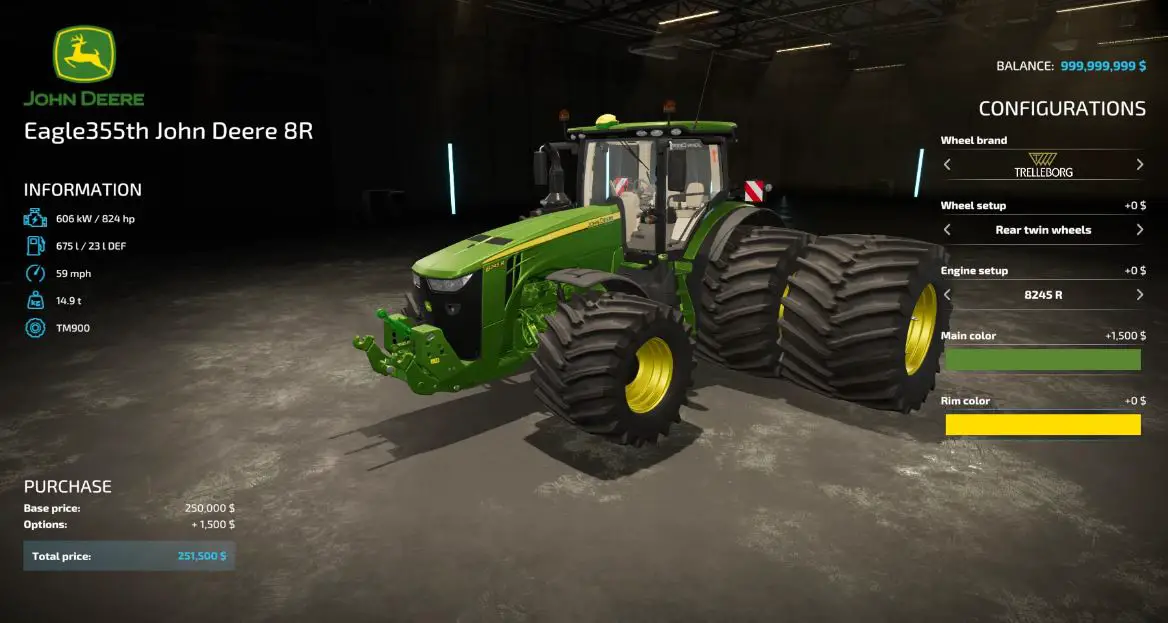 ---
2- CLAAS XERION 4000-5000
Claas Xerion 4000 series tractor is a multi variable powerful tractor with high speed. This tractor can reach up to 40 mph even with crawlers. If you like a high mobility big tractor with high crawlers, this must be your pick.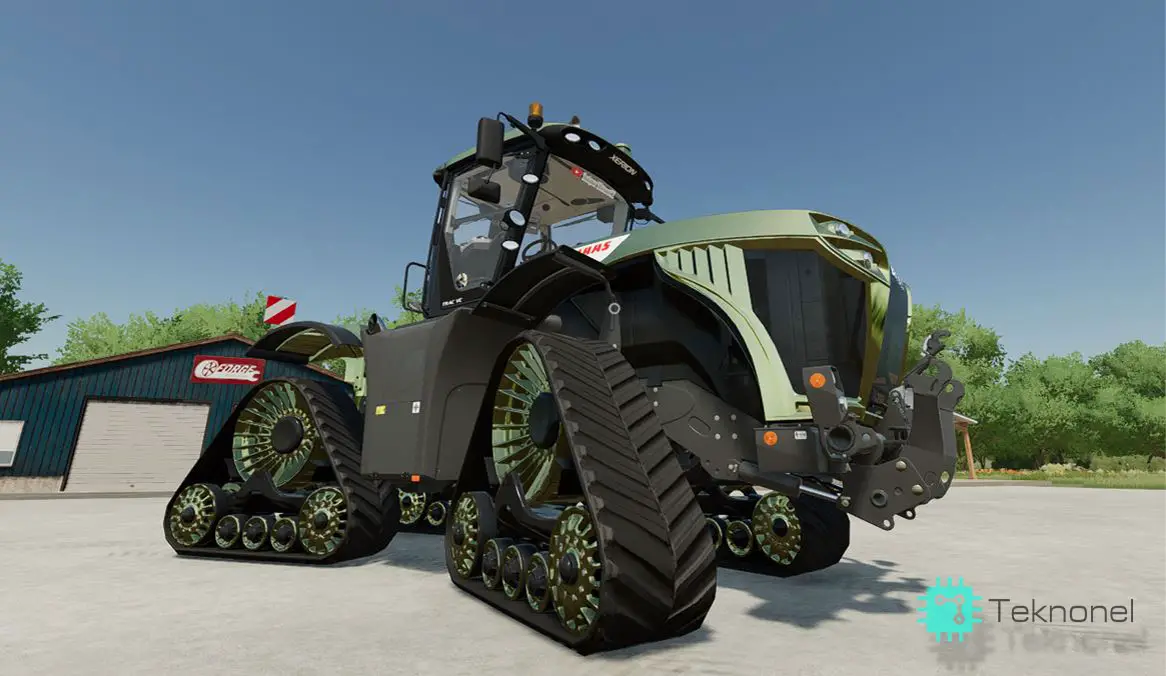 CLAAS XERION 4000-5000 Specs
Max Speed: 63 km/h or 40 mp/h
Power: 630 HP
Wheels: Trelleborg, Michelin, Mitas, Nokian + conveyor belt
Colors: Chrome and simple
Price: $137.000
Category: Tractors – Large
---
3- CASEIH MAGNUMT4B
This tractor is one of the best tractor you can get in FS 22. It is very fast and powerful with a realistic price.
CaseIH MagnumT4B by DJ Modding Specs
Price: $312,000
Increased Engine Power:

 550 hp

Increased Max speed:

 68 kph or 43 mph

Category: Tractors – Large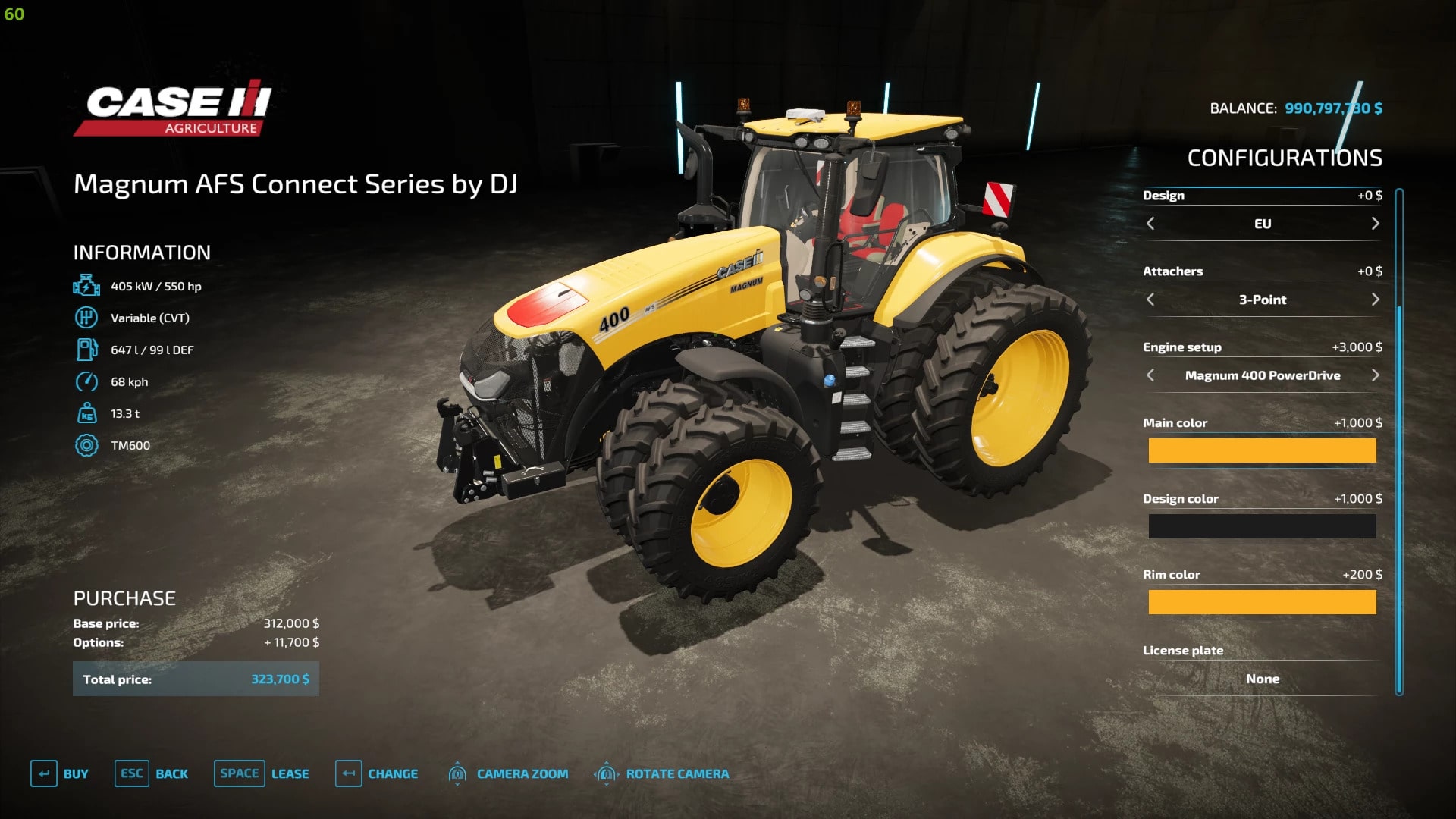 ---
4- JOHN DEERE 8RX TURBO + BIG CRAWLERS
This is the most extreme tractor mod in mod library so far. You may wonder why… After checking the specs below, you will understand the reason… You may probably want to join a drag race with this  tractor.
JOHN DEERE 8RX TURBO Specs
Max Speed: 150 km/h or 93 mp/h
Power: 2000 HP
Wheels: Crawlers size options
Price: $351.000
Category: Tractors – Large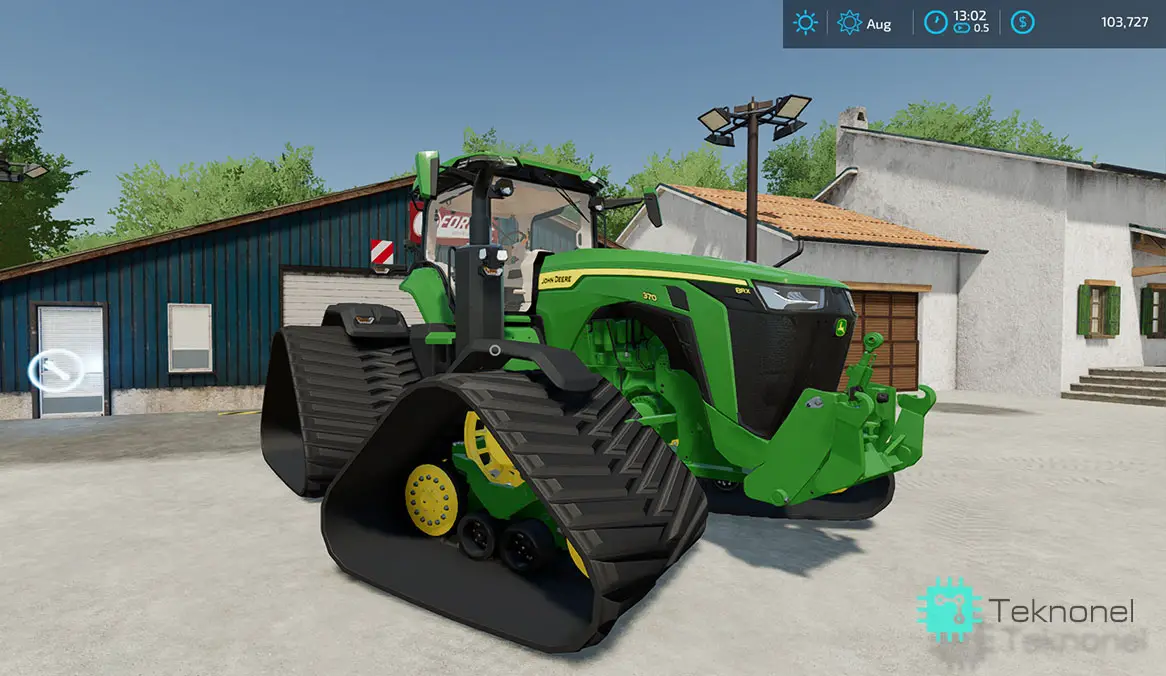 ---
5- CHALLENGER MT 900 E ML
Challenger MT 900 ML is one of those monstrous tractor that can easily help you to do power demanding tasks on your field. It has a look of a bulldozer that can be actually attached to the front hints.
Category: Tractors – Large
Motors:
MT955E = 536 HP
MT965E = 591 HP
MT975E = 646 HP
Tire choice:
Single
Single with weights
Double
Trippel
Maintenance tires
Novelties:
Color choice
Logo choice
License plate
New sound
---
6- MERCEDES BENZ TRAC 1300-1800
Mercedes' bulldozer tractor, TRAC 1300-1800 is a smaller tractor that has an affordable price for starters. It may not be very powerful or fast but still provides one of the best price/ performance ratio to players who like to experience the game with realistic gameplay. 
Price: 80.0000$ + 
Speed:

 50 Km/h

Power:

 130hp – 300hp

Category: Tractors – Large
---
7- BIG BUD 450
Another bulldozer type tractor with powerful engine.  This bulky giant  has a relatively slow speed compared to other tractors but still fun to drive. 
Big Bud 450 Specs
Game: Farming simulator 22
Price: $225.000
Power: 500HP
Sound update
Maximum Speed: 30 mph
Brand: BIGBUD
Category: Tractors – Large
---
Conclusion
There are tons of mods when it comes to farming simulator games but scrolling and choosing the best mods can be frustrating and time consuming. We prepared a list for 7 Best Tractors in FS 22 to help you save time and enjoy your gameplay. You may also want to check our Best Seeder/ planter mods list to save even more time!
You can go to our our Farming Simulator 22 category to explore more guides, tips and mod recommendations.