It has been quite a time since Farming Simulator 22's official release. The modders of the game have been working so hard to create a lot of great mods since then. 
We have tested a lot of mods and contents of FS22 such as 7 best Tractors to find the best mods among hundreds of mods.   
Here is our list of 8 best Maps in FS 22 so far. We will be updating the list from time to time to catchup with the new contents. Please let us know any broken links, errors or your valuable thoughts on this list down in the comment section.  
If you don't know how to install mods and maps on your FS 22, You can check out our guide: how to install mods in FS 22 ?  You can click and go to our Farming Simulator 22 category for more guides and tips.
---
Table of Contents
---
1- MOUNTAIN HILL 2022 MULTIFRUIT
This map has a farm located at the foot of a mountain with a small nice lake. We recommend you to watch the video to have an idea about the map before downloading the mod. What makes this mod one of the best one is the details and nicely put environment. The map has also some additional features such as new farmable fruits and vegetables.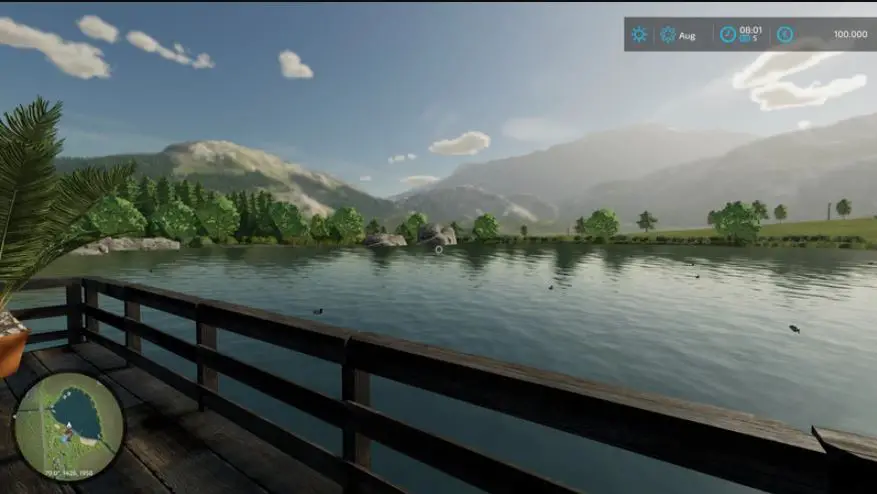 Creator's Notes
The map was completely revised from FS19.
On buildings of FS19 would be added everywhere snow roofs.
Decoration is dependent on time, weather conditions and season.
Sun umbrellas, laundry, pool water is gone in the winter, but there are in winter road stamps.
What you do not own, you can not use (pastures, cattle yard, contractors, etc)
NEW FRUITS:
Rye, millet, triticale, spelt, onion, carrots
NEW PRODUCTION FOODS:
Hay pellets, straw pellets, wood pellets, molasses and compost.
Compost can also be used to fertilize fields.
The map is completely driven in with AutoDrive.
Main roads, secondary roads, field roads, dirt roads, forests, sales points, productions
---
2- ELK MOUNTAIN WYOMING
This is a map that allows players to experience lumberjacking among many tree-covered mountains. The farm is between mountains with a lake that allows players to access water for animals and other works on the farm. There are some nice flat lands for farming but It is highly recommended to do lumberjack on this map as It has a huge amount of trees.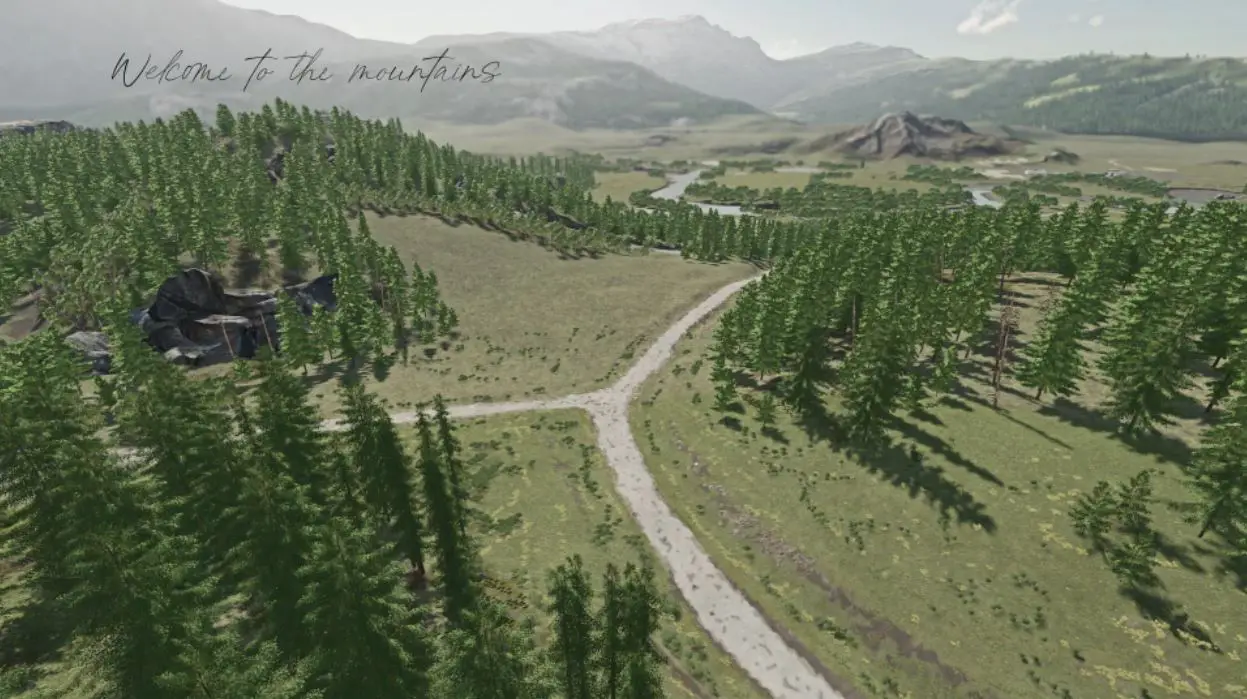 Creator's Notes
So after a long process and a ton of hours, I am so happy to present to you "Elk Mountain Wyoming" for FS22! It's a 4x map and at the moment only for PC. It is a large river valley with mountains on one side and on the other side large open high plains.
This map gives you the opportunity to do just about anything that FS22 has to offer. From farming in the river valley and the high plains, logging in the densely forested mountains and mining across the map. It has 10 predetermined fields. Custom environment and a custom crop calendar. I love the Elm Creek barns except for the fact that you can't go in them so I've taken some of them into blender and I've given them interiors and working doors.
There are two files that you have to download one is the map and one is the separate buildings pack which include the EMR sawmill and the OK Used Mods dealership that has been updated for FS22. You have to unzip the buildings pack and drag them into your mods folder. Most of the ranch buildings will only show up if you are in new farmer mode.
There are 4 other farm locations on the map with the elm creek barns but none of the doors will work until you perches the land. Also after you perches the land you can take down the realty signs by walking up to them and deactivating them. There are 12 elk antler collectibles on the map, I also added 3 new collectibles. There are a few extra map fill types add for future production opportunity.
---
3- PENNSYLVANIA MAP
This is a map that is inspired by the Pennsylvania region. There is a relatively big lake in the map and a small town. There are some pre-built farm building for you to have a quick start.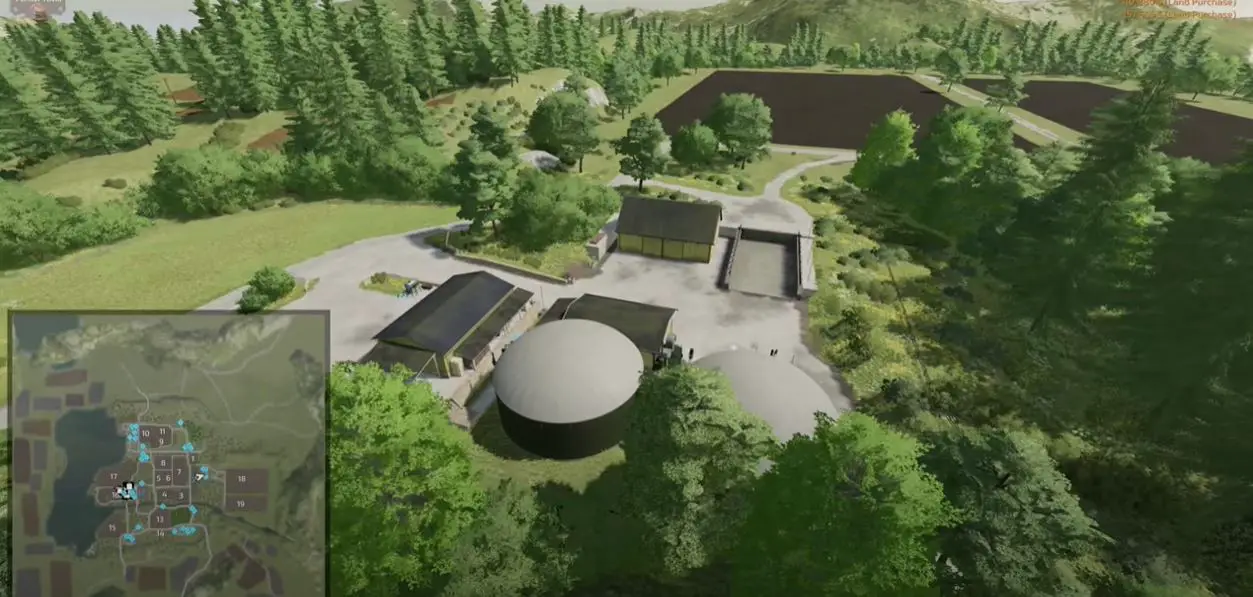 Modder's Notes
This is a small US map based on Kalle's map "Spring". 
I simply built a US map from his map, which is in Pennsylvania.
Why Pennsylvania?
Very easily. There are the most beautiful Amish farms. Check it out on Google Maps. Find the town of Lancaster in Pennsylvania and look around.
Then you will get a small impression of the great farms there.
---
4- HURON COUNTY MICHIGAN
This is a huge map with endless lands. If you like to farm on a straight land, this must be your pick. This map is an 16×16 map. Many other huge maps have some lagging issues but this map worked smooth in my experience.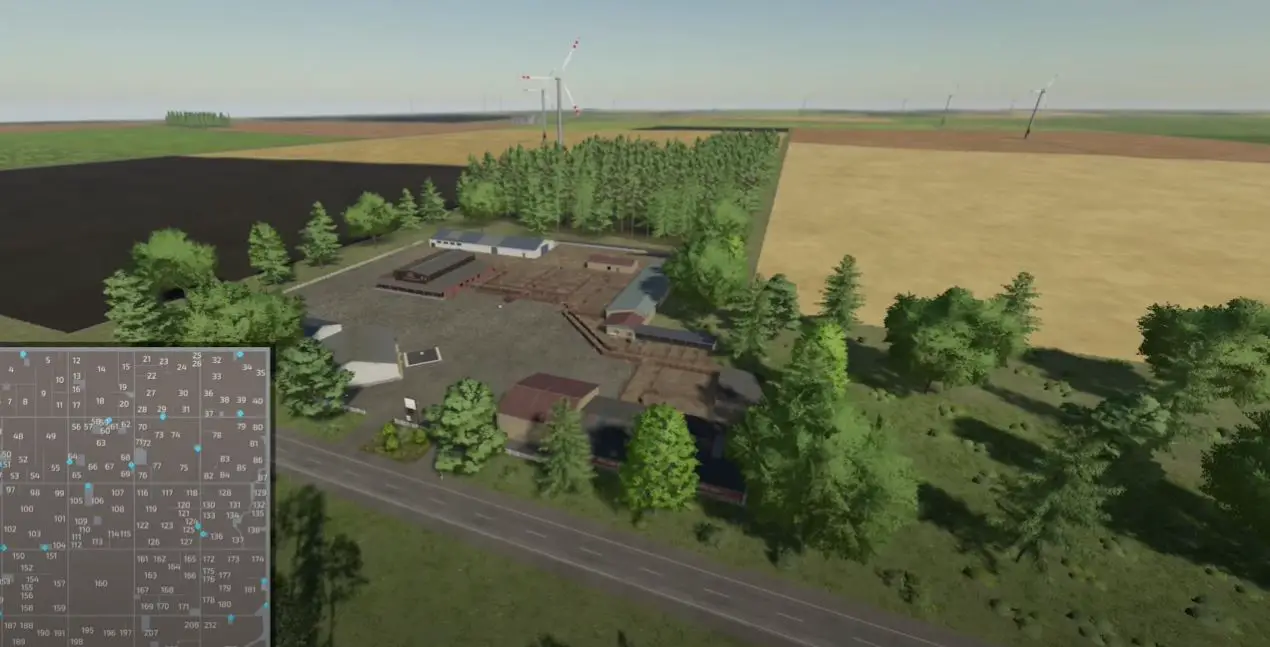 Creator's Notes
This 16x (8km) map is loosely based on the farms near Bad Axe Michigan. The area has been altered slightly to make room for more sell points and better forestry.
There are custom versions of all the base game production factories that have higher speeds and increased storage capacities plus a fertilizer factory and a forage mixing plant.
The turbines on the map are purchased when you buy the farmland they are on and they will generate hourly income after they are purchased.  There are 215 fields ranging from small to very large.
---
5. THÜRINGEN RELOADED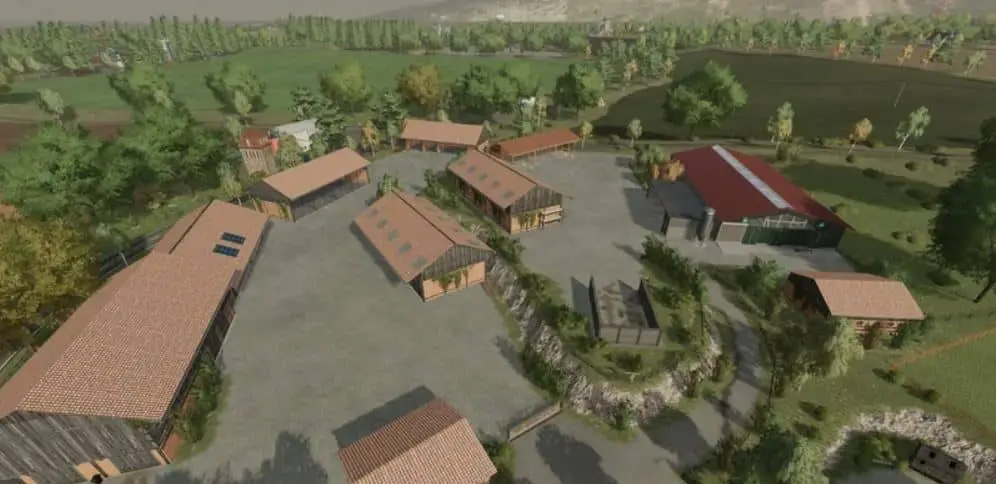 The Thuringen map is another impressive map that has been worked on by modders for a long time. The map gets bug fixes and updates occasionally. The fields are a little bit more mixed up compared to the other maps on our list. The overall structures and building give a vibe of an old town far from civilization yet there are all the necessary production points and building on Thuringen.
Map Details:
57 fields
11 multi-fruit to grow
32 ground angles
35 custom productions buildings
---
6- FS22 DEER CREEK
Deer Creek is another map that is covered with huge flat fields. There are also wind turbines on the map that can be bought to make extra income. You may watch the introduction video below to see the map overall before downloading.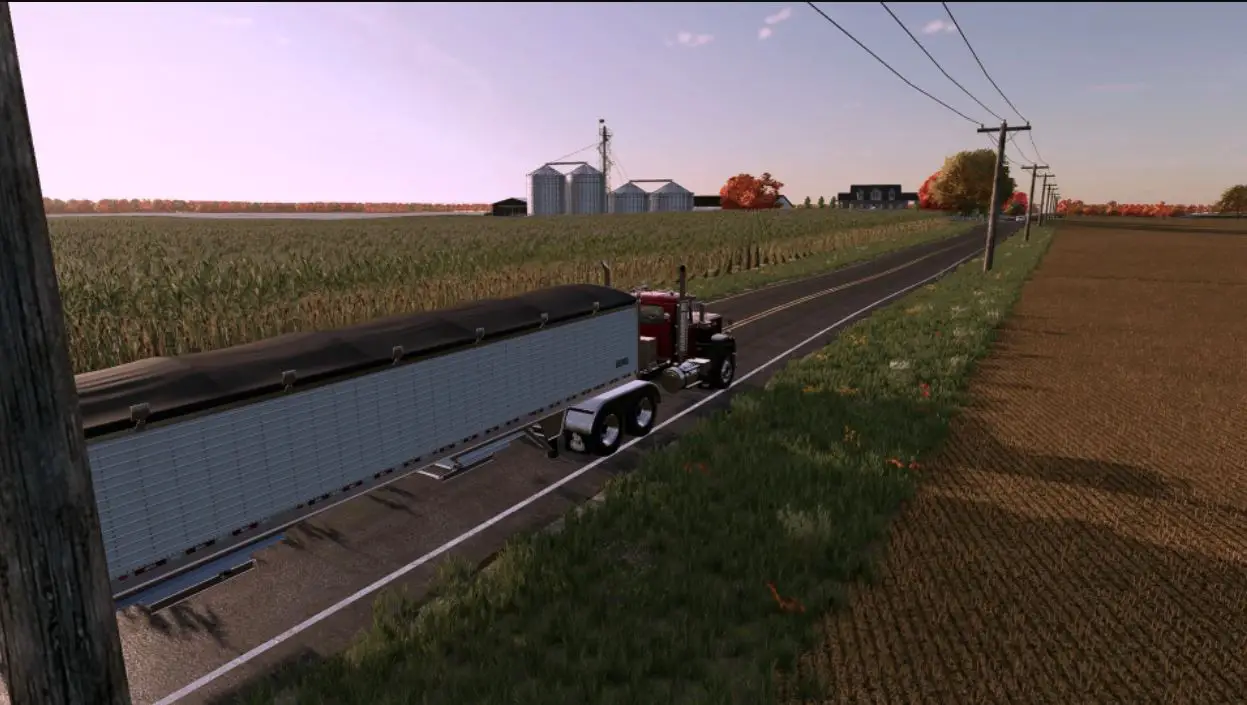 Creator's Notes
Deer Creek is a standard size map with a large map feel.
This map is based off a large grain farm, so if animals are you're thing this map may not be for you. 
Map Features:
Real DEM and field layouts of the area (some edits were made to add sell points etc)
Corn Dryer built into the map. You must buy propane from the CoOp and fill the tanks at the silo complex in order to use.  Simply dump corn into the silo pit, activate the dryer production and you will produce dry corn!  (the silo does accept all fruits, they will instantly show up in your storage once you dump them.
CoOp location to buy seed, fertilizer bags, propane and anhydrous. (There is another download link on my itch.io for anhydrous and propane transport trailers)
Custom weather GEO and growth cycles for Ohio. ( Double crop beans are possible)
Custom seed usage and harvest yields for Ohio.
Custom dealership created by Elk Mountain Modding
---
7- FS22 GOLISZEW
The mod creator of Goliszew map has done a great job to make it a warm welcoming small town with a lot of facilities. The map is covered with small forests and many different sized fields. There are 4 nicely pre-built farms in the map that has everything you need as a farmer.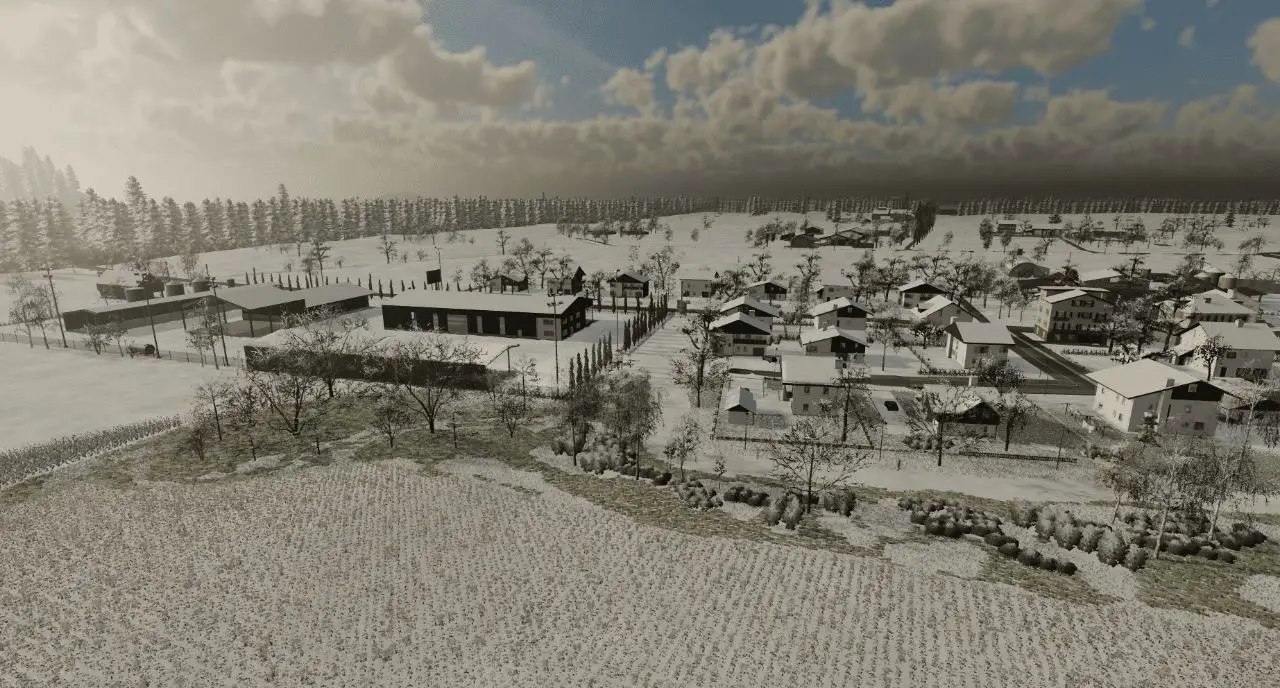 Creator's Notes
Hello all. Map Goliszew remake of FS19, I invite you to the Goliszew fields.
Four farms to live. You can own all four at once.
additionally, each kennel can be purchased separately
activation of objects after purchasing land (land)
all production facilities available in the basic version of the game plus a modification with a brewery
for those who do not want to run a farm, just have fun, cultivate the land and harvest crops extra company to perform orders and   contracts AGRO-AS.
many purchases on the map introduce a variety of prices.
And much more can be found on the map.
Unfortunately, I was not able to set the manure plate in the configuration I wanted and we have to set it up in the game. There are designated (painted) examples, but the choice is yours.
---
8- NO MANS LAND
Probably one of the most iconic map of FS 19, the No Mans Land, represents a secluded place far from civilization. There is no obstruct to worry about when you build your farm. You will also have a small nice lake by your farm as a water source. If you want to place your own lake with a mod, you may check out our How to get water guide.
Creator's Notes
Between the borders of France and Spain lies a vast emptiness known as No Man's Land where the land has lain untouched by the hands of man for years
Do you have what it takes to transform this wilderness into just a basic farm or into a great thriving dairy, wool, or logging empire? It's all about survival of the fittest, build your livelihood with the help of placeable buildings, sell points, and décor.
No neighbors to stop your advancement or bog you down with contracts for field work, there is only one road in and one road out so no need for transporting of goods, it's all in your capable hands. Do you have what it takes to survive or will you give up and return to the city?
There are options to remove all trees and rocks from the map to help aid in your discovery of your inner farmer.
I hope you enjoy this survival mode.
Note: The NML placeable pack will be available as soon as possible.
---
Conclusion
If you finally find the map you want to play on, it is time to download and install the map on your game. 
You may want to check out our How to Install maps on FS 22 guide.
Farming Simulator 22 players have the option to begin their farming journey on one of three maps: Elmcreek, a fictional town in the United States, as well as the equally fictional but very picturesque European settlements of Upper Beyleron and Erlengrat.
Each of these maps has striking differences from each other in terms of topography, layout, and landscape. So which is the best to start with? Well, it all depends on what is most important to you in your Farming Simulator experience. We tried to list the best 8 map mods for FS 22 so far to help you get a quick overview. If you have any suggestion that should be on the list, please let us know in the comment section just below. 
Where Can I Download maps for FS22?
Maps can be downloaded in game and some modding websites. There is no Steam mod library for Farming Simulator 22 for now.
How can I Update Map mods in FS22?
You can update the mods that has been downloaded in game library. If you downloaded the mod from a mod website, you have to download the updated file and replace with the current mod in FS 22's mod folder. You may check how to find the mod folder in this guide.