Gnosis is developed to provide an open-source infrastructure in order to predict markets which are built on Ethereum.
The Gnosis software uses two cryptocurrencies, GNO and OWL, both of which help ensure its transactions are reliable and distributed. Lets learn what makes this coin unique and different than other altcoins.
You must have a cryptocurrency account to buy TLM coins. Click to sign up for the world's largest crypto exchange Binance: Binance
---
Table of Contents
---
Gnosis Coin (GNO) Stats
| | |
| --- | --- |
| Cryptocurrency Symbol | GNO |
| Market Cap | $481,469,336 |
| Circulating Supply | 2,579,589 GNO |
| Total Supply | 3,000,000 |
| All Time High | $644.20 |
| All Time Low | $6.88 |
| Official Website | https://gnosis.io/ |
Aug 2022 Circulating Supply: 2,579,589
Jan 2023 Circulating Supply: 2,589,589
---
What is Gnosis Coin (GNO) ?
Gnosis is a decentralized forecasting platform (dapp) based on the Ethereum network.
In addition to being a forecasting marketplace, it is an infrastructure that facilitates the creation of diversified market forecasting apps.
Gnosis aims to build a decentralized forecasting platform, which serves as a vehicle for aggregating relevant information about the expected outcome of an upcoming event.
---
How Does Gnosis Work?
To better understand how Gnosis works, let's outline what a forecasting market is and why it's important.
A forecasting market uses user forecasts to aggregate information about future events.
Users in the market trade tokens that represent the result of a certain event. Since some results are more likely to occur than others, these tokens end up having different values in the market.
With the passage of time or the unfolding of related events, it is possible that some results increase their value. Once the event occurs, the tokens representing the final result receive the full value while the rest are lost.
Forecasting markets exploit the "wisdom of the crowd," a phenomenon in which the collective predictions of a group of people are generally more accurate than those of an individual, even if an expert.
Combining more ideas and information are useful for insurance purposes to help cover any risks on a given event
The financial sector also considered that forecasting markets are useful for statistically determining future asset prices.
Let's take an example:
Do you want to "bet" on the event "Where will Amazon find its new headquarters?"
Among the answer options you will see: Chicago, Atlanta, Austin, New York and More.
More must be included to ensure that the probability of all responses reaches 100%. If it had not included Other, there would have been a chance that none of the answers would end up being correct.
When the market opens, the tokens put on "Other" will probably have the highest price because it is more likely that, compared to the previous 4 cities, another city of the remaining cities will be chosen. However, as cities are "chosen", the expected market prices will adjust accordingly.
Suppose Amazon announces a final selection of 4 cities: Chicago, Atlanta, Los Angeles and Boston.
Austin and New York token prices will fall almost immediately.
---
Olympia + Management Interface
If you still are not aware of it, Olympia is the trial version of the Gnosis app.
Every two days, the team would award you a certain amount of Olympia (OLY) tokens that you could use to bet on different prediction markets.
If your predictions go through, you will receive Gnosis tokens (GNO), which you can resell on the open market, giving them a certain monetary value.
Since the launch of Apollo (version 1.0 of the market forecasting protocol) in May 2018, the Gnosis team has shifted its focus to Gnosis Safe, a cryptocurrency wallet and browser for interacting with Ethereum dApps.
How Gnosis is structured
Gnosis contains 3 levels of development:
Main level: It contains smart contracts for events, tokens, and market mechanisms. The only charge in this level is a maximum fee of 0.5% if you buy tokens from the market maker. However, the team is working to eliminate this fee.
Service level: It offers services such as chatbots and stablecoins. Use an exchange fee model.
Application tier: Custom front-end applications are built on Service and Core tiers. Gnosis will make some similar applications, but most of them will come from third parties.
---
GNO and OWL tokens
Gnosis includes two types of tokens: GNO and OWL.
GNO are the ERC20 tokens that the team sold during their ICO.
They have created 10 million GNO tokens and are not minting any more, which will be traded on the open market.
To receive OWL you need to lock your GNO in a smart contract making it non-transferable.
The amount of OWL you will receive depends on the duration of your lockdown period and the total supply of OWL tokens on the market.
The team aims to have a total OWL 20 times higher than the average amount of monthly usage in the previous 3 months.
The first OWL build event occurred in June/July 2018.
---
Gnosis Coin (GNO) Developers and Founders
The Gnosis team is led by Martin Köppelmann (CEO), Stefan George (CTO) and Dr. Friederike Ernst (COO).
Köppelmann and George started working on the platform in January 2015 as one of the first ConsenSys partners. In August of the same year, they launched the alpha product as the first major DApp on Ethereum.
In April 2017, the project somewhat held a controversial initial coin offering (ICO).
Using a Dutch auction style for fundraising, the team reached the maximum limit of $12.5 million in ten minutes while retaining 95% of the tokens.
December 2017 saw the launch of the Olympia and DutchX platform in the second quarter of 2018. As mentioned above, they also released Apollo in 2018. They are currently developing Gnosis Safe.
The team includes a decent list of reputable consultants including Joseph Lubin (co-founder of Ethereum and founder of ConsenSys) and Vitalik Buterin (founder and chief scientist of Ethereum).
---
GNO Coin Price Analysis and Chart
When looking at the GNO coin chart at 4h timeline, there has been a long downtrend and a 2 months long consolidation period. The coin has tried to break a resistance at $180 but could not break through the channel upwards. We can expect another attempt from this coin to try a resistance area at $260. 
The current crypto currency market is still very unpredictable, I mean more unpredictable than before, due to interest rates and conflicts in the world. Even the semiconductor crisis can impact the crypto market dramatically.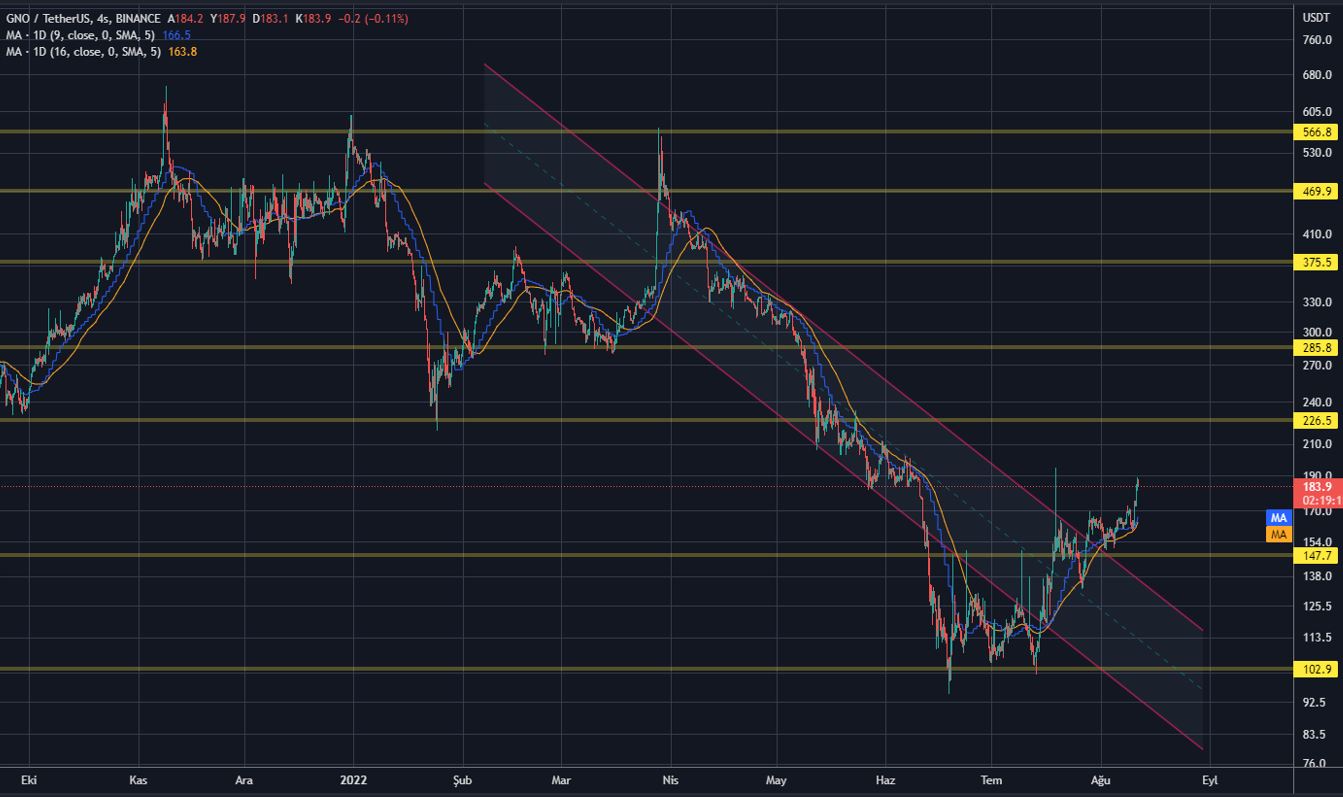 ---
Not Investment Advice!
The information provided in this article is intended for general guidance and information purposes only. Contents of this article are under no circumstances intended to be considered as investment, business, legal or tax advice. We do not accept any responsibility for individual decisions made based on this article and we strongly encourage you to do your own research before taking any action. Although best efforts are made to ensure that all information provided herein is accurate and up to date, omissions, errors, or mistakes may occur.
Disclosure: Authors have investments in cryptocurrency projects and have cryptocurrency holdings – including those covered on this website.