Over the years, numerous mods for Euro Truck Simulator 2 have been established. The great community mod support makes ETS 2 an active game for over 10 years now. Thanks to the integrated Steam workshop, most mods can be installed without any problems. However, two mods from our list are not from the workshop and have to be installed manually. We will also explain to you exactly how this works. Let's get to the list now.
---
Table of Contents
---
1. TruckersMP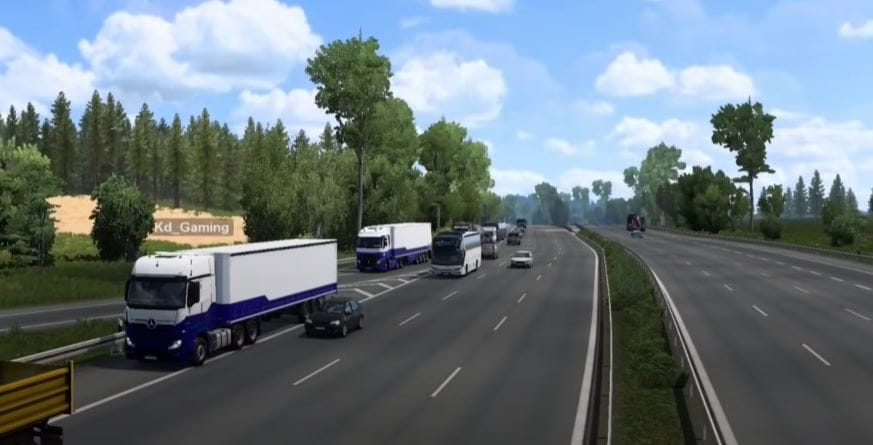 Despite the newly integrated multiplayer DLC in ETS 2, TruckersMP is still one of the most popular mod. The unofficial multiplayer allows you to drive across Europe with up to 4,000 other truckers. To be able to use TruckersMP, you first need an account on the TruckersMP website. Afterwards you proceed as follows:
At least two hours of gameplay in ETS 2 or ATS 2
Make your steam profile public
Linking TruckersMP and Steam profile
Download TruckersMP Client
Install mod
Optional: TruckersMP Client Update
Optional: Downgrade the ETS 2 / ATS 2 version via Steam
A driver profile for which you already own your own truck is recommended. Otherwise it will not be possible to accept orders in multiplayer via the Cargo Market.
In addition to realistic servers, on which the speed is reduced to 90 km/h, there are also so-called arcade servers on which there is no speed limit. Multiplayer is compatible with all DLCs except Heavy Cargo.
The most important key combinations in multiplayer: TruckersMP has additional key combinations that make communication and driving easier for you. We have put the most important ones together for you:
TAB: Opens the settings of the mod in the game
Y: Activates the text chat
X: With the button pressed you can activate the voice chat and speak
/channel [id]: Used for in-game CB radio. [id] = 0 disables the radio
/pm 123: sends a private message in text chat to the player with the given ID
/r: Reply to the last message received
/pinfo ID: Get all necessary information about a player. This is useful for reporting on the TruckersMP website
/fix: Fixes the truck. Only works when a trailer is attached
/help: Gives an overview of all commands
---
2. Realistic Traffic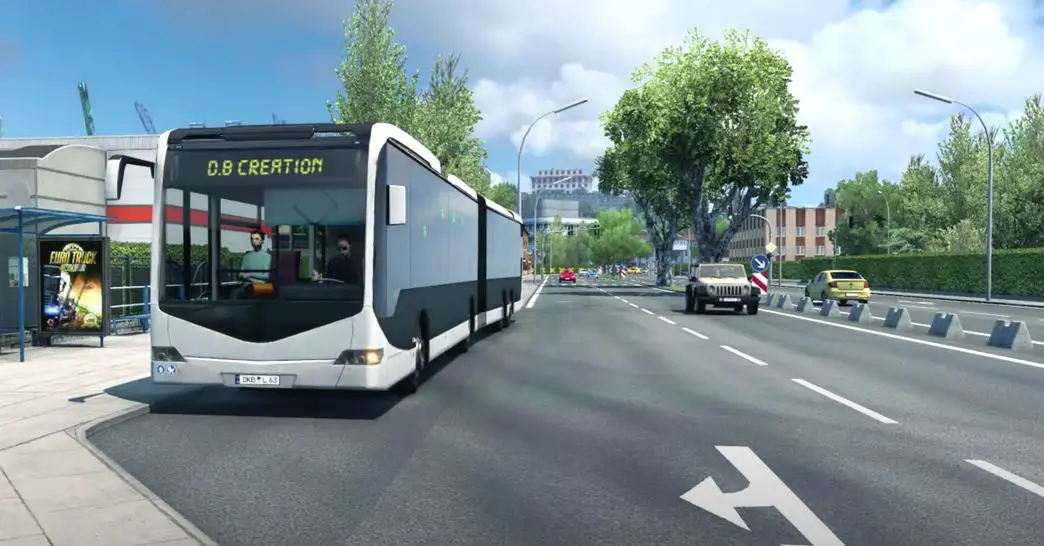 DB Creation Dev Team Germany is on a mission to improve the traffic and behavior of AI vehicles, trucks and trailers. The "Real Traffic Intensity & Behavior" is ideal if you want to make Euro Truck Simulator 2 even more realistic. The swiveling of the AI ​​trailer in curves has been improved, as well as other details such as:
– Realistic traffic intensity on all roads, based on the real intensity of European roads.
– Rush hours at 8am and 5pm
– Improved AI safety setting
– Different draw times
– Different speeds for all vehicles
– Improved AI speeds in different weather conditions
– Improved recovery – Improved
overtaking settings
– Includes our own AI behavior
– Removed slow vehicles from special transport deliveries
– Overhauled traffic light circuits
– Optimized AI behavior at toll booths
– Revised AI behavior at intersections, bifurcations and roundabouts
After downloading the mod, you will receive two .scs files. One version is for ProMods boards, the second is for SCS Software developers standard board.
---
3. SiSL Mega Pack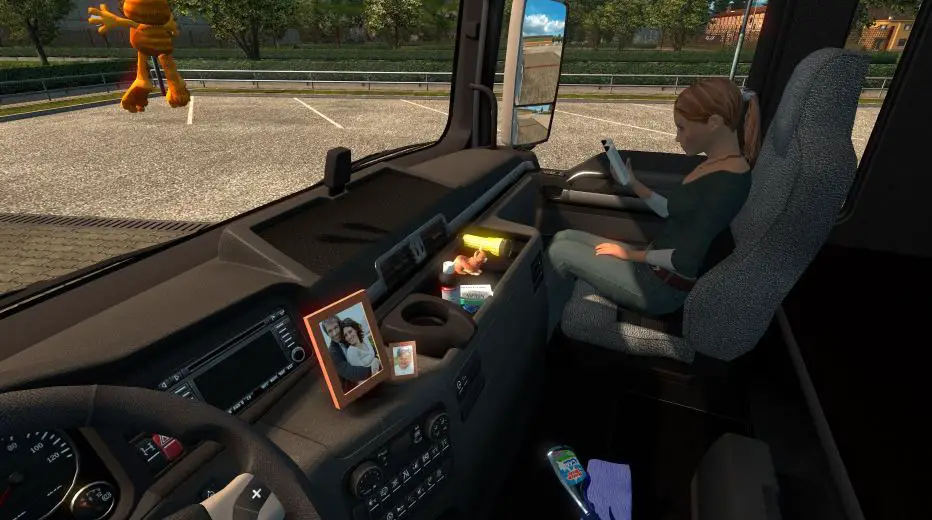 Are you looking for a passenger or do you want to spruce up the cabin of your truck a bit? Then the SiSL Mega Pack is the mod of your choice. You'll get over 400 new accessories for your truck, including co-drivers, minifigures, electronics, and scent trees. Almost no wish is left unfulfilled and if you wish, you can even put a Christmas tree in your chauffeur's cabin.
This mod is one of the highest rated ETS 2 mods on Steam. You can subscribe to it directly in the Steam Workshop.
---
4. Discovery map help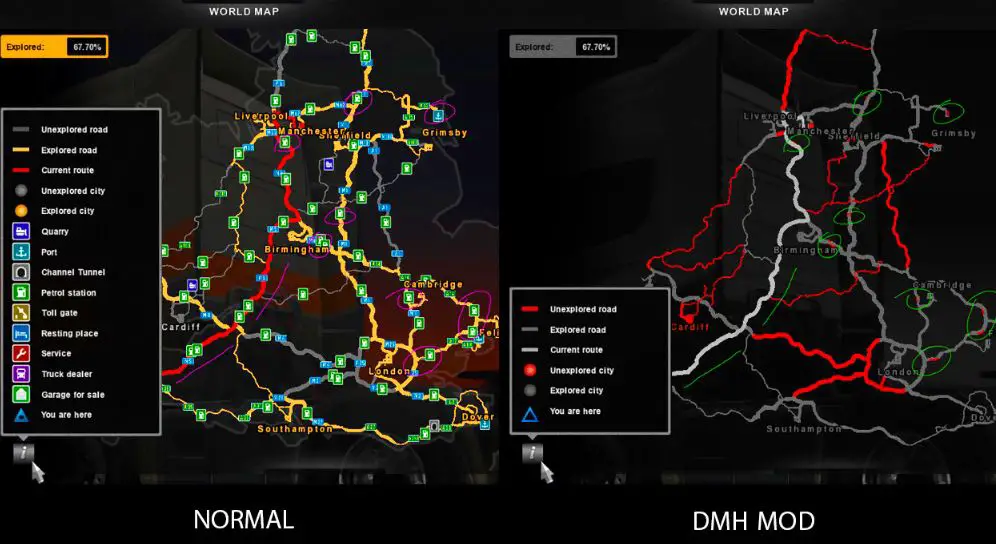 The map in Euro Truck Simulator 2 is getting bigger and bigger. The "Discovery Map Helper" mod not only helps you explore all the routes, but also improves the look of the map. You can enable Discovery Map Helper through the Steam Workshop and then enable it in-game through the Mod Browser.
Meanwhile, Euro Truck Simulator 2 has become so popular that no one wants its successor. This is also due to the many changes and improvements made in recent years.
---
5. D.Bs Traffic AI Mod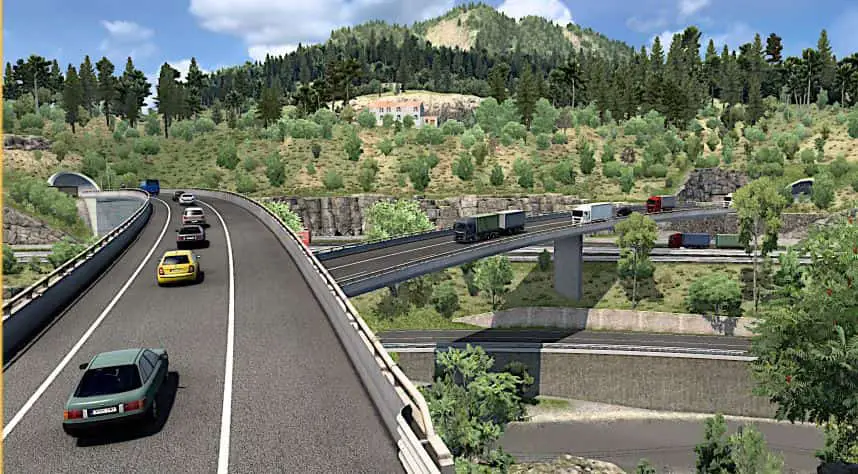 This mod allows players to adjust AI traffic settings completely. You can change the speed of traffic, making AI more aggressive or calmer. It also lets you clear the cars on the roads. Here's the all features the mod has to offer:
This Mod Includes :
Multiplayer (Convoy) compatible.
Improved trailer swiveling in curves (Long AI Traffic Trailers eg Heavy Cargo)
Realistic Traffic Intensity on all Roads based at real Intensity on Europe Roads
Rush Hour included.
Higher distance of Traffic Spawn & De-Spawn
Improved AI safety parameter
Different turn signal times
Improved AI speeds in different weather conditions
New Traffic Lights Circles
Improved accident recovery
Improved overtaking parameters
Included our own AI Behavior created by D.B Creation 
---
6. Daniel's Random Events Mod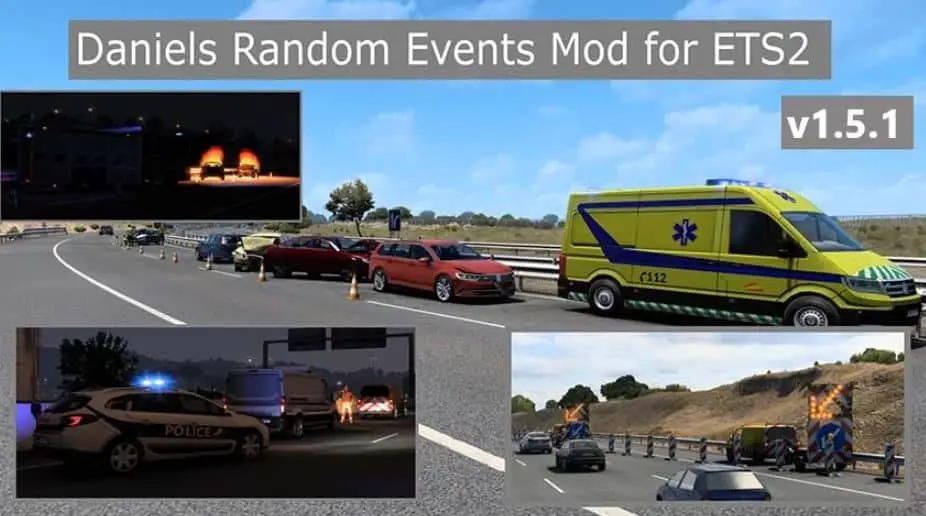 You drive down a country road in your truck at 80 mph, Willie Nelson's "On the Road Again" plays on the radio, you clap your hands on the steering wheel, hum and shake your head. After the next bend, you put your foot down – a traffic jamming tractor at 20 mph blocks the road. A scenario unimaginable without mods.
This mod can provide such a scenario. Depending on the time of day, tractors, combines or other slow-moving vehicles travel the country roads.
Over 80 new random events await you with the mod, many of which also have multiple variations. According to the mod's creator, this creates over 2,000 possibilities for different events.
Thanks to the mod, the light bars also have reflectors so you can recognize them better at night. After downloading the file, unzip the .zip file and add the .scs files to the following directory: C:\Users\USERNAME\Documents\N- Euro Truck Simulator 2\N- Mod.
---
7. Realistic Rain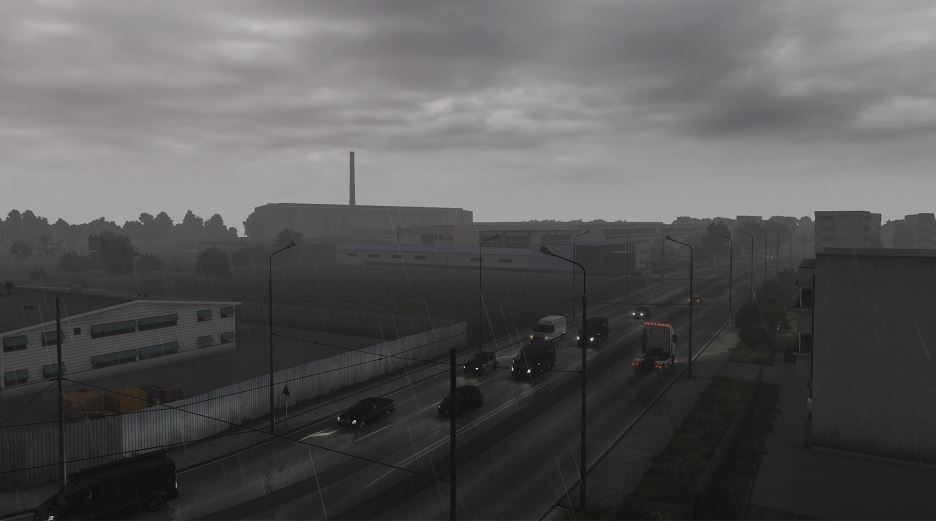 As the title suggest, this mod makes the weather more realistic but won't change the dynamics of the rains. The game already provides the options to change the rain density.
Features
Improved textures of raindrops from inside cabin (windshield & windows) higher quality and more defined textures.
Increased the amount of raindrops on the windshield and windows
Better textures of the exterior rain, better color, transparency and shorter "lines"
Improved the effects and behavior of raindrops on the windshield and windows
Improved textures water particles/spray of the wheels when the asphalt is wet (Truck player and AI Traffic)
Dynamic exterior and interior rain sounds. different samples, effects and transitions according to the intensity of the rain.
High quality thunder sounds, about 20 different sounds of great variety, delay included between 1-5 seconds, simulating IRL.
Note: The number of raindrops on windows will vary depending on the intensity and the direction of the rain (controlled by the game)
---
8. Realistic Vehicle Lights Mod v7.1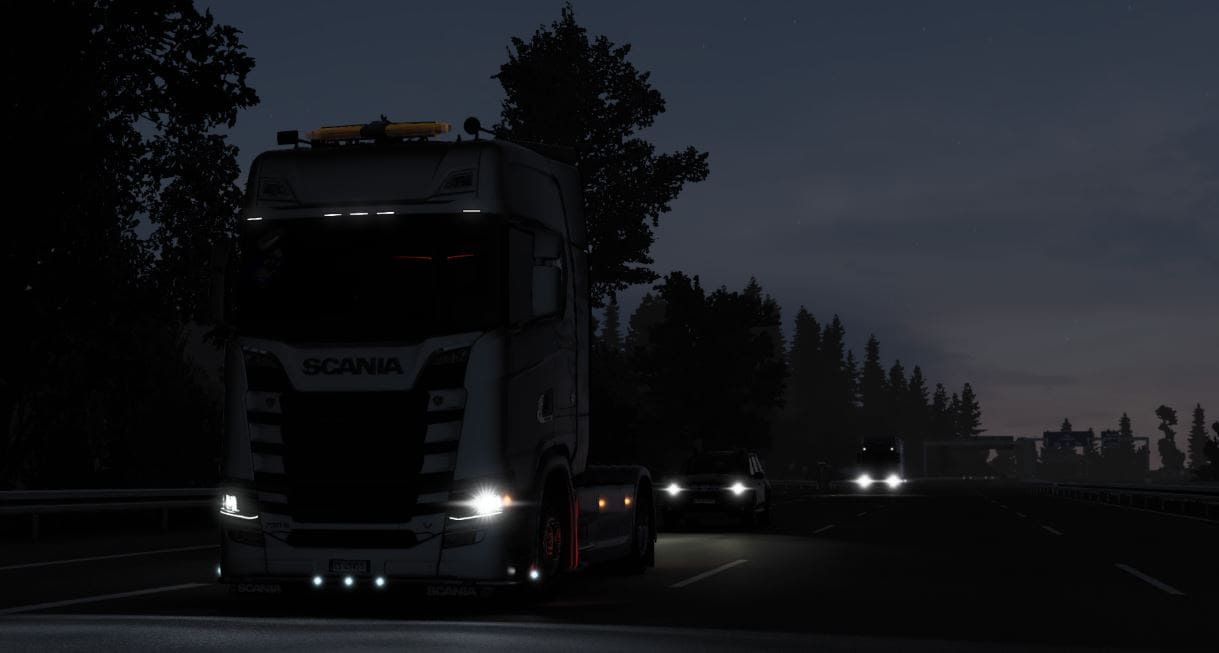 This mod improves the details of vehicle lights to make them look more realistic. The game looks way better at nights compared to base game's lightings.
Features
Specially designed high resolution flares
Improved flare visibility distances
Improved light reflections
The above features apply to all available light sources on AI vehicles, player's vehicles, and various objects in the game.
---
9. Steerable Axles for Lowbed Trailer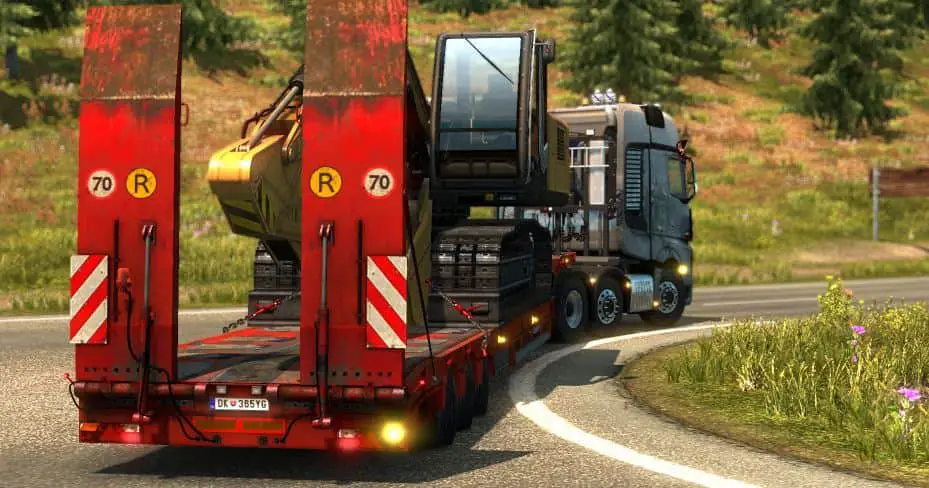 This mod replaces wheels of SCS stock lowbed trailer with steerable ones. It is also compatible with Schwartzmuller Trailer Pack, High Power Cargo Pack and Scandinavia. What it means is that it will also work for Schwartzmuller lowbed trailer, all High Power Cargo Pack cargos, and Scandinava cargos (wind turbine parts). Those DLCs ARE NOT required. The mod works for ETS2 version 1.27.2.1s and above.
---
10. AI TRAFFIC PACK BY JAZZYCAT V18.4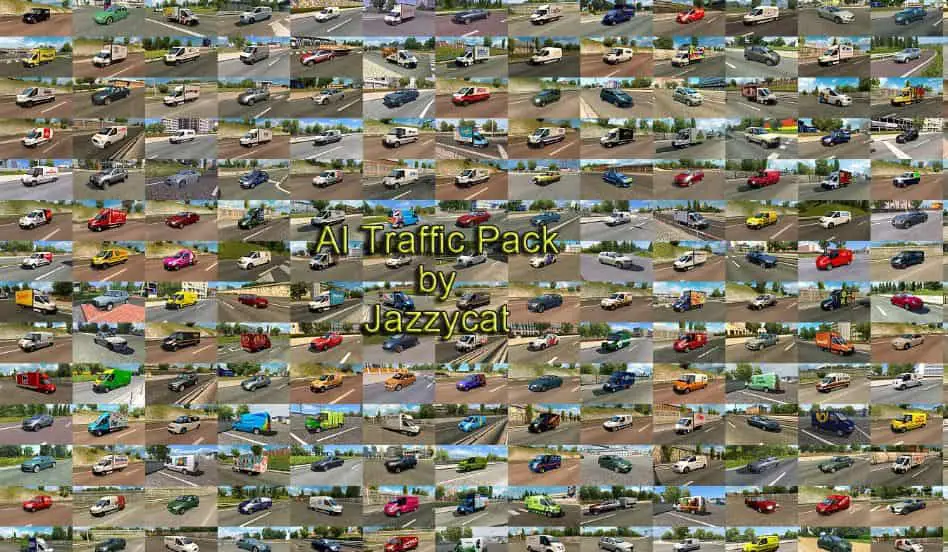 Pack adds in traffic 505 new AI cars:
All standalone, works on any maps.
Included real 3D logos for default cars and about 600 skins for different vans.
Models of other authors: Dacia Logan (Srele), MB Vito, W210, VW Passat B5, Renault Kangoo (Alexx_Os), some skins by IJ's Mods.
Compatible with all my packs.
For version 1.45.x
---
11. Realistic Truck Physics Mod v8.2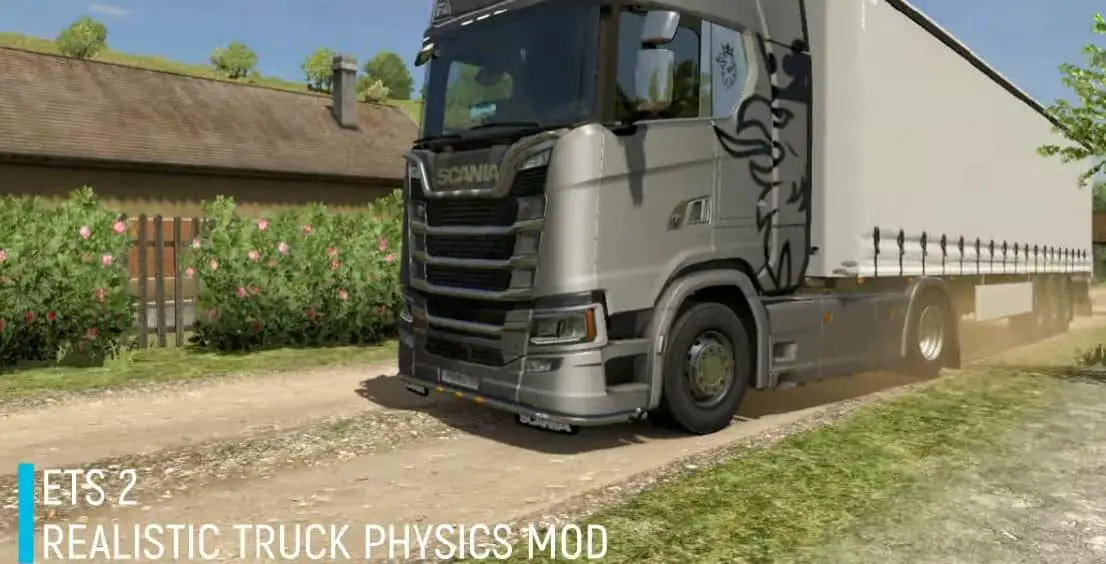 This mod improves truck physics for more realistic driving feeling.
Features
– Realistic suspension springing
– Realistic cab shaking
– Realistic braking simulation
– Adapted Active Roll Control(ARC) system
– Improved interior camera movements
– Compatible with current ETS 2 trucks and most popular truck mods
---
Conclusion
ETS 2 is a great truck simulation game that is being played by huge number of players all around the world thanks to never-ending mod support and developer updates. Even though many players eagerly awaits a ETS 3 release date from SCS developers, ETS 2 is still doing a great job filling the gape for a truck simulation game. 
Warning: Please check the combability of the mods with your current game version on Steam or mod website. 
How are mods installed in ETS 2?
The easiest way to install mods is through the Steam Workshop itself. Click on the "Subscribe" button of the mod you want and it will start downloading via Steam.
Mods that you don't download through Steam are copied to an additional directory. If the mod is in a .ZIP archive, unzip it first, then copy the .scs files to the following folder: C:\Users\USERNAME\Documents\Euro Truck Simulator 2\mod.
The mods will then be activated in Euro Truck Simulator 2 via the mod browser. You'll find the mod browser on the start screen, where you can also select your profile and manage DLCs.
ETS 2: How to Downgrade the game for Mods?
Not all mods for Euro Truck Simulator 2 work with the current version. This is indicated in the mods browser of the game. In the corresponding description you will find a note about compatibility. If you still want to use the change, you can downgrade the version.
Select "Properties".
Click on "Beta" in the top bar of the new window.
Select the corresponding version in the error message
Close the window, Steam will perform the downgrade.
Restart ETS 2 and activate the mod in the mod browser