It is a technical analysis interpretation of the coins that should be in the basket, albeit a little. In addition, there may be needle-like sags below the 144-week moving average.  Let's see a weekly volume green candle on the downtrend line, or it should be broken with a volume candle on the daily and then the throwback should be upwards. Before the break occurs, the upward targets cannot be said before the price matures.
We will be updating this page as the price moves on.
You must have a cryptocurrency account to buy Cardano (Ada) coin. Click to sign up for the world's largest crypto exchange Binance: Binance
---
Table of Contents
---
Ada Coin Key Points
ADA price retests the $0.83 support
A falling wedge pattern is ruling the ADA price action.
ADA coin intraday trading volume is $613.70 Million, which means a loss of 31.6%.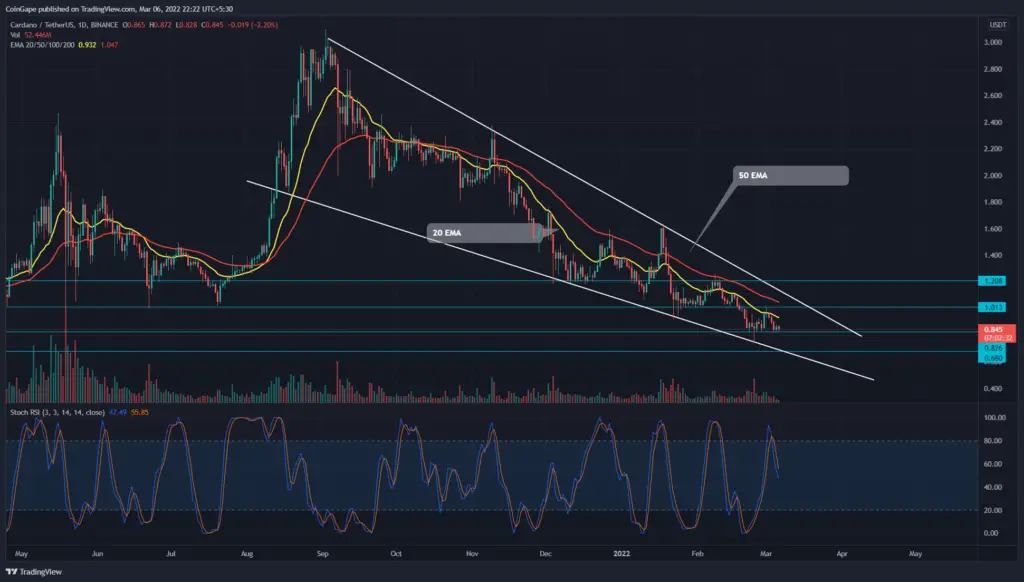 ---
Cardano (ada) at the critical threshold
On February 18, ADA buyers lost the crucial $1 support per year. Sellers pulled the altcoin to the $0.825 level, followed by a retest phase to confirm the new inverted resistances at $1.
The renewed selling pressure dropped the altcoin by 18.3% and retested the bearish support of $0.82. A break below the said support will indicate the resumption of the downtrend so the price could reach $0.678, which is a 17.6% drop.
Contrary to the assumption above, an upside return from the $0.86 mark will show traders stocking up on this drop and the price will quickly rise to the $1 level.
The content presented may contain the personal views of the author and is subject to market conditions. Do your market research thoroughly before investing in cryptocurrencies. The author or blog is not responsible for your personal financial loss.
---
Cardano ADA: Is Cardano dead or just getting started?
Check out our other altcoin analysis and reviews:
---
Not Investment Advice
The information provided in this article is intended for general guidance and information purposes only. Contents of this article are under no circumstances intended to be considered as investment, business, legal or tax advice. We do not accept any responsibility for individual decisions made based on this article and we strongly encourage you to do your own research before taking any action. Although best efforts are made to ensure that all information provided herein is accurate and up to date, omissions, errors, or mistakes may occur.
Disclosure: Authors are invested in cryptocurrency projects and have cryptocurrency holdings – including those covered on this website.