If you want to find Aloe Vera in Sons of The Forest, this is the guide for you. Since you'll find yourself stranded on an island with minimal resources, foraging is your best bet for survival. Luckily, the island has a plethora of materials you can collect while exploring. These resources come in the form of food, medicine, and whatever else you will need to survive. In this guide, we will tell you how to get Aloe Vera in SoTF.
---
Table of Contents
---
Near the Lakes and streams
In Sons of The Forest, players can find Aloe Vera on the forest floor next to bodies of water. We have marked their location on the map above. We noticed that they grow in abundance in the western part of the map. Also, these grow in groups, so if you find one, look for more. To collect them, simply walk up to them and hold down the E key.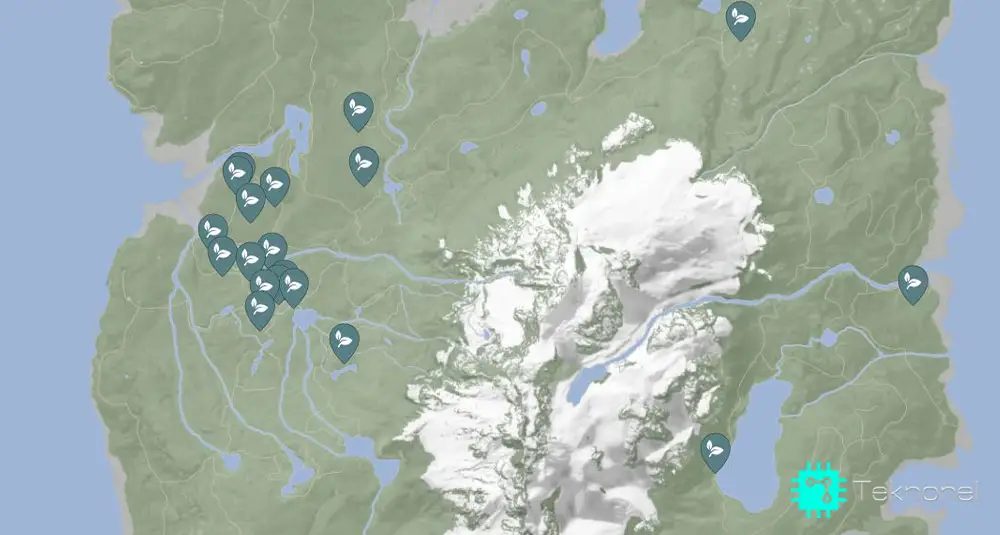 Planting Aloe Vera in your own garden
There is another way to have Aloe Vera plant which is much more reliable in this survival game. It is to plant and harvest your own Aloe Vera garden. In order to do that follow the steps below:
First of all, you will need lots of sticks
After Collecting enough sticks, press " B " to open guide Book
Go to Gardening tab
Choose Standing Planter
Place it a good place that enemies wouldn't destroy
Press " E" to plant  Aloevera seed in planter
After that you will need to be patient for a few days till the plant to grow up. When you harvest the plant, it will give you 1 Aloevera and 2 seeds. Don't forget to plant another seed after you collect the plant.