After a very long time, Arma comunity came together for a big announcement from Czech game studio Bohemia Interactive. We already knew the announcement would be Arma Reforger as we stated and discussed in our Arma Reforger leaks and release date article long time ago.
Arma Reforger is now available in Steam.  We already played the game and wrote down our first impressions about this fresh Arma game. 
---
Table of Contents
---
Many people think this game is Arma 4 but NO, Arma Reforger is not Arma 4. Arma 4 probably will be released in 2024-2025 according to a leaker. You can check out our Arma 4 leaks and release date post for more info.
You may check the screenshots we just took in the game end of this article.
Our first impression about Arma Reforger is that It is actually an expensive paid demo of Arma 4.   
Keybinding on PC is a totally different world. There is no scroll menu with space bar combination anymore and you can jump with space button in an Arma game now! If you are used to Arma 3 keybindings then you will have to get used to this new system.
---
Game Elements
Vehicles
Another very important point I want to mention is Vehicles in Arma Reforger. They are amazingly improved. There is no more "paper vehicles" in an Arma game. It took me 6 grenades to destroy a fuel truck and it has smoking, burning and explosion animation sequels
Explosions
Explosions in a battle simulation game is important. It makes the game more exciting in many aspect. Arma Reforger explosions are a bit weak in the current status. Even though the explosion animation looks good, It still does not feel like a proper explosion with blast radius or particle effect.
Artificial Intelligent
I think AI in Arma Reforger is the worst part of the game so far. It may be because the game will rely on multiplayer but still worse than Arma 3. Bohemia Interactive probably left it for mod community to fix.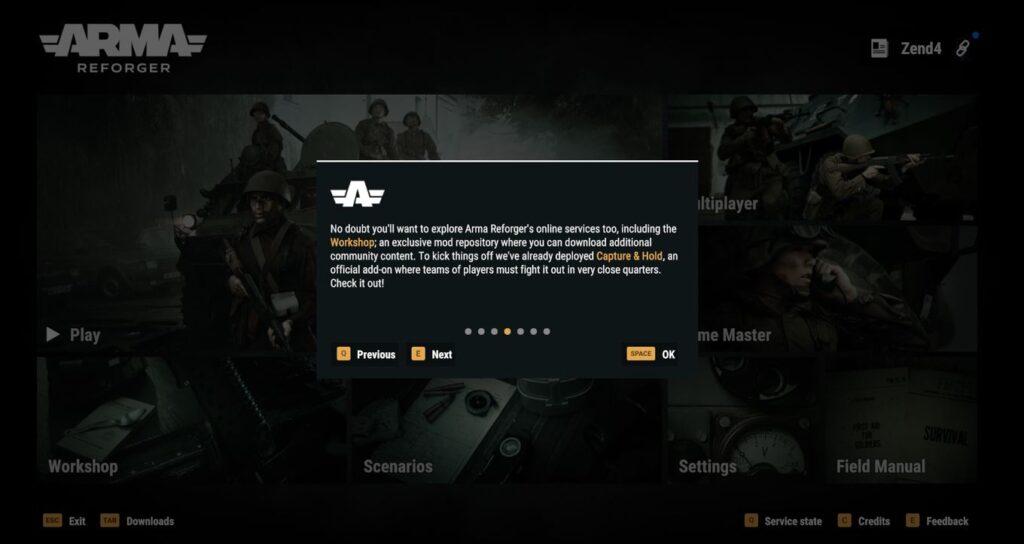 ---
Arma Reforger: Multiplayer
If you are an Arma 3 player, you probably played "King of the Hill". Arma Reforger is actually very similar to KOTH in this current state. The game play feels different after playing too much Arma 3. The animations are much smoother unlike Arma 3.
---
Arma Reforger: Singleplayer
There are only few single player scenarios in Arma Reforger for now. Only few tutorials and a Conflict scenario. That's another feature BI left to mod creators to fulfill.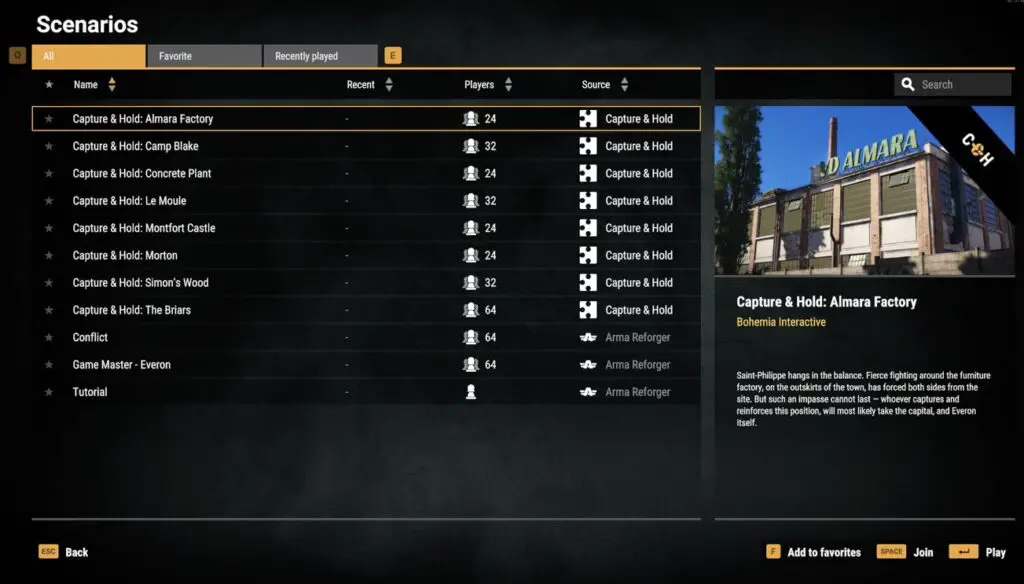 ---
Arma Reforger: Modding
Arma Reforger in Steam still does not have a workshop page but according to the developers, mods will be available for the game. There is actually a workshop section in game menu as you can see the screenshot we took in game.
After a few hours playing the game, some basic mods are already added to mod library. 
Mod creating with this new engine is way easier than previous Arma engine. I think this is the real deal that will keep this game alive since There are not enough content in the game now. You may also want to check our best mods for Arma Reforger list.
---
Enfusion Engine: Performance
The game runs smooth with Ryzen Rx 5700 XT GPU and I5 9600 CPU. Once we test the game and we will update this article and add an performance test video here.
I can get 70 to 120  FPS range with the system I have.  
That is a much better FPS than Arma 3 where I only get around 30-40 FPS with the same system.
---
Enfusion Engine: Graphics
Graphics looked good in twitch live stream. I just downloaded and tested the game so I could say that it is very similar to DayZ. The game is more GPU intensive than Arma 3 obviously. I can hear my GPU fans rushing up.
The light illumination is much better and it is even better at night.
The textures and viewdistance draw are greatly improved with Enfusion Engine. 
Water looks so nice in Arma Reforger. 
Shadows are now visible even in far distances. This will make the gameplay completely different than Arma 3. You may hide in a tree shadow now.    
You can also get wet in Arma Reforger: Your clothes, vehicles, environment and many other objects' texture will be illuminated with water. That's actually a nice detail.