In Farming Simulator 22, you have several options to get water and carry it to your farm. Some types of pens in FS 22, such as a regular pasture for cows, do not have a built-in water feeder, thanks to which it is automatically refilled in the animal troughs. You will have to get and then take the water to the indicated place in person, and you will need the water tank available in the shop in the "animals" category.
Most animals need water in addition to food except bees and chickens. It's not a task that everyone wants to do, so you have the option to purchase outbuildings that are connected to the water main, meaning you don't have to fill up your water supply. It's only required if you're using the cheapest pastures – but applies to all other animal species.
Sump
Once you have a reservoir, the first way to get water is to build a well on your farm. It is cheap, but that's because each time you fill the tank with water costs money. Every 1000 liters costs EUR 100, so it's better to use the second method …
River / lake
The game maps also show rivers and other water reservoirs that can be used as water for animals. As in the case of the pit, move your tank towards the lake here, and then drive into it in such a way that the spout of the attached tool is wet as much as possible. At some point, information about the possibility of filling the tank should appear on your screen.
Once you have water in the water tank, drive backward (preferably backward) to the pens where you need to refill the trough. Some icons or  information about the possibility of unloading will appear on the screen.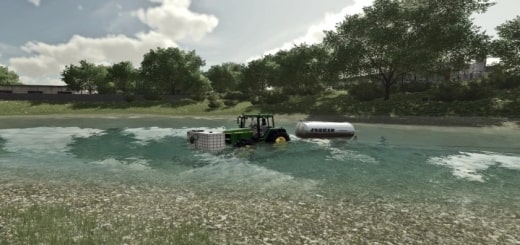 Make your own Lake with A Mod: Placeable water Mod 100x100m
Placeable Water Mod helps you place your very own lake anywhere as long as you own the land. This mod will allow you to create a 100x100m lake in your farm. More importantly, it will give you an option to collect water from your own lake. 
Download this mod on mod website: Placeable water 100x100m with free watertrigger v1.0.0.0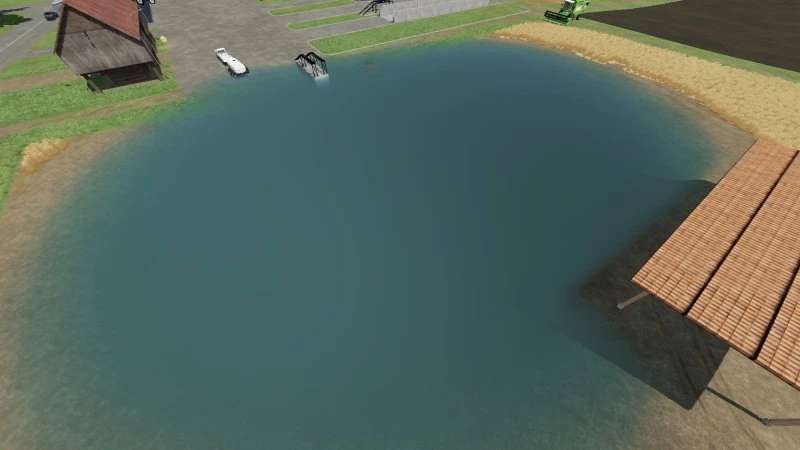 Finding Water In Farming Simulator 22 
You have a few ways to find and use water in this game. First, you can take water from any river or lake on the map. That is probably the easiest method. Second, you can take water from water tanks, and you can search for their location on the game map. Finally, you also can buy a water tank from the shop, which will cost you a few thousand dollars. 
These are the main ways for finding water in Farming Simulator 22. Every player is different and takes a different approach, so you have the liberty to choose one of those three ways to get water for your farm. 
You can also build wells near the pastures. It doesn't automatically refill the animals' water level, but it does serve as a point at which you can fill up your tanker. Of course you have to pay for that. The cost isn't too high – $100 per liter – but can quickly add up if you have a lot of animals on different pastures.
Another option is to install mods that allows you to get water instantly. This option may let you get water free and unlimited which depend on the mod downloaded. You can try Big Water Pack mod for several different water source.
Transporting Water To Your Farm
To transport water from a distant location, you need to buy a special water tank. There are different types of tanks in the game shop. All of them have distinct characteristics, various capacities and come at different prices.
Explore some options and pick the most suitable one for your needs. Also, a thing to know is that there are some cheap small trailers in the shop, but they are for transporting fuel, not water.
Be careful before making a purchase and read all the correct details before buying a transport tank.
Other Guides for FS 22: